We already presented you with an extensive selection of vehicle reviews from InnoTrans 2018. But still, there was so much more to see and learn. This is our final article, the season finale, featuring the remaining highlights of the 2018 edition of the world's leading trade fair for transport technology.
The electric multiple units
Siemens Desiro HC for RRX

This eye-catching double-deck train-set is one of 82 new Desiro HC (High Capacity) trains for the Rhein-Ruhr-Express services (RRX). The trains are expected to enter service at the end of this year. Afterwards, revenue earning operation will start on line RE 11: Düsseldorf – Duisburg – Essen – Dortmund – Hamm – Paderborn – Kassel. Valued at more than EUR 1.7 billion, the contract was signed back in 2015 and includes maintenance services for a period of 32 years.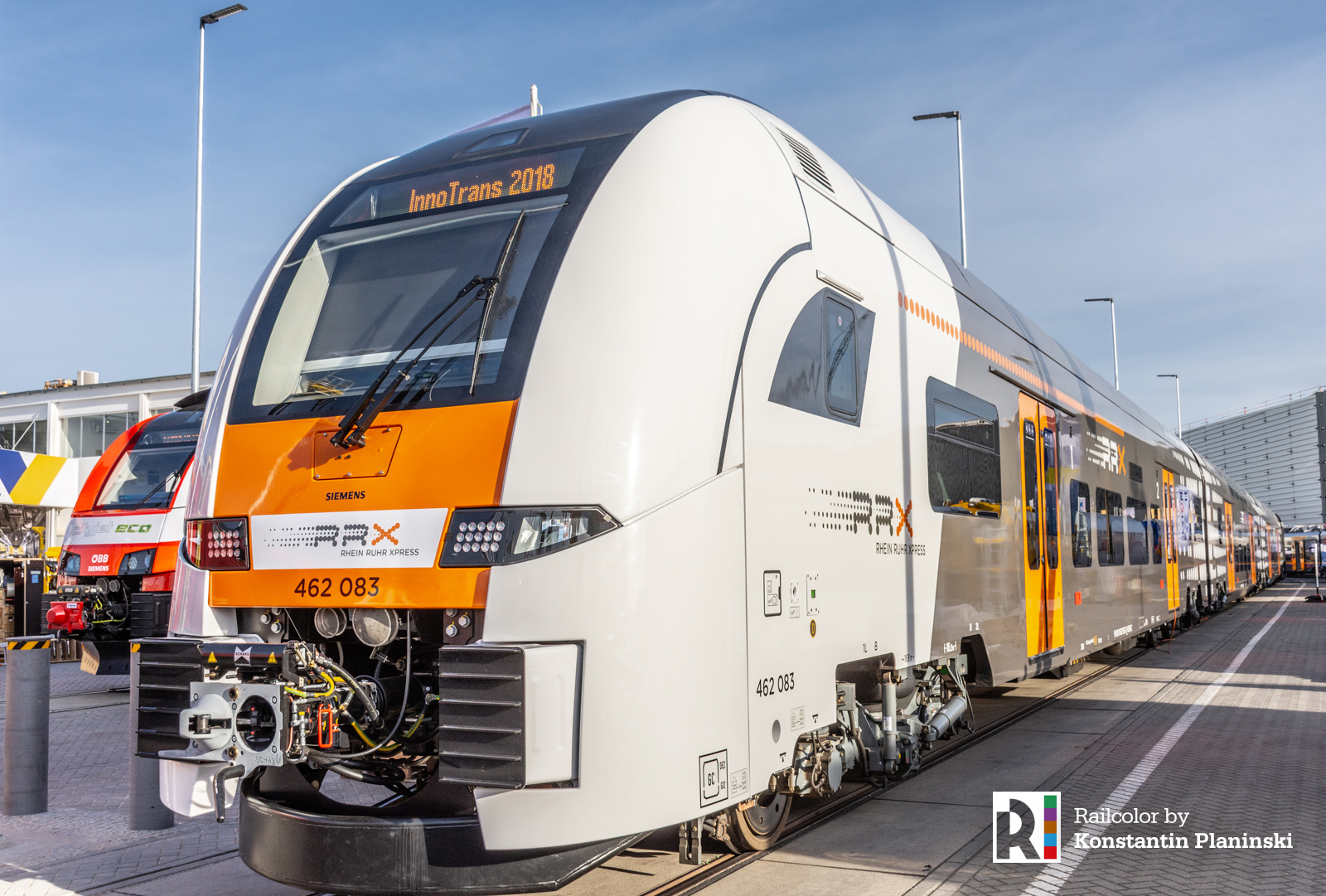 Read more: Our Desiro HC RRX dossier – all articles about those trains.
Siemens Desiro ML for ÖBB as BEMU 'CityJet Eco'

Yet another Siemens train-set, which does not appear that new – but only at first glance. And indeed, we see a CityJet Desiro ML. But here is what makes it different from the remaining 164 units of the fleet (apart from the green leaf motifs on its livery). It is battery powered. The electro-hybrid train was presented officially in Austria earlier in the summer and is expected to enter revenue service in the second half of 2019, following extensive testing procedures. One of the highlights of this innovative project between Siemens and ÖBB is that CO2 emissions have been reduced by up to 50 percent as compared to DMUs.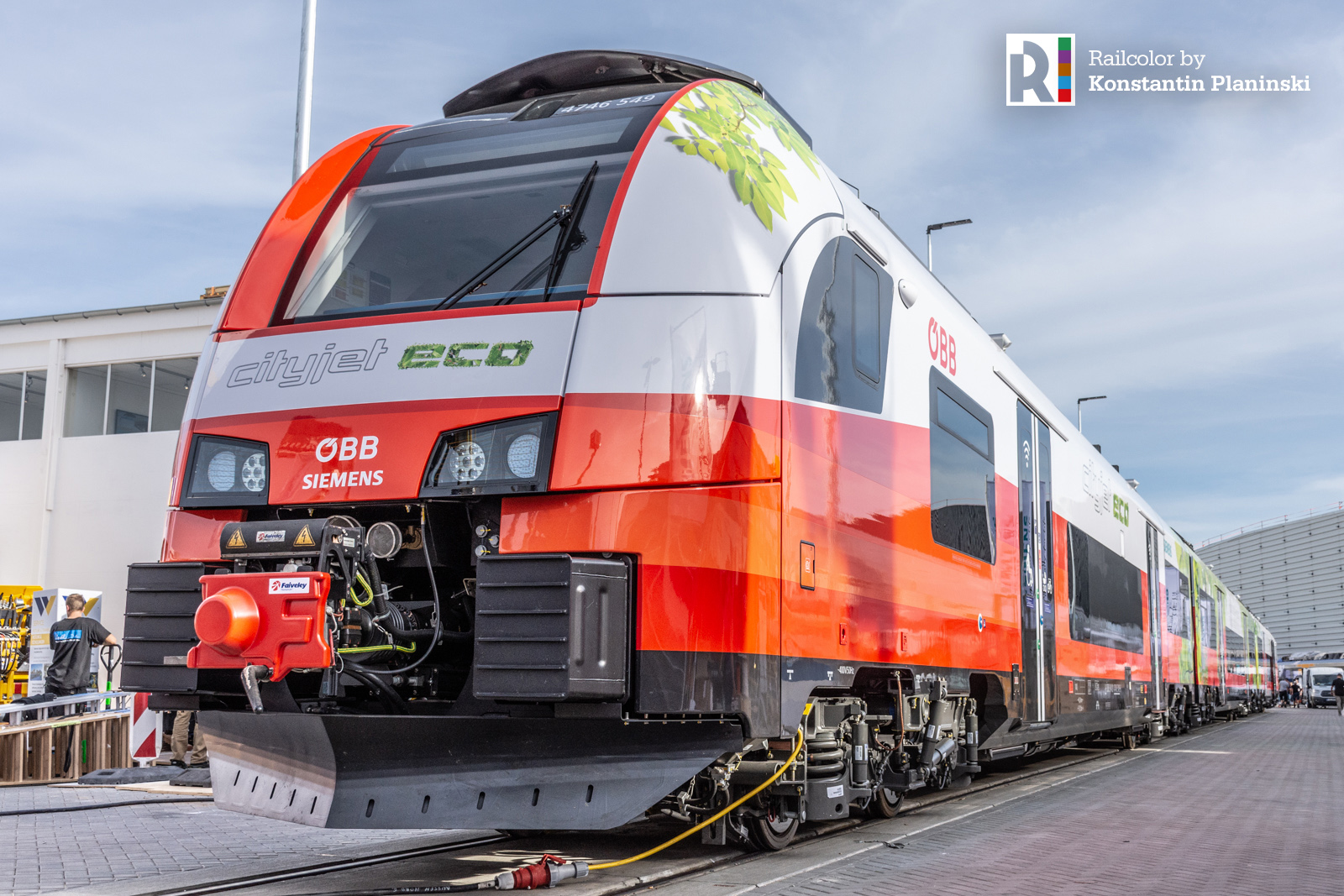 Read more: ÖBB and Siemens present the Cityjet Eco BEMU.
Siemens Desiro City for Govia Thameslink Railway (GTR)

The last Desiro representative at the fair was the British Rail Class 717 EMU for Thameslink in the UK. The 'Storm Trooper' look-alikes are part of the £200 million-train project for Govia Thameslink Railway (GTR). As of May this year, half of the 25-unit fleet had already entered testing phase and it is expected to be phased into service from late autumn this year until next spring.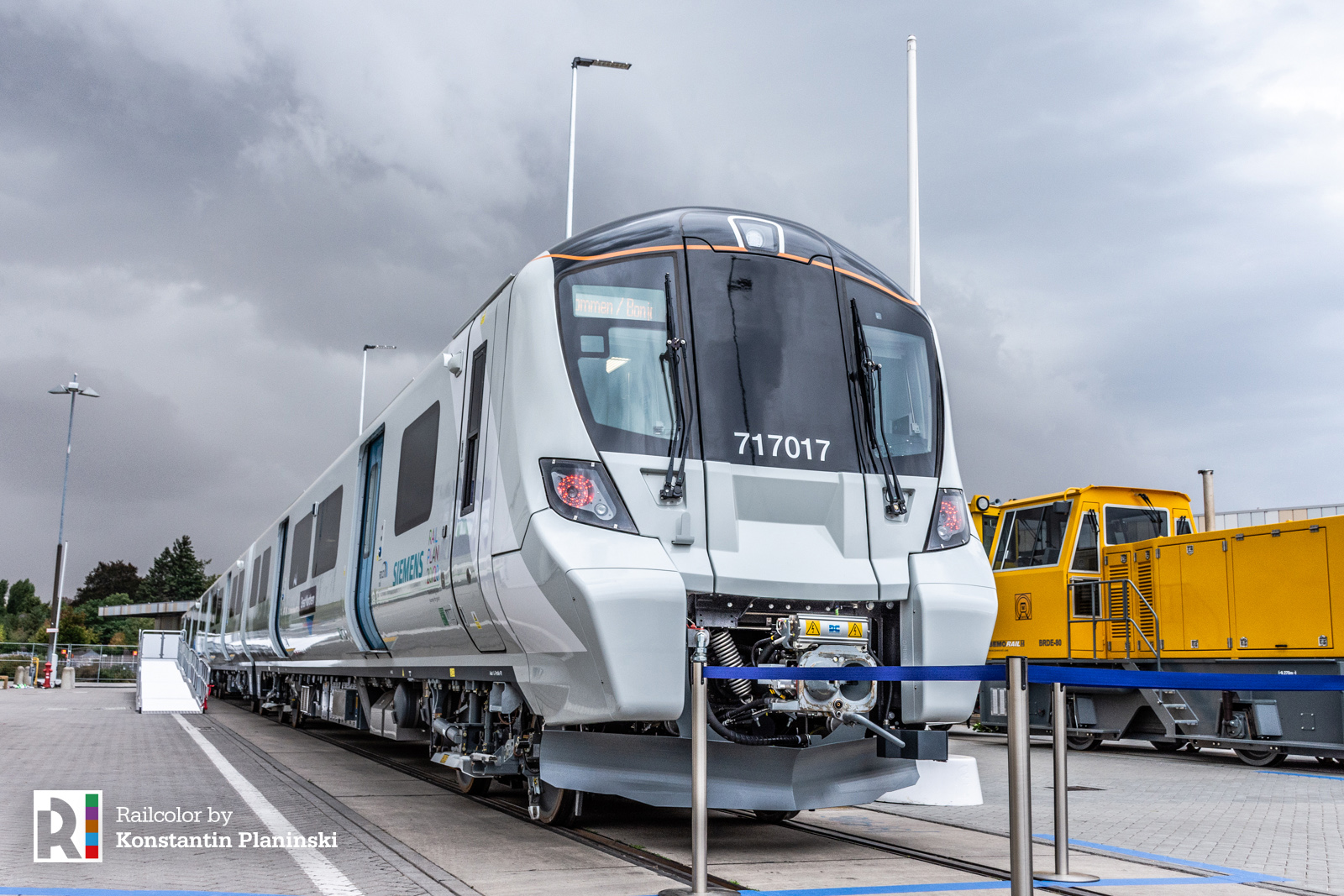 Newag Impuls 2 for ŁKA

'36WEd' is the three-car variant of the Impuls train concept by Polish train manufacturer Newag. It represents the most up-to-date modification of the platform, which was officially unveiled earlier in the summer. Last year, Polish suburban operator ŁKA ordered a total of 14 units for its operations in the Łódź region, and it is expected that the first ones will enter service in December. The ŁKA trains mark the premiere of the Impuls 2 on its home territory, Poland. However, the model was previously ordered in Italy by Ferrovie del Sud Est and the dynamic tests of the test unit completed successfully in June.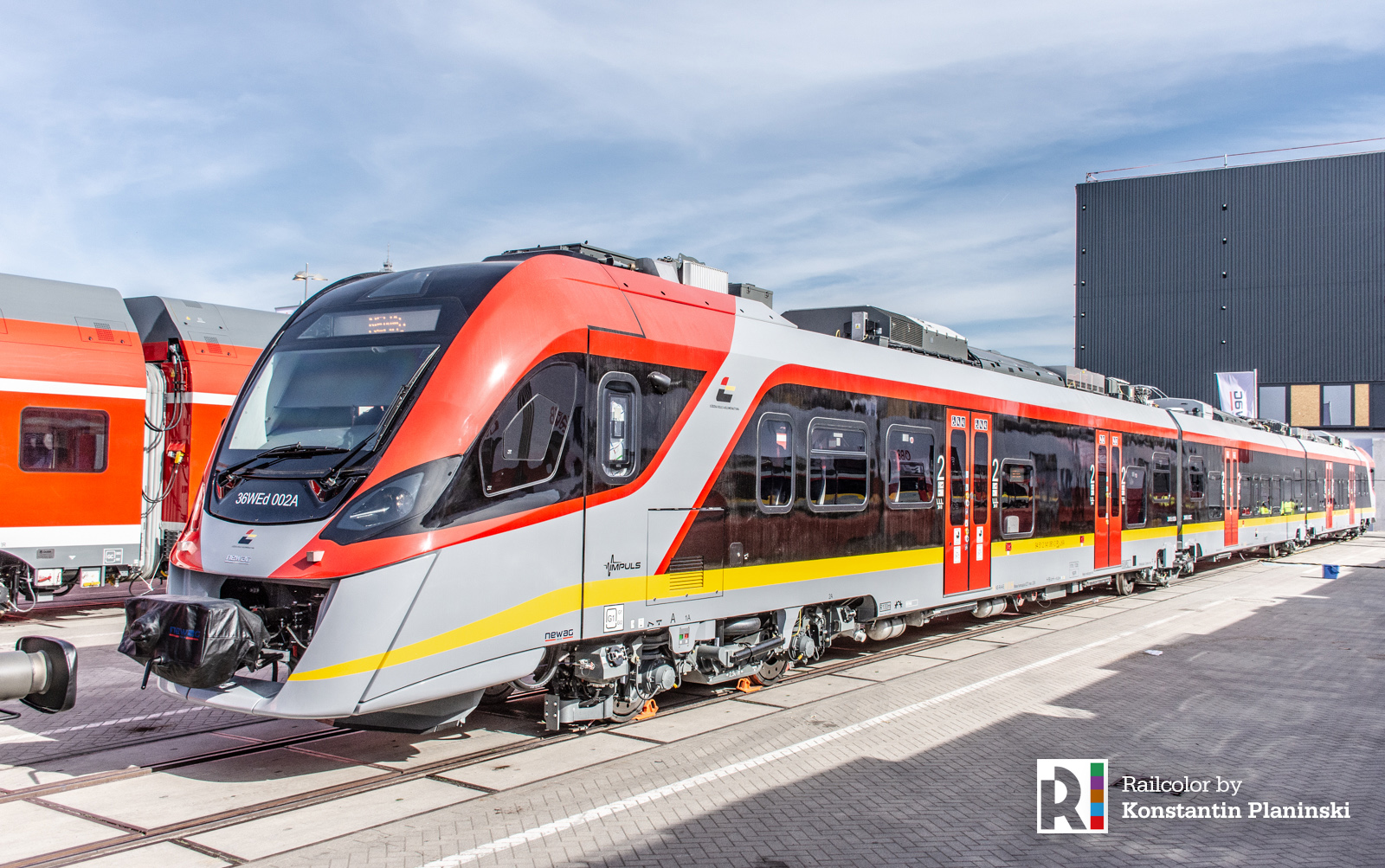 Read more: Our Impuls 2 dossier – all articles about those trains.
Even more shunting
CZ Loco EffiShunter 1000 for Mercitalia
Initially ordered by SerFer – the former name of Mercitalia Shunting & Terminal – five EffiShunter 1000 locomotives were delivered by CZ LOKO this August. The EffiShunter 1000 concept, according to the latest TSI standards, reduces fuel consumption, operational maintenance costs, emissions and noise. During the fair, CZ Loko also sealed a deal with Rail Traction Company (RTC) for the delivery of two such locomotives (with an option for two more).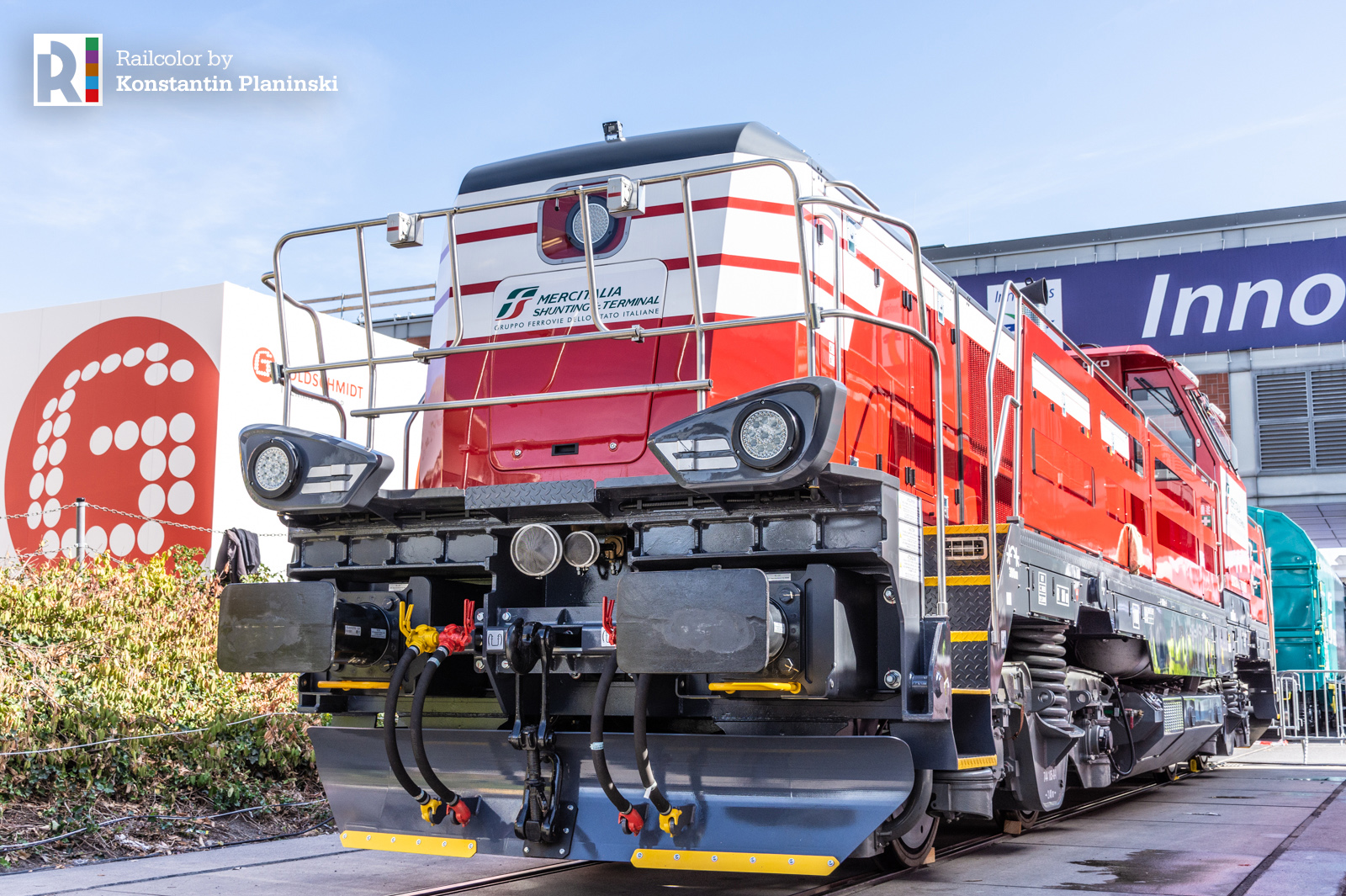 Read more: Our EffiShunter 1000 dossier – all articles about those locomotives.
Bemo Rail BRDE-80

Just before InnoTrans, the 2-axle BRDE-80 shunting locomotive had several test drives at Museumstoomtram Hoorn – Medemblik in the Netherlands.  Back in 2017, Bemo Rail was ordered to deliver two BRDE-80 shunting locomotives to the Middle East. The shunters will be operated within a metro depot as well as on its adjacent line when required. Driving modes include solo and multiple traction, which enables sufficient power for pulling trains uphill. Equipment includes a diesel electric AC/AC drive and top speed is 50 km/h.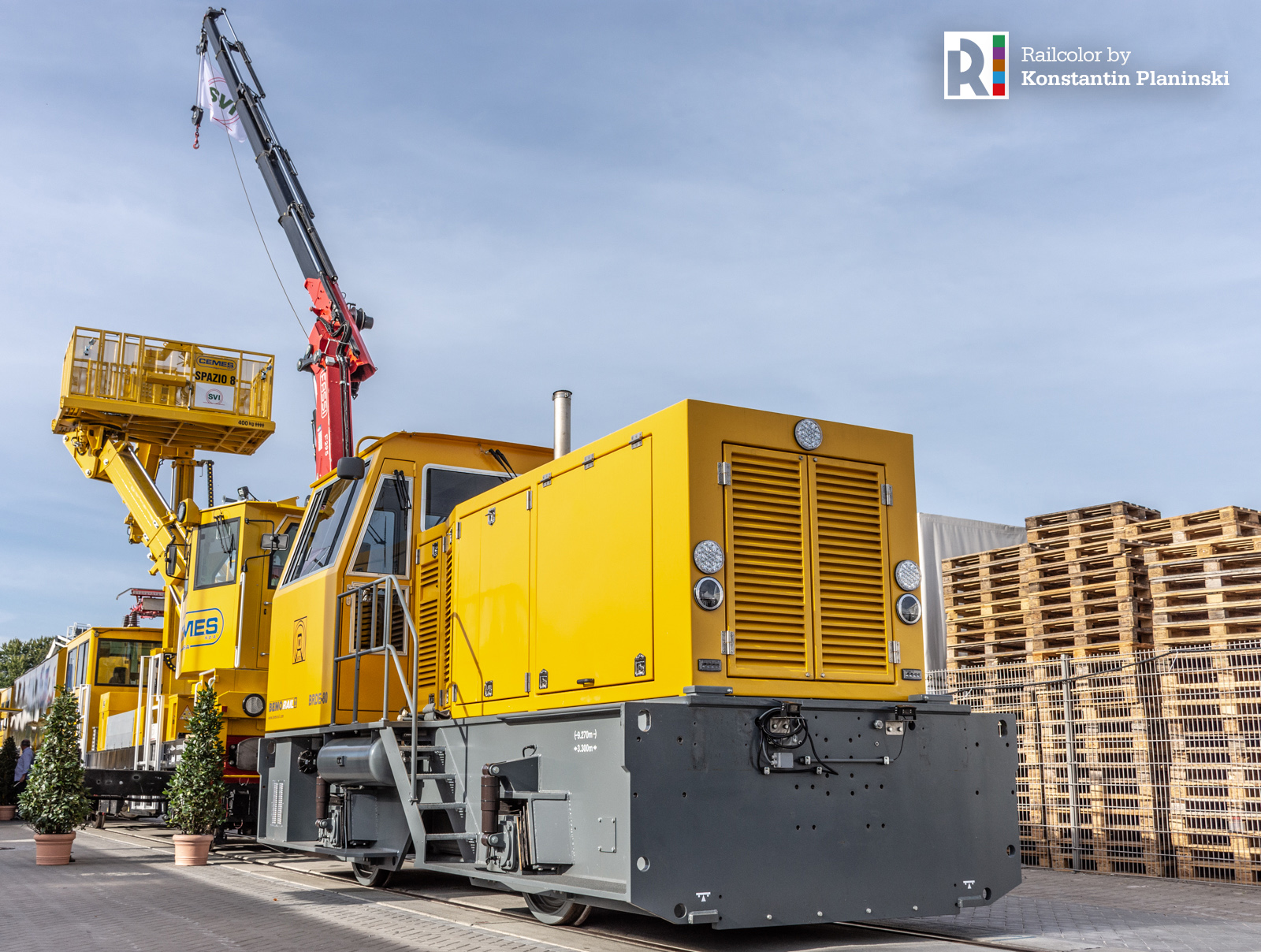 Read more: Bemo Rail completes first modernized GE locomotive for Tata Steel.
ES3000 shunter by Express Service
ES3000 is the latest development in the ES – battery powered – shunter series of Bulgarian locomotive manufacturer Express Service. Its nominal shunting capacity is 3000 tons. The top speed is programmable and can vary between 5 and 15 km/h. A weight of up to 47 tons enhances reliability throughout different seasons. Energy efficiency is ensured by regenerative breaking, which is used for battery charging. The vehicle presented at the fair is for Sofia Metro in Bulgaria and is to be used for service inspections with a capacity of up to 8 people on board.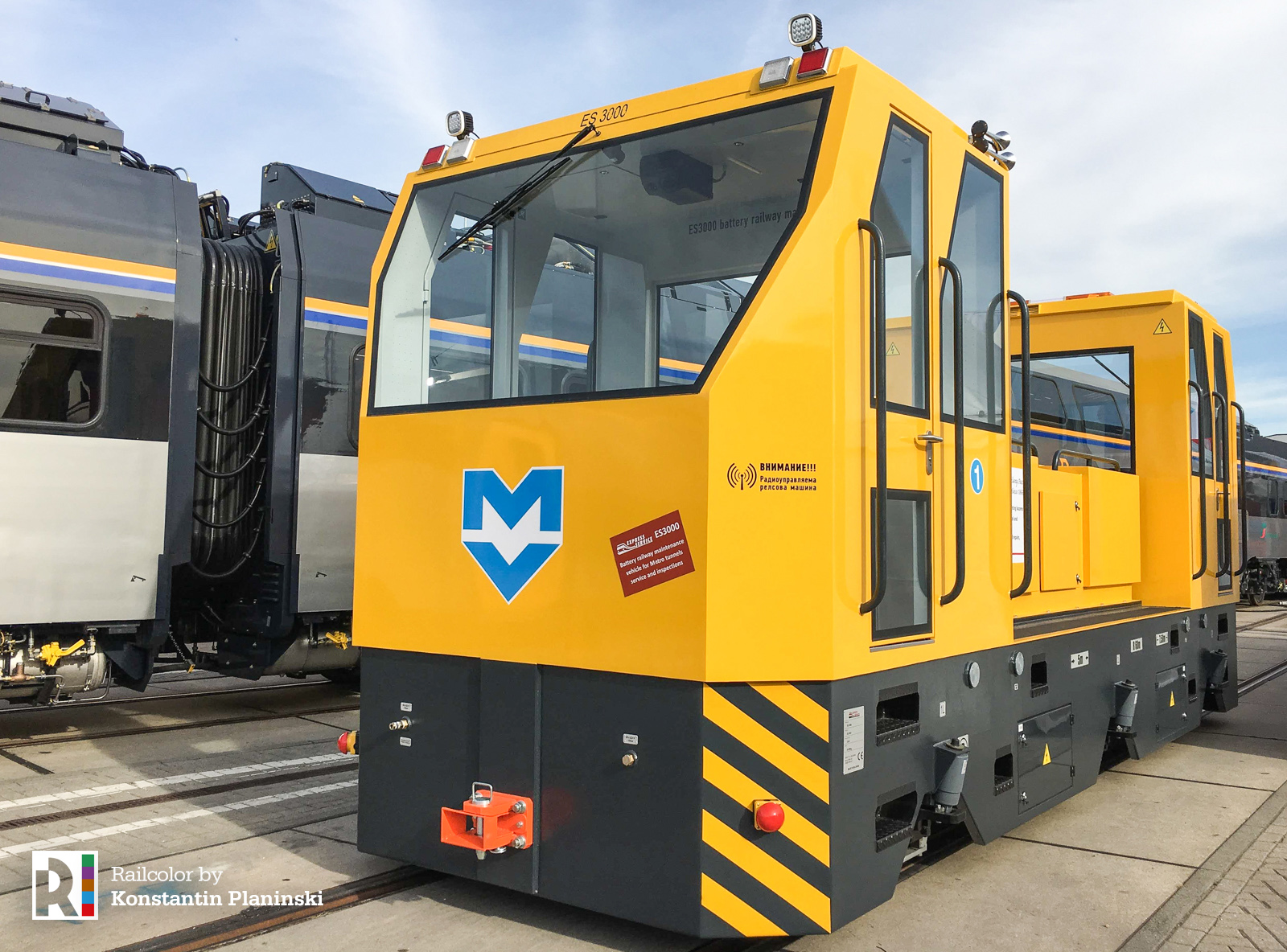 Read more: Express Service delivers more MDD 3 locomotives for the Sofia metro.
Metros and LRVs
Siemens Inspiro for Metro Sofia
We already mentioned Sofia Metro in the previous section. Let's continue further on that topic. The big news here is, without a doubt, the delivery of 20 three-car Inspiro units by Siemens. The 3-car sets will be operated on the new east-west Line 3 through Sofia, pending opening in 2019. Ongoing deliveries are carried out by road transport, with a train-set arriving in Sofia every two weeks. It is remarkable that although the trains are fully driverless (thanks to Siemens' Train Guard MT system), there are fully equipped driver cabs present and train drivers will indeed be hired to operate them partially.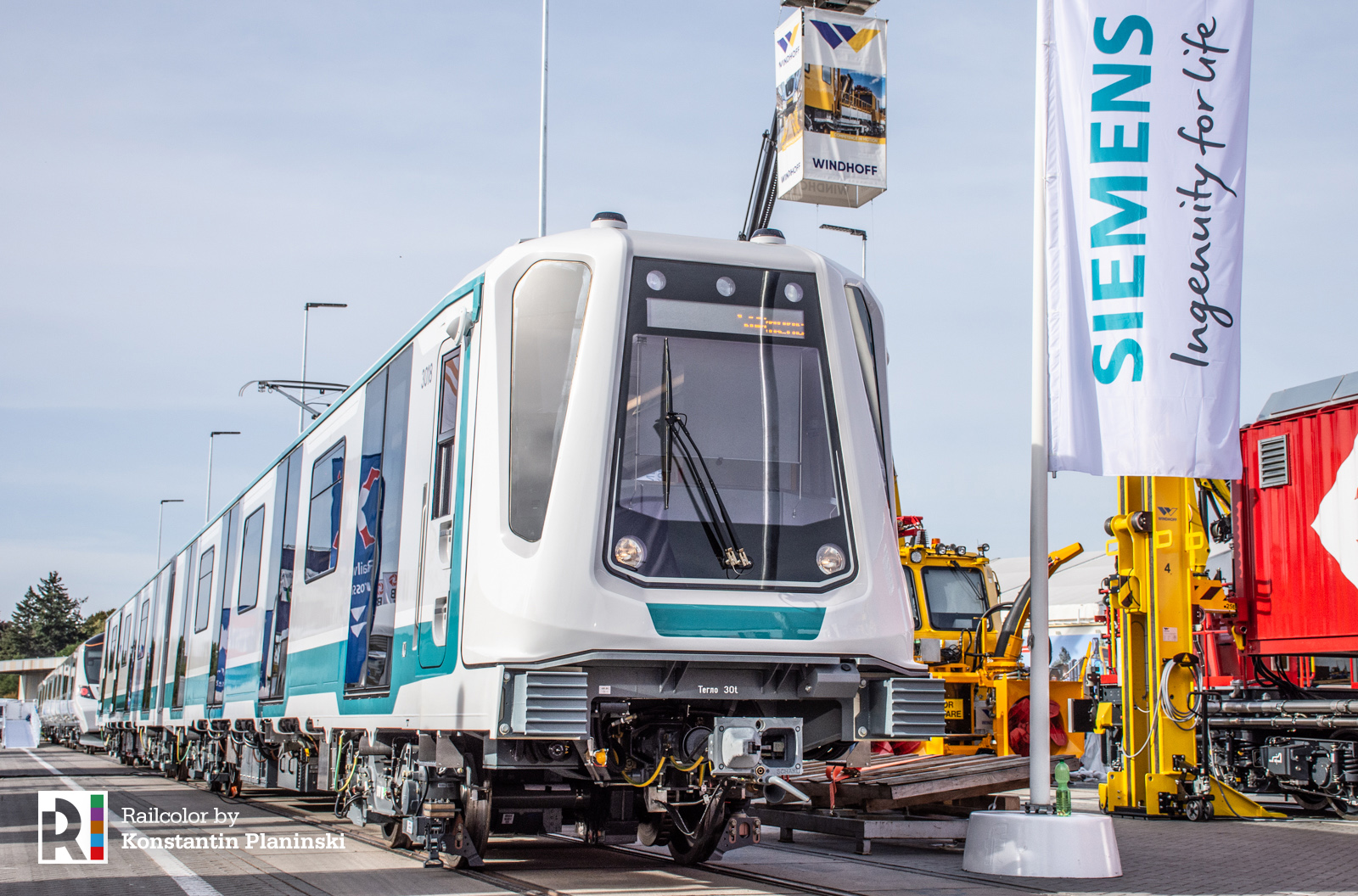 Read more: Our Siemens Inspiro Sofia dossier – all articles about those trains.

The Cetrovo carbon fiber metro train by CRRC

The innovative driverless metro train by Chinese manufacturer CRRC was meant to be a big surprise for the visitors of the fair. To ensure this, CRRC covered it with a red covering which was unveiled only in the middle of the first official day of the exposition. A black carbon fiber body emerged underneath. And it is exactly the use of carbon fiber technology what enables a 13% weight reduction for the Cetrovo, in comparison to traditional metro vehicles. The train-set boasts with other innovative features, such as touch sensitive, semi-transparent windows that can be used for ticket transactions, as well as for news and media entertainment on board. According to CRRC, the project represents a large-scale application of carbon fiber, including for large complex part moldings. While it remains to be seen whether this concept will eventually enter large-scale production, one thing is certain: Chinese train manufacturing is leaving a landmark in Europe for good.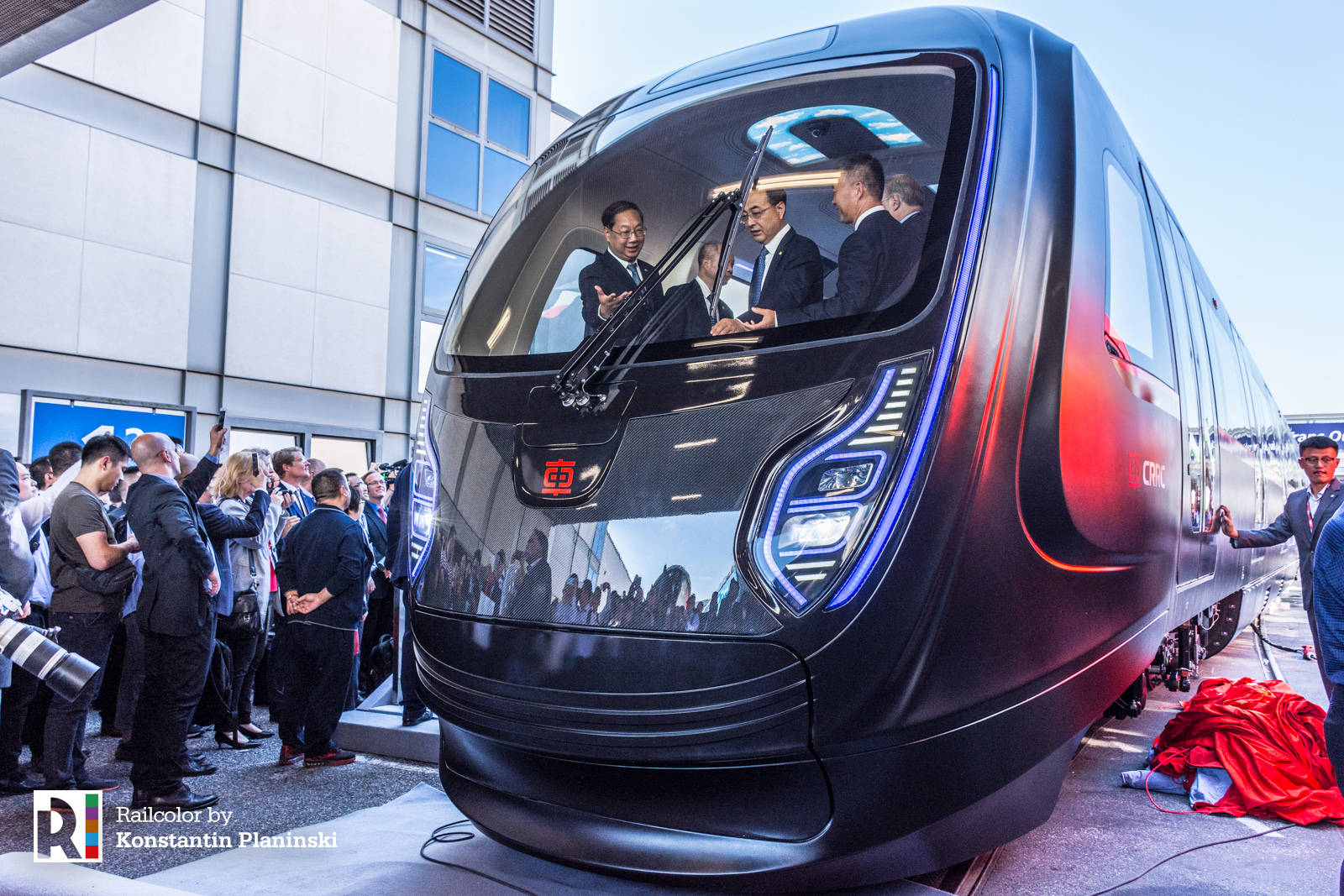 Read more: Our CRRC dossier – read more about their vehicles in Europe.
Škoda ForCity CLassic for Chemnitz
The ForCity Classic Chemnitz trams by Škoda are low-floor vehicles with stainless steel body and bogies with axles. All the wheels are driven by fully sprung gearless traction motors. With a length of 31.4 m, this bidirectional five-car tram can accommodate a total of 199 passengers (64 of whom seated). 14 units were ordered by the city of Chemnitz in Germany.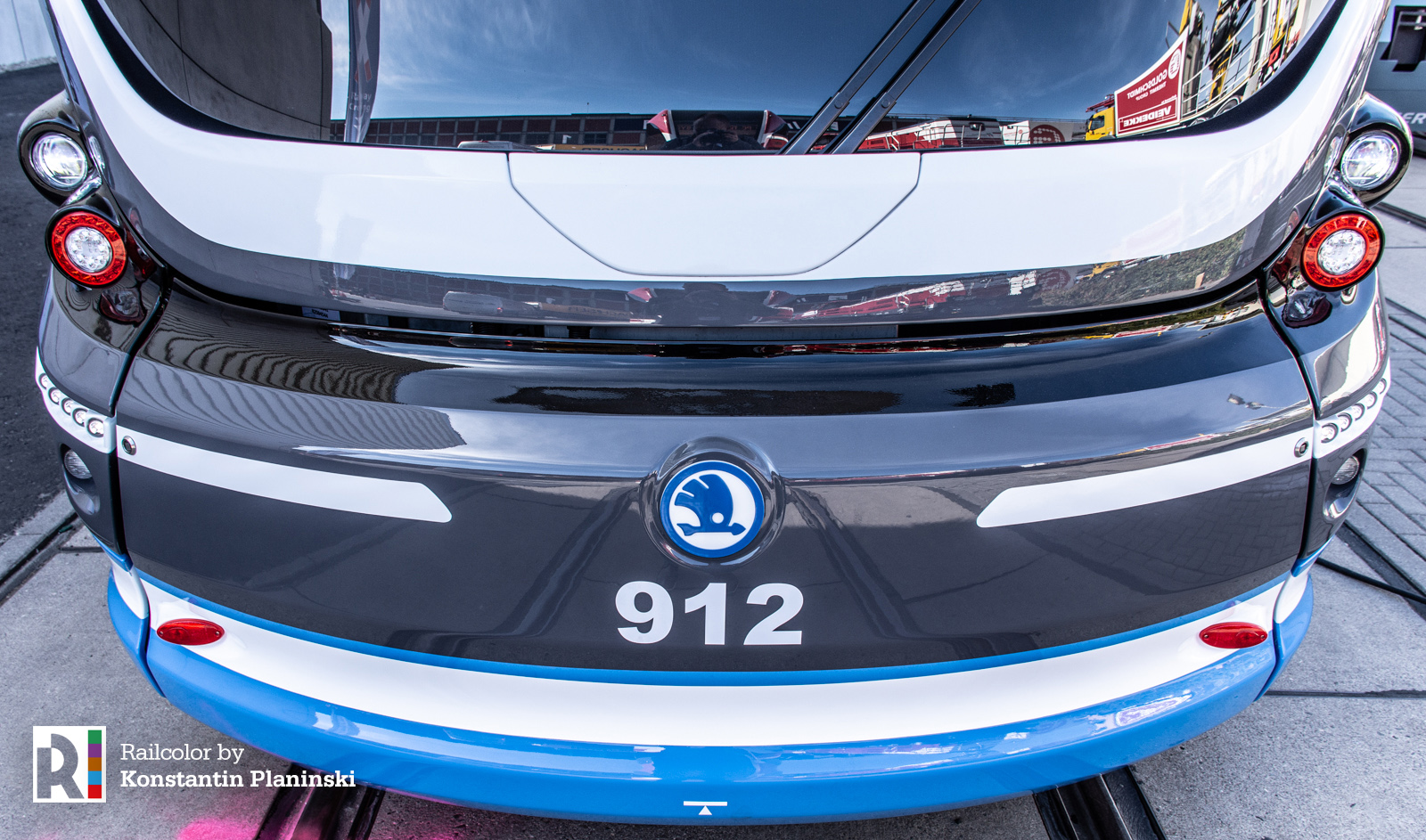 Siemens Avenio M for the city of Ulm
A total of 12 Avenio M articulated trams are to be delivered to the city of Ulm in Germany by the end of the year. Soon to be operated by SWU Verkehr GmbH, the trams have been specifically optimized to meet the challenging steep grades of the network. Earlier this summer the tram won the prestigious Red Dot Award. The tram's design enhances passenger experience and convenience and was, as with its predecessor model Combino, especially tailored for Ulm by Busse Design+Engineering, the design partner of SWU Verkehr. The style and interior design of the basic tram were created by a team from Siemens and the design studio "Yellow Window."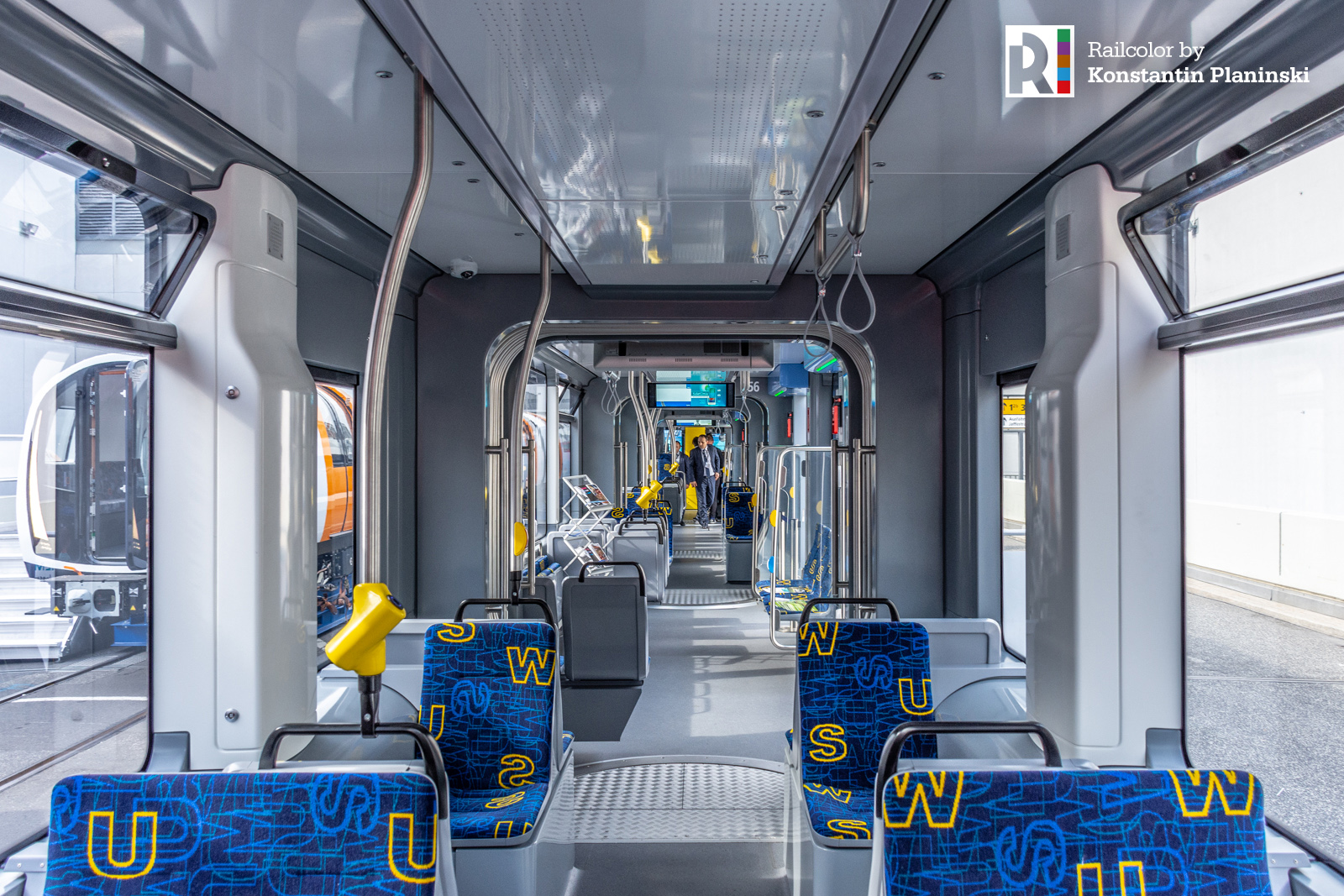 Read more: Our Avenio Ulm dossier – read all articles about those vehicles.
The 71-911ME 'Lionet' tram by PC Transport systems

Russian urban transport manufacturer PC Transport systems took participation in the fair with two trams from its current portfolio. The one seen in the picture below is called "Lionet" and represents a 4-axle, one section vehicle which is 16,5 meters long. The Saint Petersburg-based factory also unveiled it's bigger relative – the three-section, 8-axle "Lion" (71-934) – also a low floor tram, which can be built in different configurations, according to the clients' needs.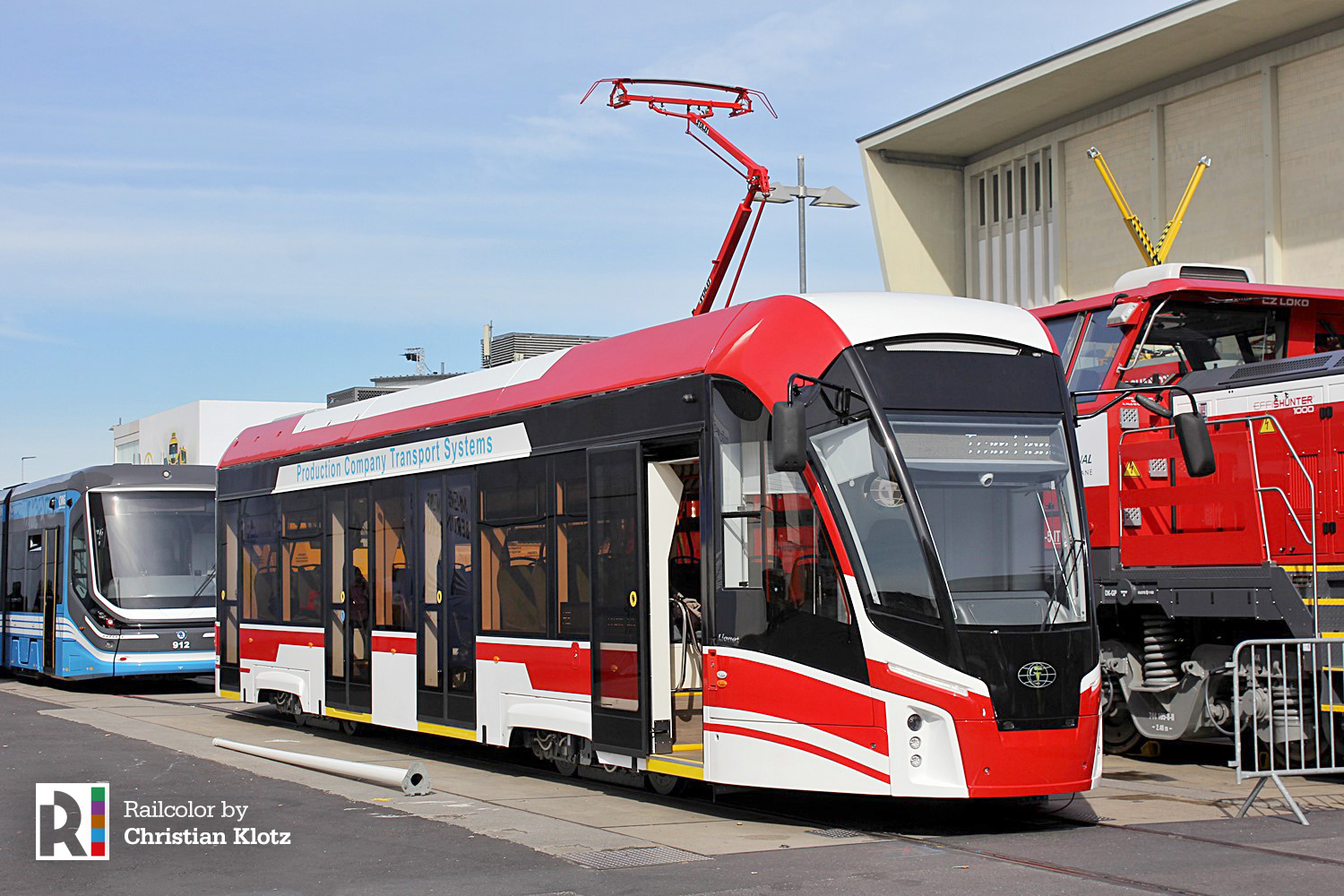 SilkWorm by Durmaray

The SilkWorm is a 29-meter long low floor tram vehicle with a total capacity of 274 passengers (50 of whom are seated). It is curious that the Bursa-based Turkish manufacturer has been exhibiting this concept at the InnoTrans several times now. The latest version of the model features improved traction engines and gearbox. SilkWorm trams are already in service in the Bursa tram network.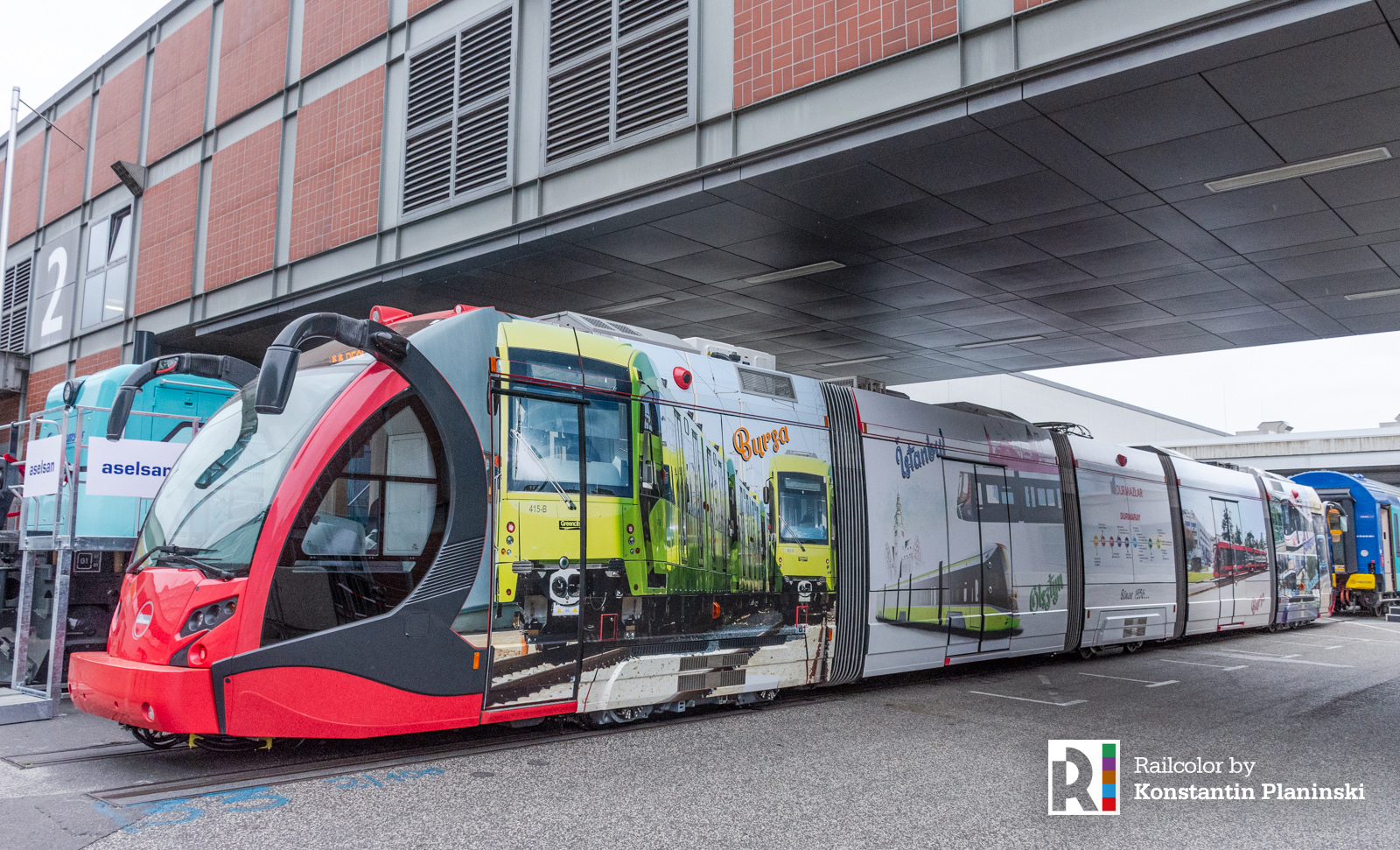 Specialized vehicles
Plasser & Theurer 09-4×4/4S E³

A tamping machine powered by all-electric hybrid drive technology. The specialized vehicle essentially incorporates the new 'E³' drive technology of Plasser & Theurer to the existing 09-4×4/4S model, bringing lower operating costs, as well as improved environmental protection. A significant reduction of all hydraulic components is one of the keys for achieving this optimization. Maximum speed is set to 100 km/h. We were impressed by the clean, matte branding on sides of the vehicle.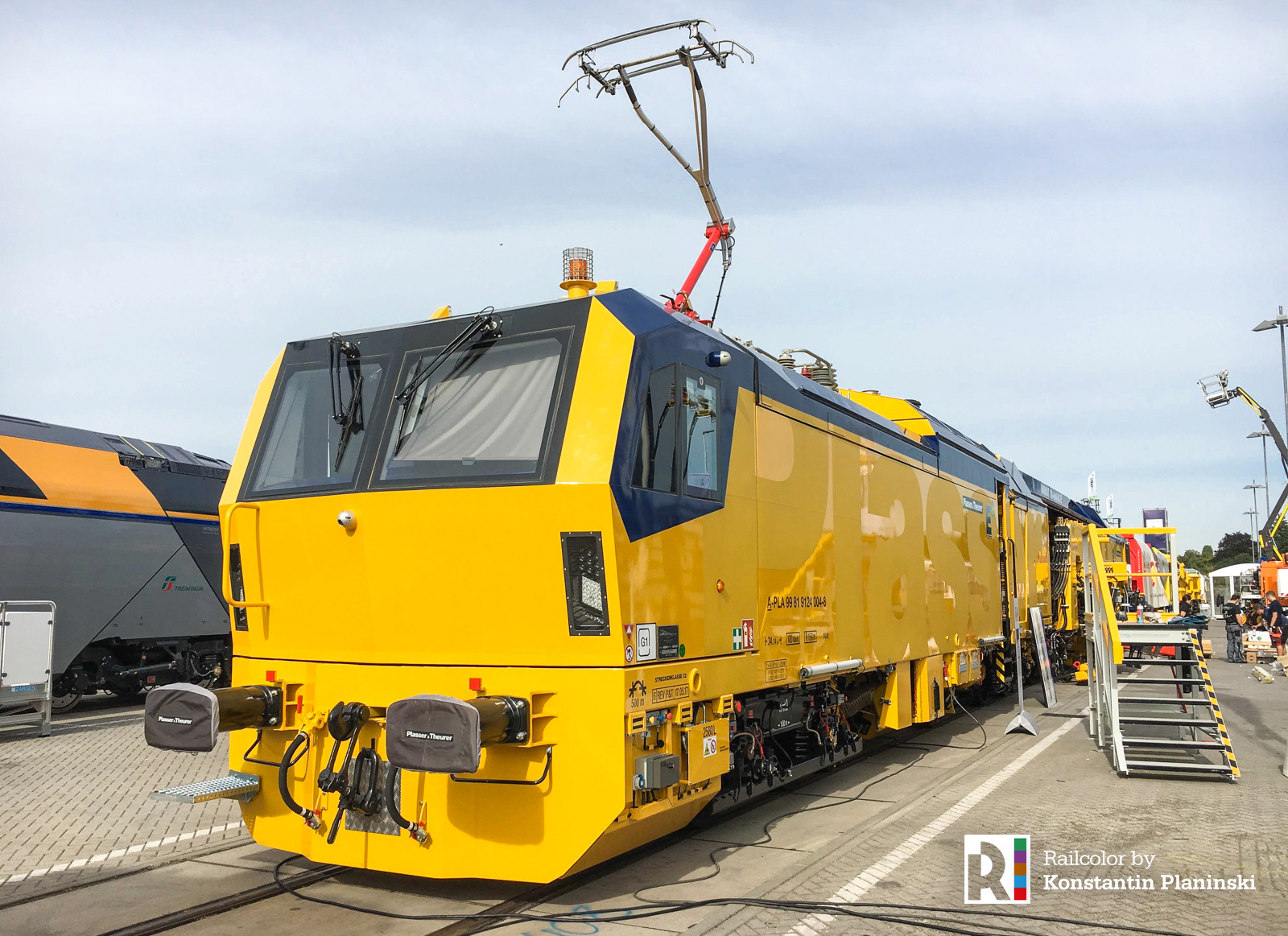 Rail milling train MG11 by Linsinger

A tiny beast, the MG11 milling train specializes in preventive and corrective track maintenance for urban areas and features an eye-catching design. Some of its applications include track, turnout and level crossings, improvement of running behavior and wear reduction, gauge correction, among others.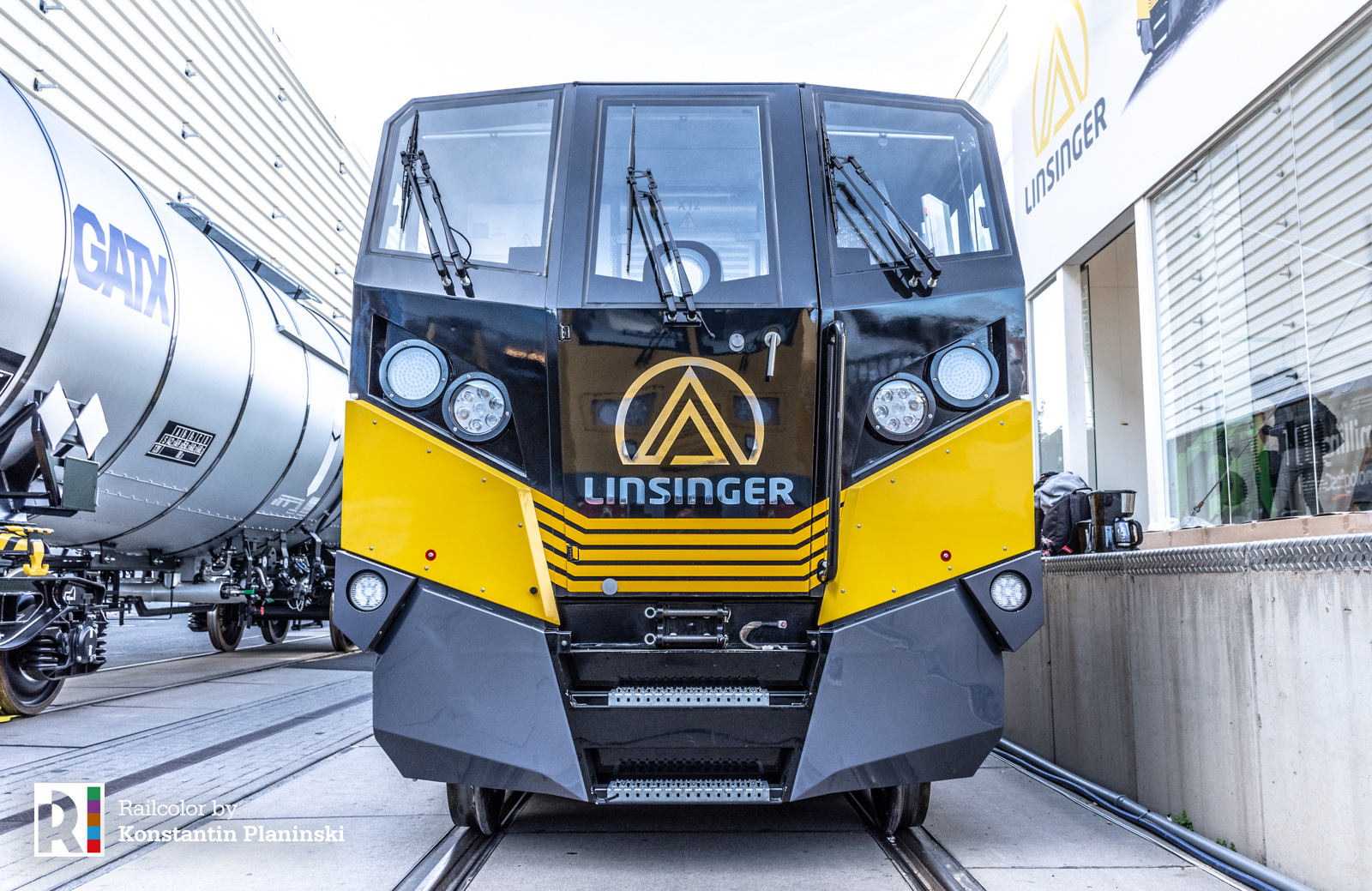 Rail milling train SF02T-FS by Linsinger
Designed for tunnel operations, this milling train specializes in metros and smaller workloads thanks to its low axle load. It can be also used for new rail profiling, removal of rail head defects in the transverse and longitudinal profiles, gauge correction, high-speed refurbishment and, as well as other applications.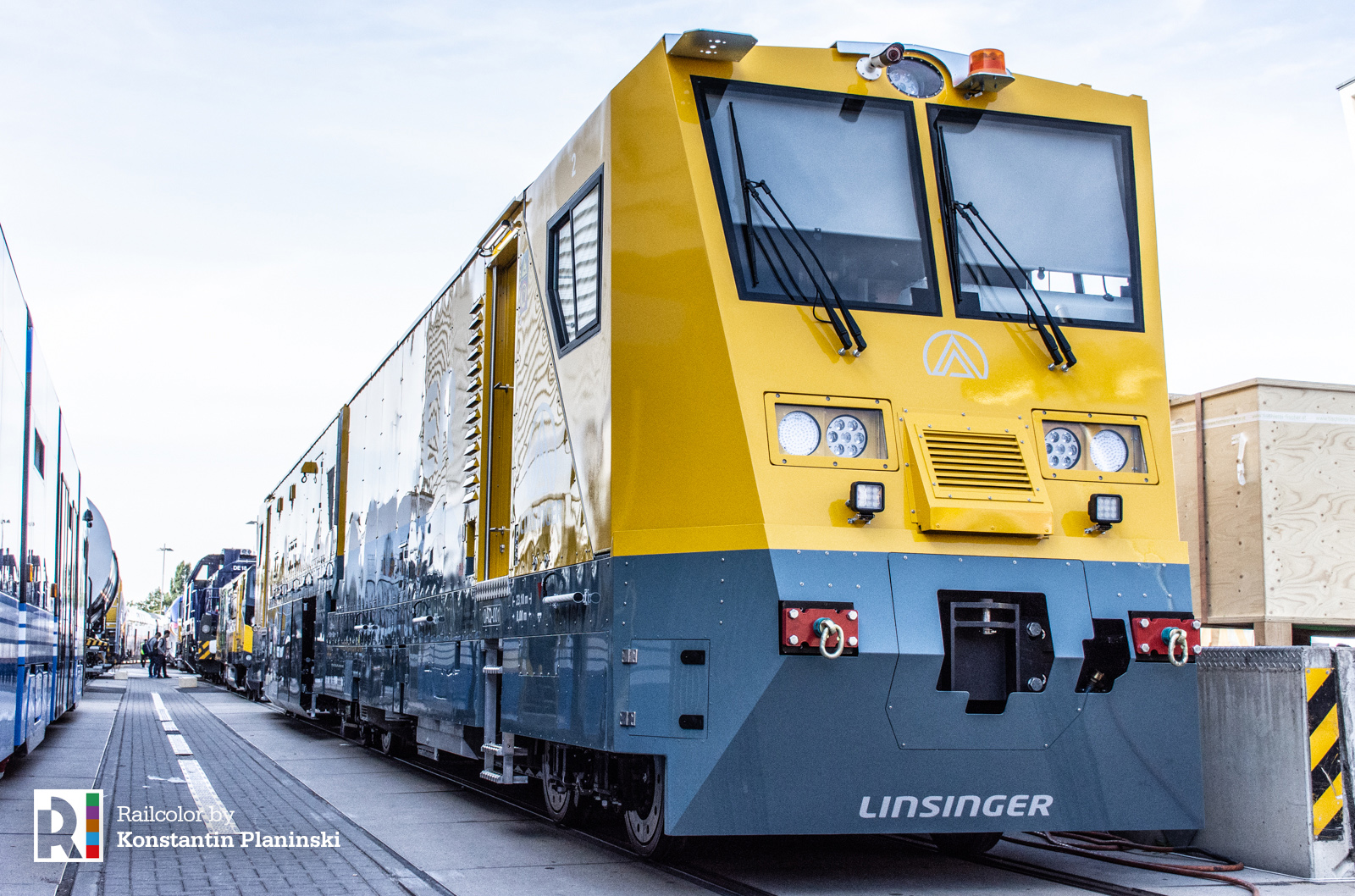 LRZ equipment vehicle fire-fighting and rescue train by Windhoff
The LRZ equipment vehicle is a part of the fire-fighting and rescue trains WIndhoff is manufacturing. The specific part of the train that we were able to see is designated as an equipment container vehicle, which features a 50 kW electric power generator on board, fire-fighting equipment, as well as a loading crane. As a complete train consist, the LRZ has sufficient power to tow disabled trains weighing up to 730 tons along gradients of  up to 27 ‰. Six such trains were recently ordered by the SBB.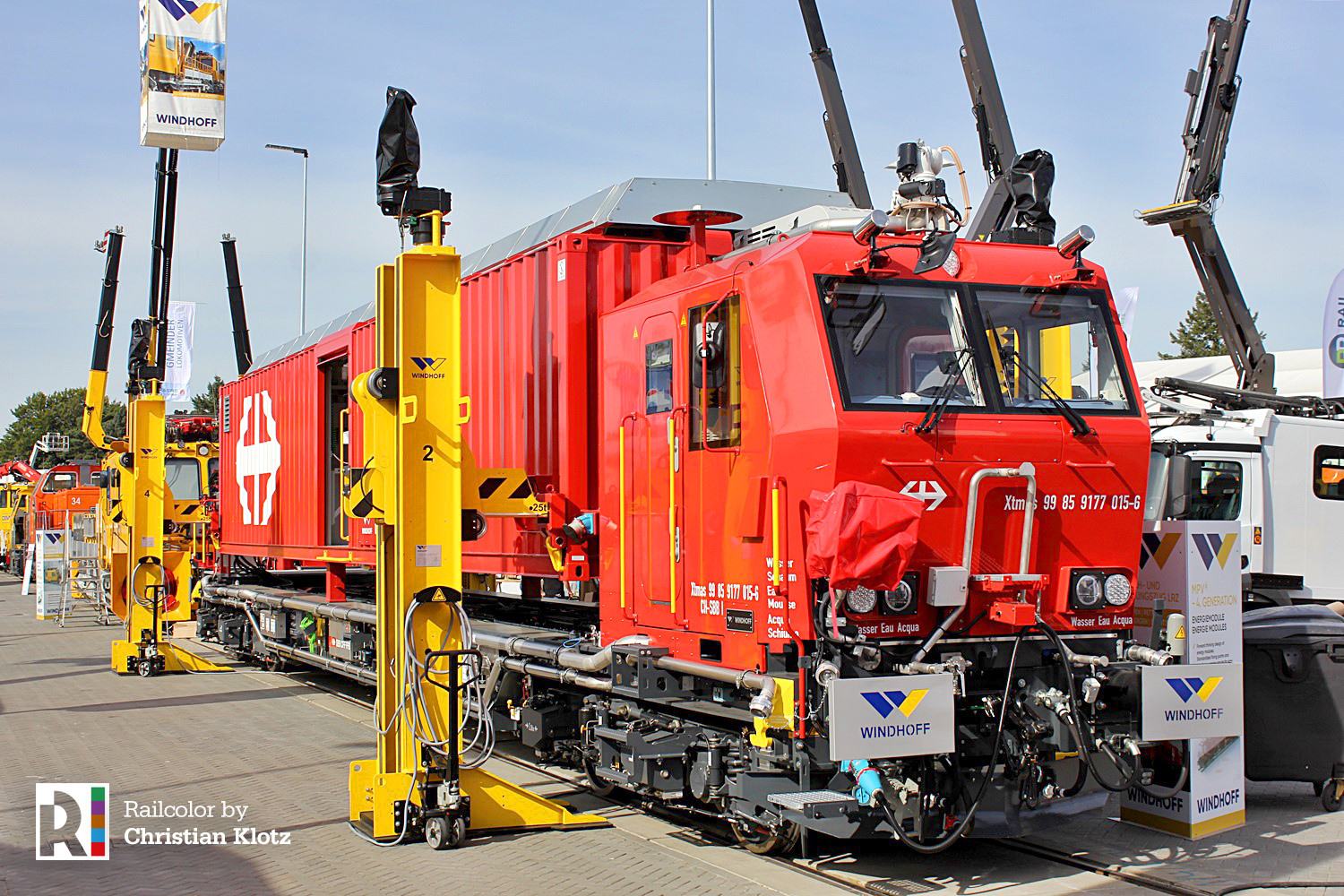 Not new, but classic
Test train 'Lucy Train' 626 420 of Thales
As the name implies, this NE 81 representative is actually test vehicle. Although it looks classic on the outside, it is the inside that's interesting: the four-axle diesel rail car is equipped with ETCS Level 3. It was seen carrying out tests and measurements throughout the Annaberg-Buchholz-Schwarzenber route in Germany less than two weeks before InnoTrans 2018 began.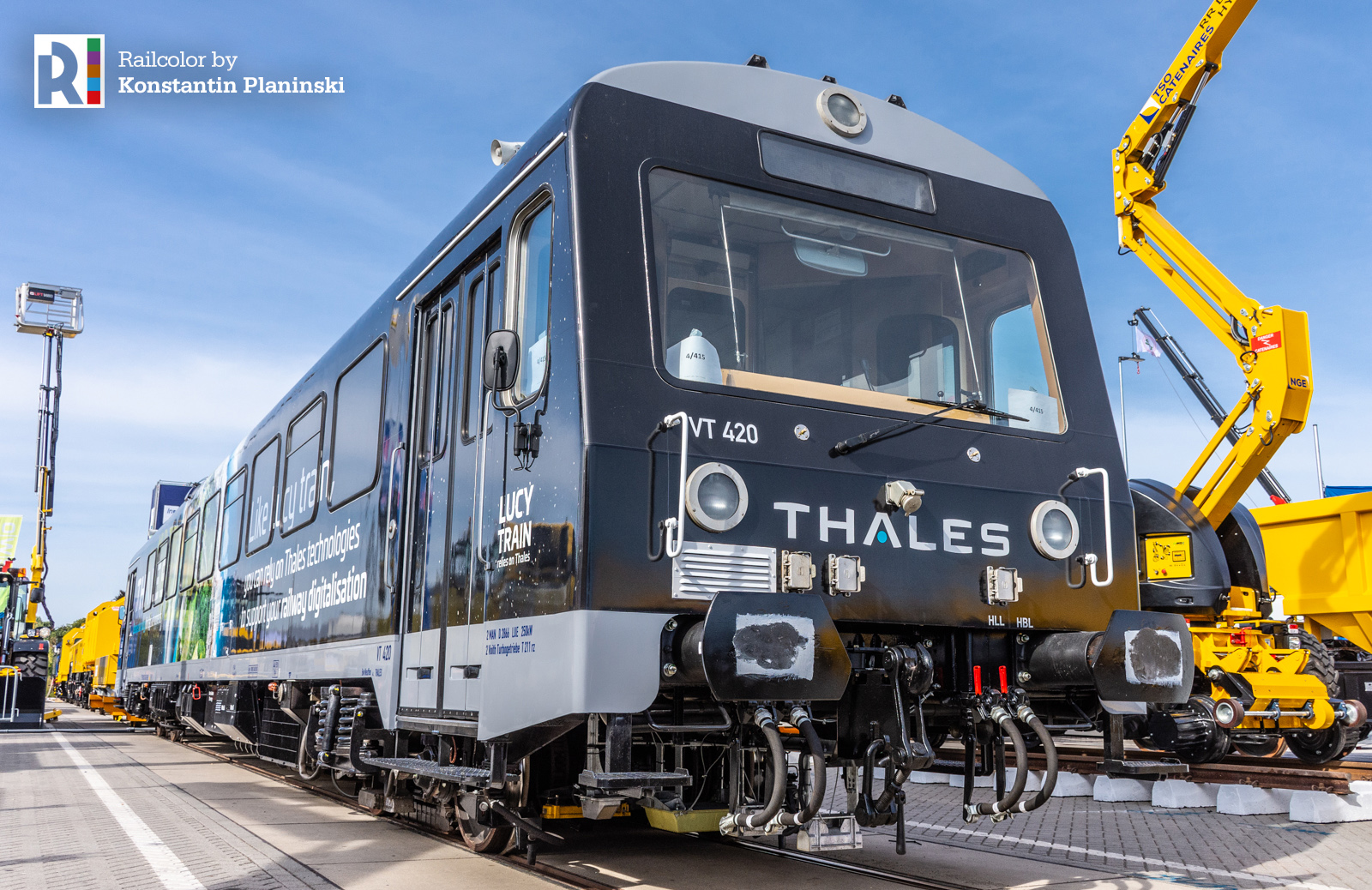 Dampflokomotive Emma, courtesy of HF Weibe & Co KG

The Hanomag-built 'Emma' was, without a doubt, once again the oldest vehicle to be exhibited at the trade fair. But despite its nearly 100-year age, the locomotive was in top shape. What's more, the engine was actually providing short attraction rides on the branch line exiting the fairgrounds during the public days of the fair. The steam locomotive was exhibited by HF Wiebe & Co KG, which is a a family-run construction company.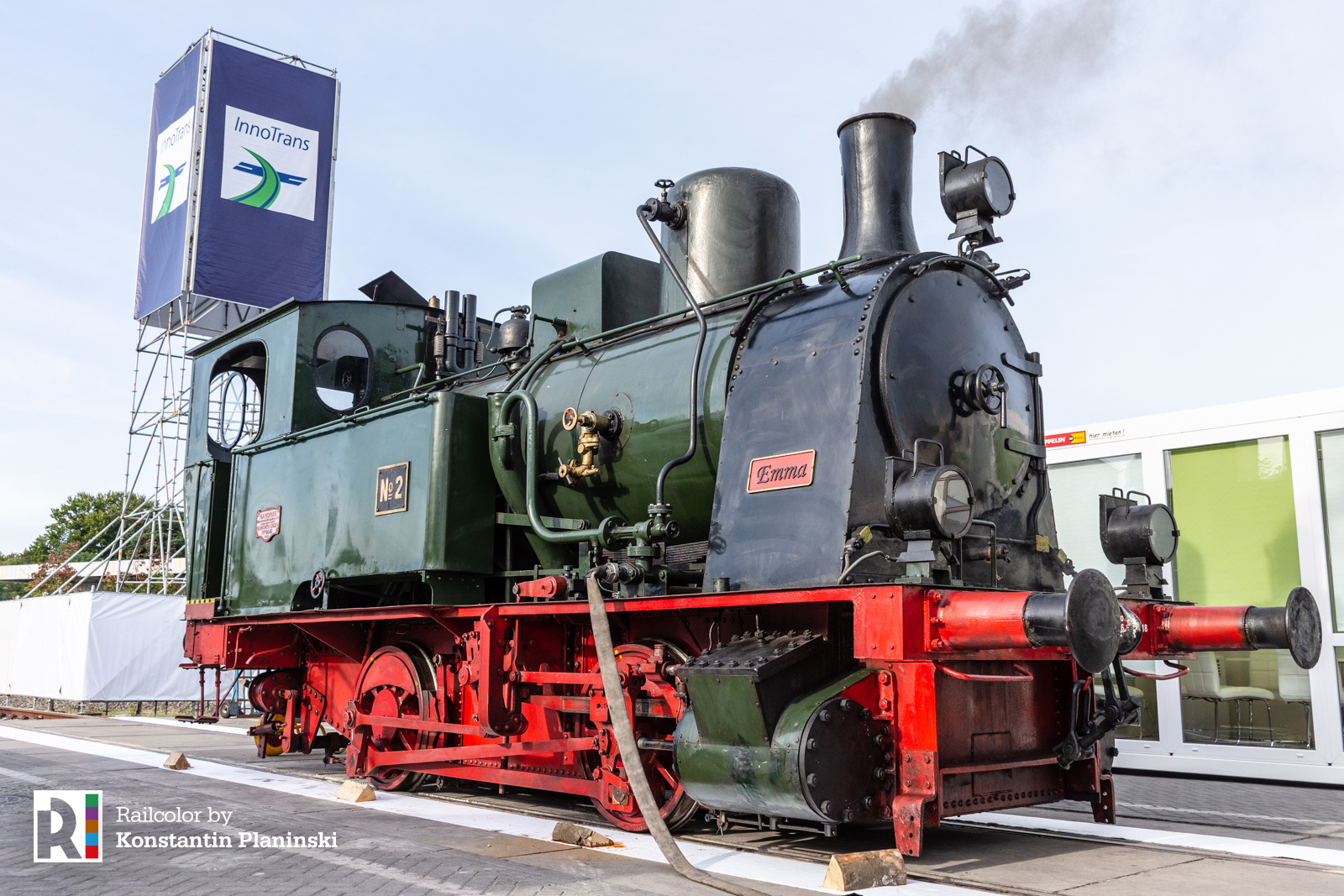 What about the railcars?
Zacns tank car for Wascosa by Legios Loco

Of course, there were many rail cars at the exhibition – both passenger and freight ones. For the sake of keeping this article as short as possible, we will show you only one, but colorful freight car. It is the four-axle Zacns tank car by Legioz Loco (CZ) with a capacity of 98 m3, which is designed to transport dangerous substances in liquid state, according to RID regulations.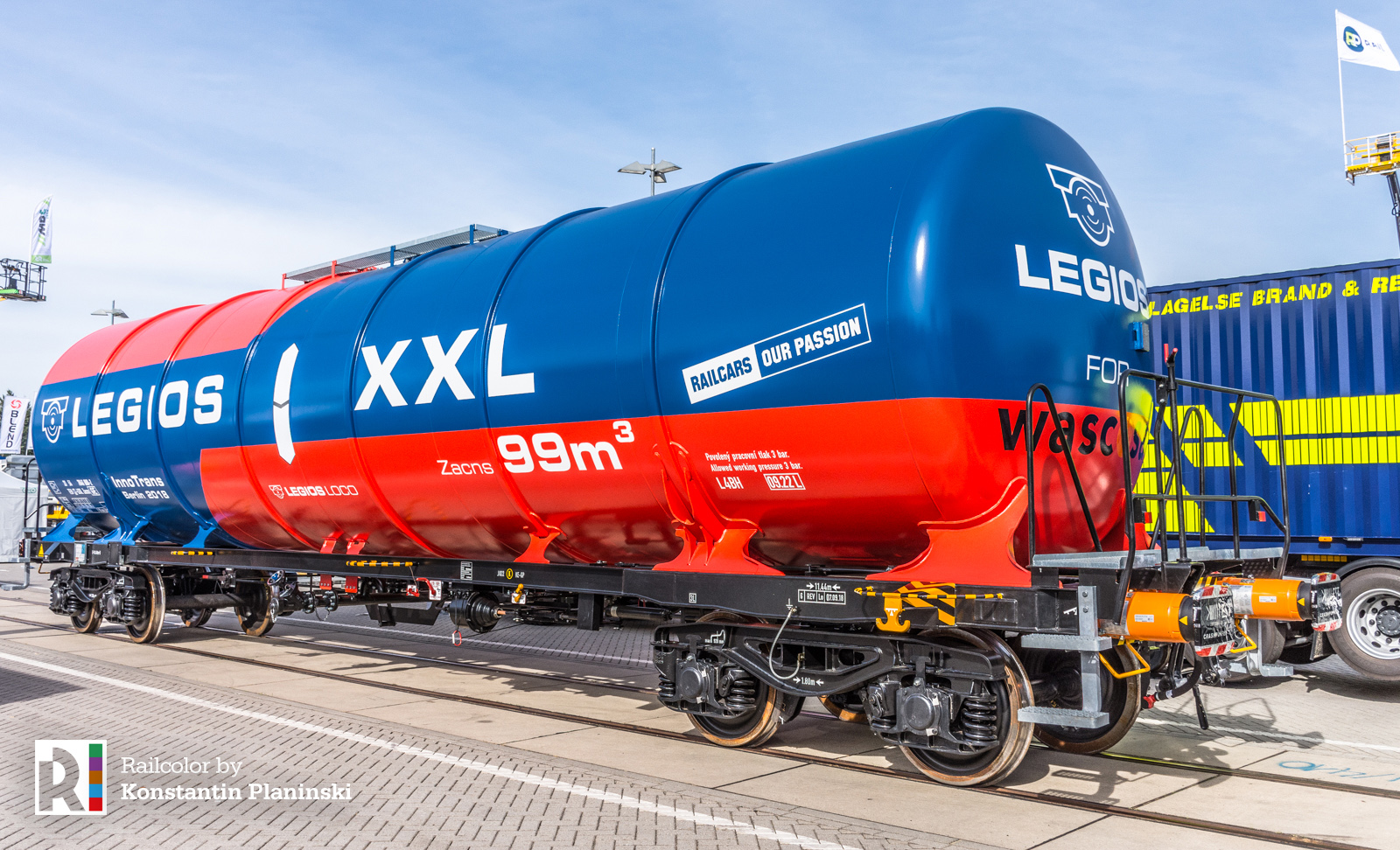 Want to relive our InnoTrans experience again? You can!
This article concludes our series of InnoTrans 2018 Expert reviews (although you might still expect a few extra articles here and there). But if you want to see the fair through our eyes and experience our first impressions, you can – our Live blog is still open! Just keep scrolling down and enjoy a trip back through our colorful timeline.
Of course, we already can't wait for InnoTrans 2020. So see you again in (less than) 2 years!