Tata Steel has received the first of three rebuilt GE diesel locomotives, to be used for rail transport at its Dutch steel plant at Beverwijk. It concerns a 90-ton 4-axle diesel, of which the steel plant owns 14, put into service in the late 60s and early 70s.
Text and Photos by Quintus Vosman
The complex overhaul project that was announced back in 2017 has a double focus: modernising the locomotive equipment plus improving the sustainability and environmental friendliness of Tata Steel's internal rail transport. Three machines are undergoing heavy modernization now; two more will enter service in October and December this year.
A joint project of Tata Steel and Bemo Rail
Tata Steel's railway department is cooperating in this project with Dutch locomotive manufacturer Bemo Rail from Warmenhuizen (NL), a company specialised in shunting locomotives and heavy duty tracks. Tata Steel takes care of the refurbishment of wheel sets, braking systems and other under-frame equipment. Everything above the frame has been replaced, like a newly constructed motor compartment and driver cabin.
Also the machinery on board is brand new: two new (John Deer-built) motors with 241 kW power rating each and a modern locomotive management system. A modular set-up has been introduced: for example, the traction motors can be easily exchanged if needed. Due to the modernisation, the availability of the rebuilt locomotives should increase while the maintenance costs are expected to drop.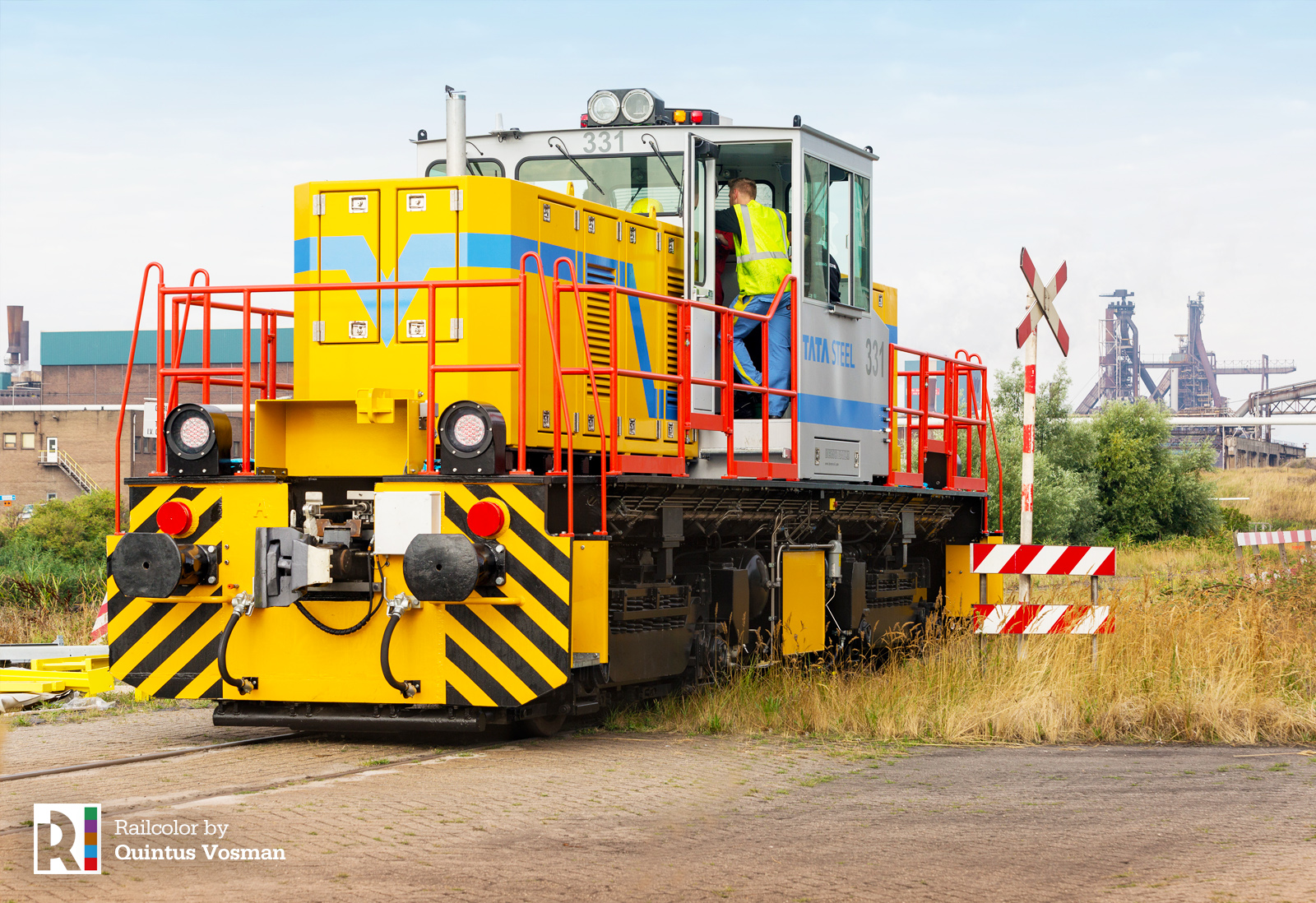 A pilot project
The rebuilt locos will produce less noise, of which near living residents to the Tata rail lines are to benefit. The emission of NOx should drop at least by 96% and of soot by at least 95%. Fuel consumption should be reduced by 22%, while the two new engines have the same power rating as the old ones. The new motors require adblue added to the fuel.
The 3-locomotive-modernisation project serves as pilot for Tata Steel. A decision to modernise more locomotives, following the same formula, has not yet been taken.
Tata Steel in Beverwijk has an internal railway network of 100 km in length. Annually, around 25 million tons of steel and steel projects products are being transported.
Update 28.02.2019:
Over the past months two more machines were transported from Warmenhuizen to IJmuiden. An overview:
Tata Steel 331: left Warmenhuizen on 07.08.2018
Tata Steel 332: left Warmenhuizen on ??
Tata Steel 333: left Warmenhuizen on 28.02.2019
In social media: