This is a premium article. After 01.01.2018, this article will only be visible to subscribers. Support us and get your subscription here.
Welcome.
Every Monday

This Thursday we bring you the latest news on new electric locomotives being built in Europe. New liveries and remarkable operator changes are also mentioned. Enjoy! Oh, do you have comments or questions, contact us here!

Akiem New electrics are under construction at Bombardier's in Kassel. What is new? The new MS and AC3 locomotives have three red 'Akiem squares' on their side, just like this model locomotive: (CK)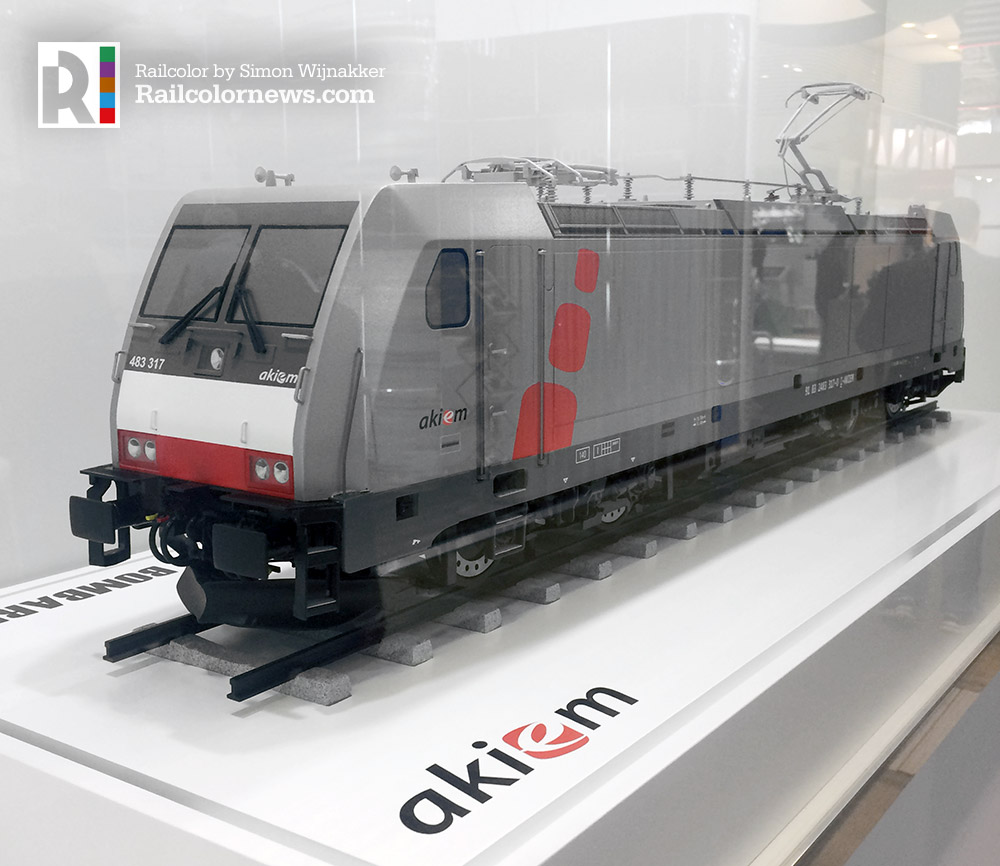 Alpha Trains For the makers of model trains: Beware, Alpha Trains 193 556-559 have different TX Logistik logos on their fronts. In stead of white, these are black and have the addition 'Mercitalia Group': (AK)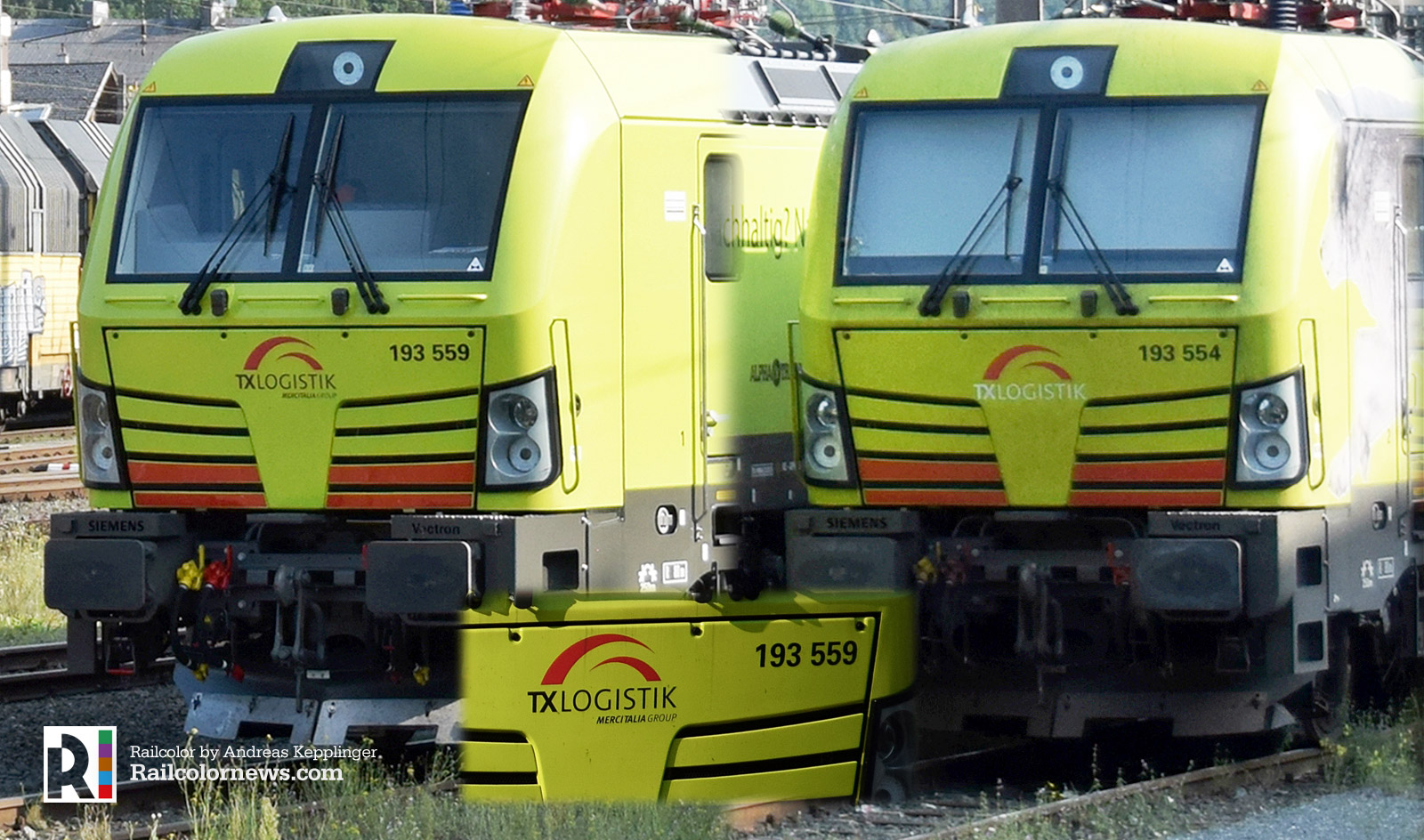 Beacon Rail The first UKlight locomotive has been rebranded as TransPennine Express locomotive. Read more here. The first image of Beacon Rail > First TransPennine Express 68021 'Tireless: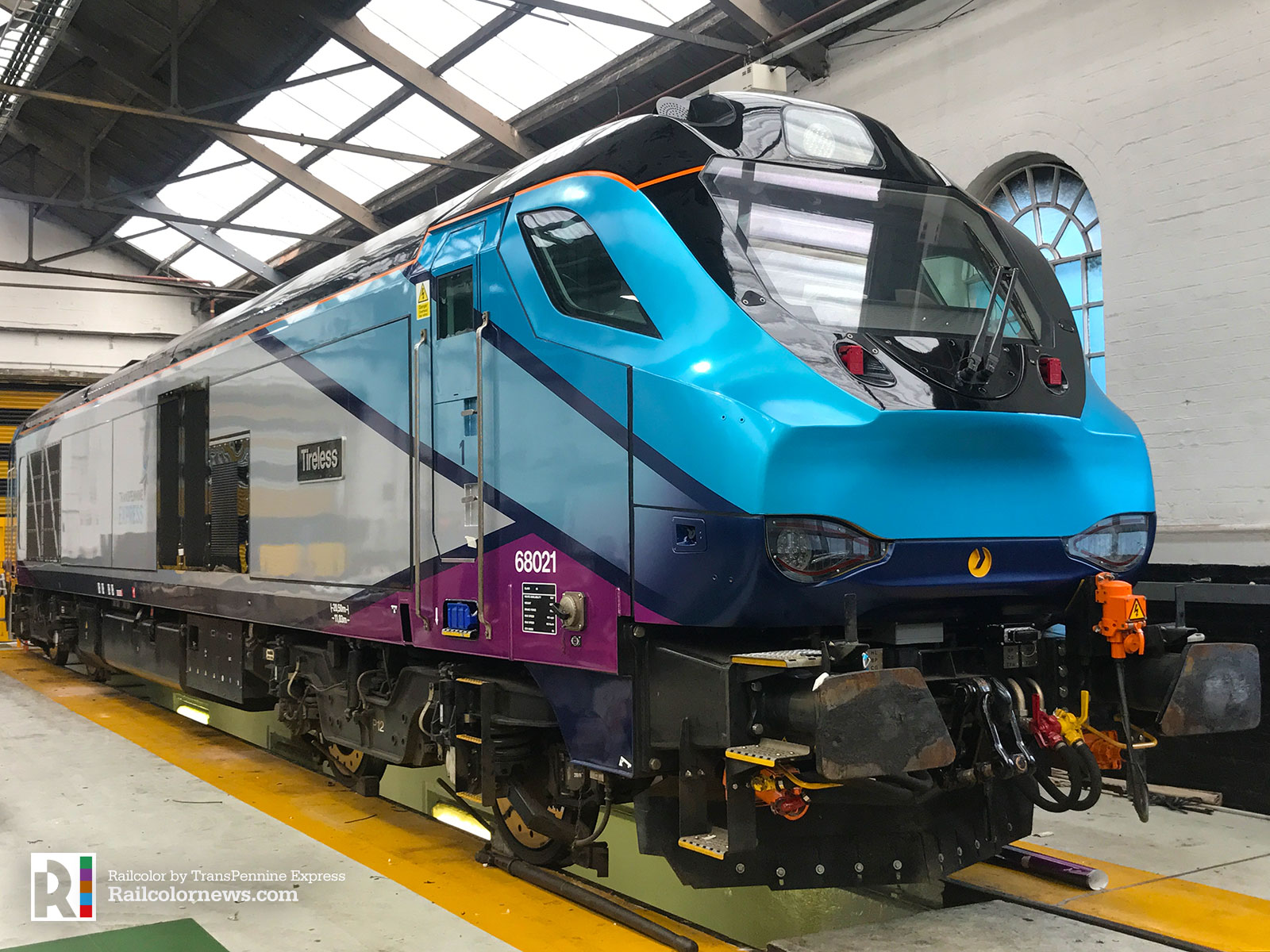 BLS Cargo Vectron's no. 410 and 411 were seen this morning under the Donnersbergerbrücke in München, no logos, ready for transport to Switzerland
ČD Cargo The first of three additionally ordered Vectron locomotives for the Czech carrier has been released from work. The designated 383 006 is now at the VUZ Velim test center. Read more.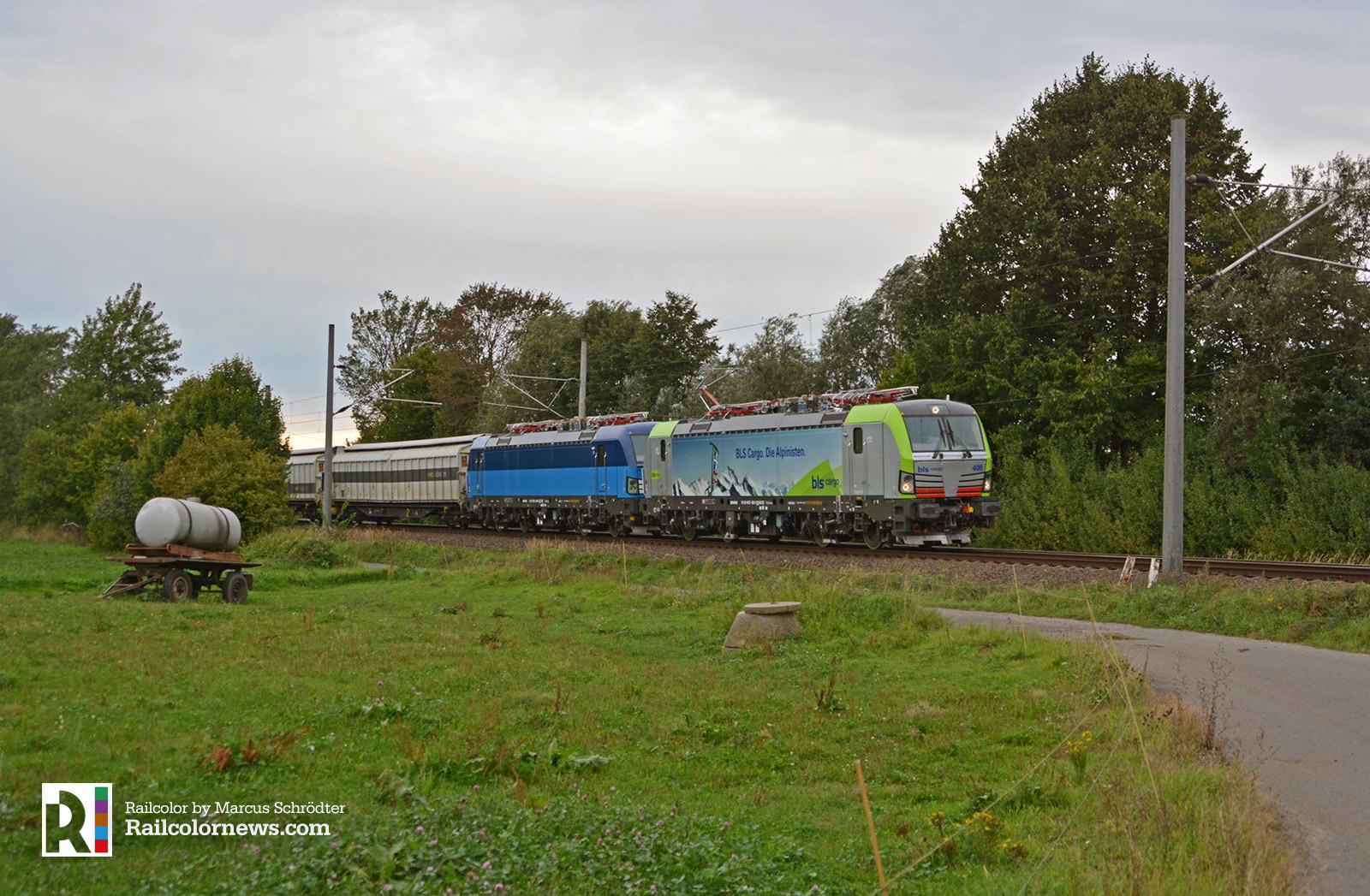 České dráhy The Czech state operator is preparing for the Vectron. Ten electrics will be hired from lease company ELL. Since 20.06.2017 locomotive 193 270 is leased for driver training and allocated at DKV Praha, PJ Praha-Vršovice. Meanwhile the company has releases some design ideas for the new machines. Click here and scroll!
DB Cargo Locomotive 187 135 has left Kassel, REV FKR X 01.09.2017. The number of AC3 locomotives in red is steadily increasing on the German rail network. Have you seen one already?
Lokomotion Currently, Bombardier is giving Lokomotion TRAXX AC2 locomotives their R1 overhaul. 185 666 was released from work with REV 28.08.17. 185 664 was released this week: REV 12.09.17

MRCE Incoming: the lease company has decided to add another thirty Vectron locomotives to its already impressive fleet. 30 more are to come, their delivery starting in January 2018 (that is fast!). They will come in two versions, both new to MRCE:
10x Vectron MS DE/AT/CH/IT/NL
20x Vectron DC IT
You can read more in their press statement.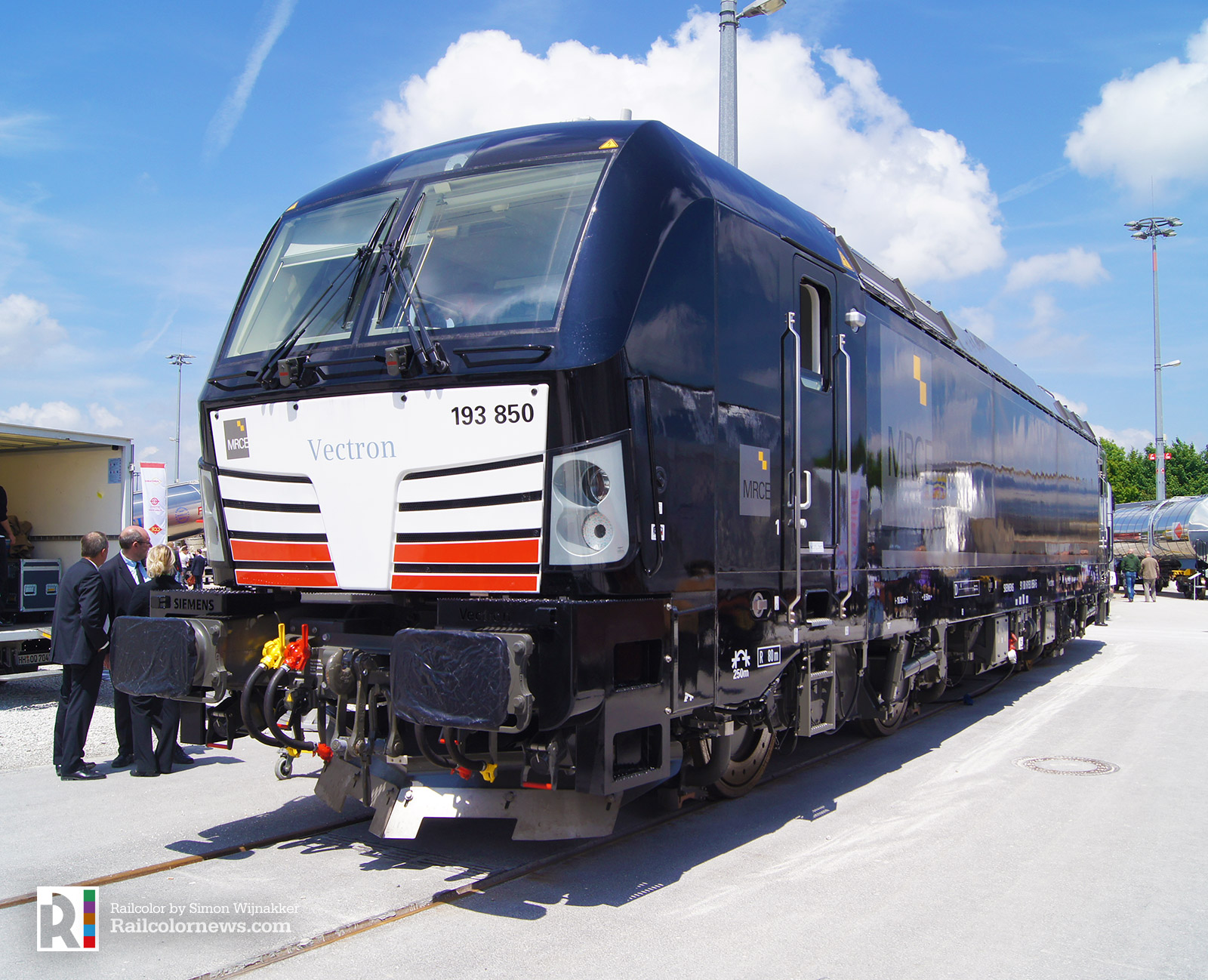 RheinCargo The operator from Germany is actively adjusting, and 'silverizing' its fleet. It recently acquired a DE18 locomotive from Vossloh: 92 80 4185 017-5 D-RHC. This week we could see the now silver painted machine, with RheinCargo designation 'DE501', at Brühl-Vochem. RheinCargo already has experience with this locomotive type as it hired 92 80 4185 013-4 D-VL and 92 80 4185 015-9 D-VL earlier this year.
You may have also seen the Class66 no. DE62 in its new silver paint with RheinCargo logos. DE61 is now getting the same livery. Both machines arrived in Europe in 1999 and had a red HGK livery up until now. DE62 is starring in our newest long-read about the Rastatt 'Umleiter' trains that ran via Tübingen and Horb: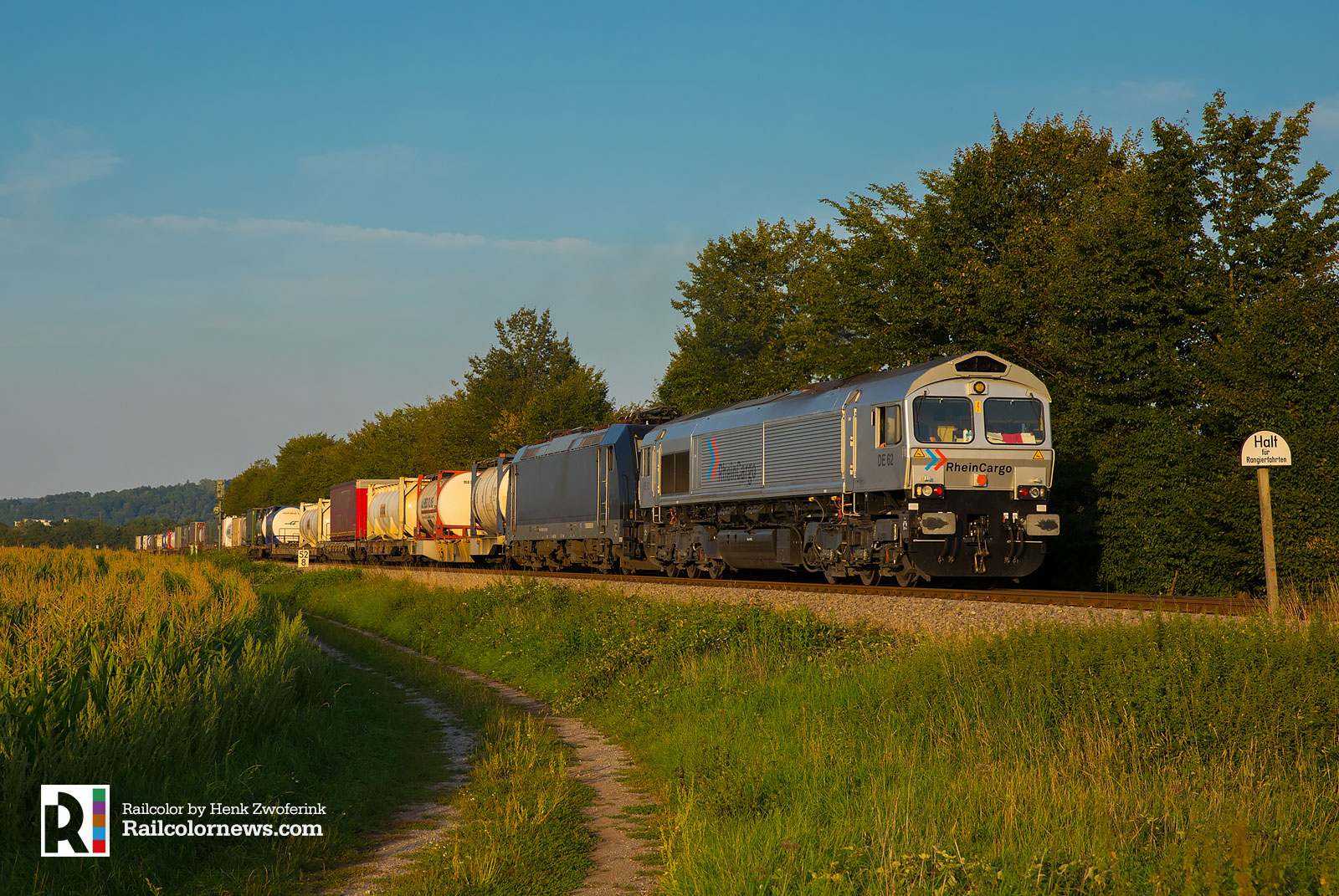 RheinCargo We also made an inventory of the TRAXX F140 AC2 locomotives RheinCargo is/was hiring from Alpha Trains and Macquaire Rail, as many changes were recorded here recently. In total 14 new locos were leased, all painted red for HGK, from Macquarie Rail (185 582 and 584-589) and seven from Alpha Trains (185 603-606 and 630-632). Most of them got new logos recently. The delivery of ten new TRAXX F140 AC3 locomotives by Bombardier last year made RheinCargo decided to end two leasing contracts, an overview:
Macquarie Rail 185 582 > on lease by RheinCargo (2051), red with new RheinCargo logos
Macquarie Rail 185 584 > on lease by RheinCargo (2052), red with new RheinCargo logos
Macquarie Rail 185 585 > status unknown
Macquarie Rail 185 586 > on lease by RheinCargo (2054), red with HeizProfi stickers
Macquarie Rail 185 587 > on lease by RheinCargo (2055), red with old MEV/HGK logos
Macquarie Rail 185 588 > on lease by RheinCargo (2056), red with new RheinCargo logos
Macquarie Rail 185 589 > on lease by RheinCargo (2057), full wrap 'Luther'
Alpha Trains 185 603 > on lease by RheinCargo (2061), red with new RheinCargo logos
Alpha Trains 185 604 > on lease by RheinCargo (2062), red with new RheinCargo logos
Alpha Trains 185 605 > on lease by RheinCargo (2063), red with new RheinCargo logos
Alpha Trains 185 606 > on lease by RheinCargo (2064), red with new RheinCargo logos
Alpha Trains 185 630 > on lease by RheinCargo (2065), red with new RheinCargo logos
Alpha Trains 185 631 > ex 2066, off lease, possibly hired to Ecco Rail from Vienna
Alpha Trains 185 632 > ex 2067, off lease, now hired to Emons Bahntransporte
SBB Cargo Both Alstom H3 hybrid shunting locomotives (H3-022 and 023) that have been delivered to SBB Cargo, now have the full red and blue livery. The machines are in service at Kleinhüningen and Birsfelder Hafen. Read more