First Group has released a first image of a class 68 diesel locomotive in 'TransPennine Express' livery. You see unit. 68021 'Tireless' in the colors that First Group is using for many of its trains since 2016. Metallic silver vinyl is being used, combined with blue and purple stickers.  
Over the next year, First group will start leasing a considerable number of class 68 locomotives to be used in combination with new CAF Mark 5a push-pull sets, that are currently being built in Spain (the first are expected to be outshopped in the 3rd quarter of 2017). Both the Class 68s and the coaches will be property of Beacon Rail. It is expected a class 68 will be sent to the Czech Republic for dynamic trials with the new coaches at the VUZ Velim test ring later this year.
Th current plan is that fourteen class 68s will be hired for the TransPennine Express; the designated 68019-68032. Some more locos could serve as 'spares'. First revenue earning services with the new rolling stock in the UK are planned for the summer of 2018.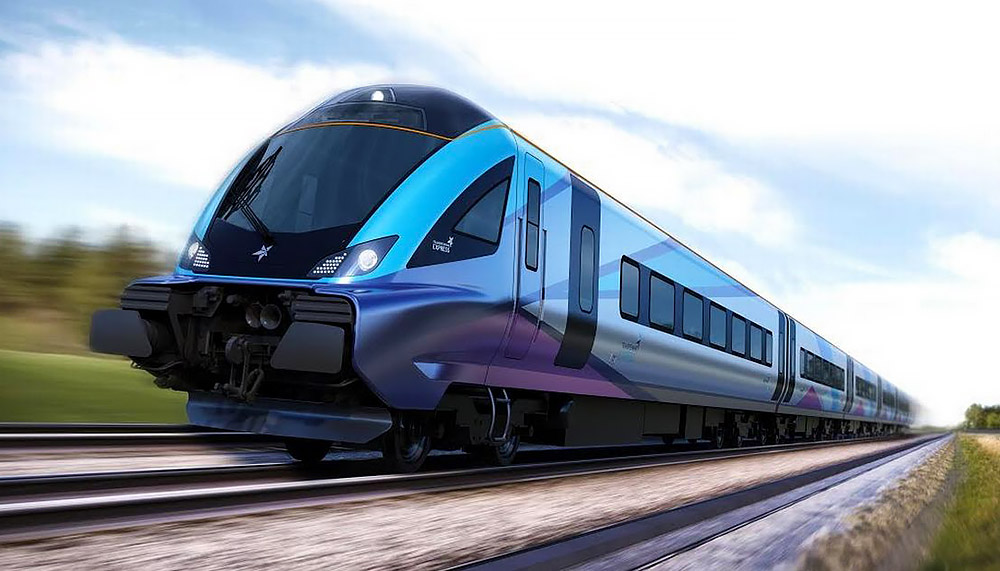 The eye for detail
Interesting; note that there has been a minor design change to the locomotives' front during the delivery of newest 68s. Machine no. 68019-68025 feature a small Vossloh logo in their front panels, and 68026-68032 don't, because Vossloh España was taken over by Stadler Rail. In the picture you can see the 68021 has a Vossloh logo and it is still yellow.
Also different: 68019-68025 were delivered in full DRS-livery. 68026-68032 just got the blue base paint and sport smaller DRS logos awaiting the future livery change for the TPE project.