HVLE and the EuroDual – an iconic project that paved the way for Stadler's newly introduced hybrid product across Europe. The big news from recent days: tests are over, commercial use has finally begun.

This article was originally posted on 09.03.2020 and updated on 10.03.2020, 30.03.2020, 08.04.2020, and 13.04.2020. We thank Artemis Klonos, Andreas Kunert, Sebastian and Helmut Bollmann, and Sebastian Heilander for sharing their beautiful pictures with us. Scroll down to see the updates.

This is, without a doubt, an important milestone for both Stadler and HVLE, and the European Railway industry as a whole. A pan-European six-axle begins its journey throughout the continent, with more countries following soon. This calls for a retrospective:
Indeed, our editorial team has been following that closely ever since the Swiss manufacturer announced the EuroDual as its first design following the takeover of the former Vossloh-factory near Valencia. Then, HVLE became the launching customer. In 2018 not one but three such locomotives arrived in Germany for tests. We saw and personally inspected one of them at the InnoTrans. Right after that, the authorization tests began – both on the test tracks and on the main lines of Germany. And it was less than a month ago when HVLE officially announced that Germany's EBA has granted the Stadler Rail EuroDual authorization for operation in the country.
Now, the long wait is over – we finally see the HVLE EuroDual in commercial operation: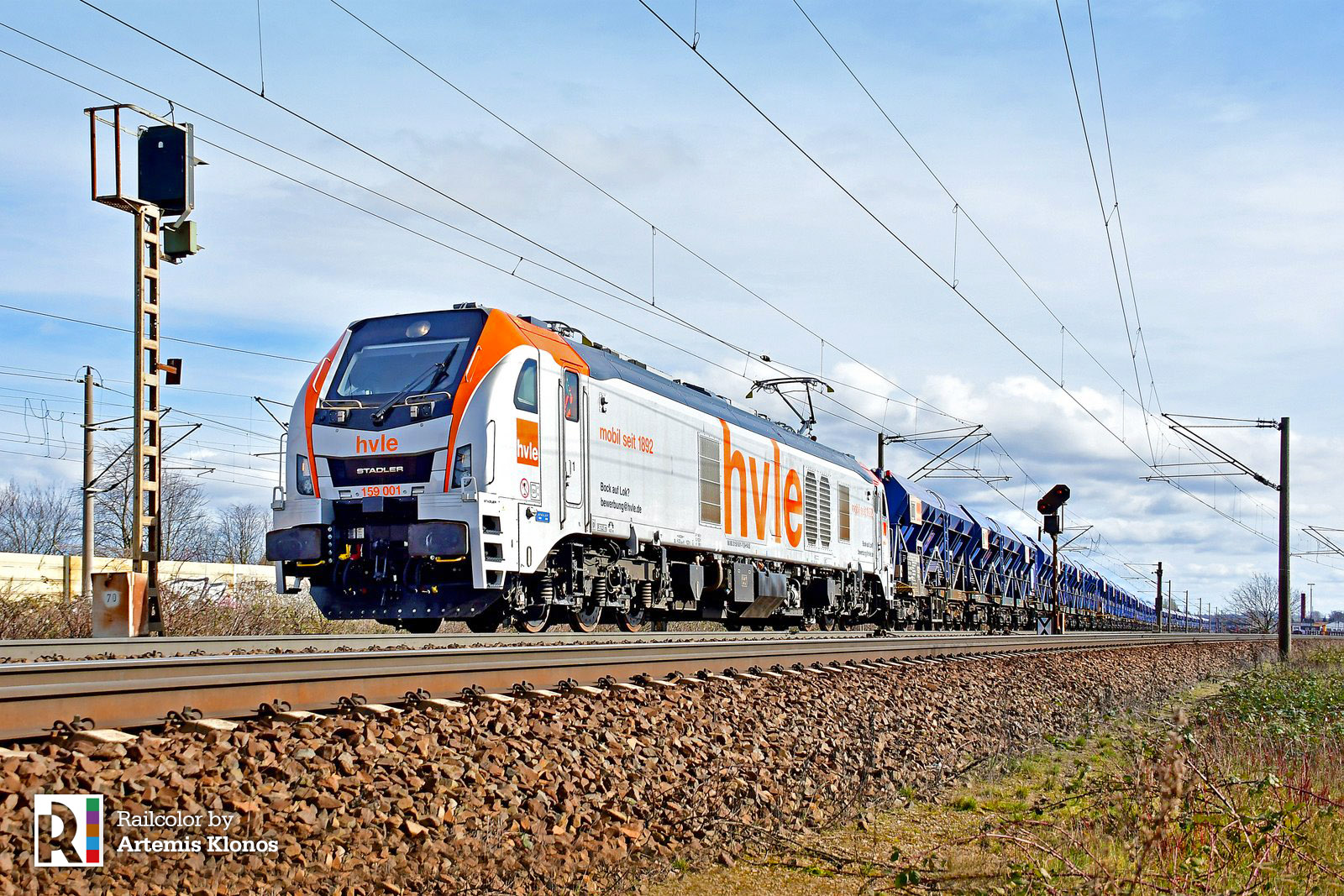 The picture above shows HVLE's 159-001 in Seelze (DE) pulling a what-seems-to-be endless freight service in electric mode. The image was taken by Artemis Klonos on 02.03.2020.
We will be soon updating this article with more visuals of the HVLE EuroDual in action. Want to take part? Then get your cameras ready and send us your pictures (or videos?) of the orange-silver, six-axle beast.
Update 10.03.2020
Andreas Kunert has sent us a nice picture of 159 001, taken in Magdeburg Buckau on 20.02.2020. The EuroDual is seen pulling an empty train from Salzgitter Beddingen to Blankenburg: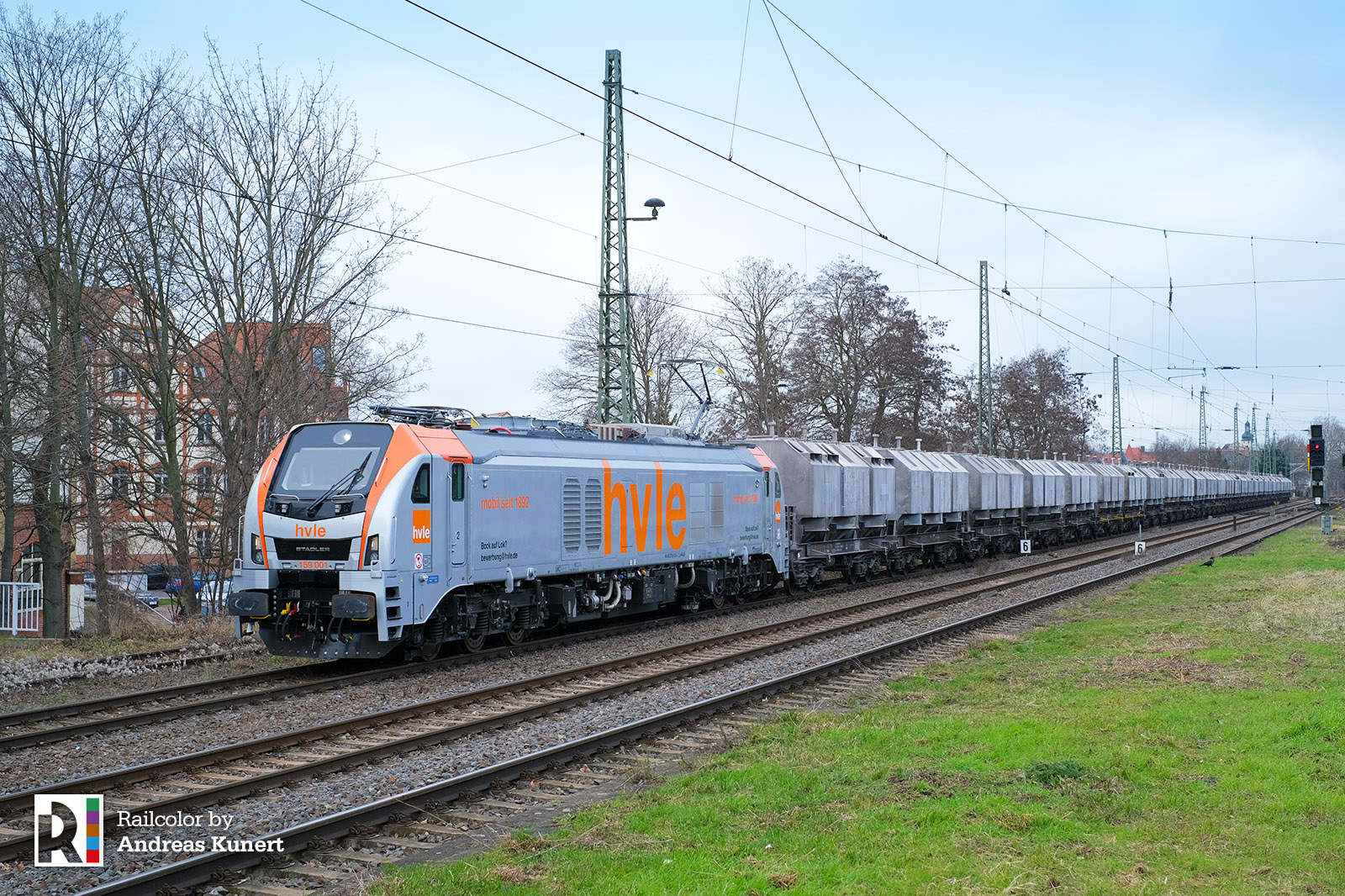 Update 30.03.2020
Andreas Kunert sends us yet another beautiful picture, this time featuring 159 003 still wearing its InnoTrans 2018 promo wrap. The locomotive was 'caught' in Plötzky (DE) on 27.03.2020 with a limestone train from Blankenburg to Harz-Spreewitz: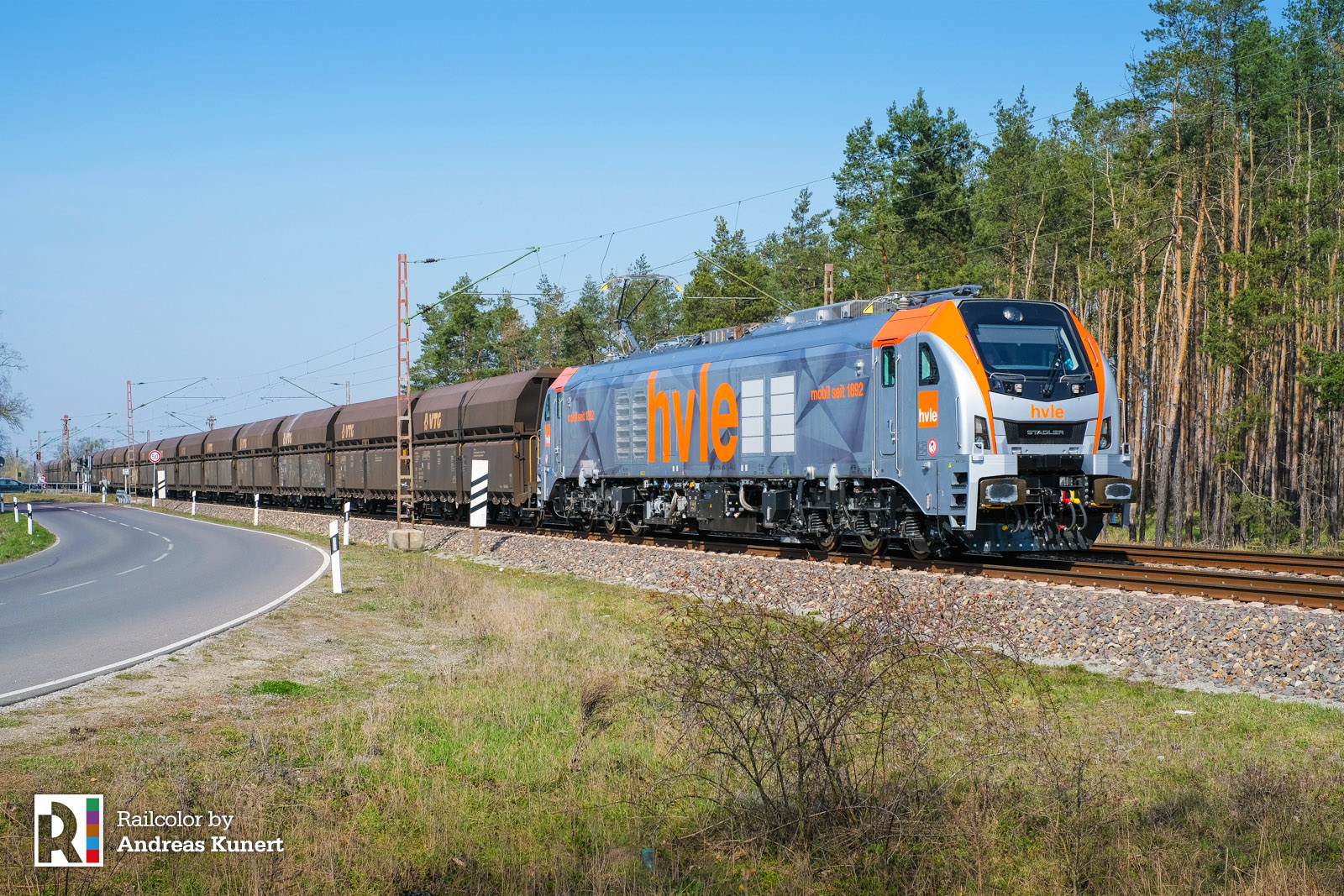 Update 08.04.2020
So far, we've been showing you only 159 001 and 003 in this article. Sebastian Bollmann brings us the first image of 159 002, pulling a "Super Self Discharging Train" in the evening of 05.04.2020 in Röddensen near Lehrte. What a sight!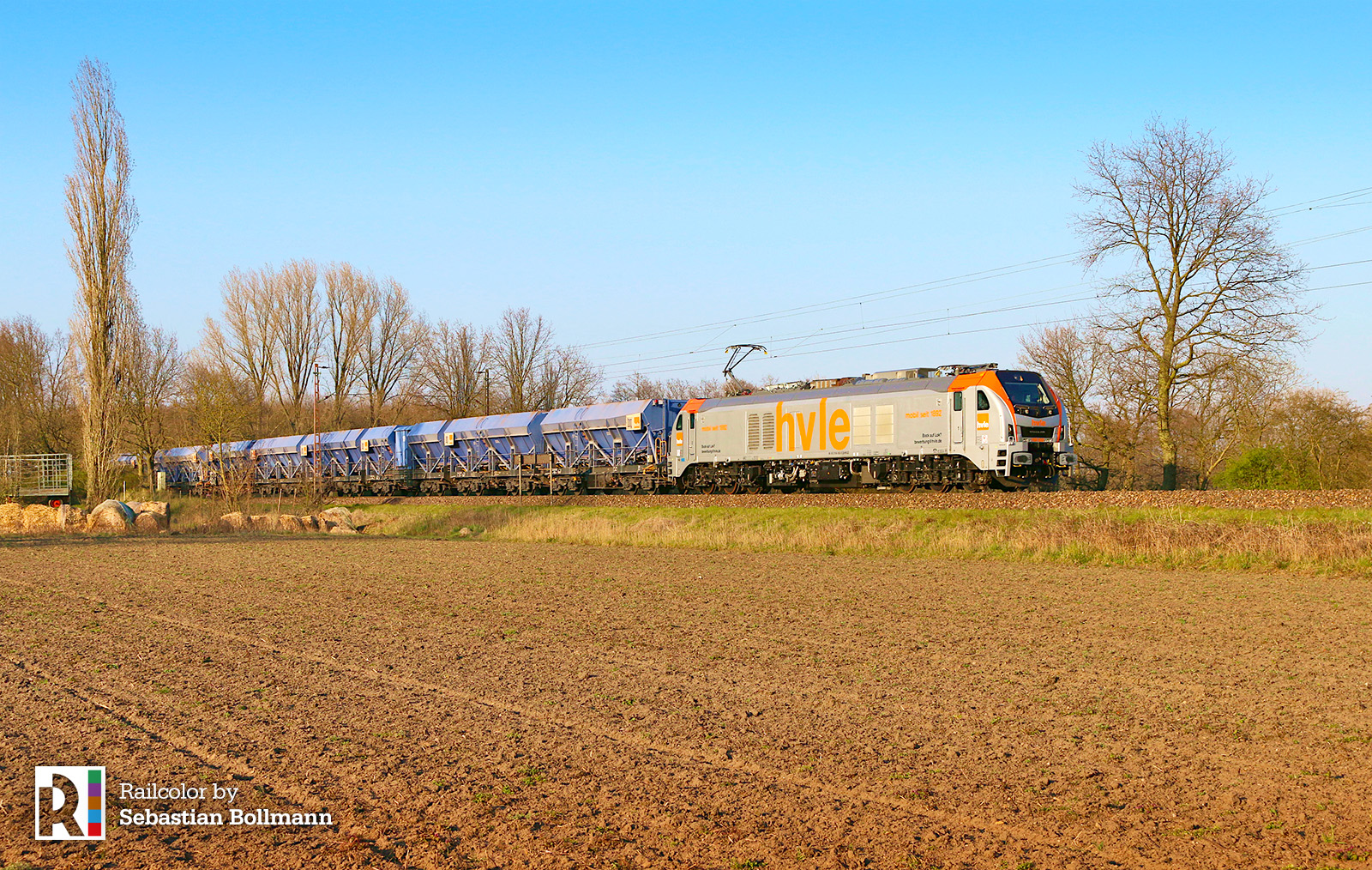 Earlier the same day, Sebastian's father, Helmut, was also lucky to catch 159 003, with a lime train from Blankenburg (Harz) to Spreewitz. The picture was taken just after the train's departure from Blankenburg: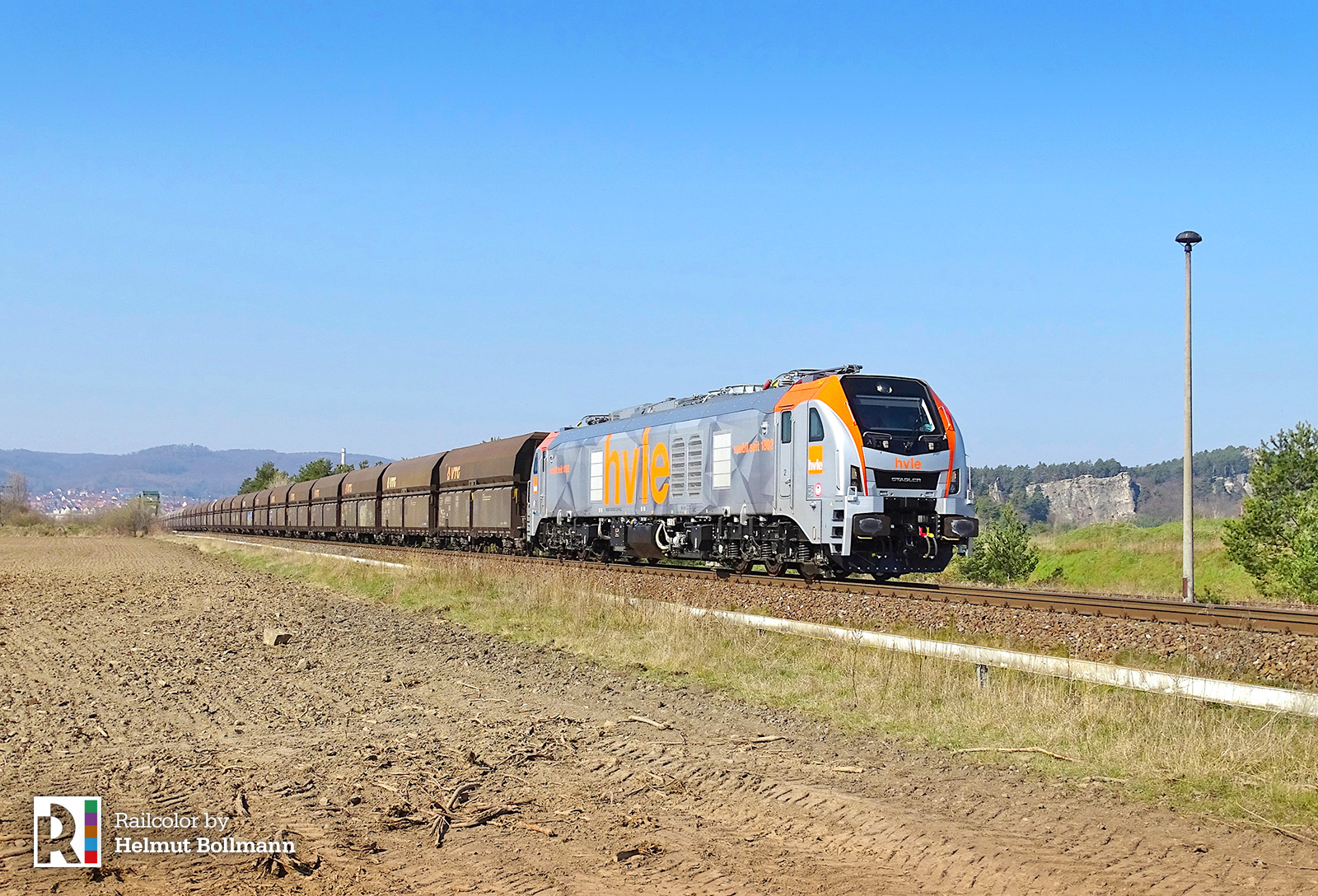 Update 13.04.2020
We conclude our updates with one final Moving forward with picture of 159 003 – again in Blankenburg, but this time shortly after departure on 12.04.2020. Sebastian Bollmann comments: "Notice the between the modern locomotive technology and the former railroad buildings (depot in the middle and signaling house on the left), which have been out of service for years now."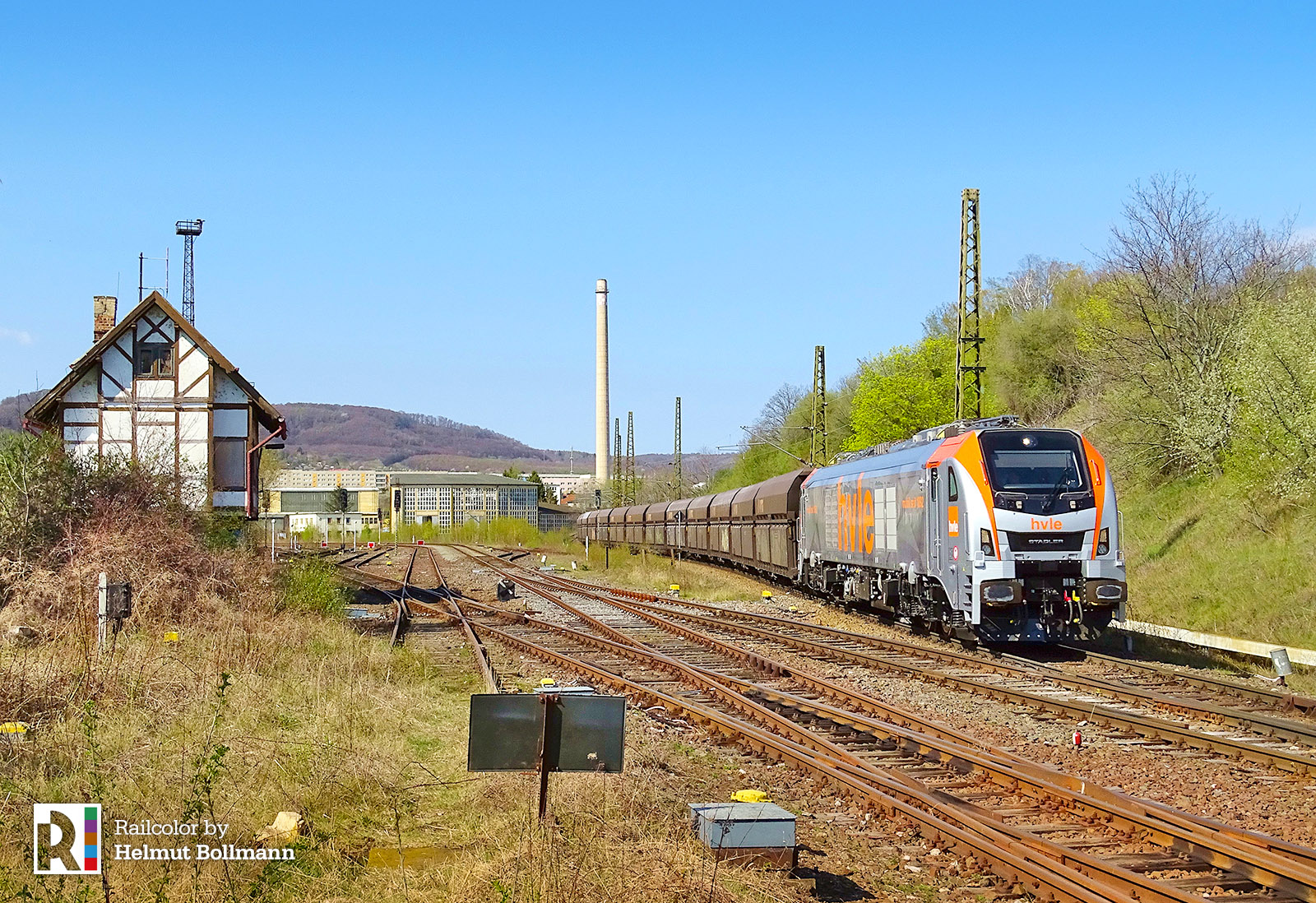 Update 08.05.2020
Ok, we simply couldn't resist adding yet another, fresher and greener photo of 159 001 – as seen passing through Leipzig-Miltitz on 07.05.2020 through the lens of Sebastian Heilander: