Welcome. Every Monday we bring you the latest news on new electric locomotives being built in Europe. New liveries and remarkable operator changes are also mentioned. Enjoy!
Do you have comments or questions, contact us here!
Akiem > Lineas France: Lineas France, formerly known as OSR France, is busy rebranding its rolling stock. Last week we saw two Prima locomotive, that still have the pink wrapping from their OSR livery, that now have Lineas logos. The numbers? Prima electric 27156 and diesel 75025. – AM
Alpha Trains: "We are happy to announce that our TRAXX MS locomotives with DE/AT/PL homologation received permission to access Venlo border station in the Netherlands. This means more flexibility for our customers by accessing the Venlo train station to load cargo."
Alpha Trains: The delivery of Vectron locomotives to Alpha Trains is completed. All 10 units are now commissioned. The designated 193 550-559 are all in operation with TX Logistik. There are 8 livery designs, click here for a list and beautiful images of the 557 and 558.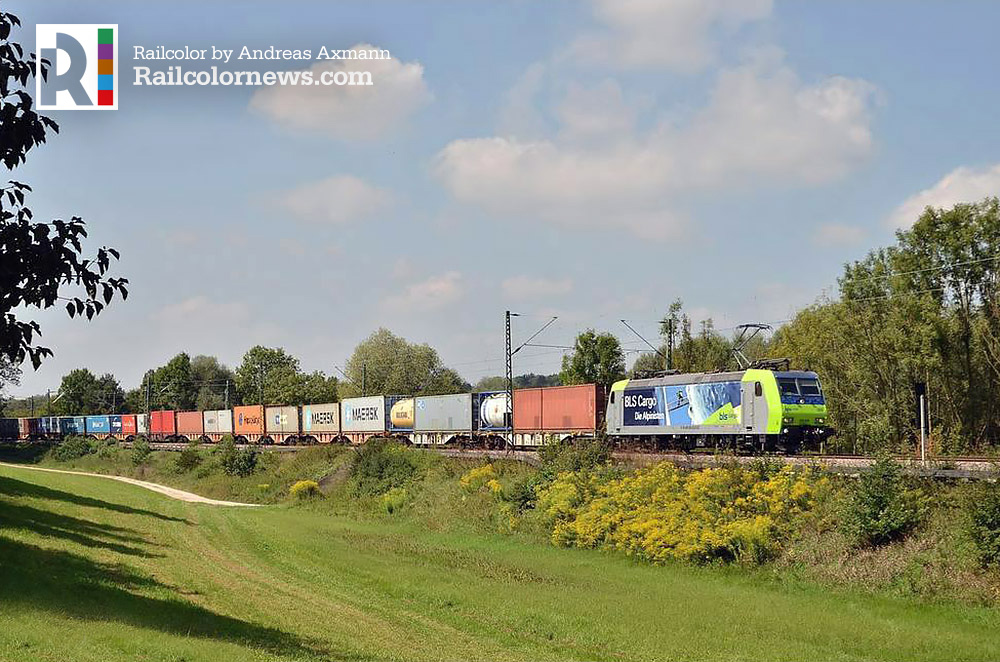 BLS Cargo: We have seen two 485s with new stickers now: 485 005 485 006 and 485 009.
DB Cargo: On 30.08.2017, DB Cargo 187 135 completed its maiden run. 187 133 was delivered to DB Cargo one day earlier. – CK
#EXPO1520: Last week, the leading railway trade fair EXPO1520 in Moscow took place. The Swiss rail industry has released several videos about the event, such as this one that gives a quick impression from the event. It features the Bombardier TRAXX Russia locomotive, enjoy:
Israel railways: TRAXX no.3003 has arrived in Israel, and that did not happen unnoticed. Beautiful images and a video of the 'landing' here.
MTEG > Pressnitztalbahn: MTEG locomotive 189 800 got its R1 revision. DB Fahrzeuginstandhaltung in Dessau returned the unique locomotive to the operator at the end of August. The 189 800, running under the responsibility of the Pressnitztalbahn looks as new, its paint is shiny again. Remarkable: the Meerare coat of arms are gone. – TW/DSO
ÖBB: Back in service: ÖBB 1116 232. This locomotive derailed in April 2017 with its ORF RailJet train in Wien-Meidling. – GB
Railpool: Bombardier in Kassel is very busy with the construction of new TRAXX MS locomotives for Akiem and Railpool. We closely follow the production and the tests with units that have not been delivered yet. One of them is 186 445 that is currently  in Switzerland for testing a new pantograph type for TRAXX MS. It makes test runs between Sion and Sierre. – PD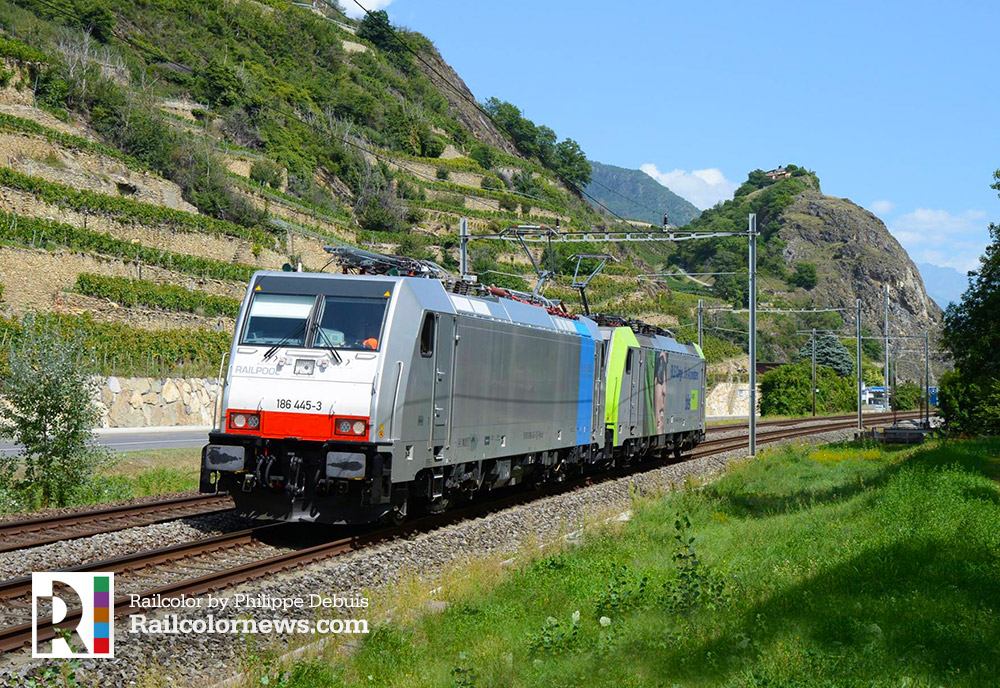 Rhenus Rail (LTE/Crossrail): On 01.09.2017, a blue painted TRAXX MS locomotive in Rhenus Rail design was seen in the Netherlands. The locomotive pulled the new EKOL shuttle train to Zeebrugge (BE) via Venlo (NL). The train is coming from Trieste in Italy. – SO/RM
SBB: The Re460 series locomotives with IGBT convertor is now homologated for Switzerland, but its use is restricted to non-ETCS track sections only. Last week we brought you an update about the Re460 modernisation project at Yverdon-les-Bains. Series modification has started now.
SBB Cargo: Remember the H3 locomotives Alstom is building for SBB Cargo? Unit no.1002 022 and 023 were released from work in a plain blue livery. Only grips and lamp housings had a different color. Now we know why, the stickers were still missing. A first image of the H3 no.023 now in the well-known SBB Cargo color scheme:
Softronic > DB Cargo: The newest Softronic Trans Montana electrics in the fleet of DB Cargo in Romania are the 480 027 and 028. But the stickers on these machines have caused some confusion. Do they have UniCredit striping yes or no? The answer is, the 027 is commissioned with the extra striping and logos, but 028 not. Bot did have them for a commercial event. By the way, 028 is nicknamed UNIREA 1, but this is visible only on one side, 027 is nicknamed UNIREA. – AP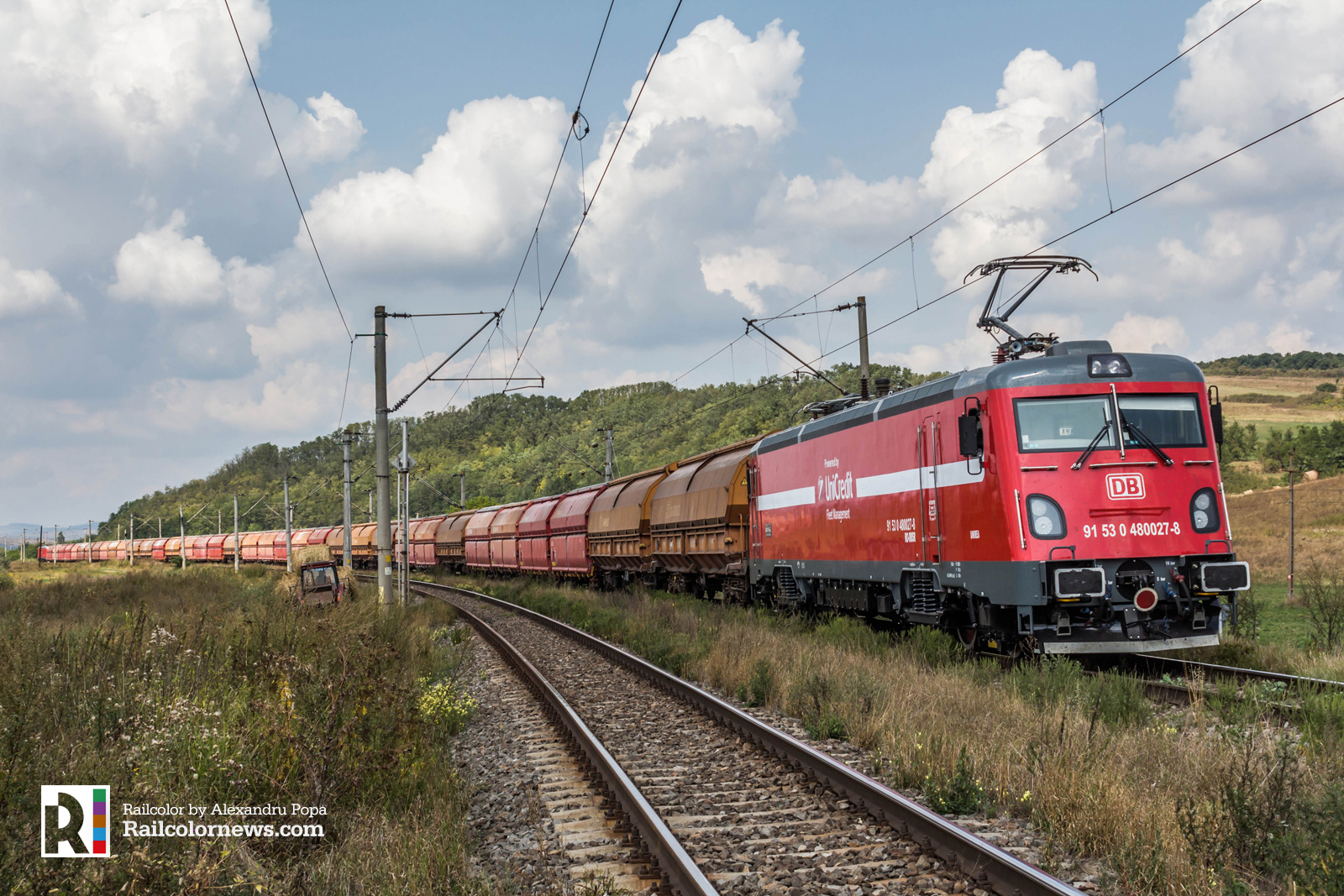 Stadler Rail: The EuroDual prototype locomotive has returned fro Romania. The wrongly numbered '6001' was seen at Hegyeshalom border station on 01.09.2017.