Deutsche Bahn has inaugurated its expanded locomotive workshop in Dessau, which now enables DB Fahrzeuginstandhaltung to test multisystem locomotives; a long-desired, but also long-required feature to effectively compete in the European market. In circa 30 months, a new 1,500 m² hall has been erected, claimed to be the most modern testing facility in Europe.
Michael Otto, head of the DB Fahrzeuginstandhaltung workshop in Dessau, and Uwe Fresenborg, chairman of DB Fahrzeuginstandhaltung, inaugurated the new locomotive testing facility together with Peter Kuras, Mayor of Dessau-Rosslau on April 20.
"Our new locomotive testing facility offers the best conditions for high-quality servicing, especially with respect to the testing of multisystem locomotives. This benefits our customers and strengthens Dessau as an economic center", said Michael Otto.
Built in circa 30 months, the 1,500 m² large hall offers space to four tracks and eight working lots for all four European overhead power systems. As of mid-2017, the workshop teams will find optimal working conditions, allowing to work on multiple locomotives with varying drive-trains and power systems simultaneously.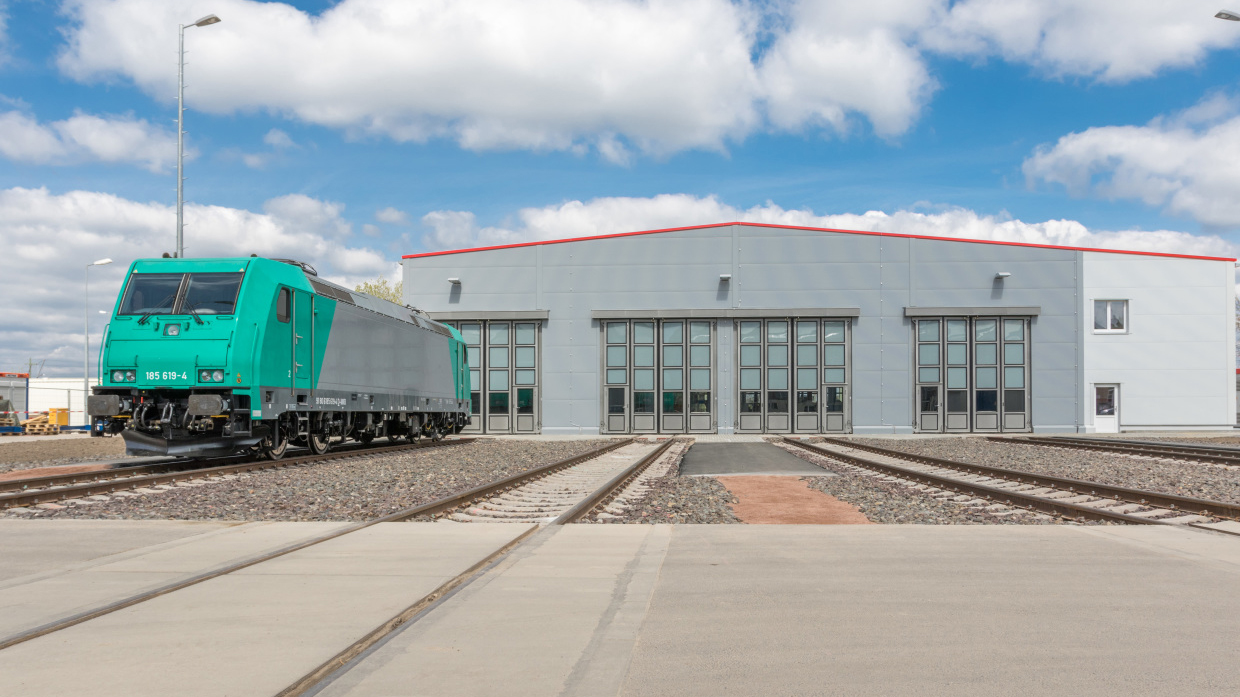 At the Dessau workshop, a large variety of locomotive classes is serviced and their components are technically maintained. This is done by a skilled force of approximately 1,200 people. Additionally, the workshop provides life-extending services for vehicles. The new hall now offers more possibilities, as a wider range of vehicle types may now be serviced from A-Z.
Even though inauguration of the new service hall has taken place, some finishing touches still have to take place before it is handed over to DB Fahrzeuginstandhaltung. But when fully completed, it has the following features:
8 locomotive service stands
8 inspection pits
5 elevated service stands for roof works
isolation testing up to 75 kV
high-power testing up to 3,000 A
switchable AC overhead power (15 kV/16.7 Hz or 25 kV/50 Hz)
a transformer testing stand
a compressed air installation for braking tests
ceiling heating
solar packets for heating support
folding door with air curtains
a 1.5 / 3.0 kV DC testing track for running and brake tests
The long-awaited expansion of Dessau's portfolio is also long-required. A Europe-wide perspective is essential for the future, as multisystem electrics have been gaining market share for years. Although multisystem electrics have been receiving maintenance at Dessau before, this has always been on a limited scale due to the lack of testing possibilities. Meanwhile, the market has seen new entrants in the maintenance segment that have both the knowledge and capabilities to offer full service solutions to their customers. Important competitors have become the manufacturers themselves, for example Bombardier and Siemens which have both launched an in-house servicing department for their own locomotive types in Germany.