Today, Munich-based RailAdventure GmbH is announcing their entry into the United Kingdom marketplace with a partnership with Britain's own Hanson & Hall rail service company along with the purchase of eight Class 43 locomotives
Sponsored post: Railcolor is honoured to be the first to break this exciting news, and have had the pleasure of seeing the first Class 43 double locomotive in Eastleigh, England. If you want to stay informed about future Railcolor updates, you can subscribe to our news letter here, If you want to read all of our news updates right away, we have several subscriptions for you available here.
An Adventurous Rail Company
As reported elsewhere on this site, RailAdventure has made a name for themselves as one of the market leaders in special transport and test runs all across Continental Europe. Founded in 2006, RailAdventure gained immediate notoriety by breaking the 51-year-old world speed record for classic locomotives with their 357 km/h high-speed run between Ingolstadt and Nuremberg. This impressive feat earned them a spot in the Guinness Book of World Records and a legion of fans.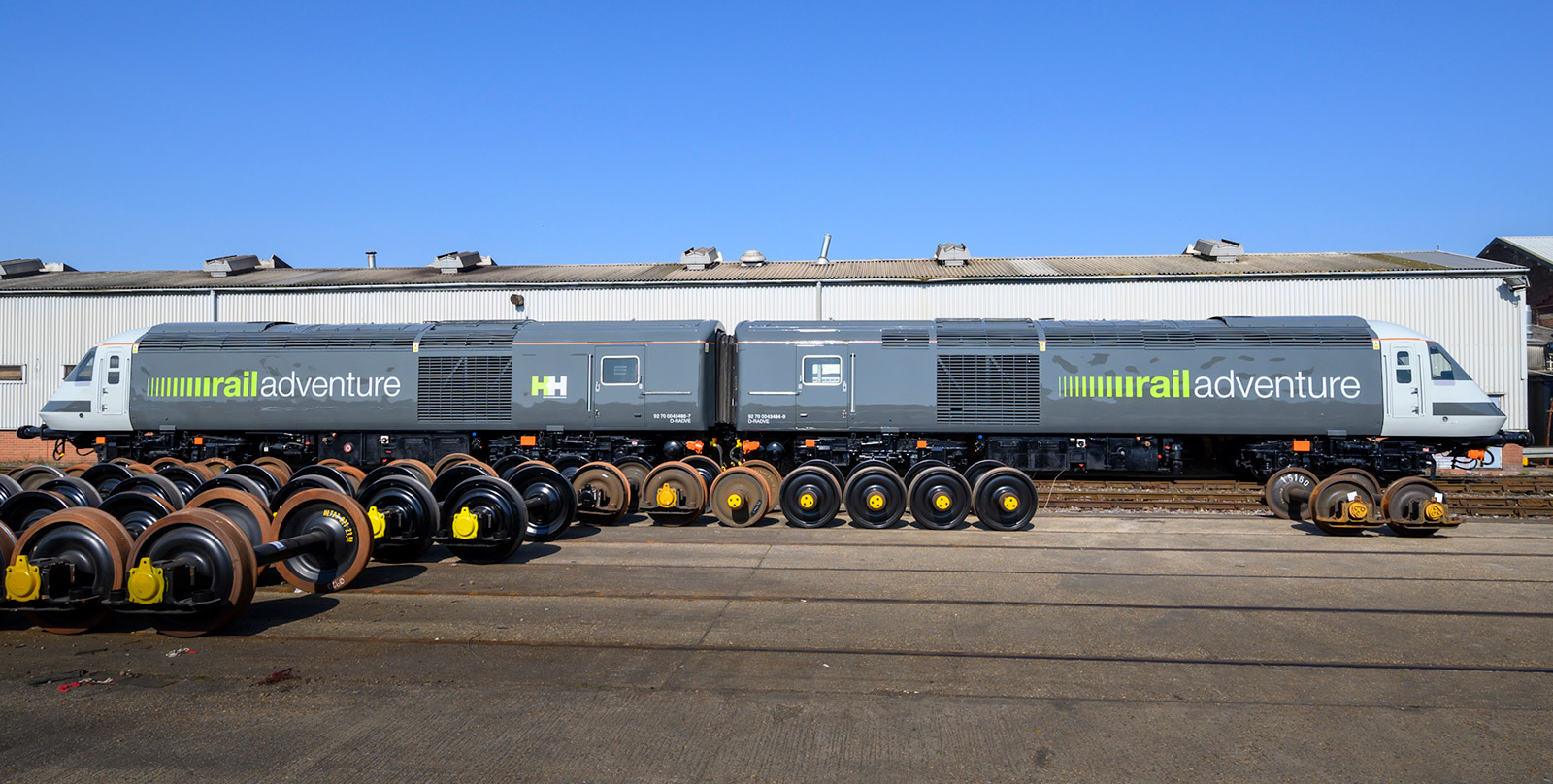 A self-described 'interim operator' that only tests and runs its vehicles on a temporary basis, the company maintains a strategy of complete neutrality; this means that they only use novel locomotives that are not associated with existing manufacturers or brands. Says Alex Dworaczek, RailAdventure's Managing Director:
What we want to avoid is […] using a current product of a locomotive manufacturer to transport the prototype of another competing company, which can lead to conflicts of interest with our customers.
This strategy has resulted in the company frequently revamping iconic older train models for the modern age, as part of a way of honouring the history and heritage of the regions they operate within. 
The British Connection
Over the last few years, RailAdventure has been heavily involved in delivering European-produced vehicles to Great Britain. However, as leading European rolling stock manufacturers have begun operating production plants in the United Kingdom, the company has decided to secure their "own source for the British domestic market," states Mr. Dworaczek, continuing, "In addition, the local proximity to the production sites is important to us."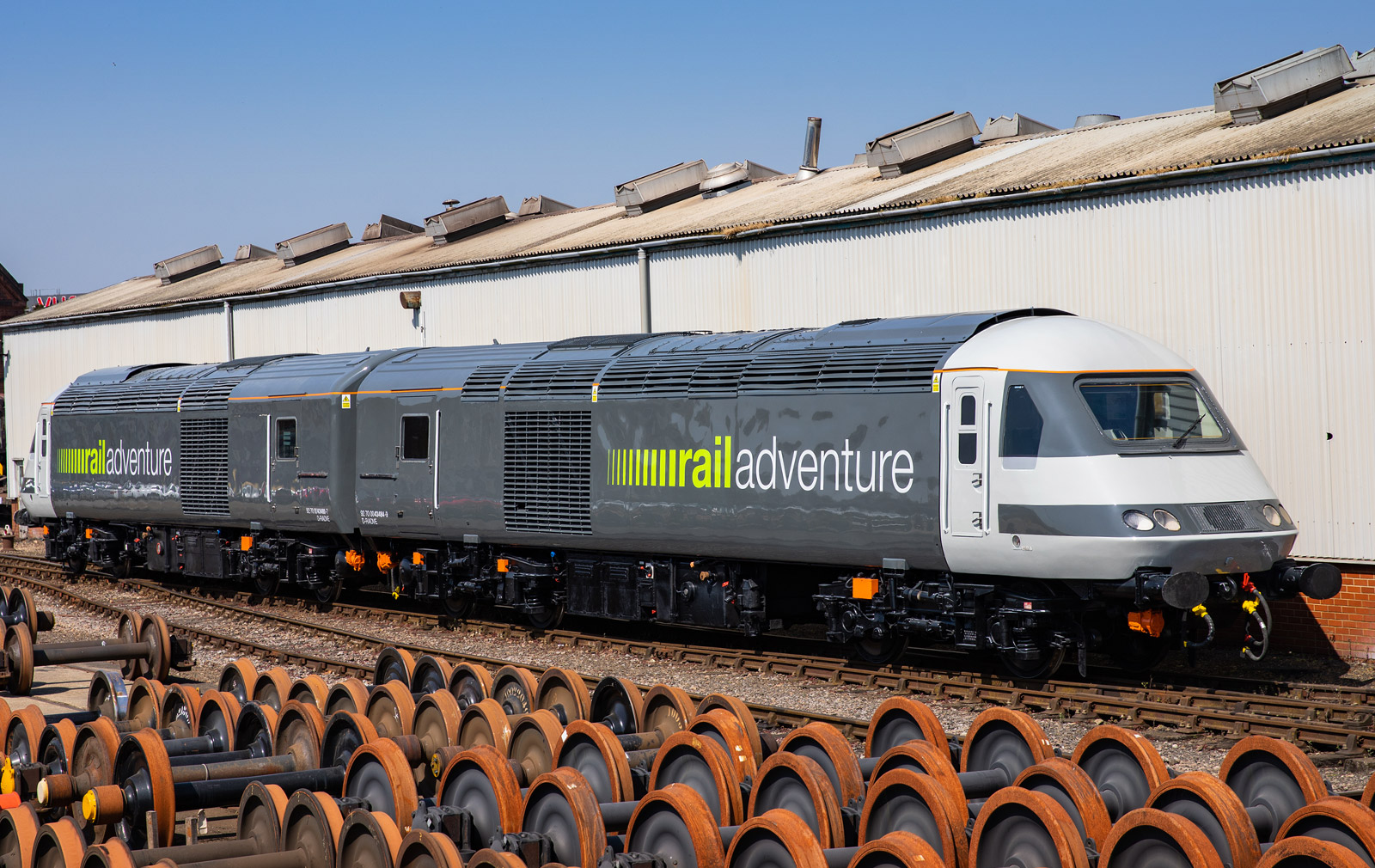 Enter Hanson & Hall, a young rail services company that has been operating two locomotives, a Class 31 and Class 50, since 2018. With this new partnership and rebrand to "Hanson & Hall Part of the RailAdventure Group," the company hopes to take the next step in increasing their service offerings, asserts Managing Director Jason Hall:
Through the combined experience of Rail Adventure and our company, the UK rail industry and its suppliers are about to receive a much-needed step change in service levels, and I am thrilled we have such fantastic partners backing us during the next stages of our growth.
The first action of the new venture is the purchase of eight high speed Class 43 power cars from a UK leasing company.
A True Classic 
Nicknamed the "racehorse" by its fans and drivers, the Class 43 is officially the fastest diesel locomotive in the world with a top recorded speed of 239 km/h in 1987. The cars were built by British Rail Engineering Limited (BREL) between 1975 and 1982, and were used in Britain's InterCity 125 where they would run over 2,400 kilometres per day.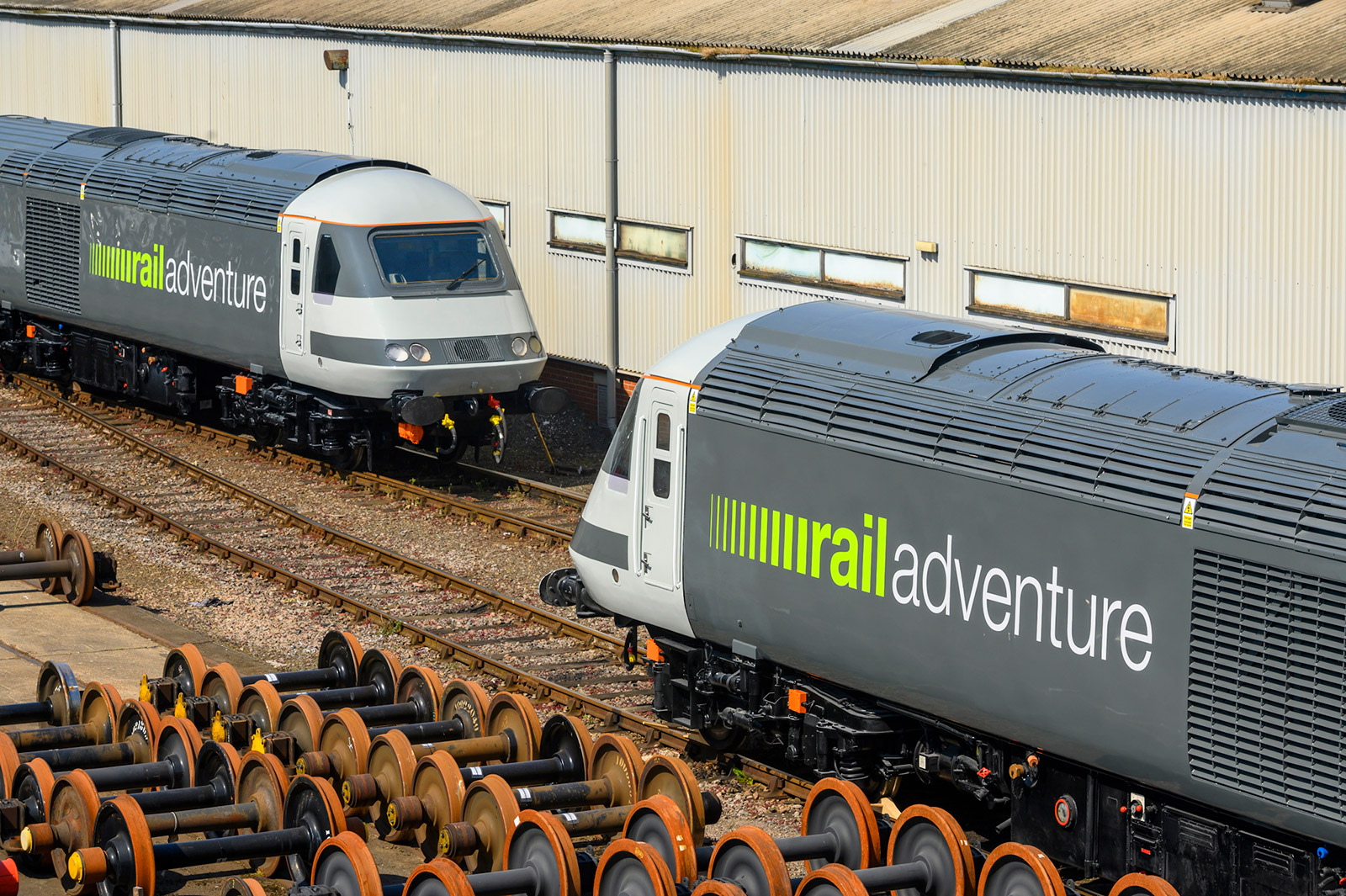 Of the eight classic cars purchased, six will be utilized to make three double-locomotives while the remaining two will be used as donors for spare parts. Over the next few months, the Class 43s will be outfitted at the Doncaster works Arlington Fleet Group in Eastleigh with translator technology to control the electro-pneumatic brakes of towed multiple units. Habfis coupling adapter cars will be imported from the continent.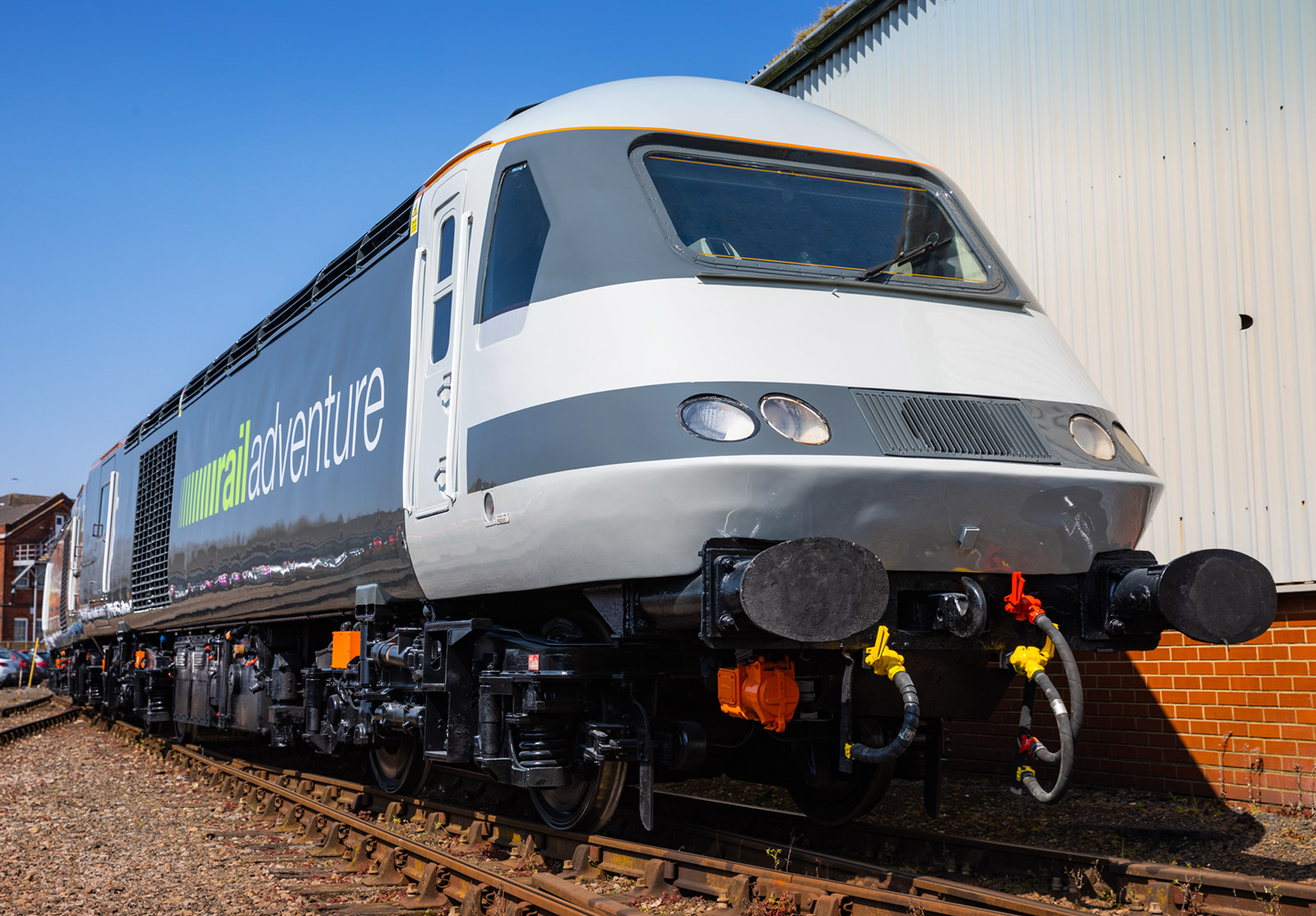 The double locomotives will be based out of London with direct access to the East Coast, Midland, and West Coast Main Lines, along with the Southern and Great Western Railways. The high speed diesel vehicles are also available to be used as traction vehicles for test rings in Central Europe.
The first two power cars, TOPS Nos. 43480 and 43484, have already been repainted with RailAdventure's recognisable two-toned grey and green look and are currently available for operation:
TOPS 43484 = EVN 92 70 0043 484-9 (paintwork completed)

TOPS 43480 = EVN 92 70 0043 480-7 (paintwork completed)

TOPS 43468 = EVN 92 70 0043 468-2 

TOPS 43467 = EVN 92 70 0043 467-4 

TOPS 43465 = EVN 92 70 0043 465-8 

TOPS 43423 = EVN 92 70 0043 423-7 

TOPS 43308 = EVN 92 70 0043 308-0 (Spare)

TOPS 43296 = EVN 92 70 0043 296-7 (Spare)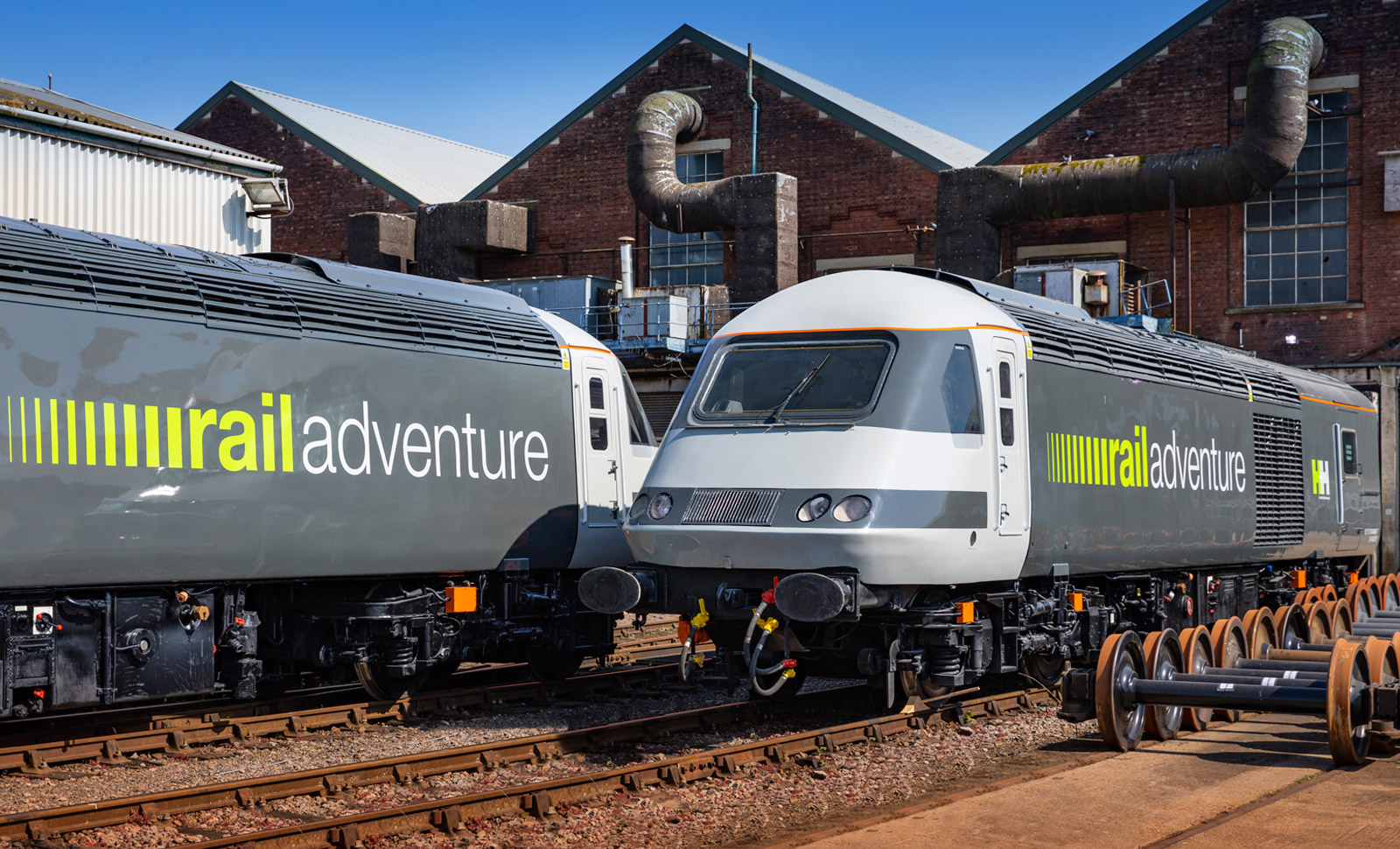 About RailAdventure
The company, which has been based in Munich since 2006, deals with the high-quality handling of test and transfer runs for the railway industry. Specially developed assets are held for this purpose. RailAdventure owns locomotives, coupling adapter and brake wagons as well as the in-house-developed and patented transport system Loco Buggy for the transport of vehicles with other track gauges. At the Braunschweig site, RailAdventure operates a workshop infrastructure under the name of Zughotel. The permanent and mostly multilingual staff includes specially trained locomotive drivers, technicians and test managers. RailAdventure GmbH is a member of the German Railway Industry Association (VDB). A saloon car marketed under the name Luxon is available for the most sophisticated occasions. 
For more information about RailAdventure – visit our dedicated section about the company. You want to learn more about the existing fleet, we have a list: