After almost two decades of hard work, the final piece of the NEAT project is about to be inaugurated; Today, the all-new Ceneri Basis Tunnel will see its first official freight train. Railcolor had a look at rolling stock celebrating its construction.
Back in 1992 (!), the Swiss public voted for the construction of three railway tunnels that would make the Alps 'flat' – for trains. The NEAT (Neue Eisenbahn-Alpentransversale) project was born, which covered the construction of two new north-south connections under the Alps.
Today the project is officially completed, and it must be said: The Swiss have accomplished a unique mega-project of which we all will profit for many many decades. Rail transport will improve its competitiveness, nationally, internationally, and it comes at the exact right moment.
Facts and figures of the three tunnels:
The first axis: Zurich to Milan has two tunnels on this route: Gotthard Base Tunnel (GBT) and the Ceneri Base Tunnel (CBT)
GBT facts:
57 km-long (the longest rail tunnel in the world);
two single-track tunnels;
connects Erstfeld with Bodio in Switzerland;
opened in 2016;
construction costs: 8.86 billion EUR
CBT Facts: 
15.4 km long;
two single-track tunnels, 40 m apart;
connects Camorino and Vezia, both in Ticino canton in Switzerland;
start of construction: 2006;
construction costs: 2.3 billion EUR.
The second axis:  Bern to Milana with Lötschberg Base Tunnel (LBT) between them.
LBT facts: 
34.6 km long;
situated 400m below the existing Lötschberg Tunnel;
connects Frutigen and Raron in Switzerland;
opened in 2007.
Due to rising costs, funds from the LBT were diverted to GBT during the construction. This mean the Lötschberg Tunnel is still underequipped and unfinished:
1/3 of the Lötschberg Tunnel has two tunnels = double track;
1/3 is single track with the second tunnel completed but without rail infrastructure;
1/3 has only one tunnel = a single track.
Simply put, LBT has capacity problems as it basically is a single-track connection. It is expected that the construction will resume in 2021 and that LBT will be fully double-tracked in 2028.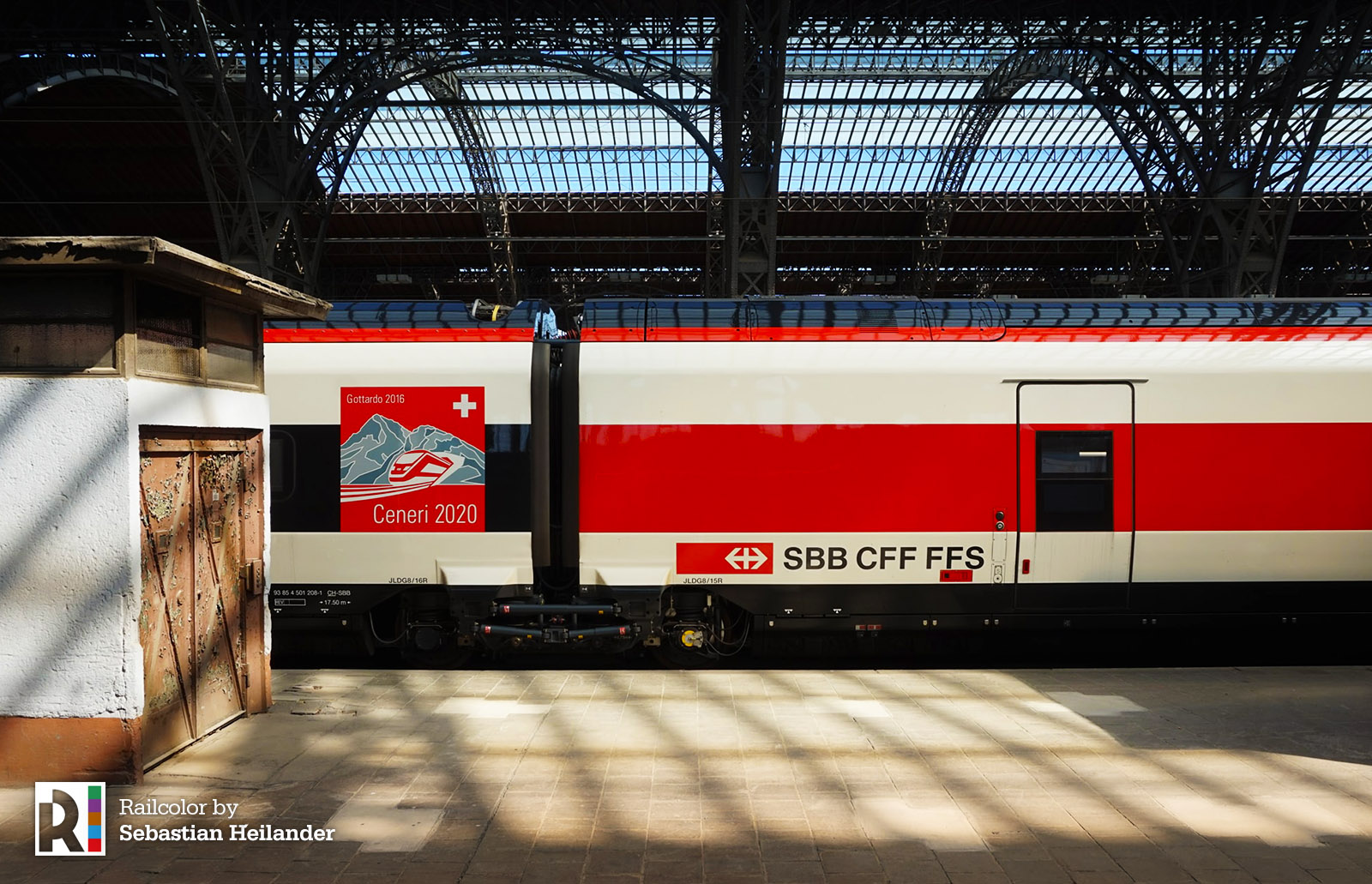 Rail transport: A big leap forward
The new 'flat' connections mean freight operators need fewer locomotives for their trains (which also reduces operational costs); The maximum elevation in the CBT is now 'only' 550 m above the sea level. It also means faster trains = competitive advantages of rail transport.
With the new tunnels, it will also be possible to have longer freight trains (750 m) which will boost the capacity of rail freight passing the Alps, which is dearly needed.
Passenger trains will be able to run at speeds up to 250 km/h – a shorter, flatter route with higher speeds will shorten the travel time between Switzerland and Italy.
Ceneri design trains
And the milestone has been visible on rolling stock for some period too – both passenger and freight. A special Ceneri 2020 livery has been seen on a RABe 501 008 Giruno trainset owned by SBB.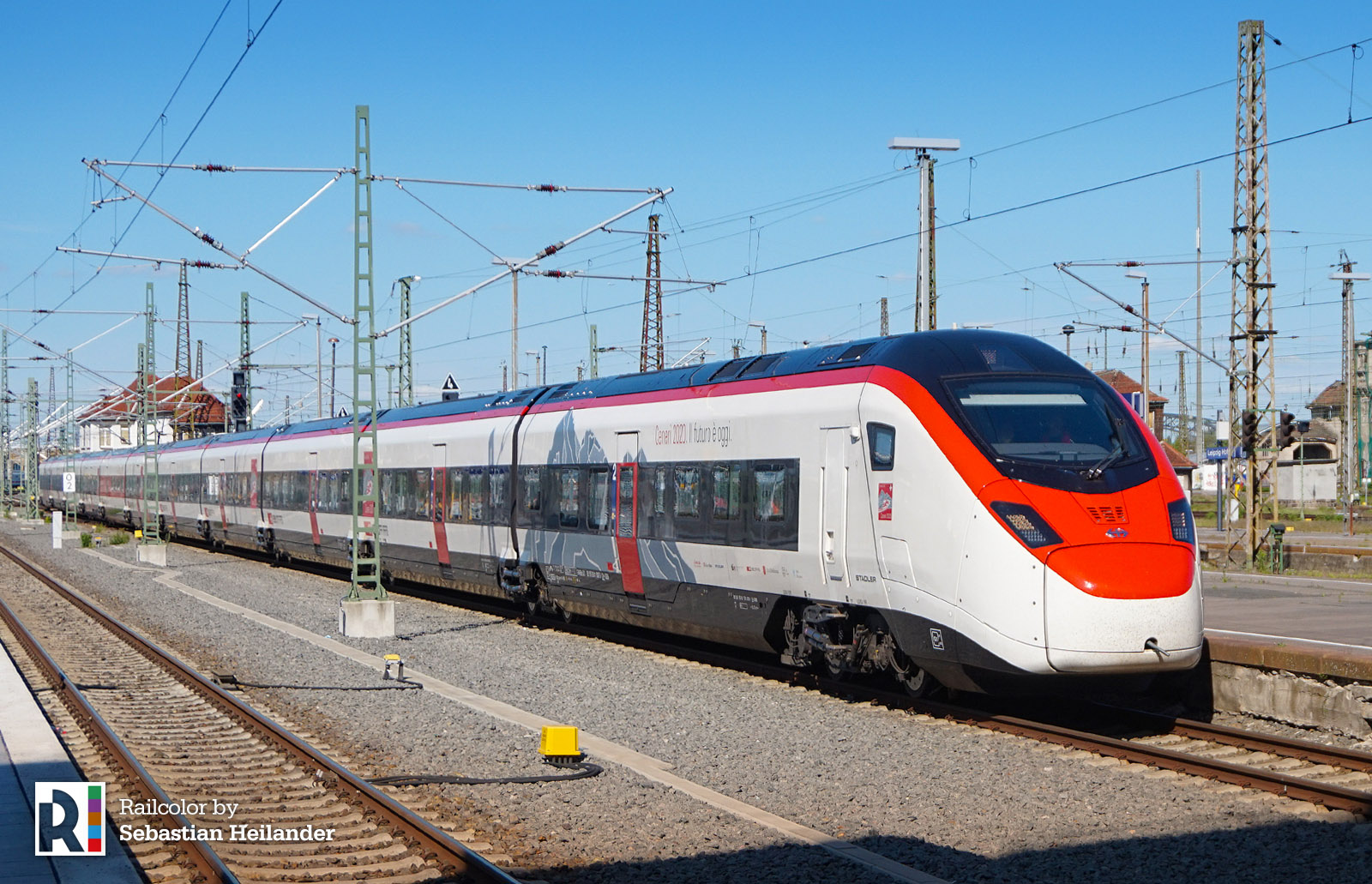 Not only that – an SBB Cargo International Vectron has its Ceneri 2020 locomotive too. Blue Alppiercer 193 518, also prides with the red Ceneri 2020 sticker.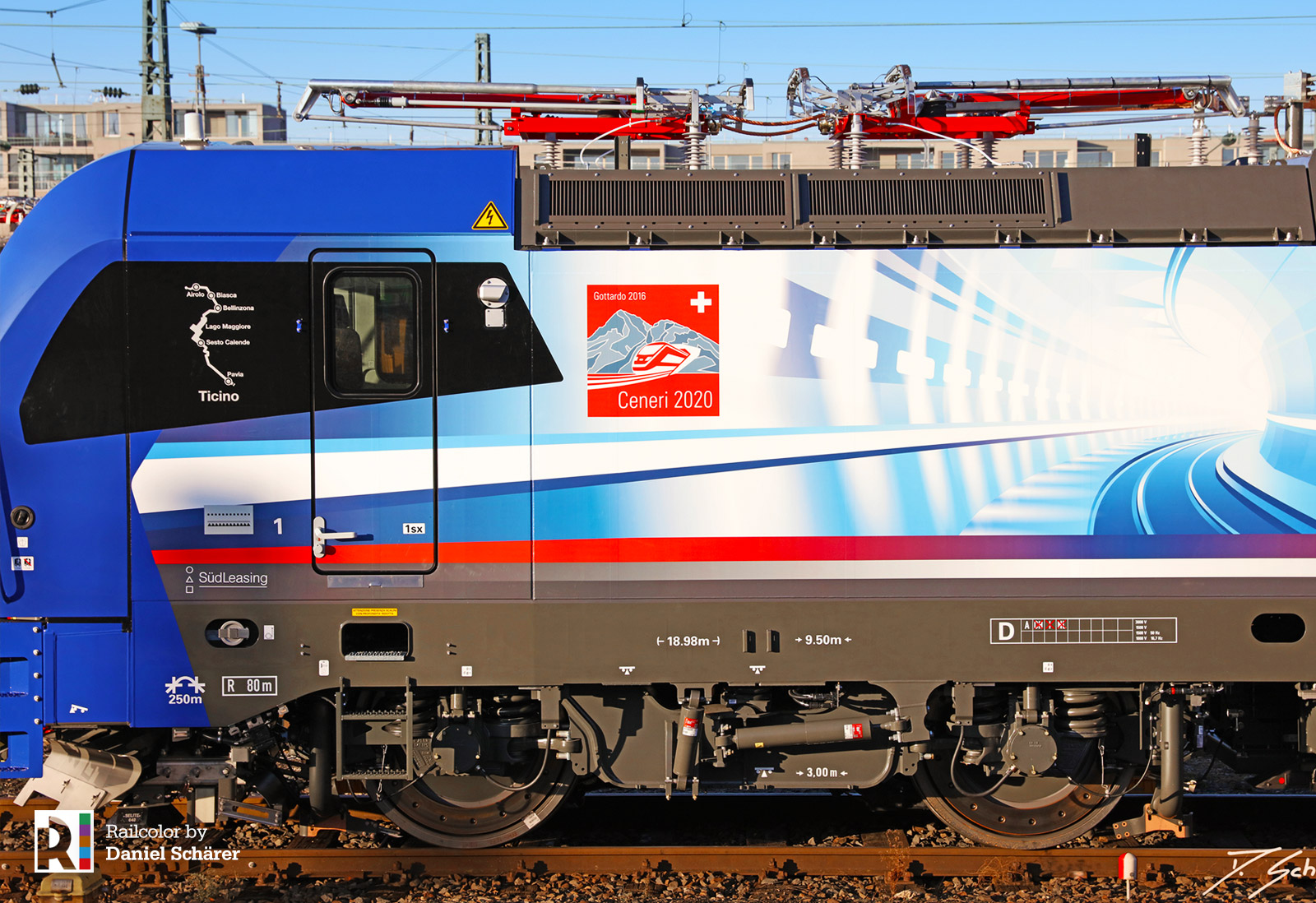 Last but not least, a Re460 locomotive has received its Ceneri livery too. Alptransit Gotthard AG presented the "Ceneri 2020" themed locomotive on 24.10.2017, applied on 460 031.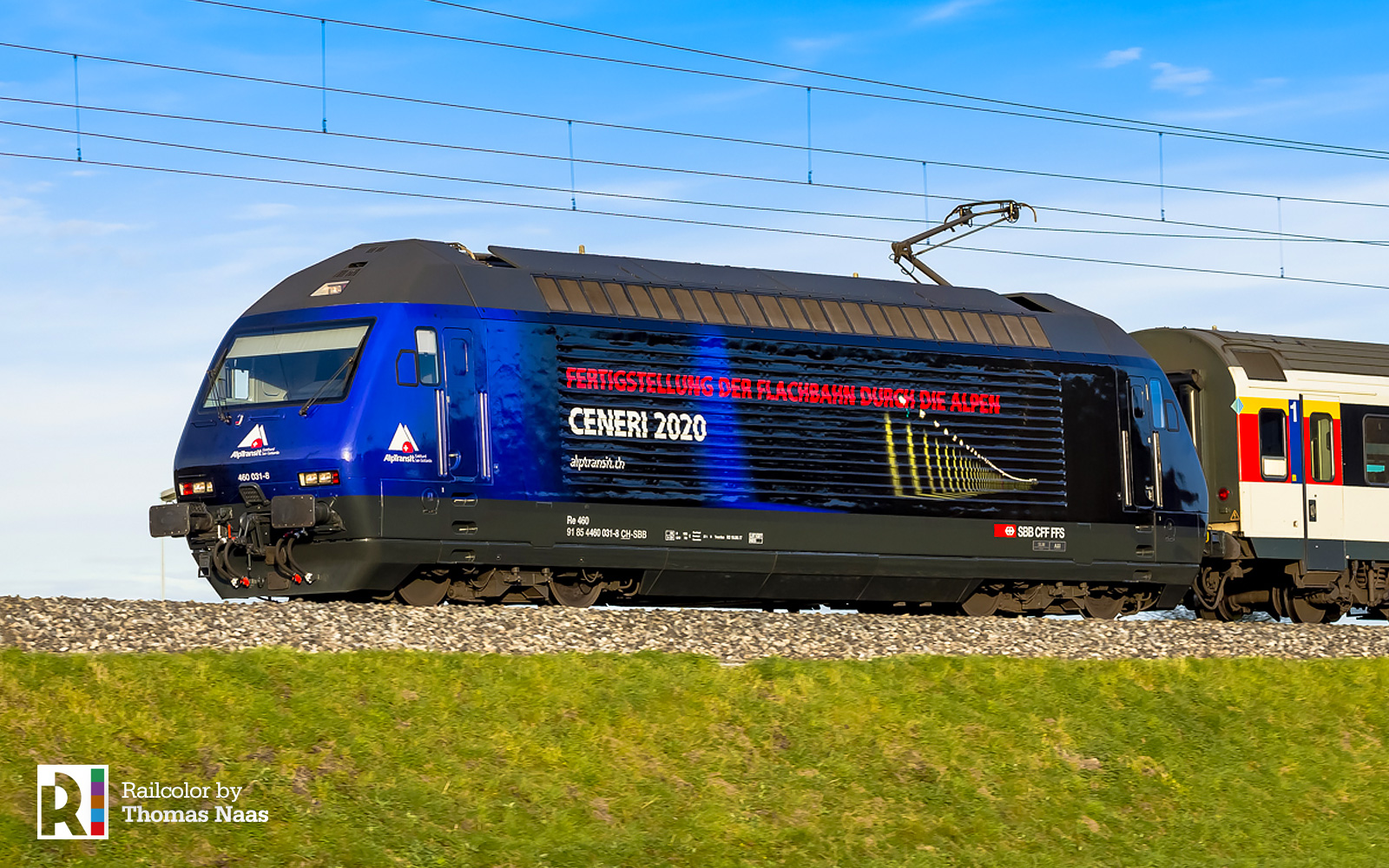 After the inauguration today, a three-month trial phase will start, during which around 5,000 passenger and freight trains will pass the tunnel.
Shortening times both for freight, intercity, and local trains
The travel time between Zurich to Milan is expected to drop to 3 hours and 17 minutes. SBB will put Giruno units in service on this route.
For freight transport, if international coordination goes well, it will be possible to save two hours between, for example, Rotterdam and Genoa, an important route for European rail freight.
But that is not all. Local services will benefit too. People that will take the S-Bahn train connecting Locarno and Lugano in the Ticino canton will have a much shorter commute: 30 instead of 55 (!) minutes. TILO Flirt units will operate through the newly built tunnel.
Read more