Deutsche Bahn (DB) is advancing further the sustainable green transformation of its ICE fleet. An older ICE 2 trainset is the latest to receive that special green accent. Let's take a closer look.
We thank Artemis Klonos for sharing his nice pictures with us. Visit his Flickr, Railpictures, and Trainspo profiles for more beautiful railway photography.
A single ICE 2 power car numbered 402 006, can be now seen sporting a lime green stripe instead of the traditional red that DB's ICE trains are wearing: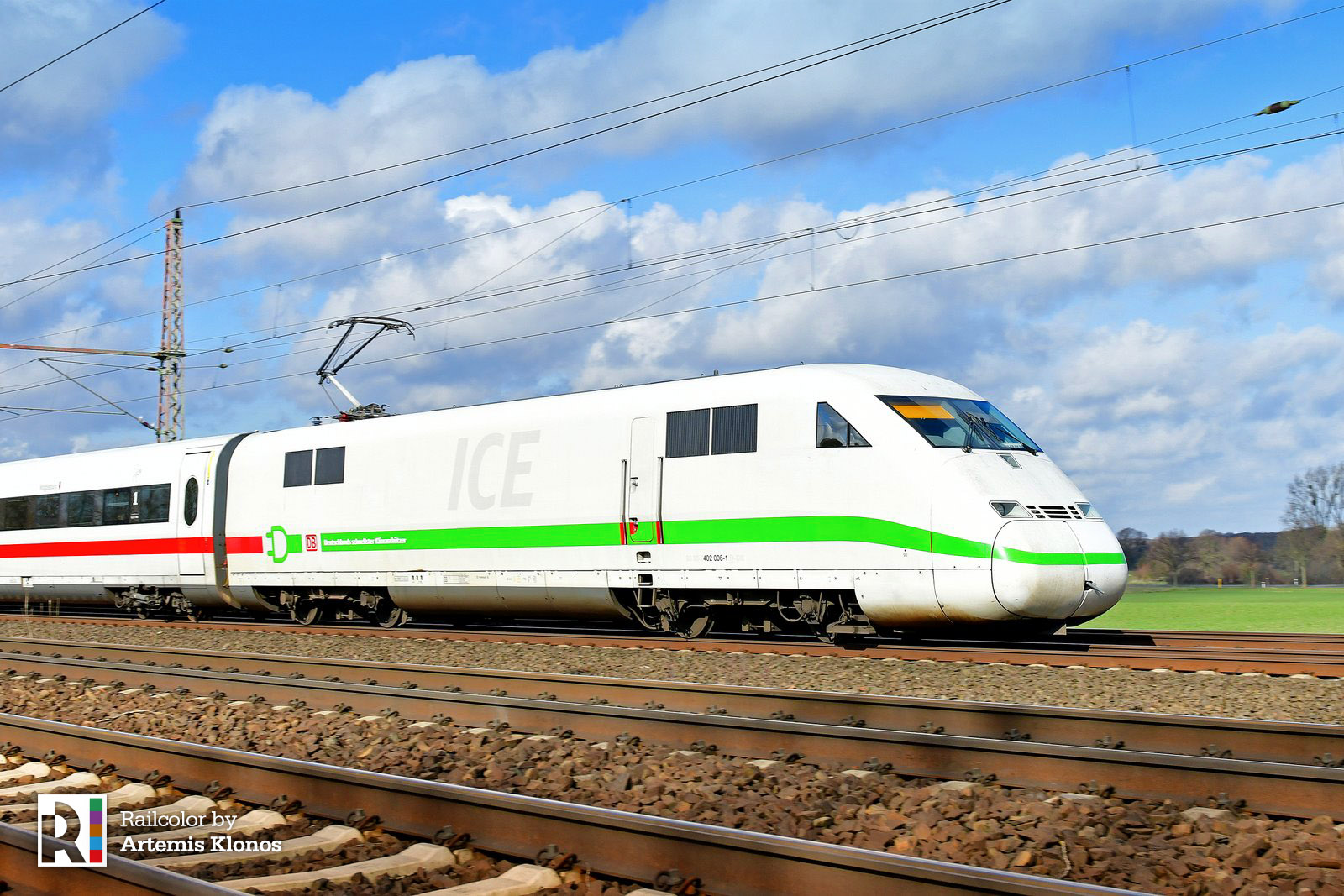 Artemis captured a sunny portrait of the now older ICE trainset at Hannover-Gümmer in Germany. Named "Magdeburg", the green power car was heading DB's regular ICE 537 service which connects the cities of Bremen and Munich on its way to Hannover. Artemis shares an interesting fact: the other end car of the trainset was still wearing a red stripe. This tells us that DB is actually being sustainable while supporting sustainability. Having all these red stripes swapped with green ones would be not only non-economical but also not very sustainable.
DB's green ICEs on Railcolor News: an overview
With so many green-striped ICE trains running across Germany, it is time to bring you an overview of some of them, as seen on Railcolor News.
It all started in 2018, with several ICE 3 / ICE 4 trainsets which got a full-length green stripe, with a "Das ist grün" (This is green) label:
In 2019, a broader campaign was announced, this time featuring only partial green striping. The slogan now changed to "Deutschlands schnellste Klimaschützer" (Germany's fastest climate protectors). DB plans to apply it to its entire ICE fleet eventually:
[DE / Expert] The future is green: And all ICEs will be too [updated]
The ICE T, which is another member of the ICE family also got the green upgrade:
[DE / Expert] In the picture: The 'ICE T' joins DB's Green initiative
And in the meantime DB Cargo introduced its own green Vectron – a true "Climate Hero":