Last week the confirmation came through: the Dutch railways (NS) will lease ELL Vectron locomotives. Meanwhile, 193 766 arrived in Amsterdam and NS has started training 46 (!) drivers on the locomotive. The locomotive was first seen with an 'IC Berlijn', taking this train from Amsterdam to Bad Bentheim in Germany.
We thank Treinspotter_hoorn and Bas Meijer for their pictures.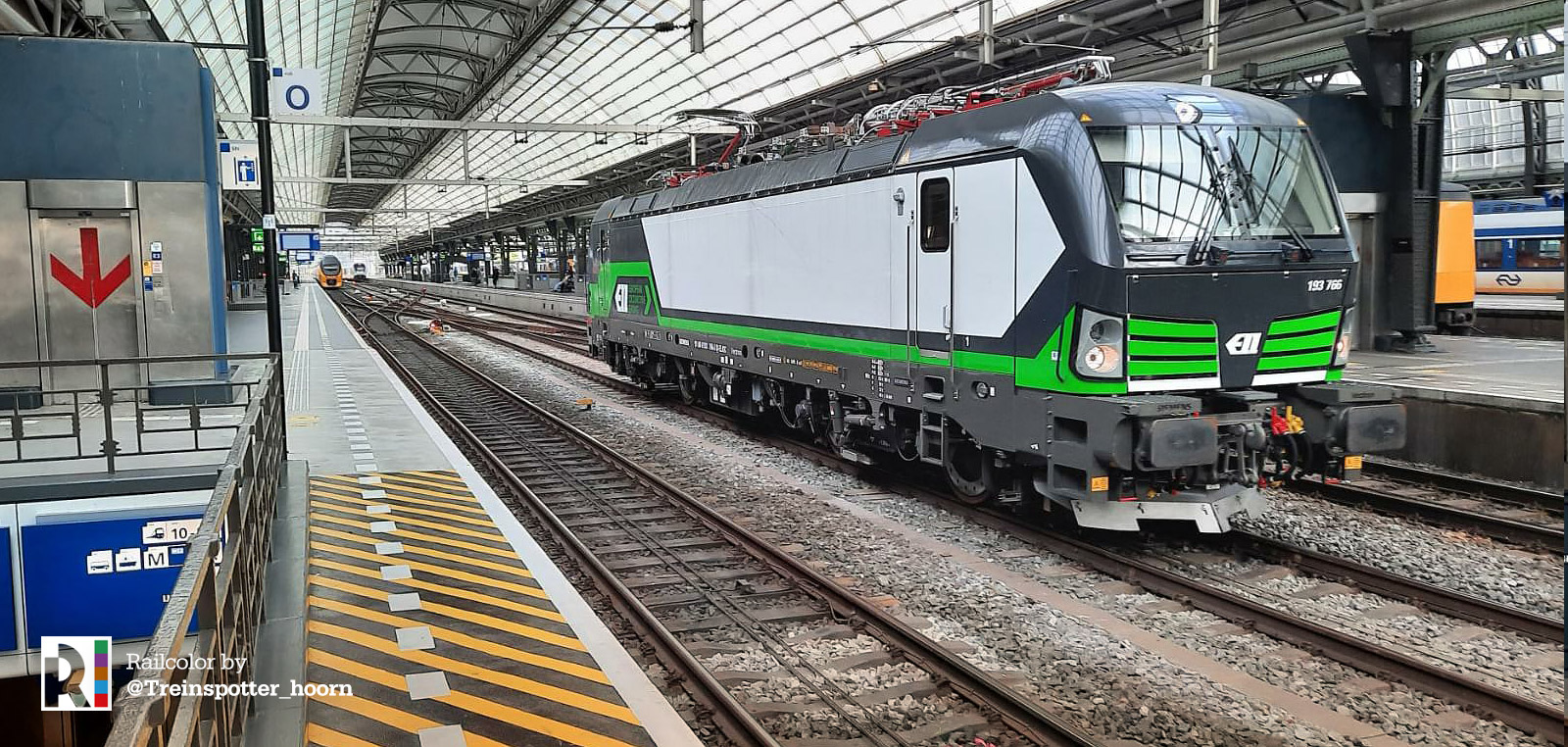 Test run with 193 766 and Nightjet coaches
On 15.05.2020, 193 766 ran from Düsseldorf (DE) to Ede-Wageningen (NL) for compability tests. The train crossed the border in Zevenaar.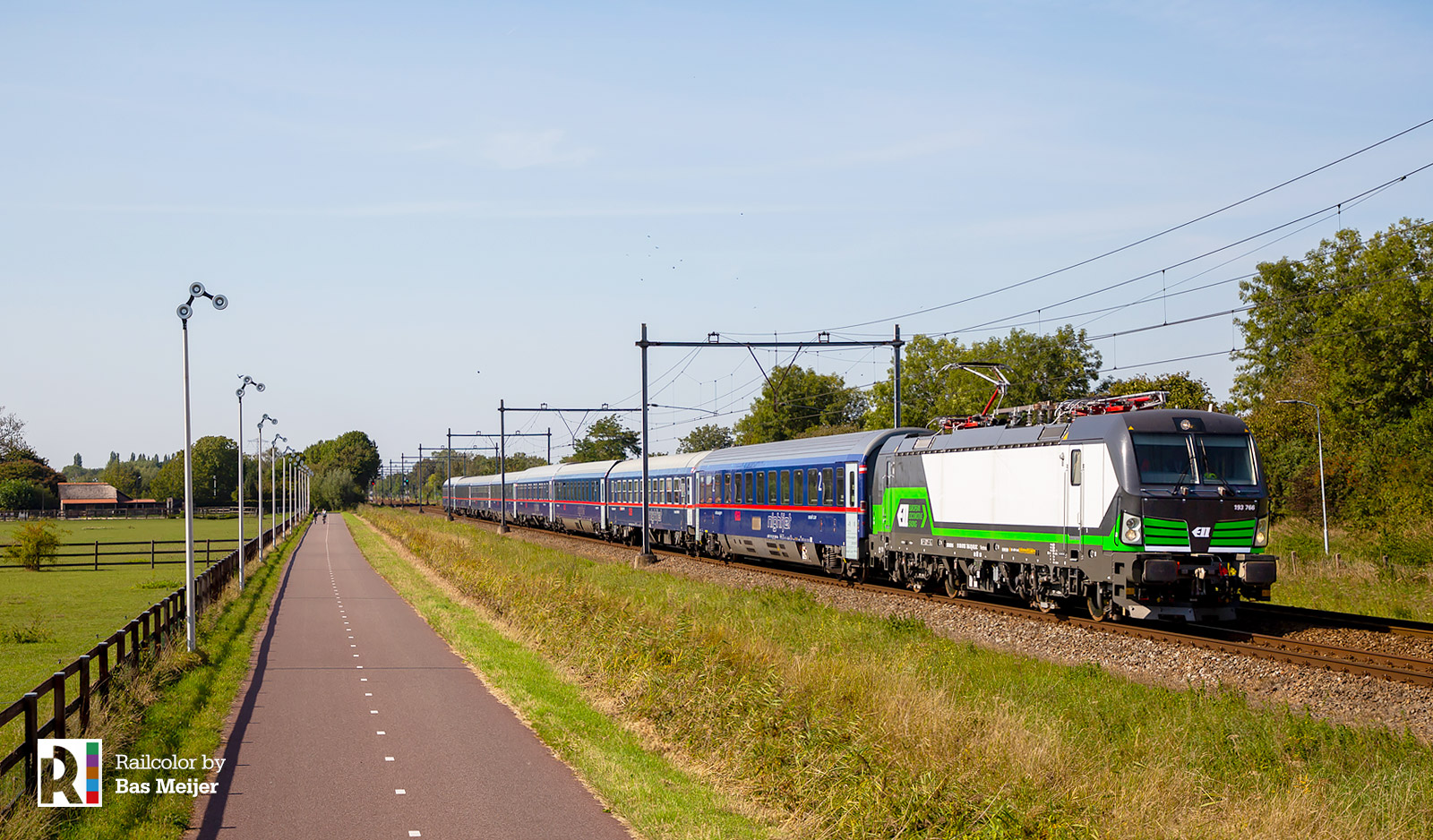 Start in December
On 13.12.2020 NS and ÖBB will re-introduce the night train to Amsterdam. The last time the capital of the Netherlands had a daily nigh train connection was in 2016. The new train will run daily and halt at Amsterdam, Utrecht and Arnhem before it crosses the German border where it will continue its journey to Munich/Innsbruck or Vienna. The train comprises of ten coaches, five for each destination.
The Nightjet, a brand name of the Austrian railways ÖBB, will depart in Amsterdam in the evening. Passengers from Austria/Germany will arrive in Amsterdam in the morning.
New locomotives
The ELL locomotive as shown above will be one of at least two Vectron locomotives that will be used for the connection. From Amsterdam to Cologne the train will be managed by Dutch drivers and staff – In Cologne their Austrian collegues will take over. Train drivers that will work on the Nightjet, are also working on the international train between Amsterdam and Berlin and the ICE between Amsterdam and Frankfurt am Main.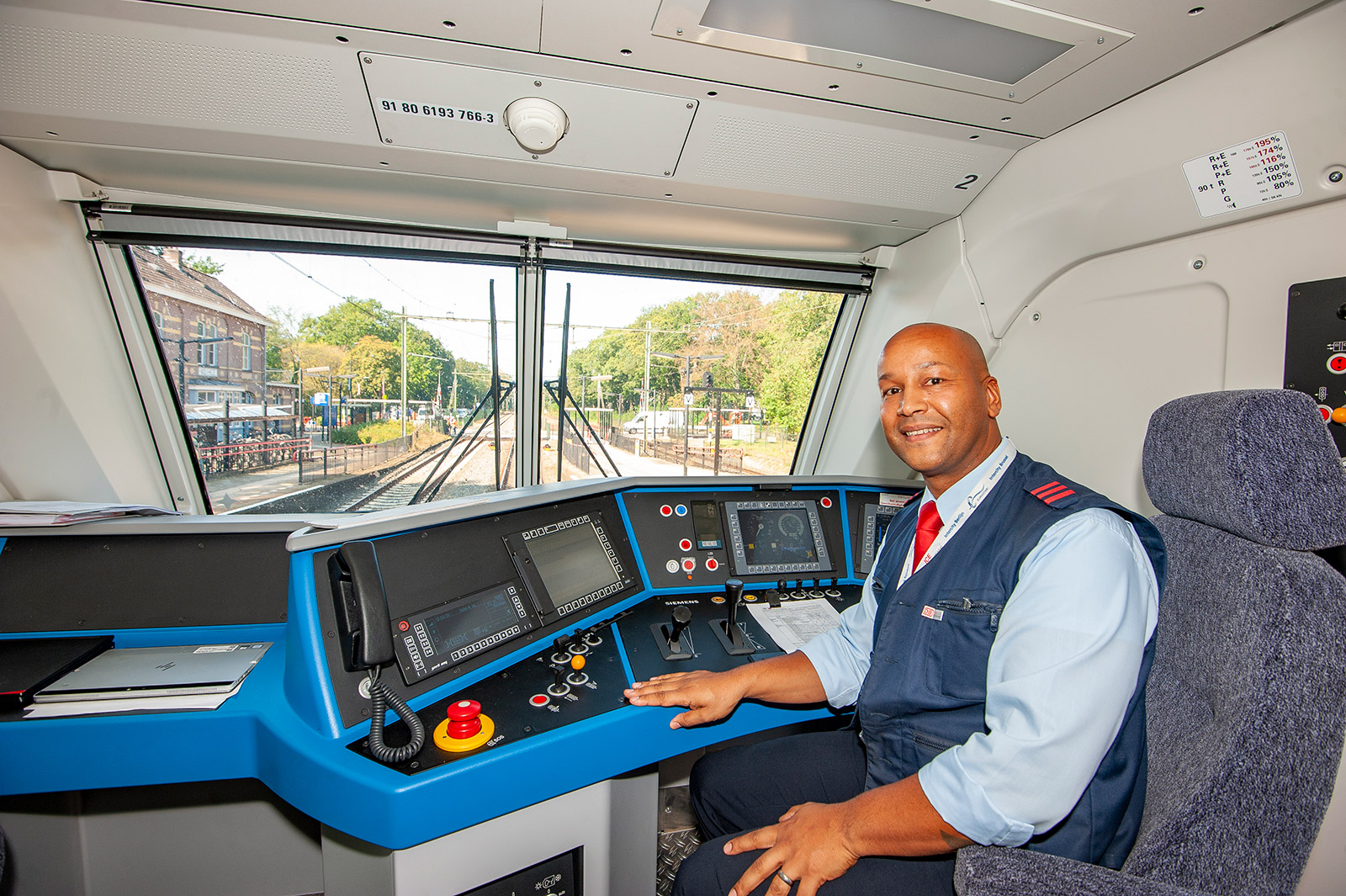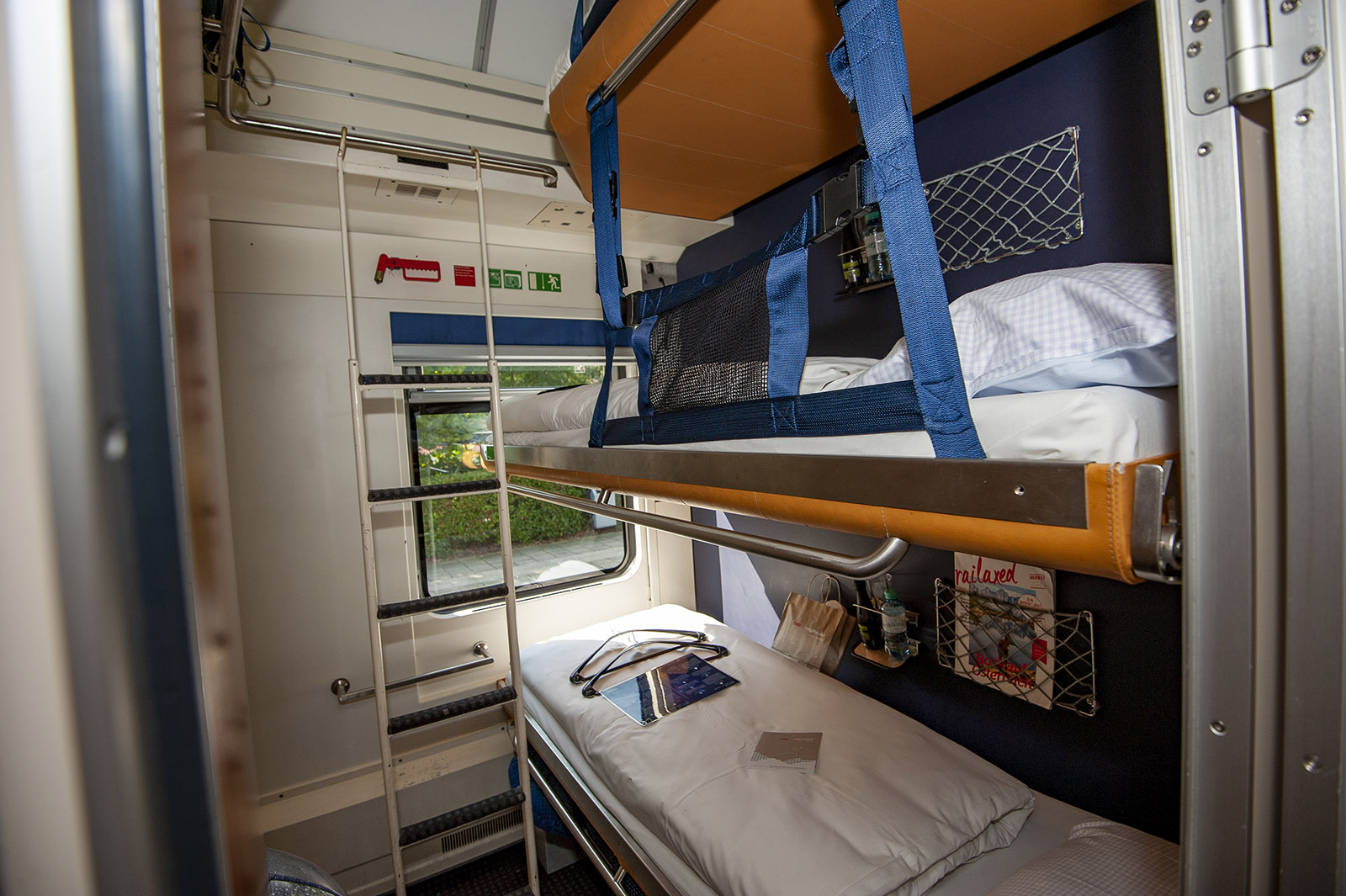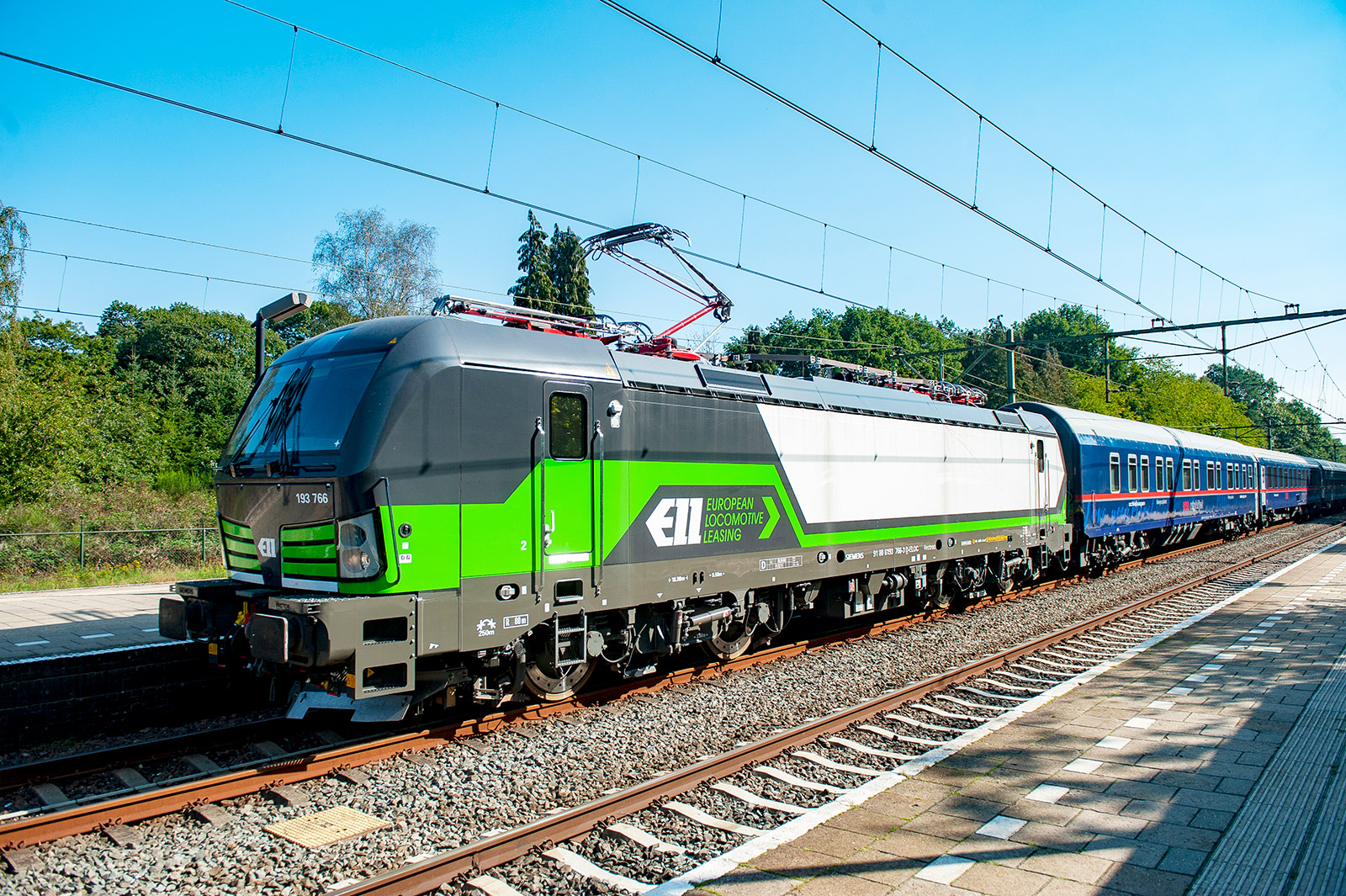 December 2021: Another night train will arrive in Amsterdam
Also announced today: SBB and ÖBB have signed a letter of intent to expand the current network of night trains from six to ten lines, serving 25 destinations. The expansion can be guaranteed with financial support from the Swiss climate fund.
s involve expanding the Nightjet network from Switzerland to incorporate a total of ten lines and 25 destinations. As a first step the two railway companies want to launch a new daily Nightjet service running Zurich–Basel–Frankfurt–Cologne–Amsterdam in December 2021 with rolling stock provided by German leasing company RDC Asset GmbH.
Other concrete expansions:
Increasing capacity on services to Berlin, Hamburg and Prague;
The services currently provided from Zurich via Basel to Berlin and Hamburg are increasingly popular. Capacity on this route will therefore be expanded significantly. SBB and ÖBB wish to serve both destinations with two separate trains covering the whole route, if possible from the 2023 timetable change. This will enable a significant capacity increase.
A new connection to Leipzig and Dresden;
They also plan to run the service to Prague via Germany as a portion of the Berlin Nightjet with sleeping cars and couchettes. The new route would also provide a direct connection to Leipzig and Dresden.
Plans for new connections to Rome and Barcelona
There are plans for a new line connecting Zurich via Bern, Brig, Domodossola to Rome. A daily connection from Zurich via Bern, Lausanne, Geneva to Barcelona is also planned. This would also integrate French-speaking Switzerland directly into the night train network. It is not yet clear whether it will be possible to run these two lines, as agreements with other partner railways are yet to be reached.
New rolling stock is being developed
We have extensively covered the the new rolling stock Siemens is currently developing for ÖBB to make sure the quality of trains is guaranteed over a longer period of time.
[AT / Expert] Inside the new ÖBB Nightjet: Mini capsules, family compartments, and deluxe lounges
All ELL Vectrons – numbers and liveries, in our data section: