You already know it: there is a huge Gysev fan in Denmark. His name is Søren Brown Anegaard Villumsen and he has been expressing his passion for the Austro-Hungarian operator with models in HO scale for years now. To make his Vectron models even more realistic, he decided to open their doors and bring real-life details inside their cabs.

Last time, we paid special attention to the Gysev Ludmilla, as Søren personally designed its livery. Now, its time to have a close look at the Vectron locomotives.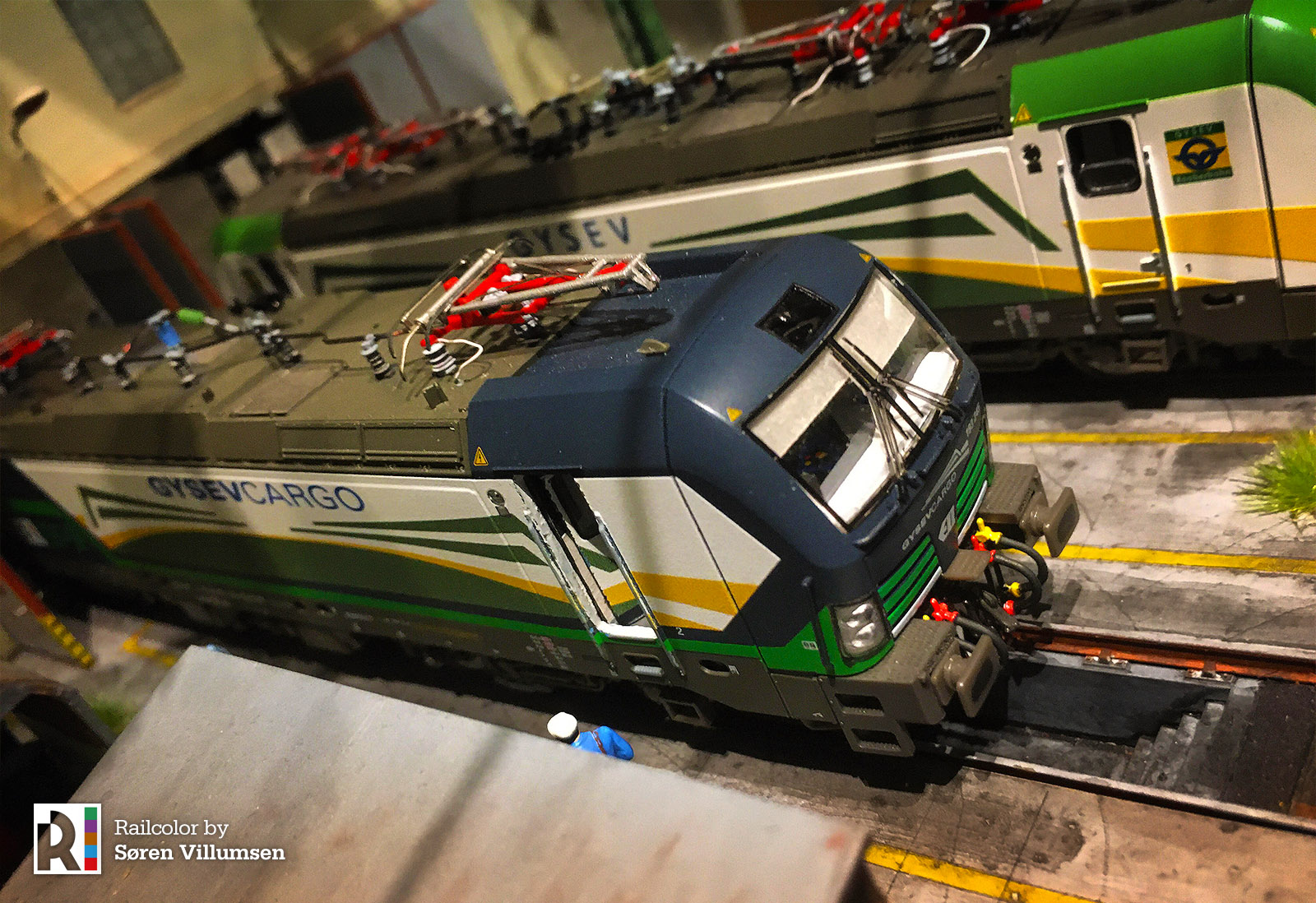 Søren Villumsen:
"Some years ago, when the Vectron locomotives were new at GYSEV and it wasn't possible to get them in HO, I repainted my own models into Gysev design. It is those models you saw in the first article about my work on Railcolor News."
These locomotives are no longer in use. Søren's world got new locomotives, and of course, he tailored them by adding extra details.
Inspiration
It all started with a three-day-long summer trip to Sopron, which is where Gysev's workshop is located.
Søren Villumsen: "All the other times I have been in Sopron over the last couple of years, it has only been for one day. I used to be busy that day, meeting with friends, taking pictures for new projects and much more. But with 3 days in Sopron, it was possible to take more detailed pictures. During those days, many Vectron locomotives were in the workshop, and it was possible for me to take a close look at the locomotives and see every detail. One thing I noticed, not only with Vectron but all locomotives, was that their doors were open most of the time. I decided to recreate this in models, together with many other things that I noticed."
Creativity
Back in Denmark and full of inspiration, Søren began working on its new project. But there were problems ahead…
Søren Villumsen: "I thought it was easy, but I was wrong. Models are not prepared for this. The driver's cab inside my Vectron model did not have a floor. Everything was missing under the windows. So when I removed the door, it was clear to me that I had to make my own driver cabs from scratch."
Difficult problems require ingenious solutions. It took about four weeks for the new cabs to be 'produced'. Afterwards, the model had to be further adapted so that scale-sized drivers could fit inside – another challenging task which was completed successfully.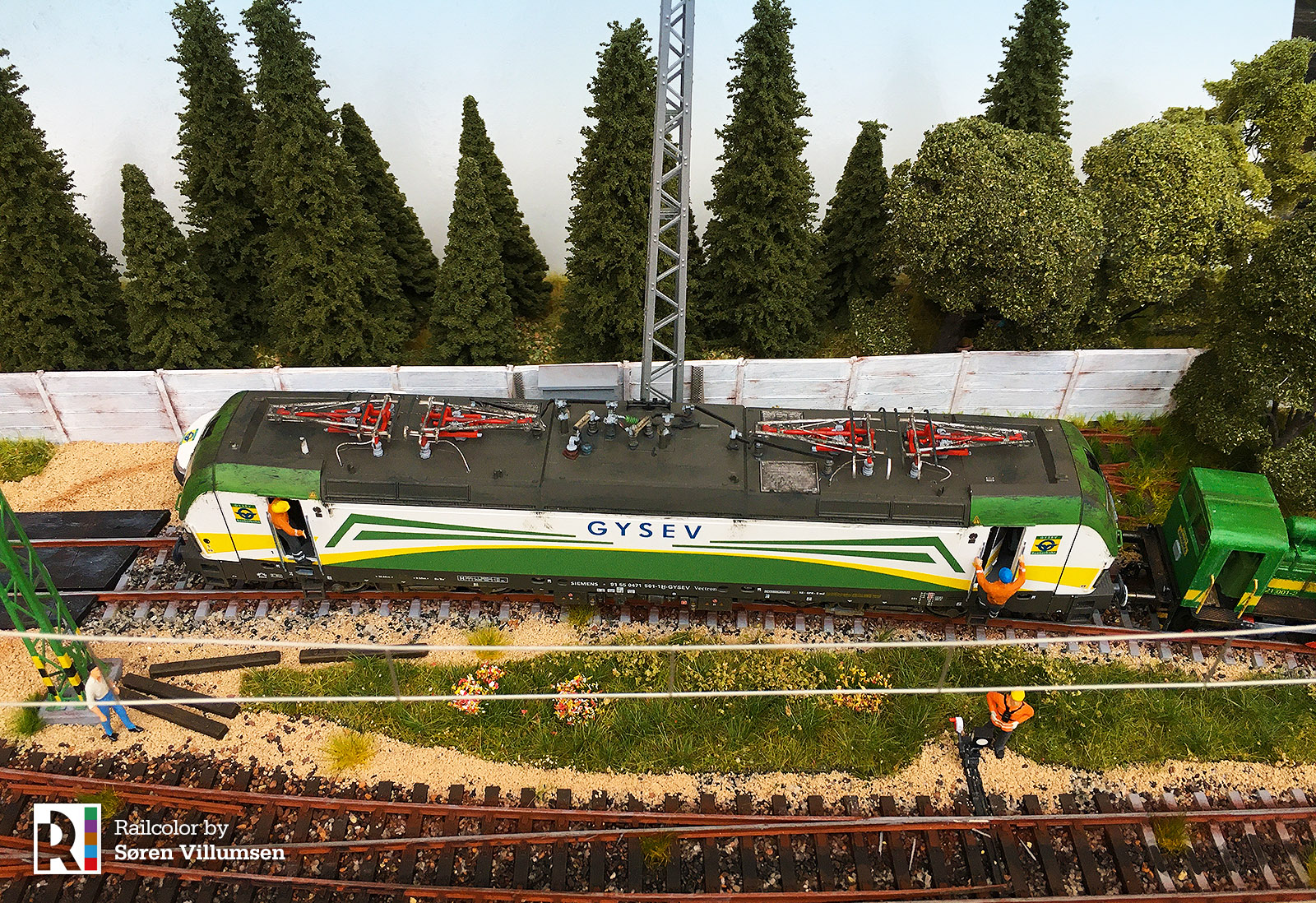 Eventually, almost the entire roof equipment had to be repainted in the correct colour. And there were even more extras: curtains were added behind the windshields of the driver cabs. Two locomotives – 193 245 and 471 501 – were weathered, to match the real appearance which Søren witnessed during his trip to Sorpon. Check out the final results:
ELL>Gysev 193 245:

Gysev 471 501: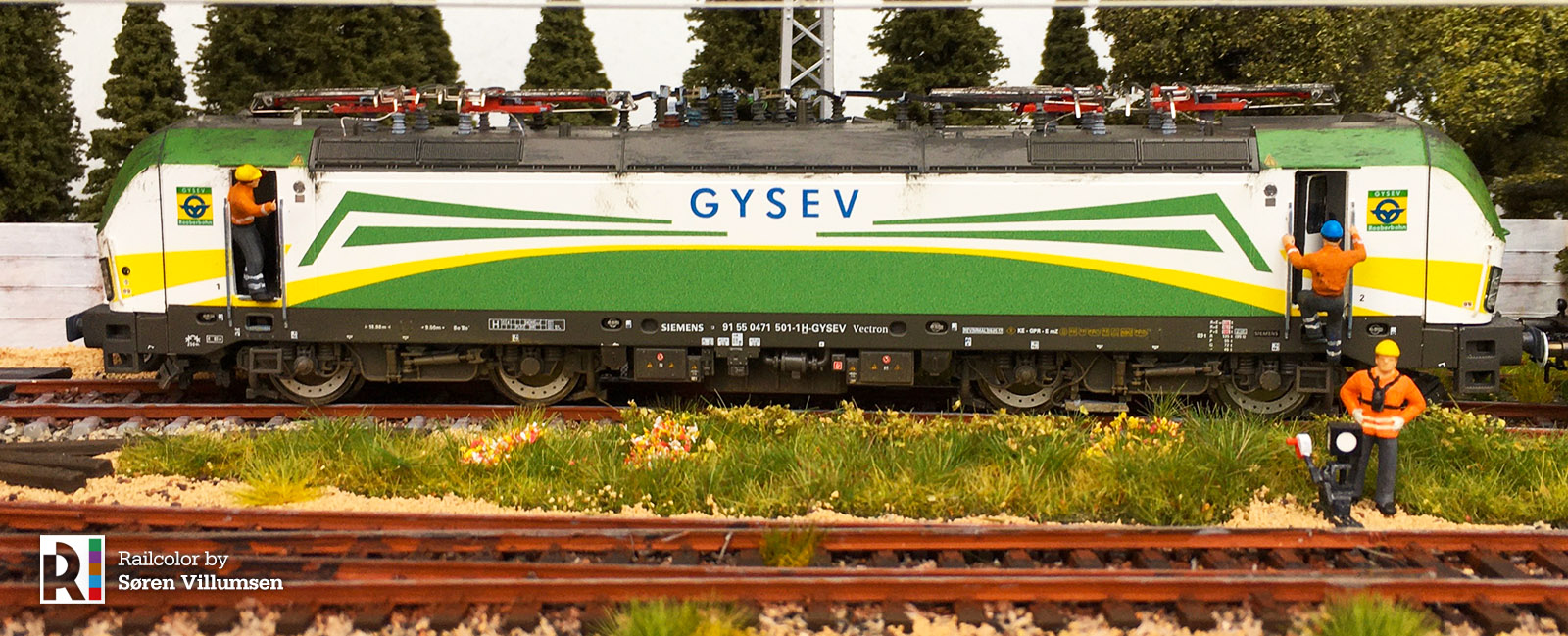 The human factor
With the main accent being put on the locomotives themselves, an extra touch of realism is being added by paying attention to the people involved in their operation. Both inside and outside. The figures used are from Preiser.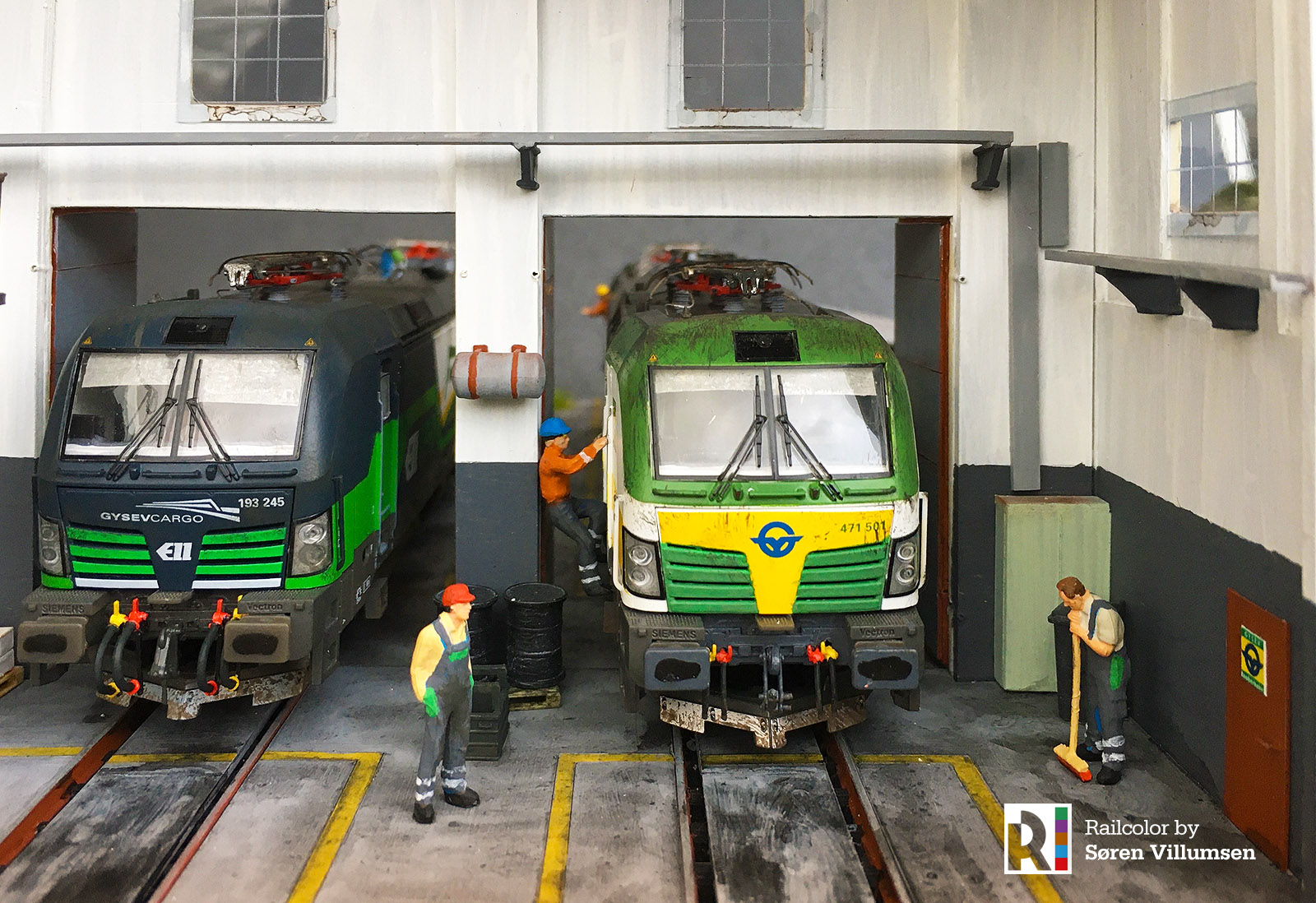 Søren Villumsen:
"I got the idea to place some figures inside the models and near the open doors. Many figures were tested before it looked like something I had seen in Sopron. All figures had to be repainted to match the real employees of Gysev."
But did you also notice the surroundings? All the buildings and infrastructure have been carefully arranged to match the real-world ones!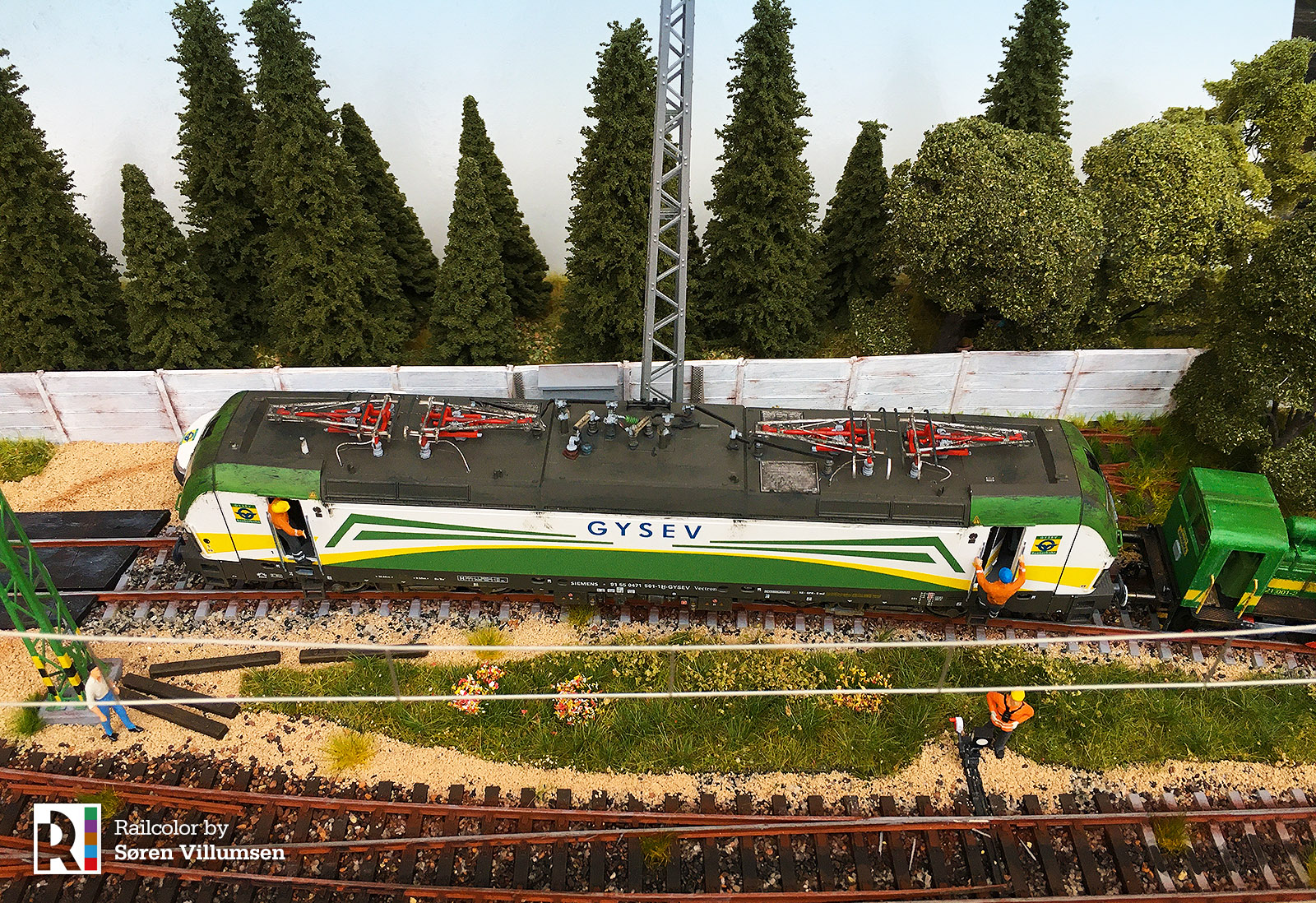 More projects to come
Having gathered enough photographic material of Gysev's rolling stock, Søren confidently shares: "This was my first, but not last project with open doors on my models. I already got pictures to make the same on Taurus, Ludmilla, Jenbacher and other trains."
And it is his passion for realism that makes his projects so unique. Even if the real models are located hundreds of kilometres away from his home.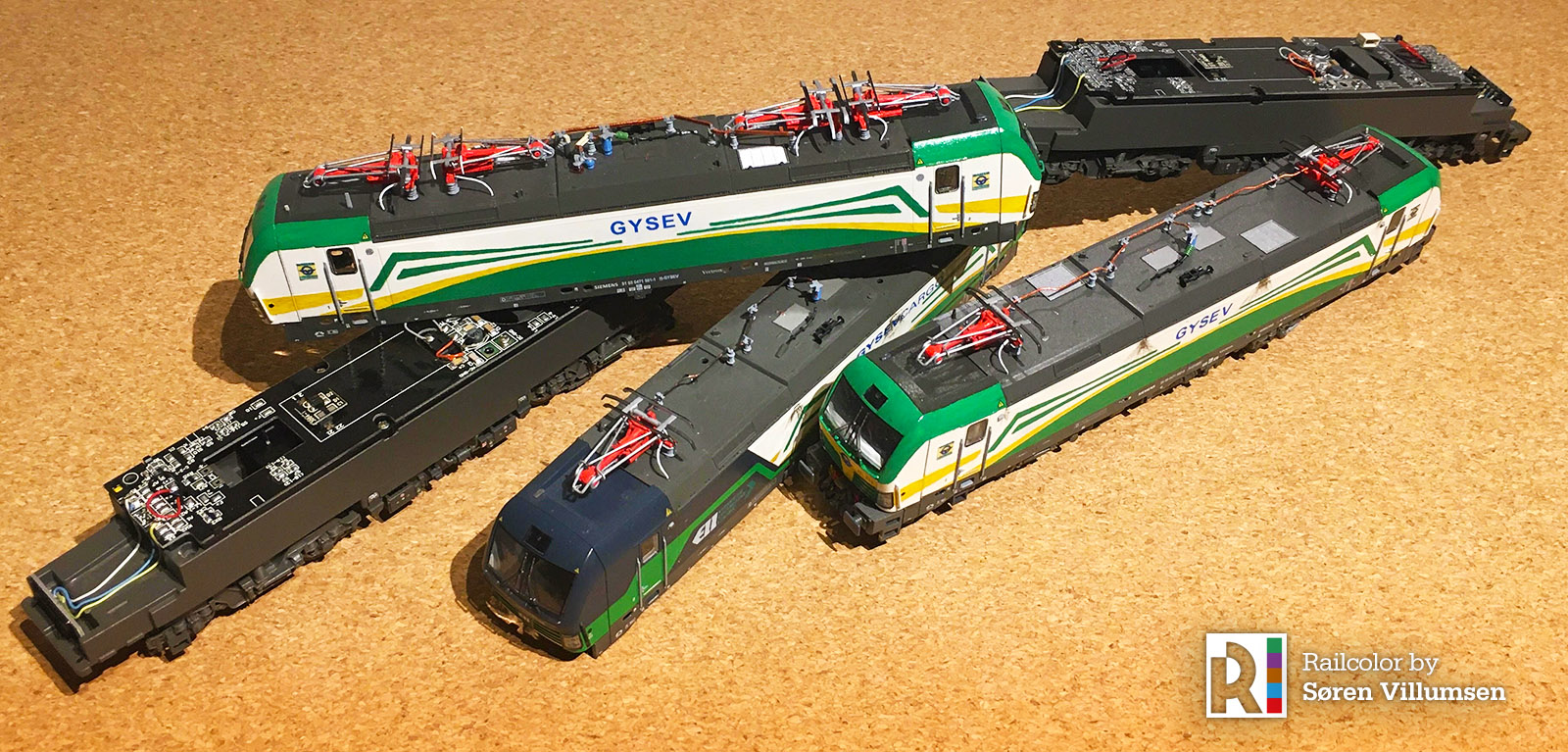 A message to the model manufacturers
Although in modelling it is possible to recreate everything by hand, a solid base model always makes work easier. This is why Søren is sending a special message to one of the train model manufacturers, expressing his certainty that those would be of interest of railfans across Europe:
"I hope that people from model manufacturers read this article and that it inspires them to develop more Gysev Vectron models. An AC-version (Gysev 471 001-006) would be great, maybe with number 005 or 006, so that it possible to add "last mile" details on the roof. And of course, a model of 193 837 would be perfect as well."
About the locomotives
At Railcolor News, we always pay special attention to the real locomotive's data. So let's add these details here, this time related to the Gysev scale models. For extra realism of course:
Gysev 471 501
NVR-Number: 91 55 0471 501-1 H-GYSEV;
Country package: D/A/PL/CZ/SK/H/RO/HR/SI;
Built: 2017;
Works number: 22200;
Model used: Piko 59189 (1:87).
ELL > Gysev Cargo 193 245
NVR-Number: 91 80 6193 245-8 D-ELOC;
Country package: D/A/H/RO;
Built: 2015;
Works number: 22009;
Model used: Piko 59192 (1:87).
Gysev in Model on Instagram
Make sure to follow Søren on Instagram for more up-to-date pictures of his Gysev models: