There are only three of them, yet they bring a wide (wild?) range of colors to Danish tracks. Leasing company Nordic Re-Finance of Sweden has recently completed a livery project which is a tribute to Danish literature and, more specifically, Hans Christian Andersen. Railcolor News brings a unique overview of the project, featuring fresh impressions by Kaj Aage Holdt.
Remember the tales your parents were reading to you when you were a kid? Three have recently materialized in a trio of 115-ton, six-axle Litra (Litra = Class) ME locomotives that are being leased to DB Cargo Scandinavia. Until recently, this iconic design (the MEs were among the first serially-produced diesel-electrics with AC drive) was a common sight in passenger transportation in Denmark. Now we are witnessing a triumphant return in the field of cargo logistics.

It all begins with inspiration

Arvid Haag, fleet manager of Nordic Re-Finance explains the idea behind the project: "Since the locomotives are a part of Danish railway history, we wanted to make a tribute to the Danish history in general." He adds that the logos of the leasing company (see the loco roofs) had been intentionally scaled down to highlight even further the livery of locomotives. DB Cargo logos are missing for the time being, but this could change in the future.
Tryckopia of Sweden, a company that also worked on the restyling of Nordic Re-Finance's RC4 electrics, has executed the design creation and application. Let's take a look at the trio in order of its appearance from the workshop in Padborg:
ME 1533 is 'Den lille havfrue'
'The Little Mermaid' is the fairytale chosen for ME 1533. Light blue, underwater flora and fauna are decorating all sides of the locomotive that previously used to be red.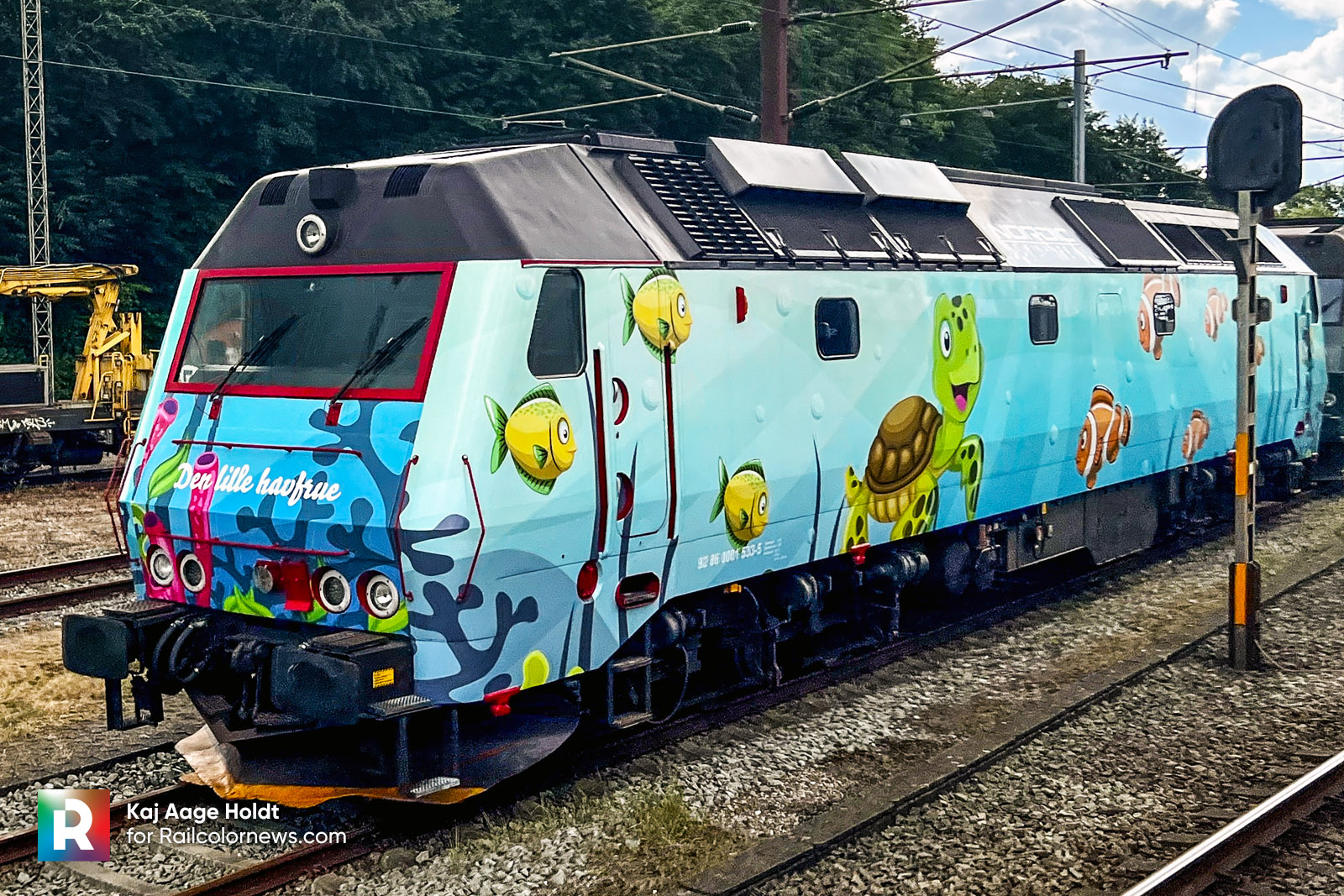 ME 1526 is 'De vilde svaner'
'The Wild Swans' is the second H. C. Andersen fairytale chosen to adorn the bodyshell of ME 1526, a locomotive that used to be dark blue in the past.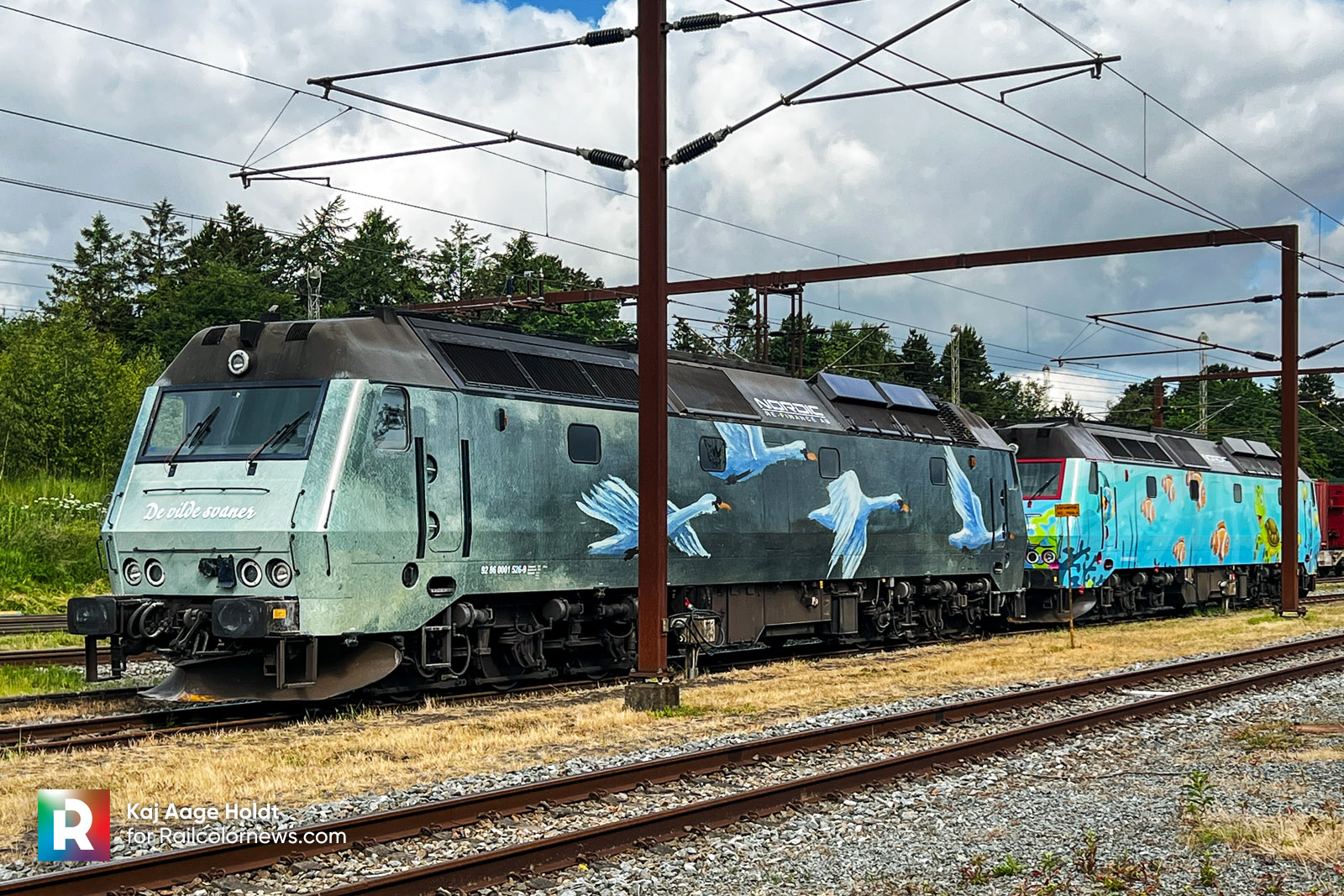 ME 1524 is 'Snedronningen'
Finally, we have "The Snow Queen", which features a smiling snowman and many 'bokeh' snowflakes on the previously blue ME 1524. A refreshing sight for the hot summer, which has thus far managed to escape Denmark.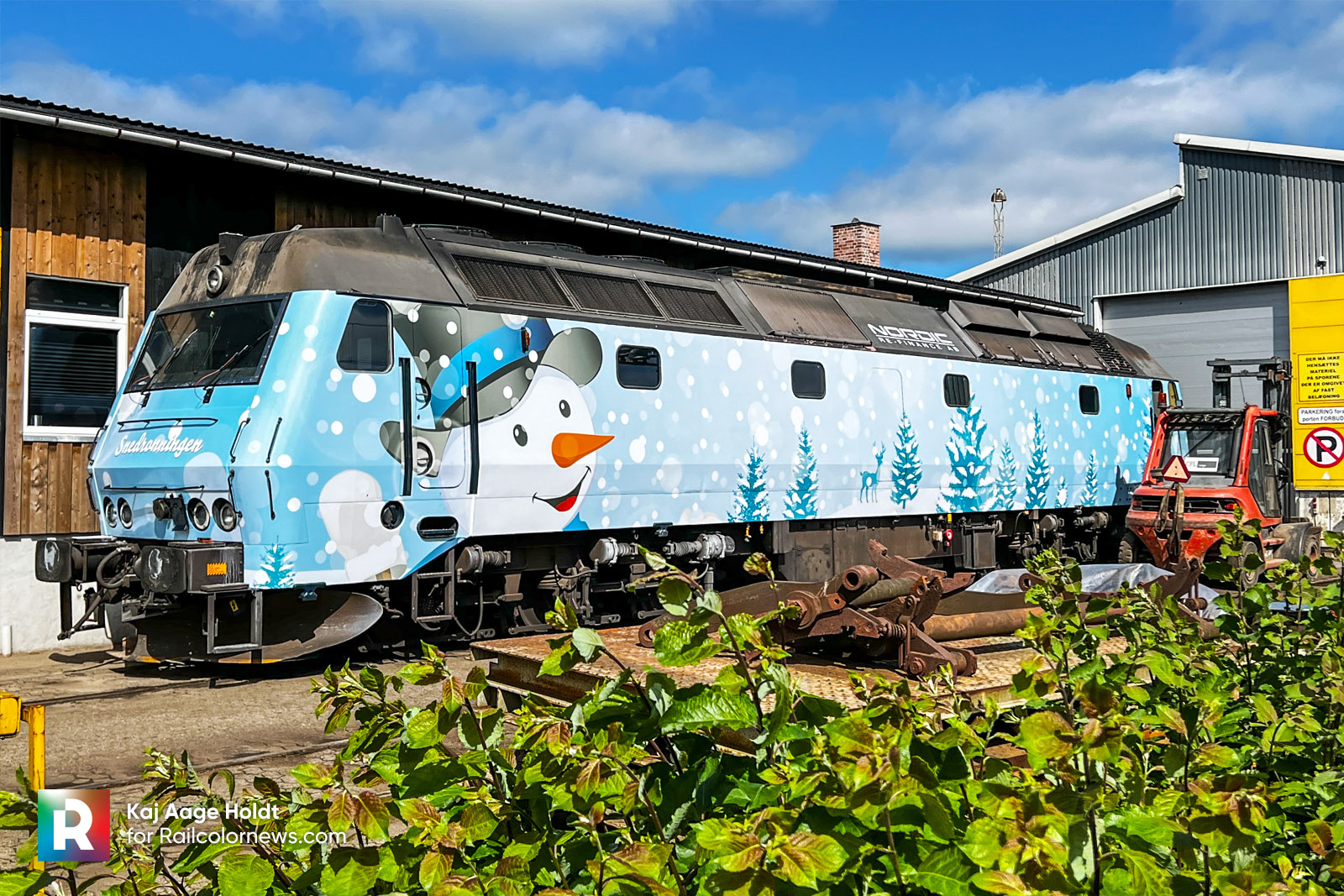 DB Cargo Scandinavia is the client
Times change and diesel locomotive tractions are slowly becoming a thing of the past. But there is sometimes no other way around it. This is the case with some of DB Cargo Scandinavia's operations in Denmark. While the Litra MZ locos of the operator are being fitted with ETCS equipment, required for operation on Denmark's modernized network, the German operator needs a replacement.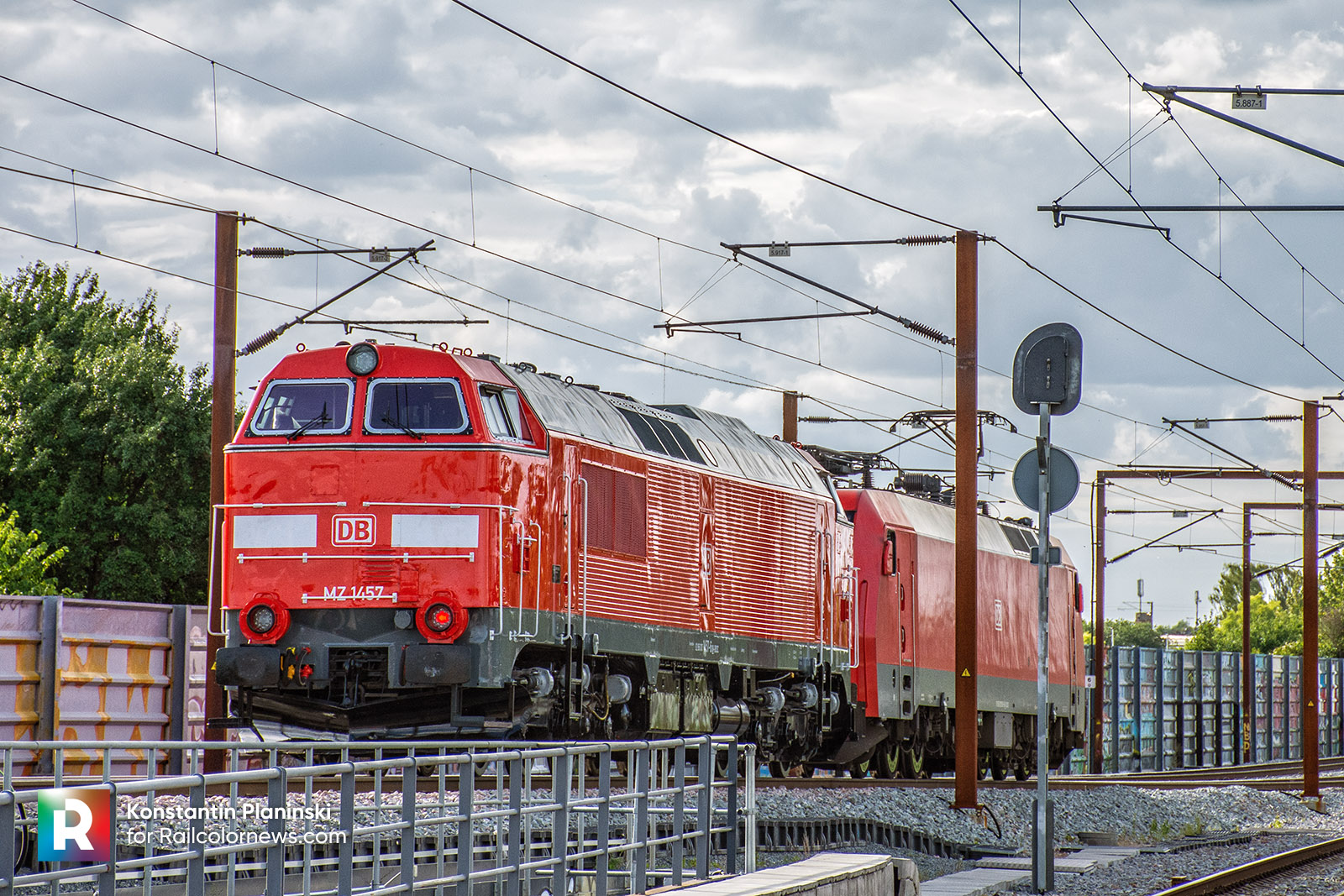 Representing the last generation of GM-motorized diesels-electrics in Denmark, the ex-DSB Litra MEs (that were recently acquired by Nordic Re-Finance) appeared to be a perfect match for the task. At the same time, Nordic Re-Finance is also planning to equip the T/ME (the machines are referred to as 'Tme' in Sweden and 'ME' in Denmark) fleet with ETCS, thus solidifying them as a viable solution for operators on non-electrified tracks in the future.
More cheeky ME designs on the way?
Nordic Re-Finance is far from done with the surprises and confirms that it already has ideas for further eye-catching liveries. This, of course, depends on leasing demand for the fleet. For example, another ME (1530) is currently being leased to Danish operator Contec rail. But its exterior will remain unchanged. For the time being.
Speaking of original exteriors, let's end this overview with some
Memories from a past life
We already know what the three locos look like now. But just a year ago they could be seen (and heard) pulling regional trains from Denmark's capital with quite different looks. DSB looks, that is, from two different corporate identities – two in dark blue (older) and one in red (the modern DSB design):
Curious fact: For decades, ME locos have been the preferred traction for HM Queen Margrethe II's royal trains across Denmark. With DSB's Vectron fleet being almost complete now, this is changing.
---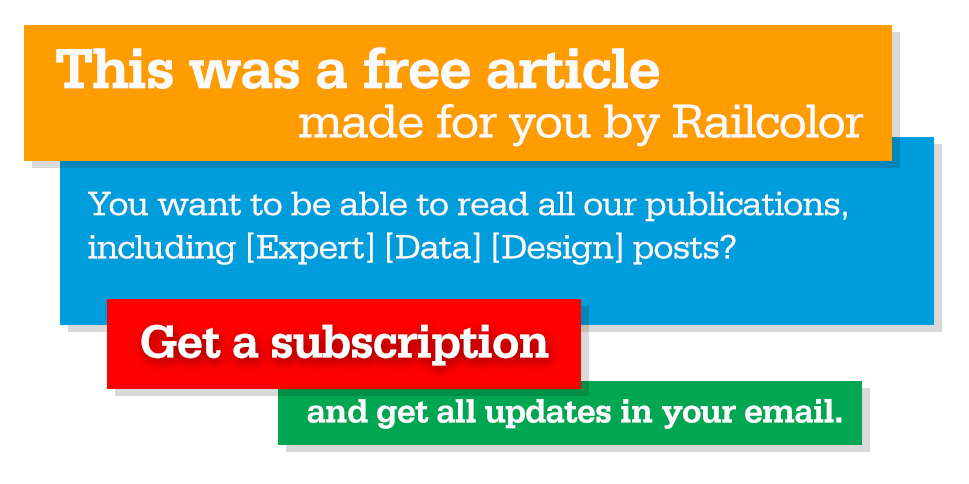 As is the case with many articles on Railcolor News, this is a part of the bigger puzzle of the European railway industry – a puzzle that we've been documenting for 22 years now. For a detailed overview of Nordic Re-Finance's purchase of the entire DSB Litra ME fleet, refer to the Expert article below:
[SE / Expert] Nordic Re-Finance purchases another 26 DSB ME diesel locomotives