Welcome! Every week we bring you the latest news on new electric locomotives being built in Europe. New liveries and remarkable operator changes are of course also mentioned. Enjoy! Oh, do you have comments or questions, contact us here! When you want to receive an email every time we publish this item, you can subscribe to our mail list here.
Railcolor Short:
MRCE ES 64 U2-073 hit a car and got damaged by fire
DB Cargo has started using its Vectron locos in commercial in the Netherlands last week
DB 101 004 lost its "Bahn BKK – Wir gehören zur Familie" livery
The first two MRCE Vectron with DE-AT-CH-IT-NL package are X4E-700 and -701
Adriafer hires MRCE X4E-675
Seen on 19.03.2018 around Trieste: Multi system locomotive MRCE X4E-675 with logos/markings of operator Adriafer. This company started in 2004 and is owned by the Port Authority of the city of Trieste.
Captrain: first Vectron certified for the Netherlands
Siemens has handed over the first of three Vectron locomotives to Captrain with the country specific package A10 = DE-AT-PL-CZ-SK-HU-RO-NL. The locomotive is numbered 193 784-6 (yes in DIN standard font and with check digit) and already has the standard Captrain design.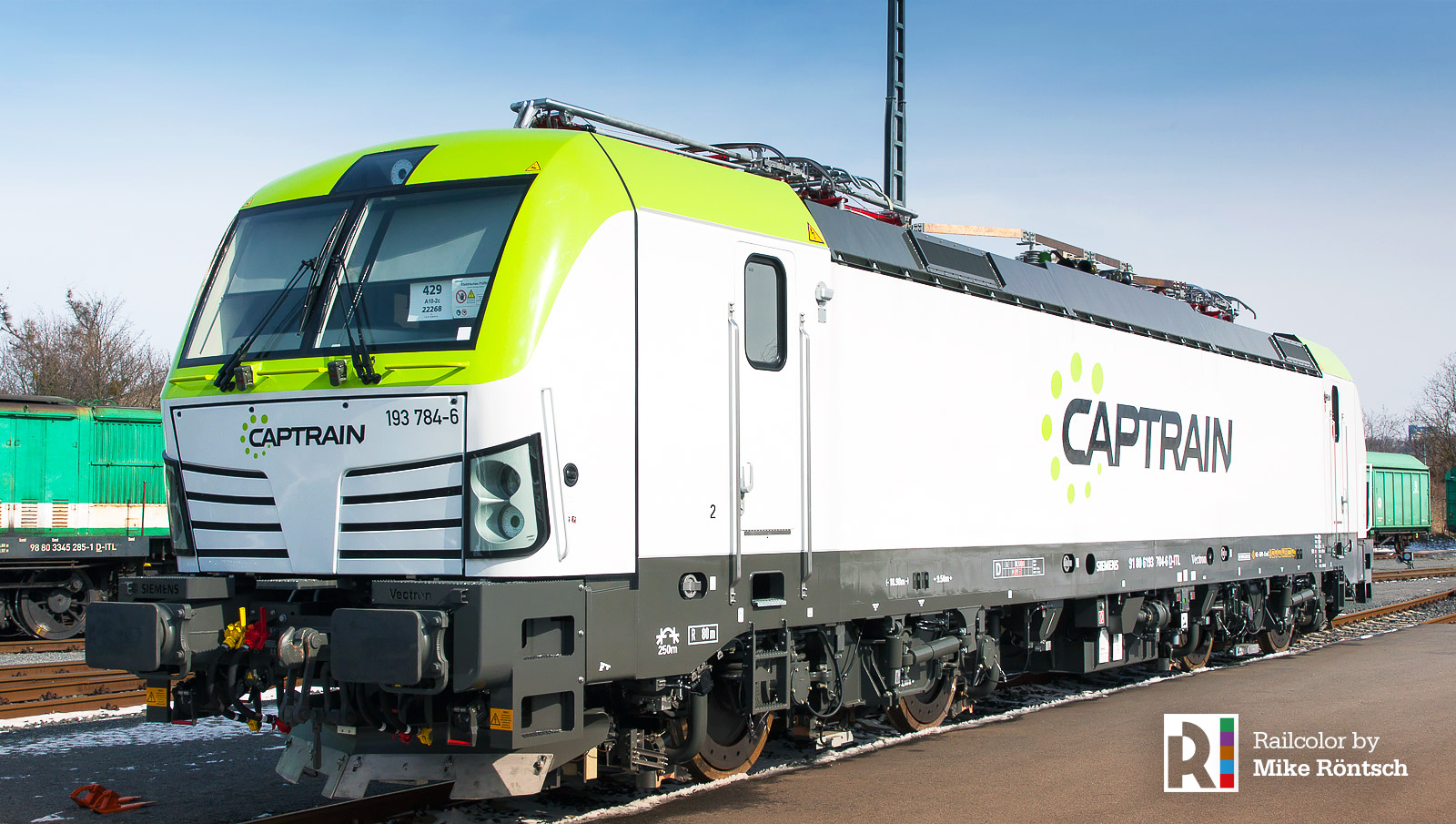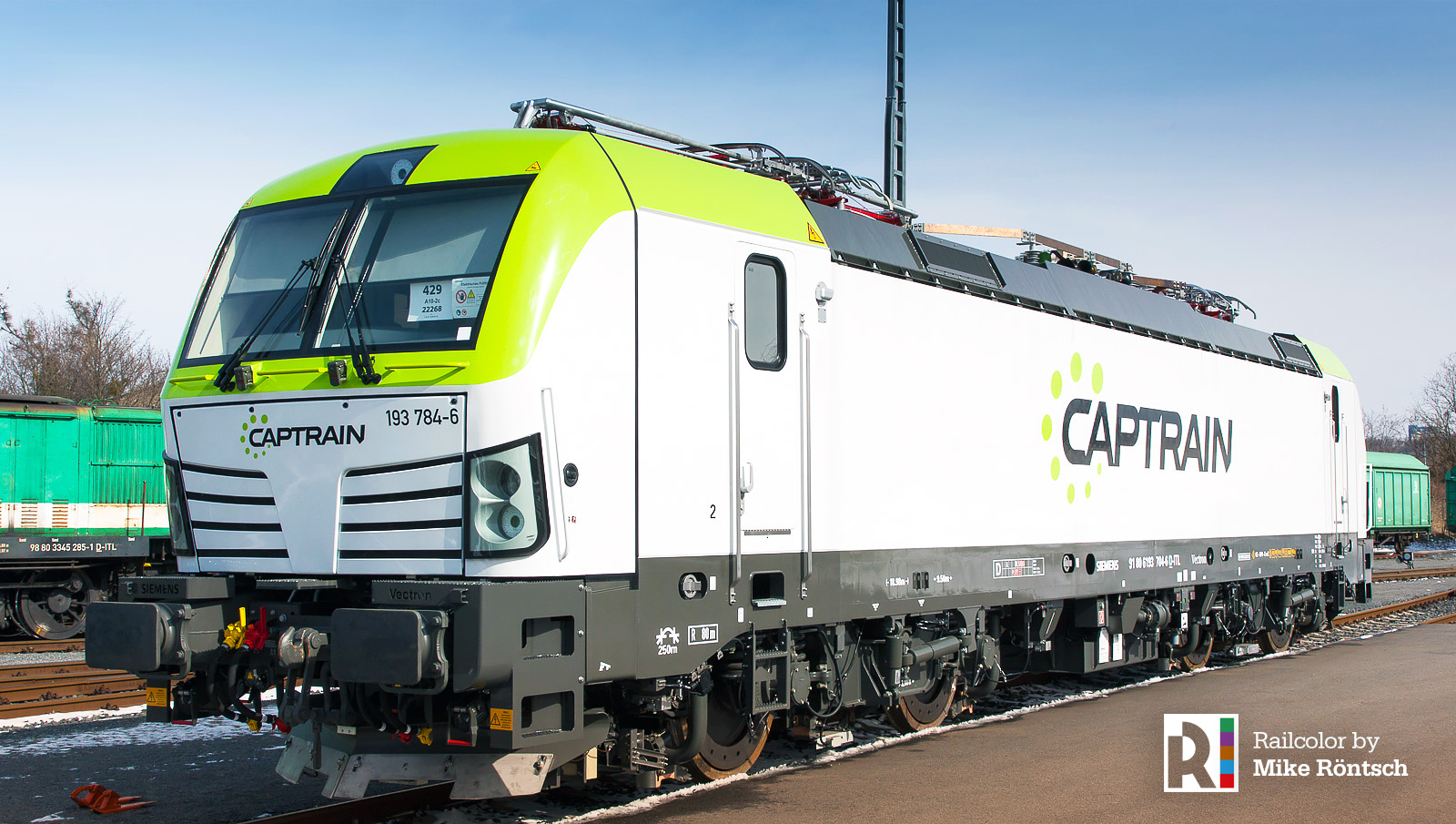 Captrain: overhaul and repaint for 185 548
It was an unique locomotive: ITL 185 548 from 2005. It was the only one of its type in silver with ITL logos. In 2011 it got additional stickers as the company was searching for new drivers. And ITL still it, but in a new style. Last week, the workshops of Pirna have released the 548 in a bright and shiny new Captrain livery with new stickers. The images: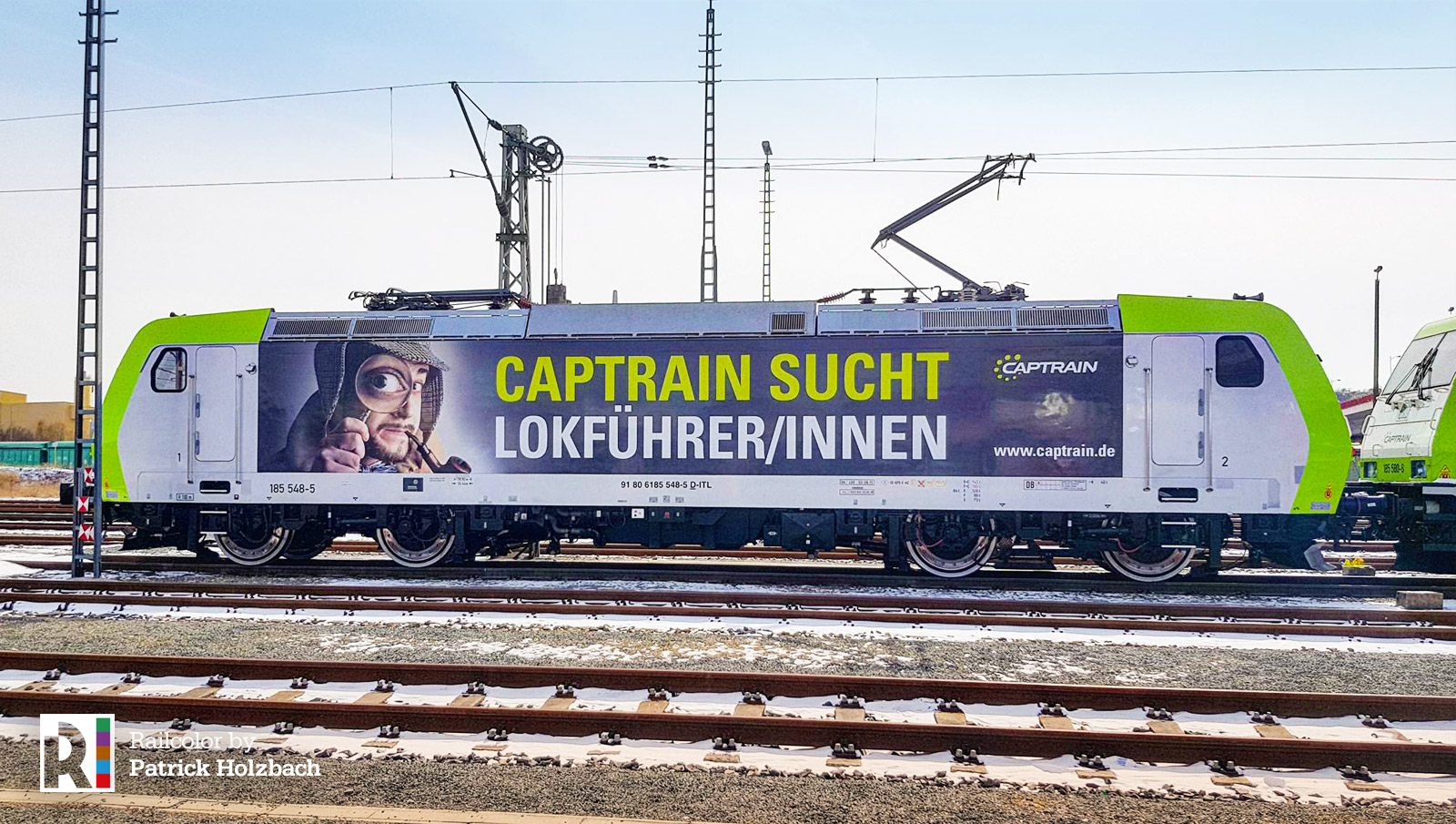 DB Cargo Italia: First 483 receives red standard livery
In 2009 Bombardier in Vado Ligure delivered eight TRAXX DC locomotives to FNM – Ferrovie Nord Milano S.p.A, the designated 483 101-108. All machines got a blue livery with grey coloured fronts, some got Nordcargo logos, some did not. During the years that followed the freight division of FNM became part of DB Cargo Italia. Consequentially, the locomotives got restyled. 483 102 was the first to get white stickers on its side with small DB logos. With 483 104 the rebranding is take to the next level, the locomotive has been repainted last week in 'Verkehrsrot'.
Currently, 483 104 is at Asti depot, shining in its new red livery. It is not an uncommon sight, it now looks very very similar to the TRAXX MS2e electrics DB Cargo is operating in France and Germany.
DB Cargo Scandinavia A/S again wholly owned by DB Cargo
DB Cargo reacquired 49 percent of shares in DB Cargo Scandinavia A/S. The German Cartel Offices has already approved the acquisition. DB Cargo is buying these shares from Swedish freight railway Green Cargo, which purchased a shareholding in DB Cargo Scandinavia as part of a joint venture some 10 years ago. This means that DB Cargo is once again the sole shareholder in Danish freight railway DB Cargo Scandinavia A/S based in Copenhagen. With this investment, DB Cargo is looking to increase its market share in Scandinavia and in particular to attract customers in the Swedish market.
Along with its activities in Denmark, servicing the Swedish market and the rail connection to Germany will be one of the main tasks of DB Cargo's Scandinavian national company. Owning 100 percent of the company's shares allows DB Cargo to now operate through trains from Germany through Denmark to Sweden and back with all-in-one traffic management and a high level of quality.
This signals the end of the joint venture with Green Cargo, however DB Cargo will continue to collaborate with the company in operations to service transport for numerous customers. The parties agreed to keep the purchase price confidential.
DMV: Vectron locomotives arrive in Ruse, Bulgaria
Exactly 3.5 days. This is the time it took the DMV Vectrons to arrive from Germany to their new home in rainy Bulgaria. After their long journey across Europe, the "Fighters" are now stationed in the Express Service locomotive factory, near Ruse in Bulgaria and are awaiting the required preliminary procedures before entering into service.
They will initially be used for fuel transportation between the cities of Vratsa (DMV Cargo Rail HQ) and Varna on the Black Sea. The almost 500 km-long route features ascents up to 27 ‰. It is expected that the locomotives will enter revenue service within a month. Read more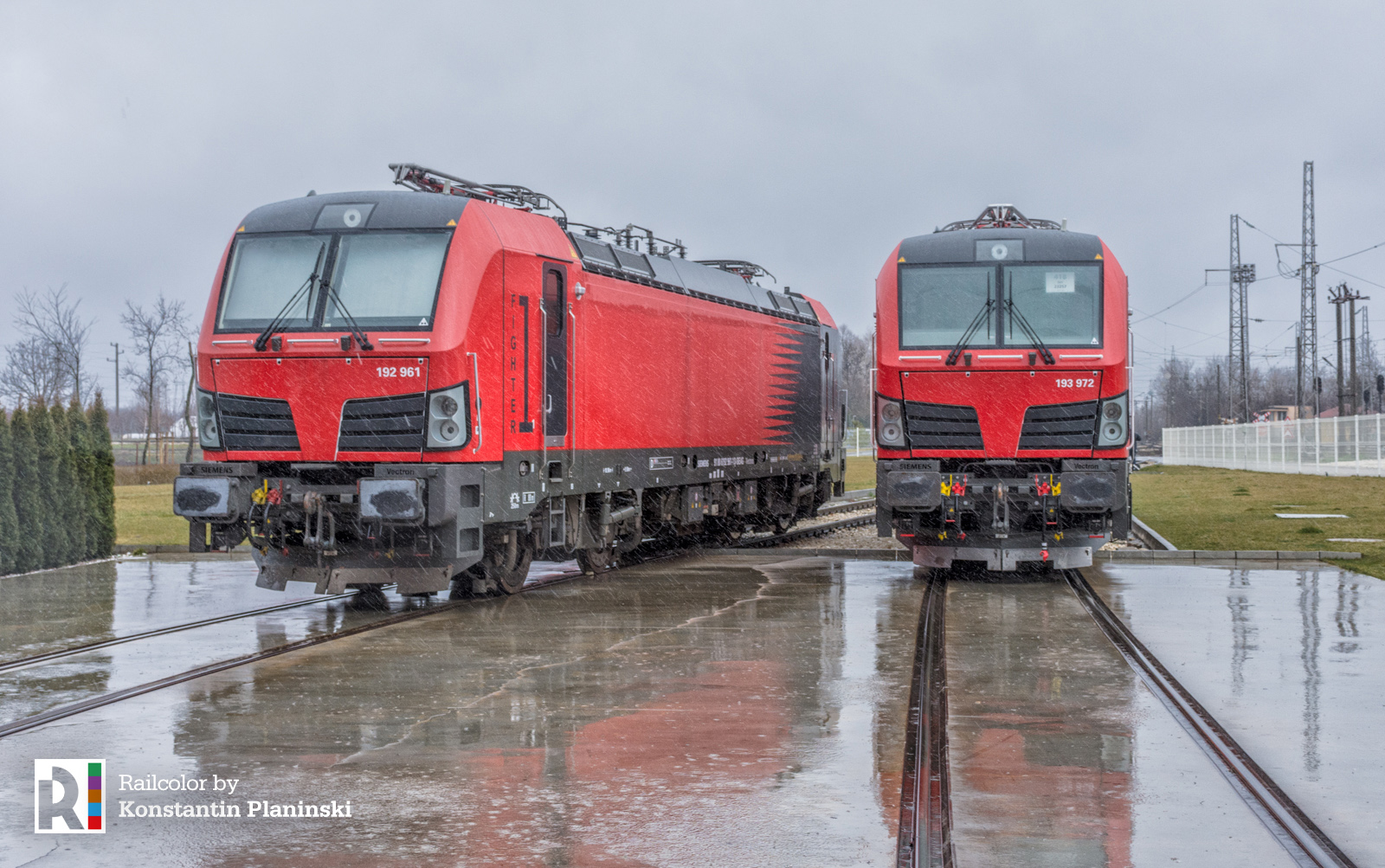 Hector Rail: 8x Vectron in a row
It was the news of last weekend. The transport of Hector Rail 243 106-112 and 243 001 (ex 193 923) to Malmo. 106-108 came from Wegberg-Wildenrath, the others were transferred from Munich. In Germany RailAdventure 111 215 was used for the transport, in Denmark and Sweden Hector Rail 241 006 took over. See more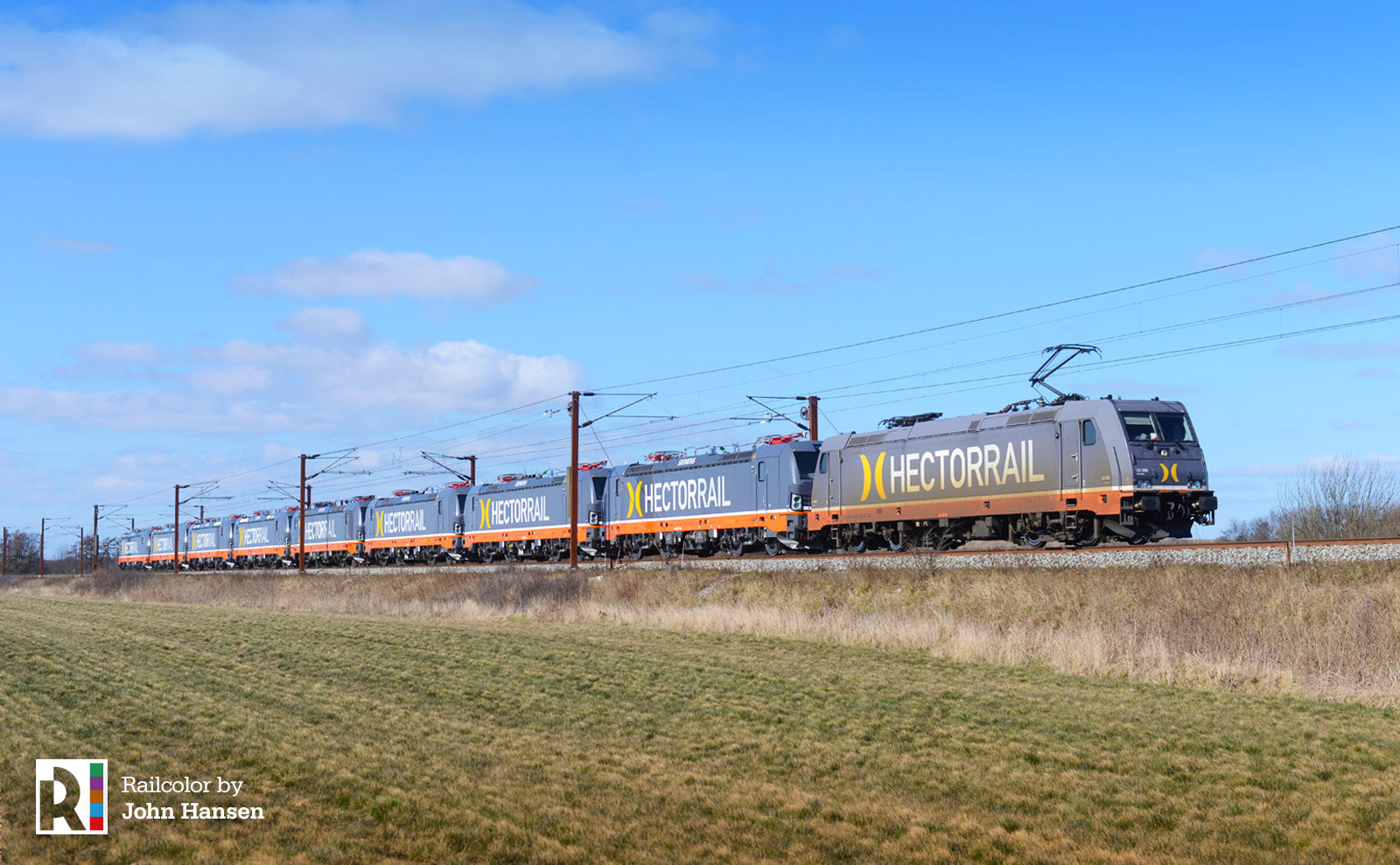 InRail: 191 100 now in white, red, blue
Don't forget about 191 100! In 2015 Siemens produced this Vectron DC stock locomotive, which was originally numbered '191 004'. After several years of testing / being parked, the locomotive was a loyal guest at the VUZ Velim test center, the white locomotive re-appeared in Poland (!) on 25/26.02.2018, behind Captrain diesel locomotive SM42-2326. Over the past weeks the '100' got the InRail livery in white, red and blue, identical to the one on 193 847.
The photo below shows the locomotive in its new livery. We asked InRail about what will happen next with the locomotive. They state it will be delivered later this year with Siemens' Diesel Power Module (DPM). The Vectron DC with this shunting feature still awaits approval in Italy.
InRail ordered three Vectron locomotives in 2017.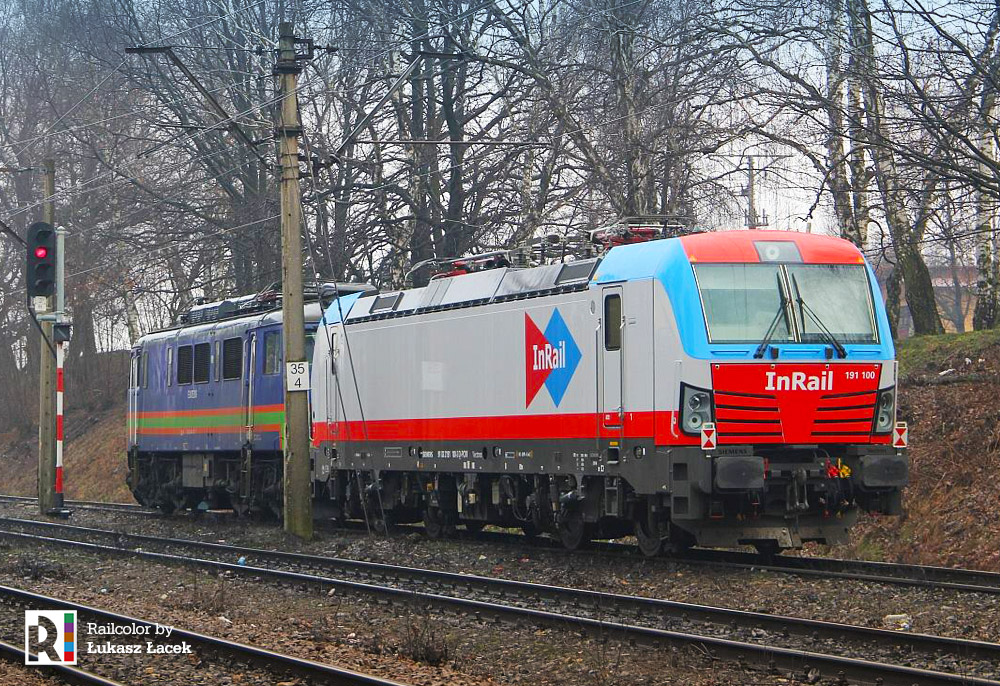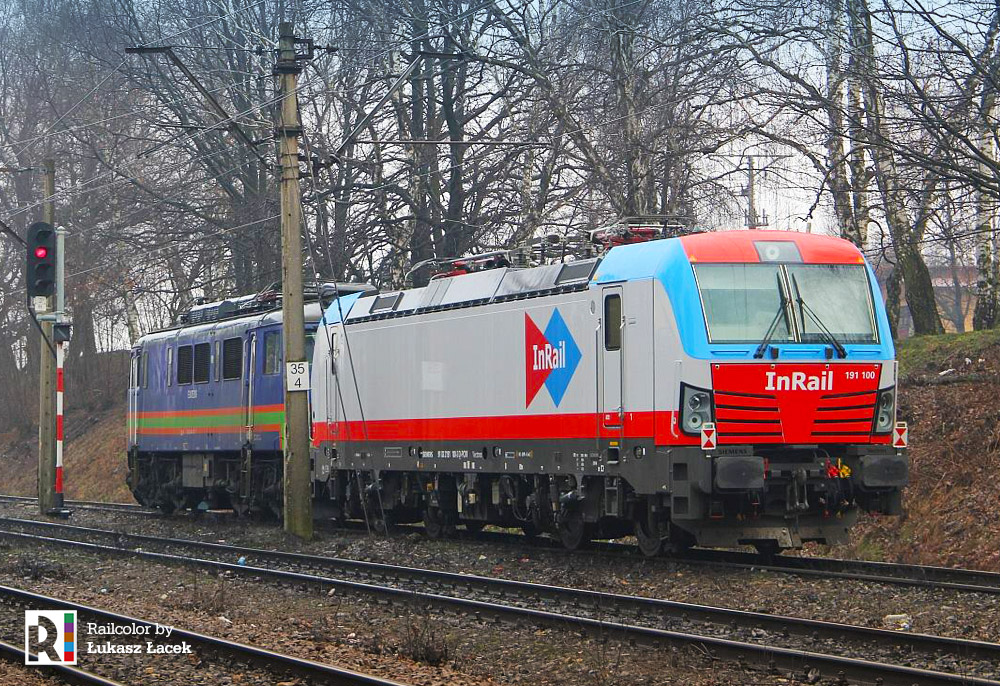 Lineas: More Railpool locomotives enter service
With Railpool 186 447, 453 and 454 Lineas has started operating its first DE-AT-CH-IT-BE-NL electric locomotives. The latter two were previously operated by Railcare in Switzerland, but returned to the lessor when its new Vectron locomotives arrived. With 186 297 also being fairly new in the Lineas fleet, we count now 19 Railpool 186s directly hired to Lineas.
LTE takes delivery of Trans Montana 2 and 3
It was an impressive sight: all three LTE Trans Montana locomotive in front of one freight train. On 18.03.2018 the first videos and images appeared of LTE 480 024 together with 480 029 and 030, that now have finally been released from work by Softronic. Both newbies were taken to Hegyeshalom where they were caught on camera today by Norbert Tilai: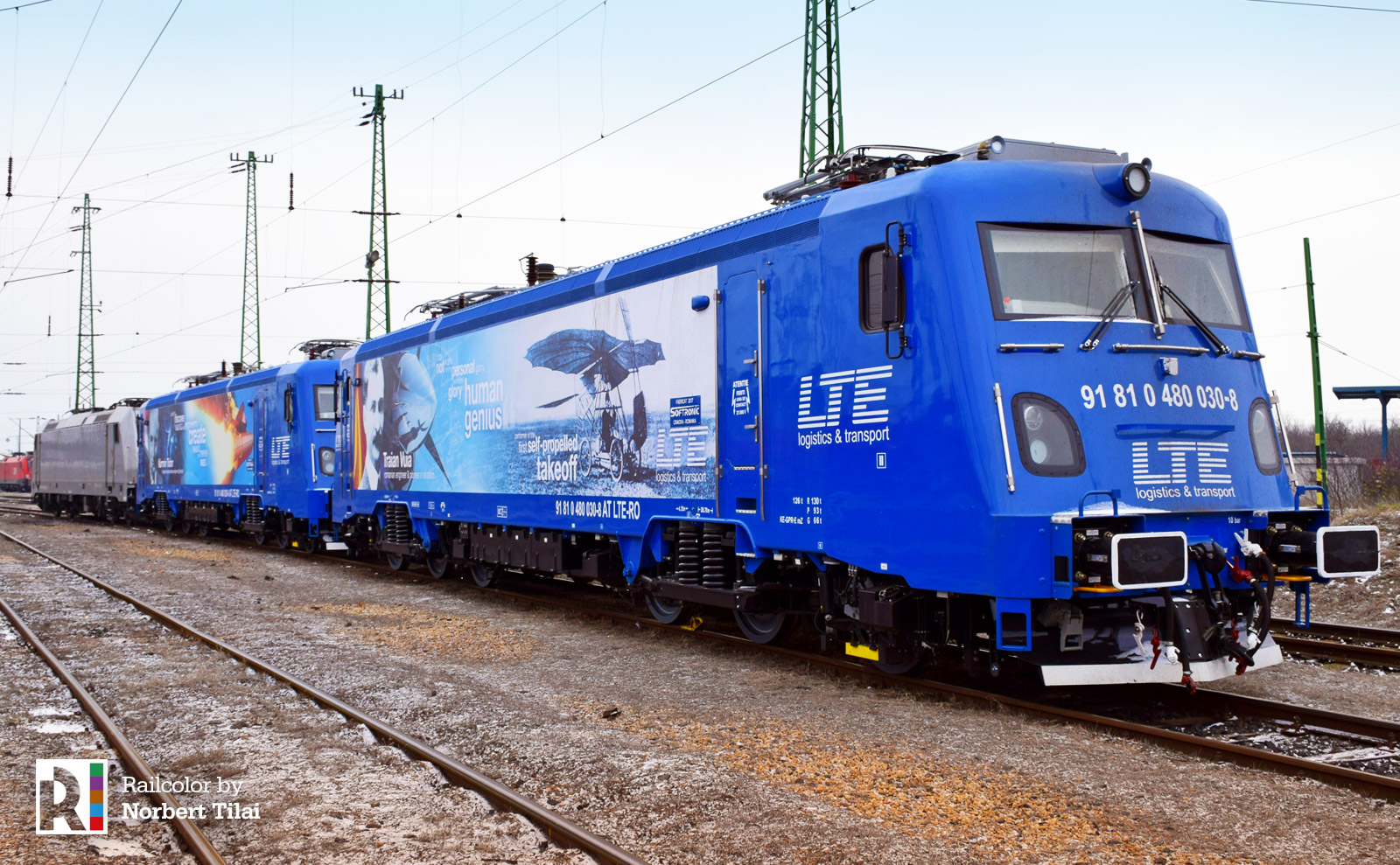 FlixTrain is coming: ES 64 U2-005 is the first 'Flix locomotive'
BTE coaches get a green/orange livery, MRCE ES 64 U2-005 now has new livery. The locomotive was used to pull the last Alpen Express trains last weekend. The Alps are a nice back drop for the green machine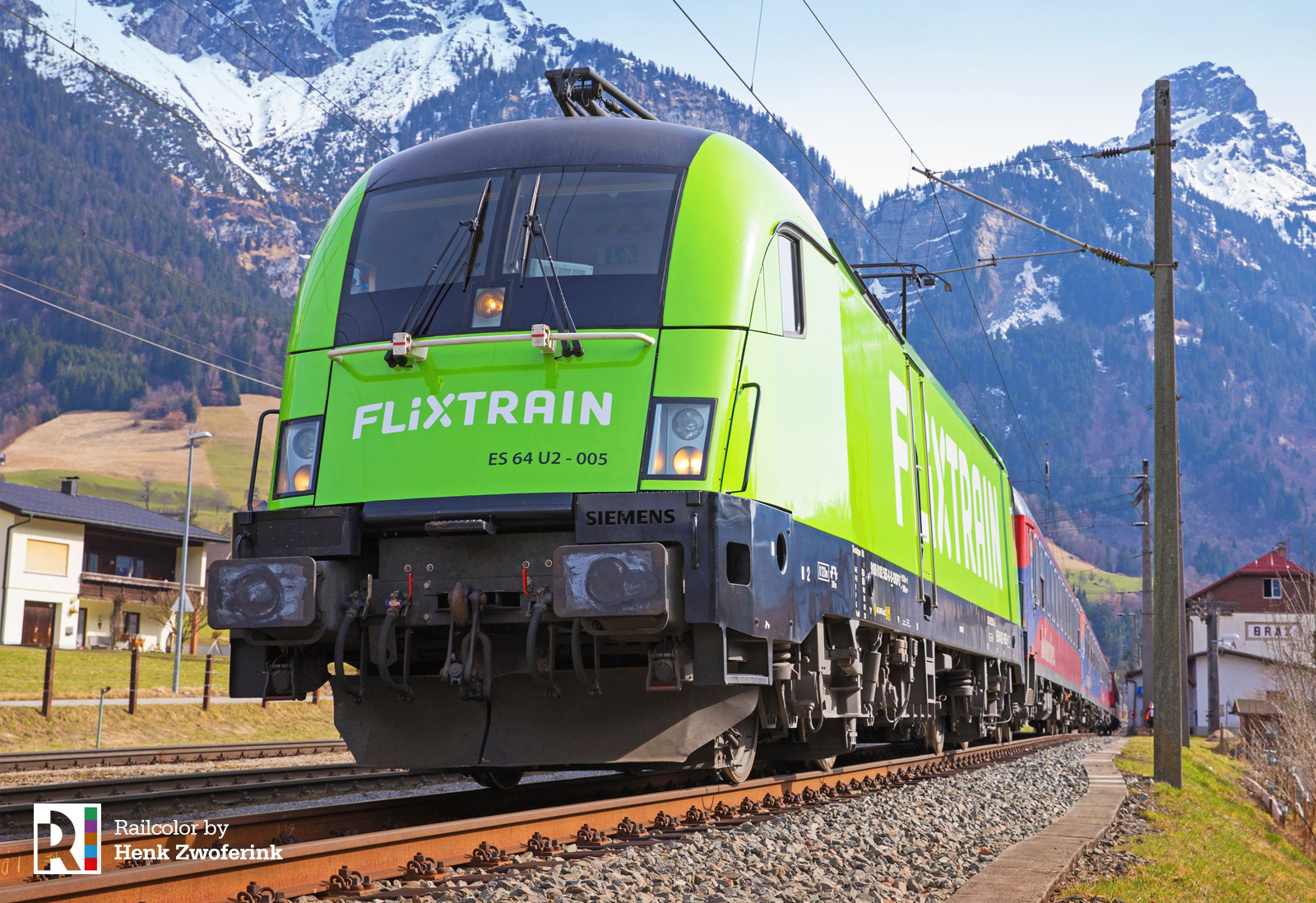 MRCE ES 64 F4-209: European Gateway Services stickers removed
There have been three MRCE ES64F4 locomotives promoting European Gateway Services over the past years. With the removal of the stickers from MRCE Es 64 F4-209 this month, this livery version belongs to the past.
MRCE > RTB Cargo ES 64 F4-103 – 10.2013 – 2016 – old ECT/RTB Cargo logos
MRCE > RTB Cargo ES 64 F4-209 – 04.2015 – 03.2018 – new ECT/RTB Cargo logos
MRCE > RTB Cargo ES 64 F4-285 – 10.2013 – 2017 – old ECT/RTB Cargo logos
Back in 2013, European Gateway Services (EGS) was a product of ECT from Rotterdam, with RTB Cargo as partner for rail operation. Together they set up a direct freight train between Rotterdam and Venlo. Nowadays, EGS offers connections between the ECT deep sea terminal in Rotterdam, Amsterdam and several inland terminals in the European hinterland such as Antwerp, Aschaffenburg, Dortmund and Basel.
Interesting detail is that ES 64 F4-103 kept its EGS stickers until 2016, long after it was transferred to Italy.
RDC / Autozug Sylt showcases the new 247 909
RDC Deutschland / Autozug Sylt has been showcasing its new Vectron diesel locomotive last week in social media. We are talking about the newly built 247 909 currently being readied for delivery by Siemens in Munich. Soon the 909 will join the 247 908 that is in service at the Sylt since November 2017. It is planned to give the 908 the same blue/grey livery later on.
Stadler EuroDual in Belgium
Last week, EuroDual prototype locomotive was seen in Namur. Test were performed with this six-axle dual mode locomotive between Erquelinnes (BE) – Jeumont (FR) and Virton (BE) – Mont-Saint-Martin (FR). All tests were in diesel mode only.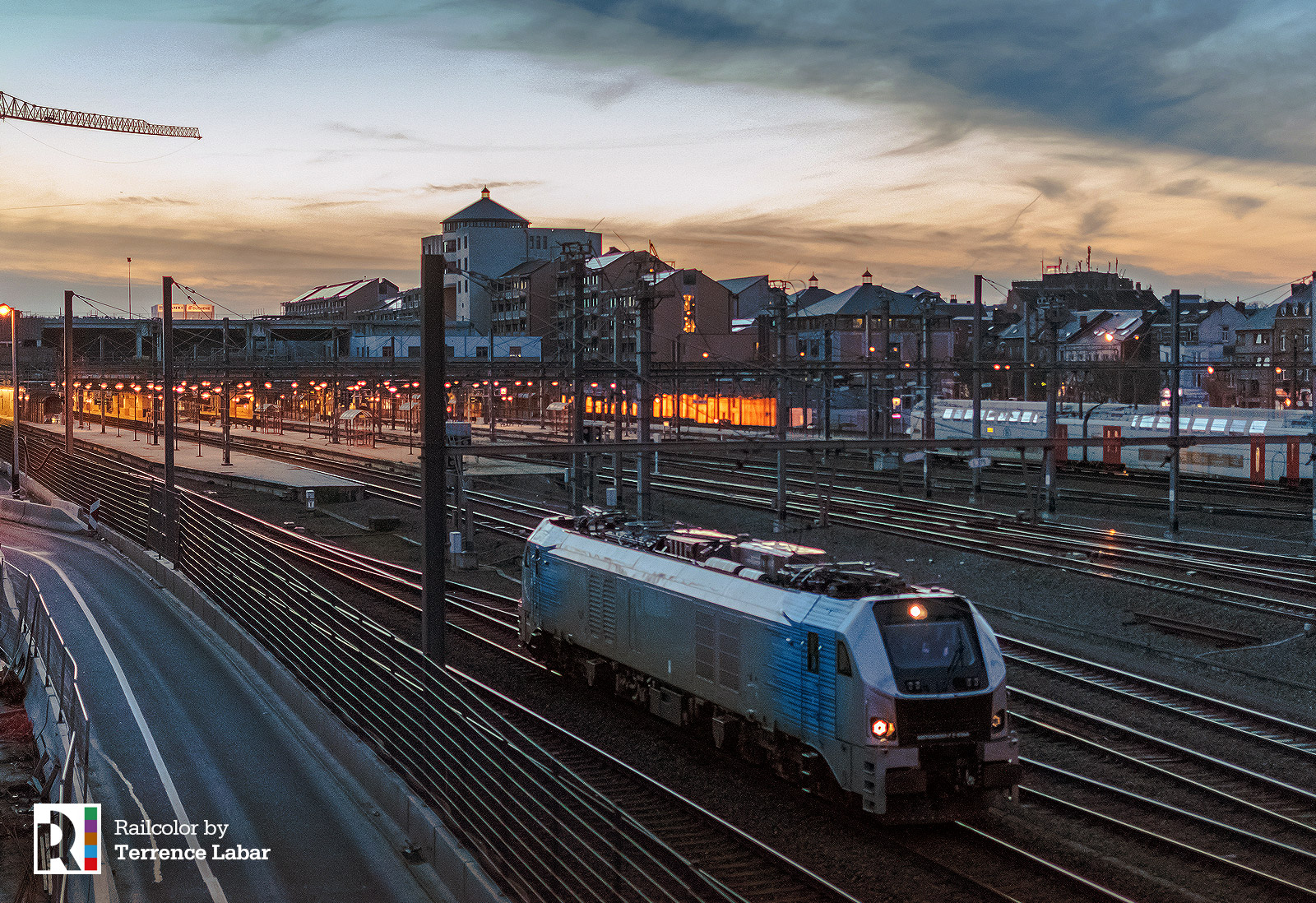 Stern & Hafferl Verkehr hires 187 315
As of this month, Stern & Hafferl is hiring Railpool locomotive 187 315 – a locomotive with Last Mile diesel shunting module. The 315 sports white/yellow St&H logos for the time being. The Austrian rail freight operator has one such machine on order that will be delivered in the third quarter.
Akiem 186 371 in Kufstein