Welcome! Every week we bring you the latest news on new electric locomotives being built in Europe. New liveries and remarkable operator changes are also mentioned. Enjoy! Oh, do you have comments or questions, contact us here! When you want to receive an email every time we publish this item, you can subscribe to our mail list here.
Warsaw, 21.03.2018: 'Rolling stock market perspectives' with ERSF 2018
Let's discuss the future of the Central and Eastern European railway rolling stock market. Join the debate in March, 2018 in Warsaw. European Rolling Stock Forum 2018 is the largest and most prestigious business conference in the CEE, devoted to the railway vehicle manufacturing market in the region.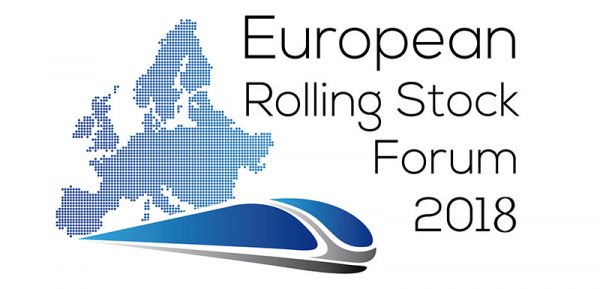 Alpha Trains: ex-Lineas locomotives available to the market again
It is possible the biggest locomotive lease contract of the moment. In 2015 Railpool and Belgian rail freight operator Lineas closed a deal for hiring 36 (and possibly more / Railpool ordered 20 more machines in 2017) TRAXX locomotives for international freight transport on various European corridors. Full service is included.
It means that Lineas will replace the TRAXX DE/AT/BE/NL locomotives it is hiring from Alpha Trains with similar locomotives from Railpool. We expect that the Railpool locomotives will be more diverse regarding their country specific package, so Lineas will have more possibilities to use the machines in its network.
Slowly but steadily Lineas is now terminating the rental contract for its Alpha Trans TRAXX DE/AT/BE/NL locomotives. Lineas had 30 (!) in its fleet (186 206-235 / 2814-2843) so over the next years a considerable number of modern multi system electrics will become available to the lease market, very interesting to other operators. So, who are the new customers for the locomotives that have been given back by Lineas? We are recording:
Bombardier: Move over 186 – This is the 188
Bombardier is currently finalising its newest multi system electric locomotive for freight traffic in Europe. Step by step the manufacturer is bringing images of the final phase of construction of the new 'MS3'. Read more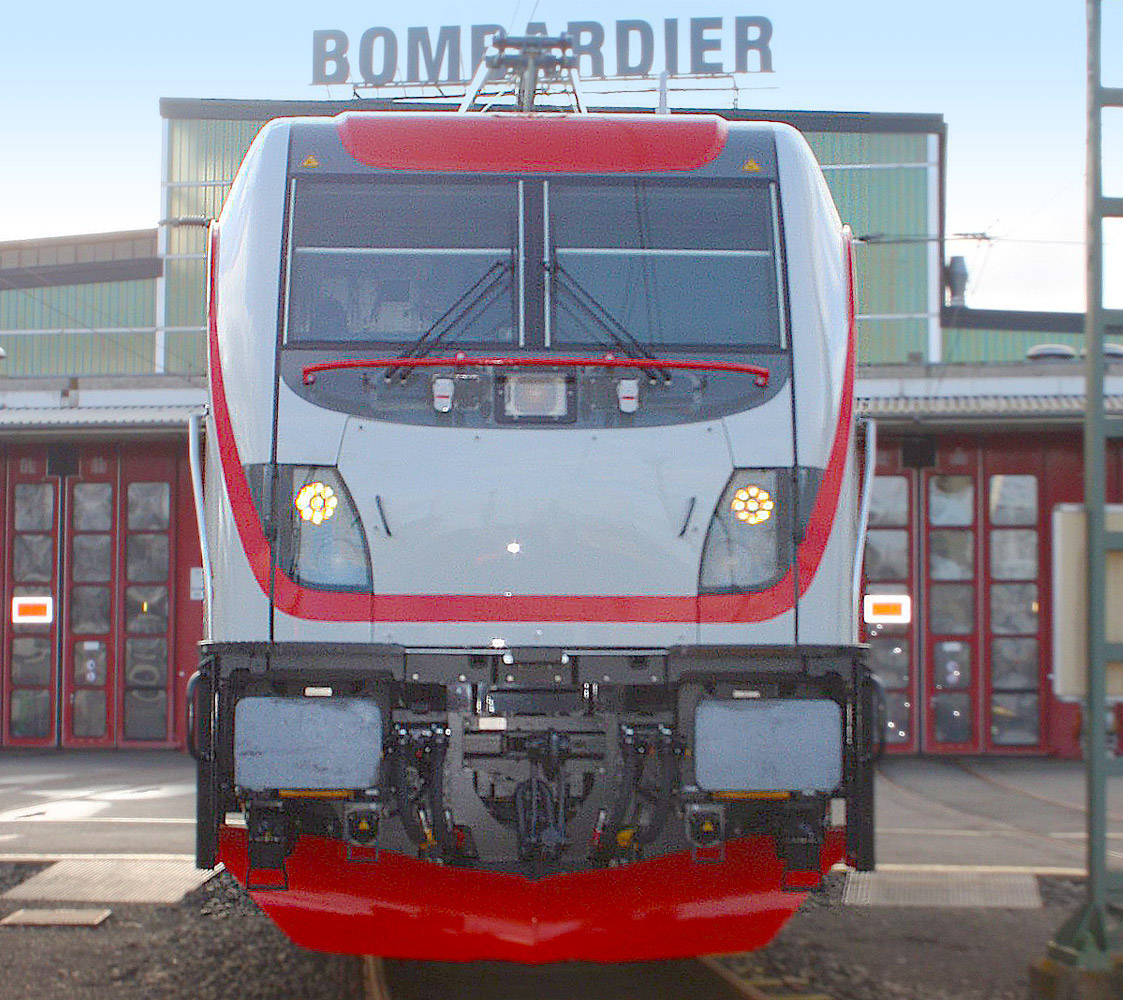 DB Fernverkehr and its golden 101
As part of its cooperation with Olympic Team Germany and the German Paralympic Team, Deutsche Bahn has presented locomotive 101 071 in a new golden livery. The machine will be a 'rolling ambassador' until the end of the Tokyo 2020 Olympic games. Read more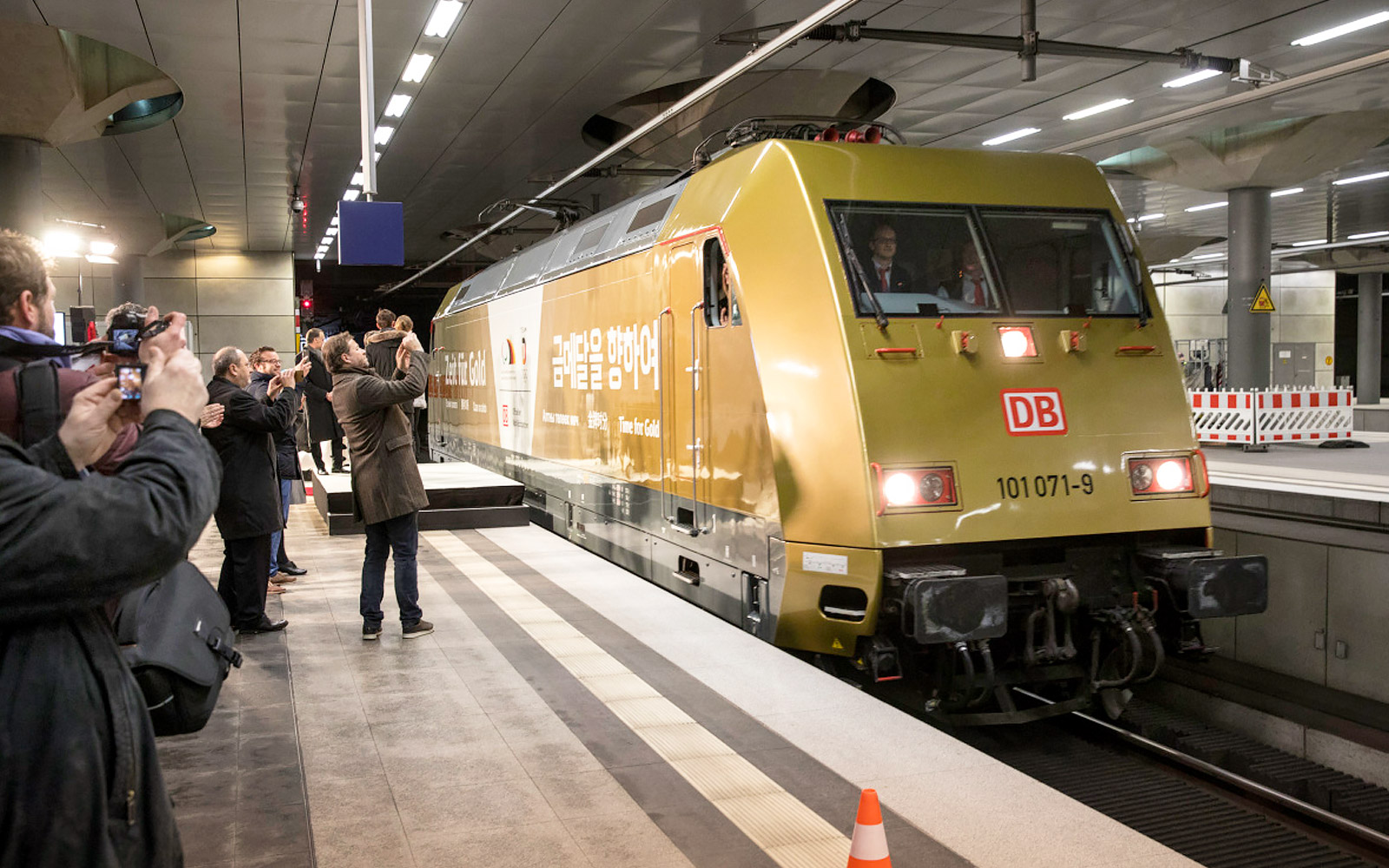 Newag: manufacturer terminates contract with ING Lease and Lotos Kolej
Polish rolling stock manufacturer Newag had to deliver five Griffin locomotives to ING lease and operator Lotos Kolej. A contract was signed in December 2015. Last year we saw the first blue and silver locomotives being completed by Newag and made ready for delivery. But this never happened. Rynek-kolejowy.pl is reporting extensively on the matter here, here and here.
Newag has decided to terminate the contract and has bought the locomotives back from ING Lease. Via its own Newag Lease subsidiary the manufacturer is now looking for new customers for the new machines. So far, a new operator has been found for locomotive E4DCd-001, 002 and 003: Orlen Koltrans.
Newag states that it had to locomotives ready for hand-over to Lotos Kolej, but that the operator did not 'collect'. Lotos states the locomotives were not only late, they did also not comply with the operator's demands. The locomotives did not have ETCS installed, so it would not be possible to operate the locomotives on all lines of the Polish network, which was unacceptable to Lotos Kolej. The operator offered to pay for the ETCS installation, its says, as they really needed the locomotives, but Newag decided to terminate the contract. Lotos Kolej considers taking the case to court.
Siemens Vectron production update
Siemens is on fire. Many new Vectron locomotives are being outshopped every week. Lets start with an overview of the machines recorded last week:
ELL 193 725, 726 and 193 830 – the last one being a surprise
Hector Rail 243.106 – number 4 that will have a shunting diesel
Hupac 193 490 and 491 – very blue..
MRCE X4E 675 – the 36th and final DE/AT/IT locomotive for MRCE
railCare 476 454 – still white
SBB Cargo 193 464-468
Siemens 193 818 and 819 – new Siemens test locos
S Rail Lease 383 104 – for Slovakia
ELL's newest locomotives: 193 725, 726 and 193 830
The ELL fleet of Vectron locomotives has grown again – now it includes 105 machines: 193 201-287/289-299/721/724-726/830-832. The 725, 726 and 830 are the newest additions. The 830 we have seen before, but in a plain white livery, it is now hired to TX Logistik and has the normal ELL livery: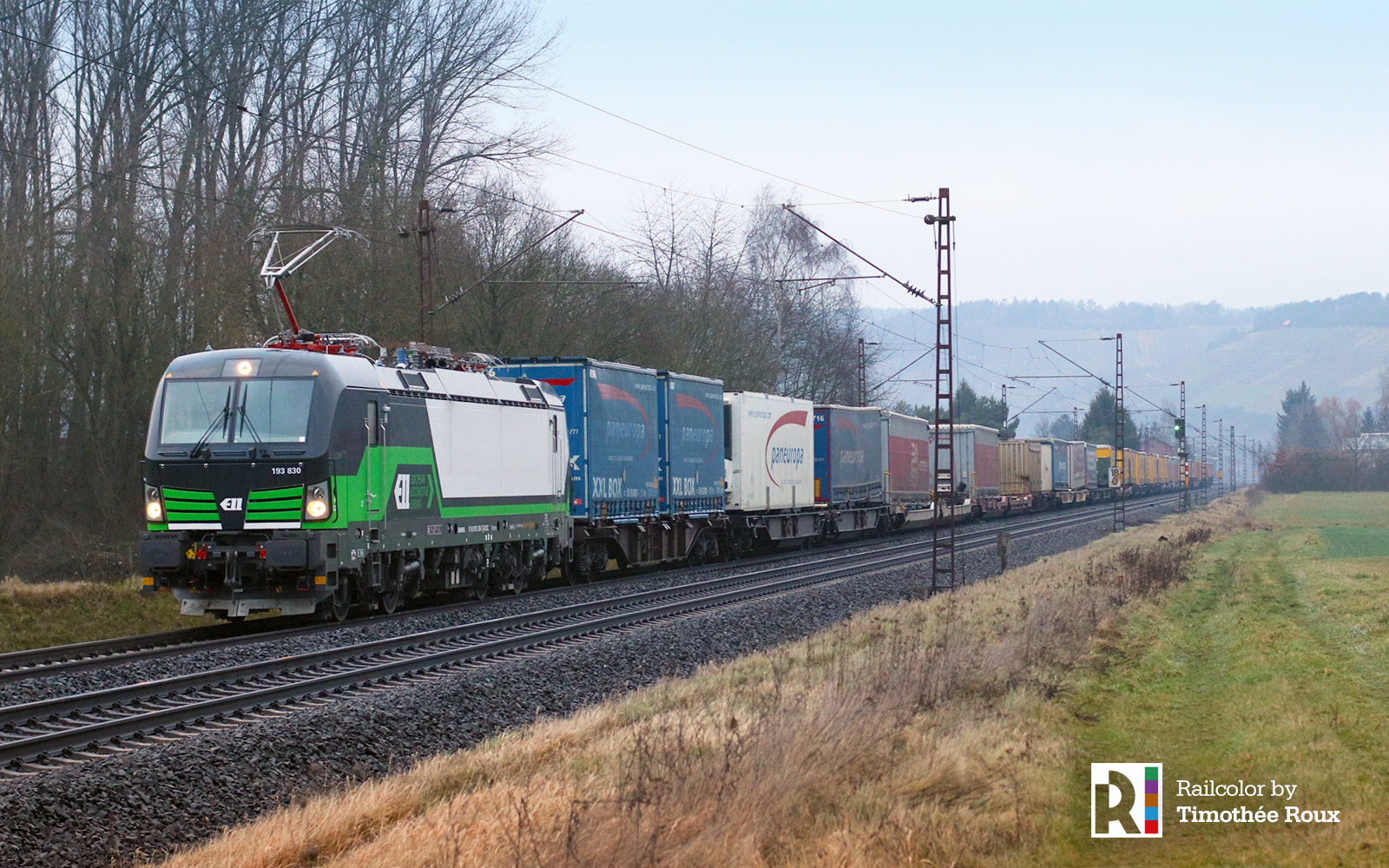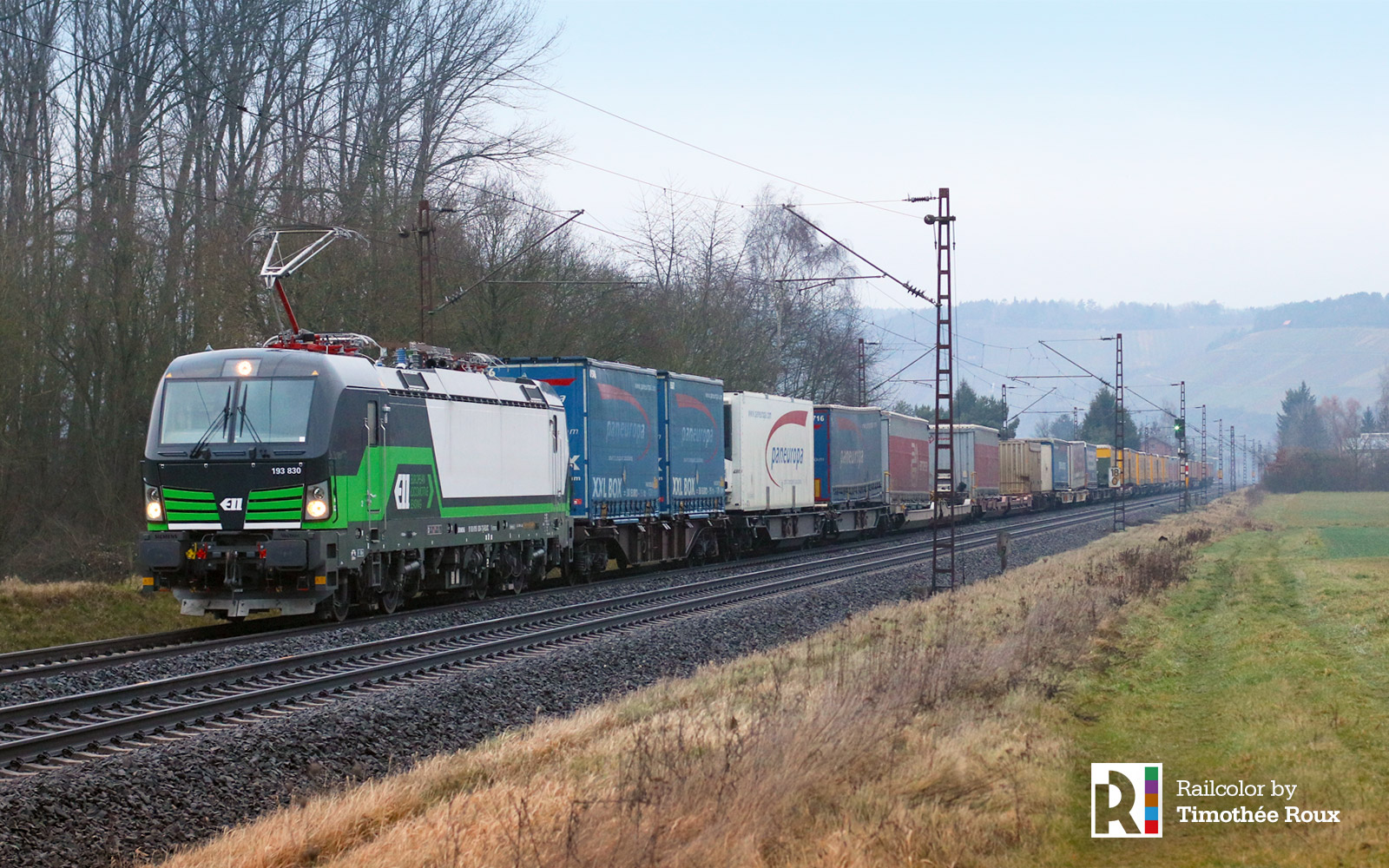 Hector Rail: Vectron no. 6 leaves Munich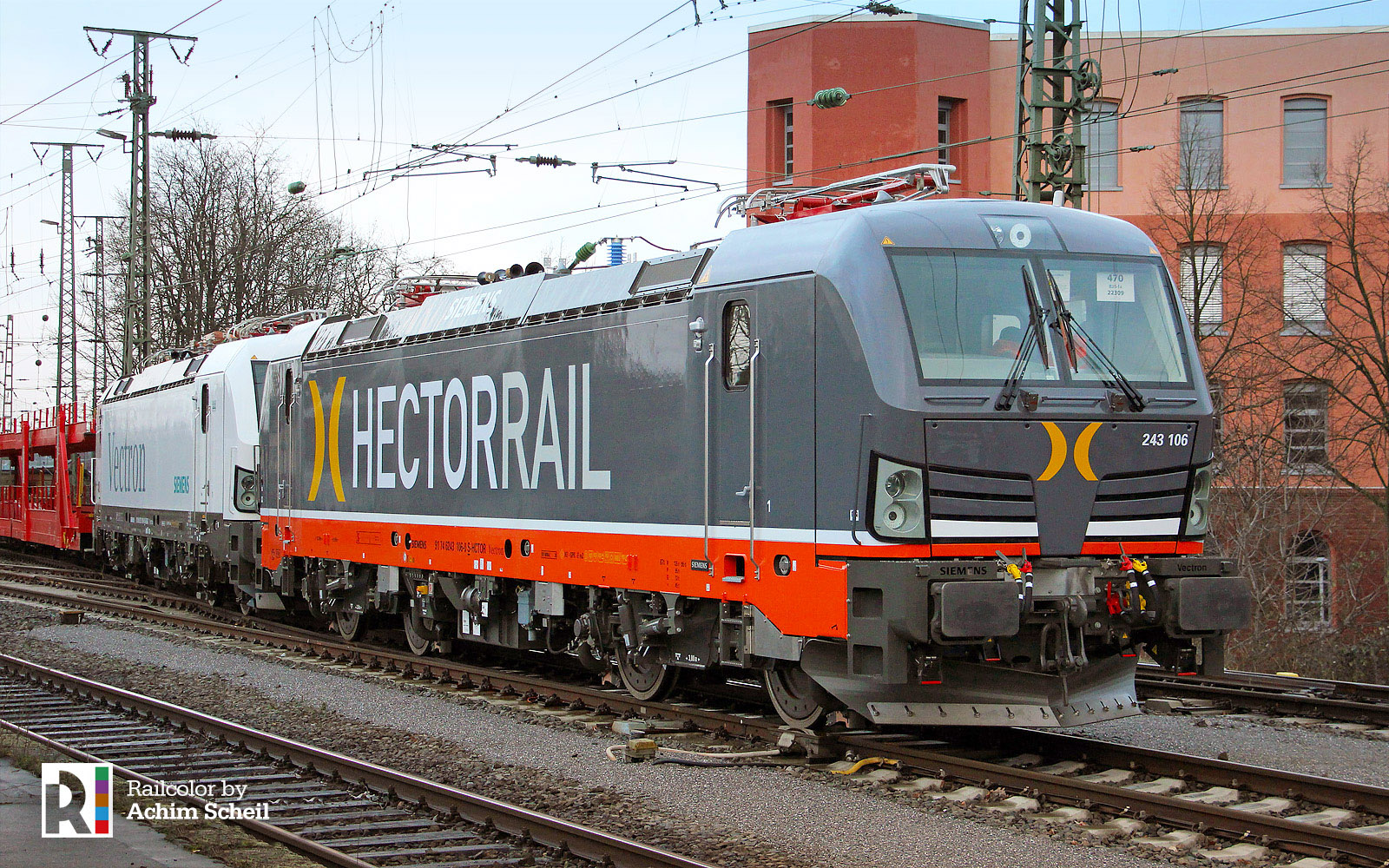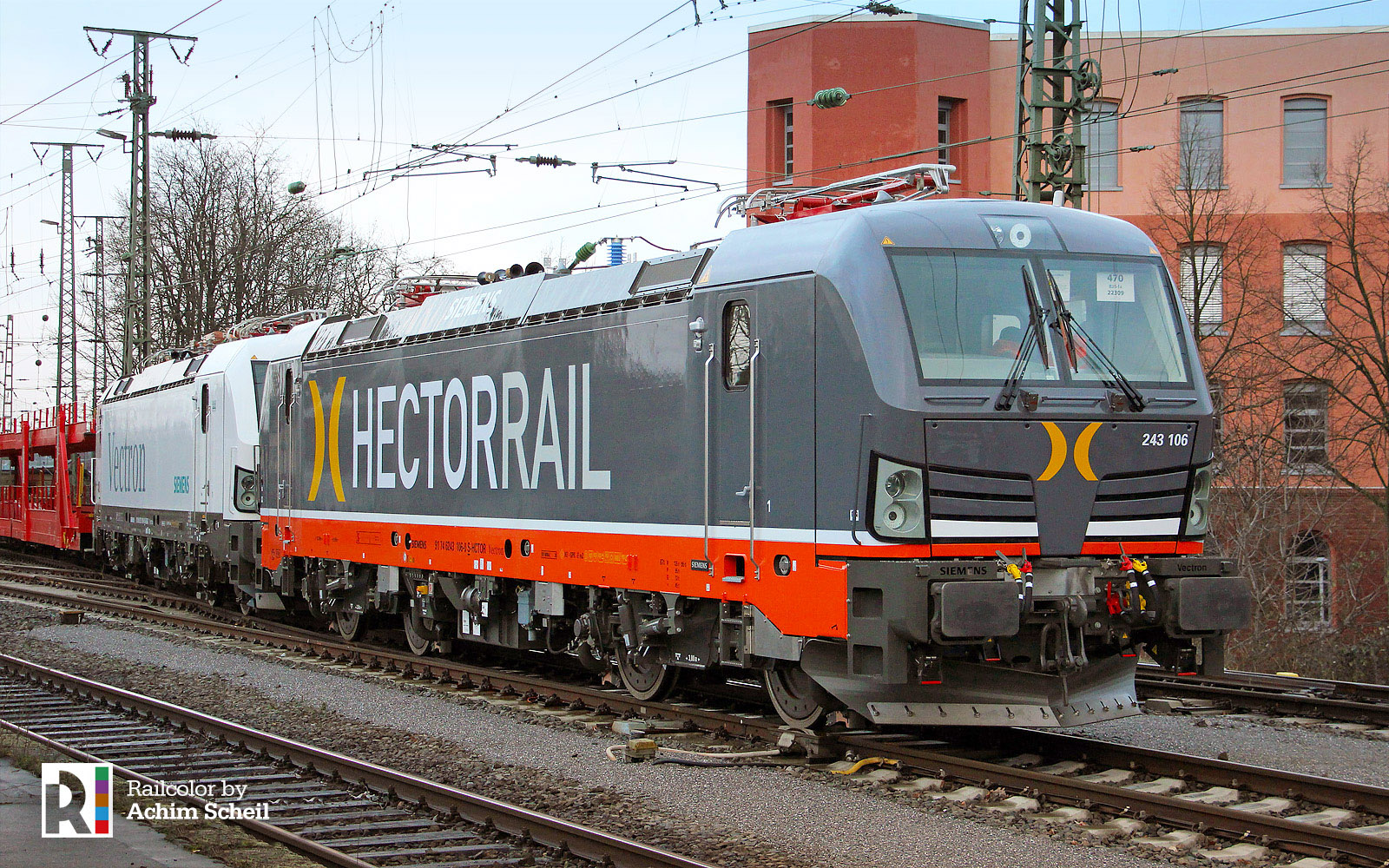 Hupac: First Vectron locomotives are out
In 2017 Siemens produced the first of eight Vectron locomotives for Hupac from Switzerland. On 01/02.02.2018 a transport of new Vectron locomotives was seen in Nürnberg/Aschaffenburg including the first two Hupac, the designated 193 490 and 491. Both are painted in a plain blue livery – logos / decoration are still missing. The locomotives are equipped for services in DE/AT/CH/IT/NL.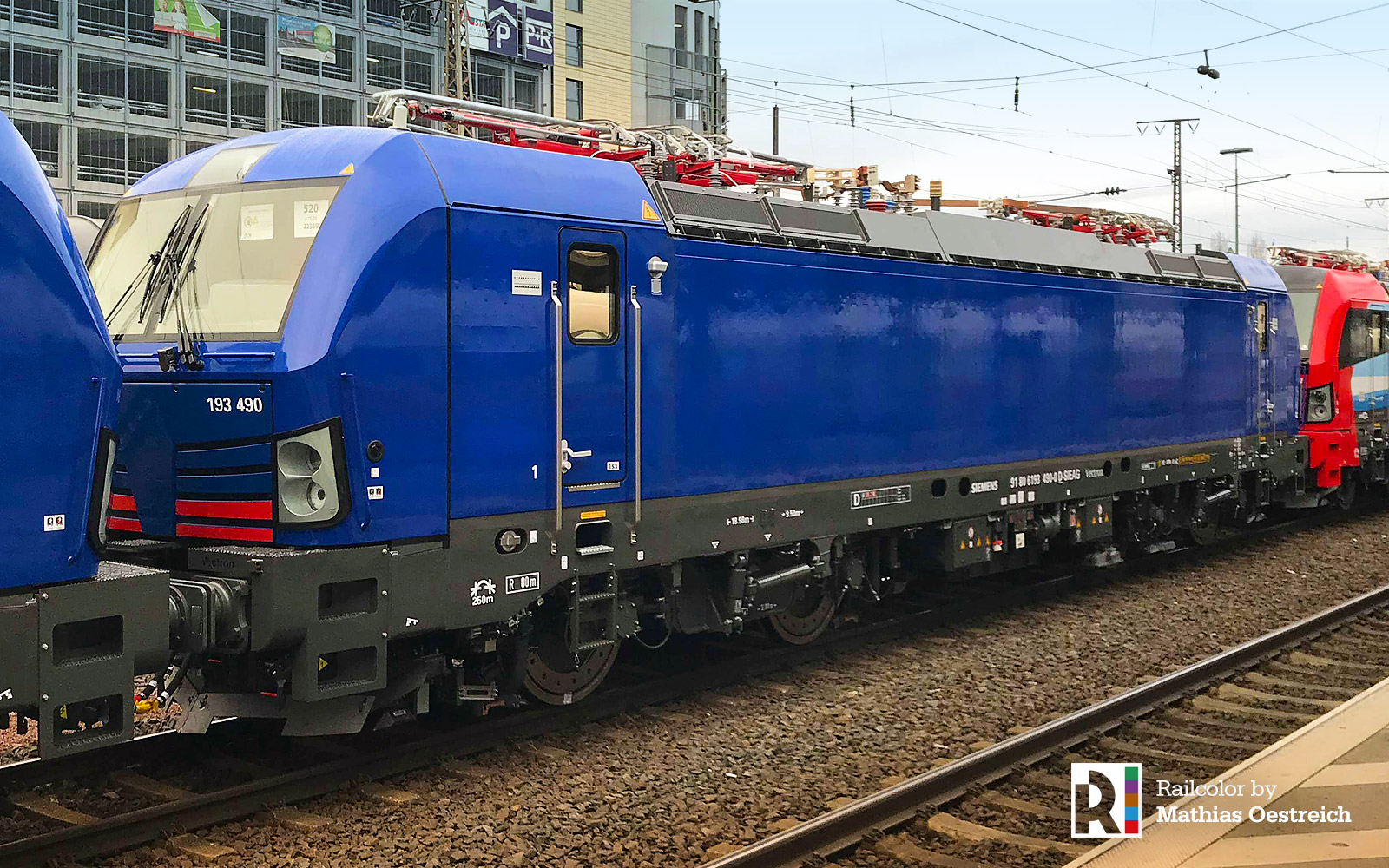 LokRoll > SBBCI: move over Stig – This is 'the Brig'
The seventh Vectron for LokRoll > SBB Cargo International has the name 'Brig'. The locomotive was first seen with complete livery on 01.02.2018. The 193 467 is part of a batch of four (193 465-468) that we expect to be delivered in the next weeks.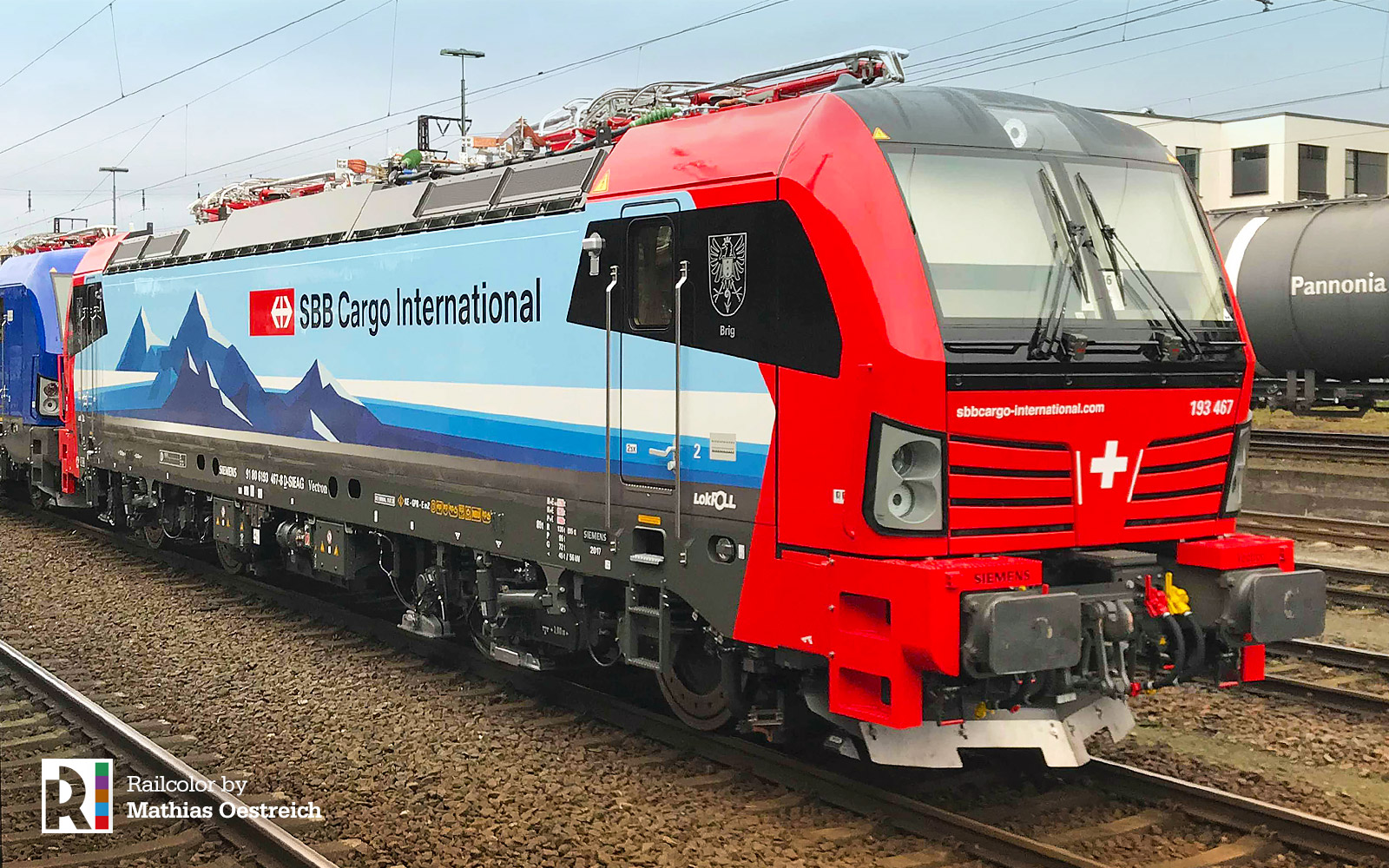 Meanwhile the prototype models are being presented, like this one from Hobbytrain: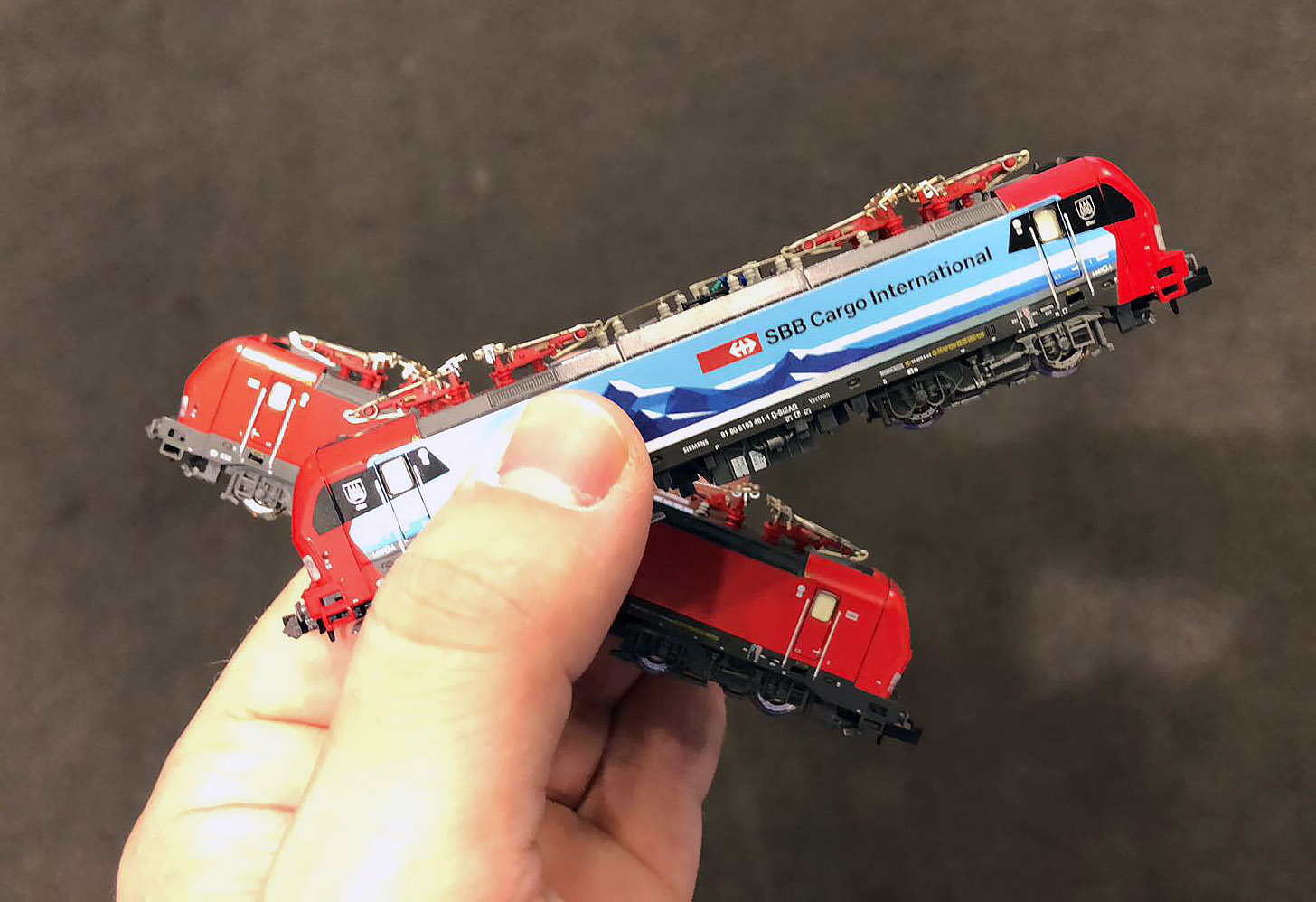 MRCE: X4E-675 made its first appearance
We were worried, did MRCE's X4E-675 exist or not? The 36th multi system locomotive for the lease company appeared in the planning, but was not seen until today. MRCE now owns the X4E-640 to 675, all with DE/AT/IT package. Siemens can now start with delivering Vectron DC locomotives and Vectron MS locomotives with DE/AT/CH/IT/NL equipment.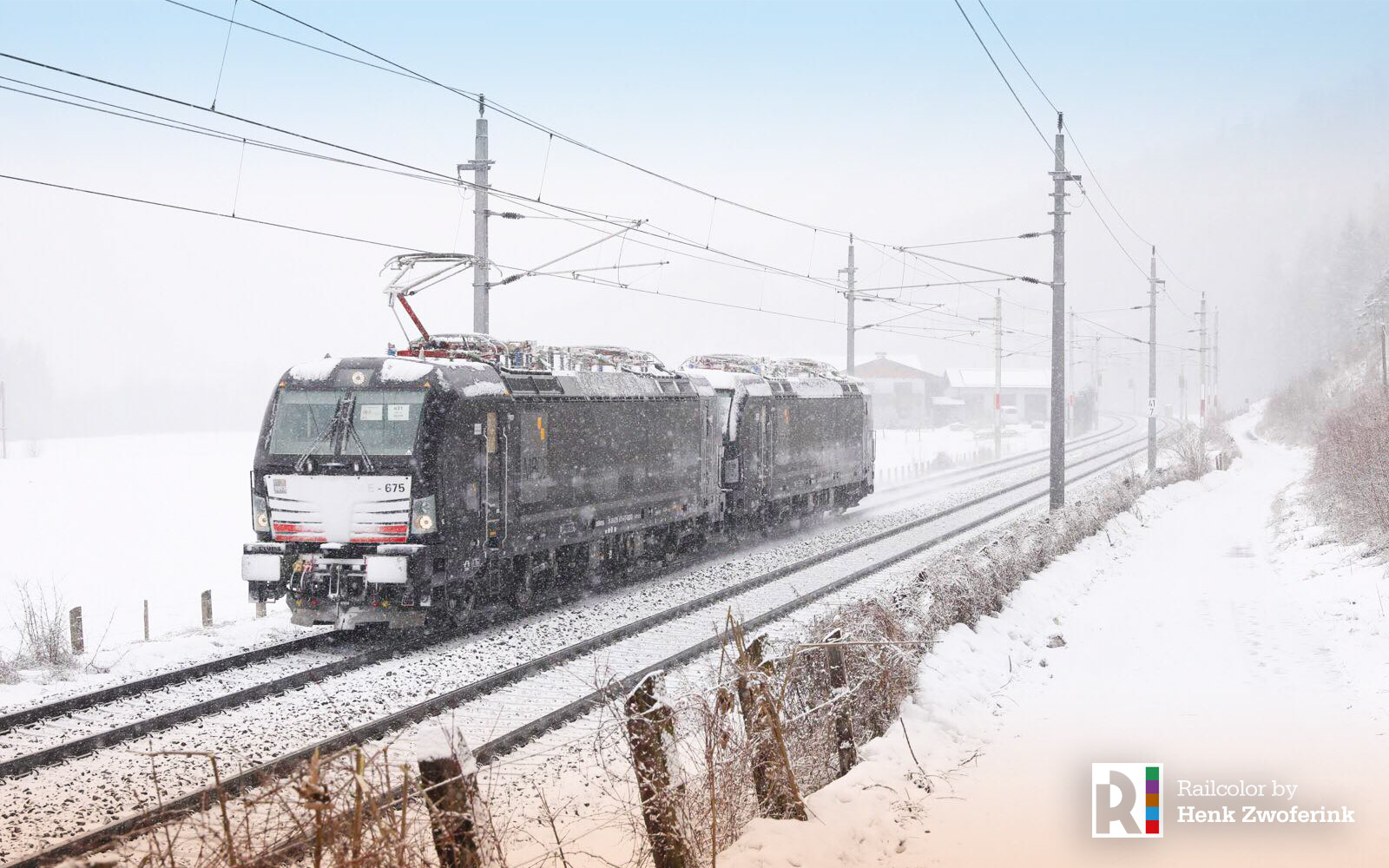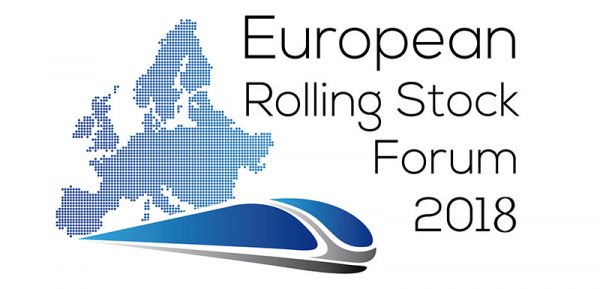 Portrait of Siemens 193 818 and 819
Two new locomotive for the Siemens testing fleet: 193 818 and 193 819. The 819 has a similar design as 193 829. Botht he 818/819 have the DE/AT/CH/IT/NL package.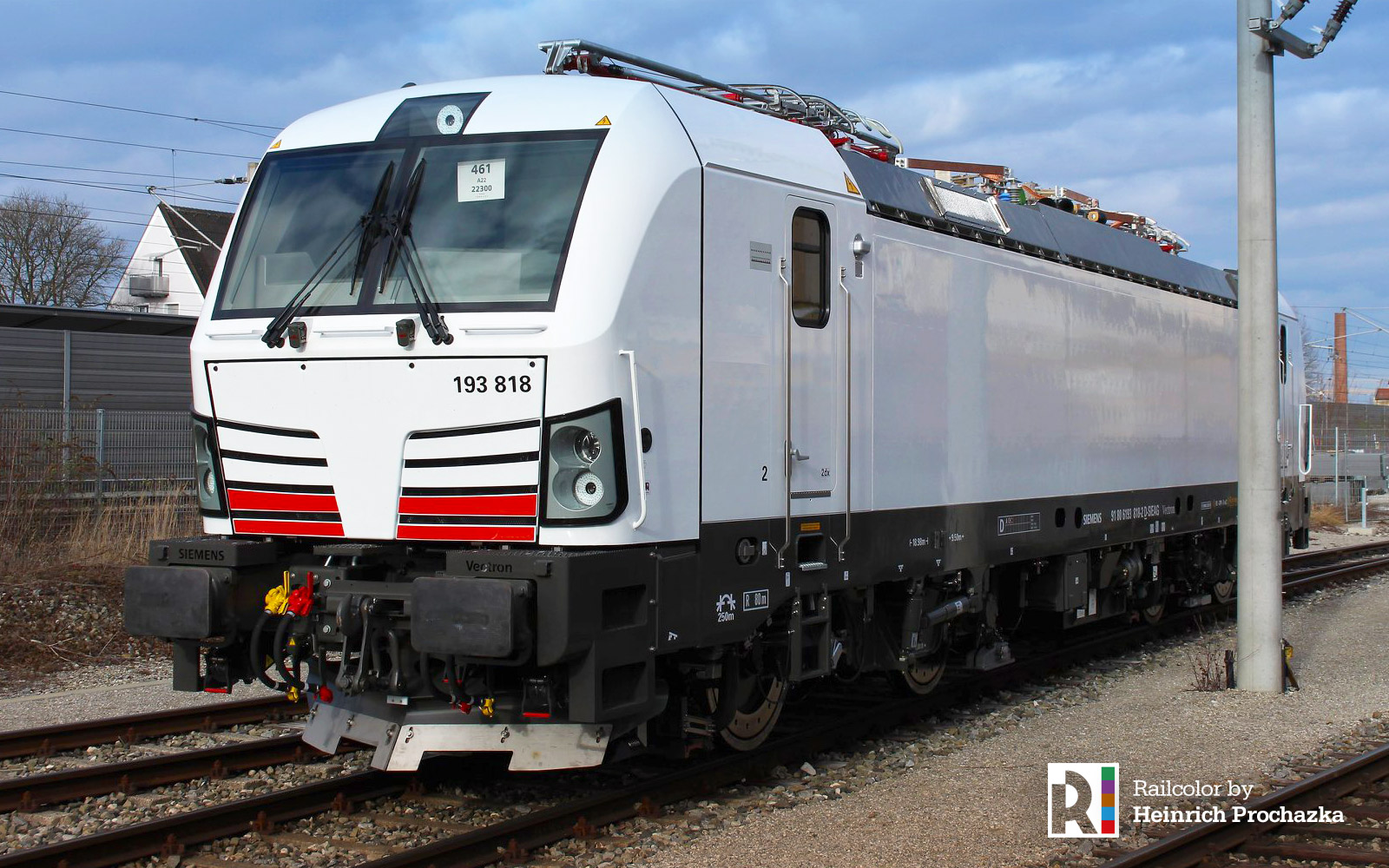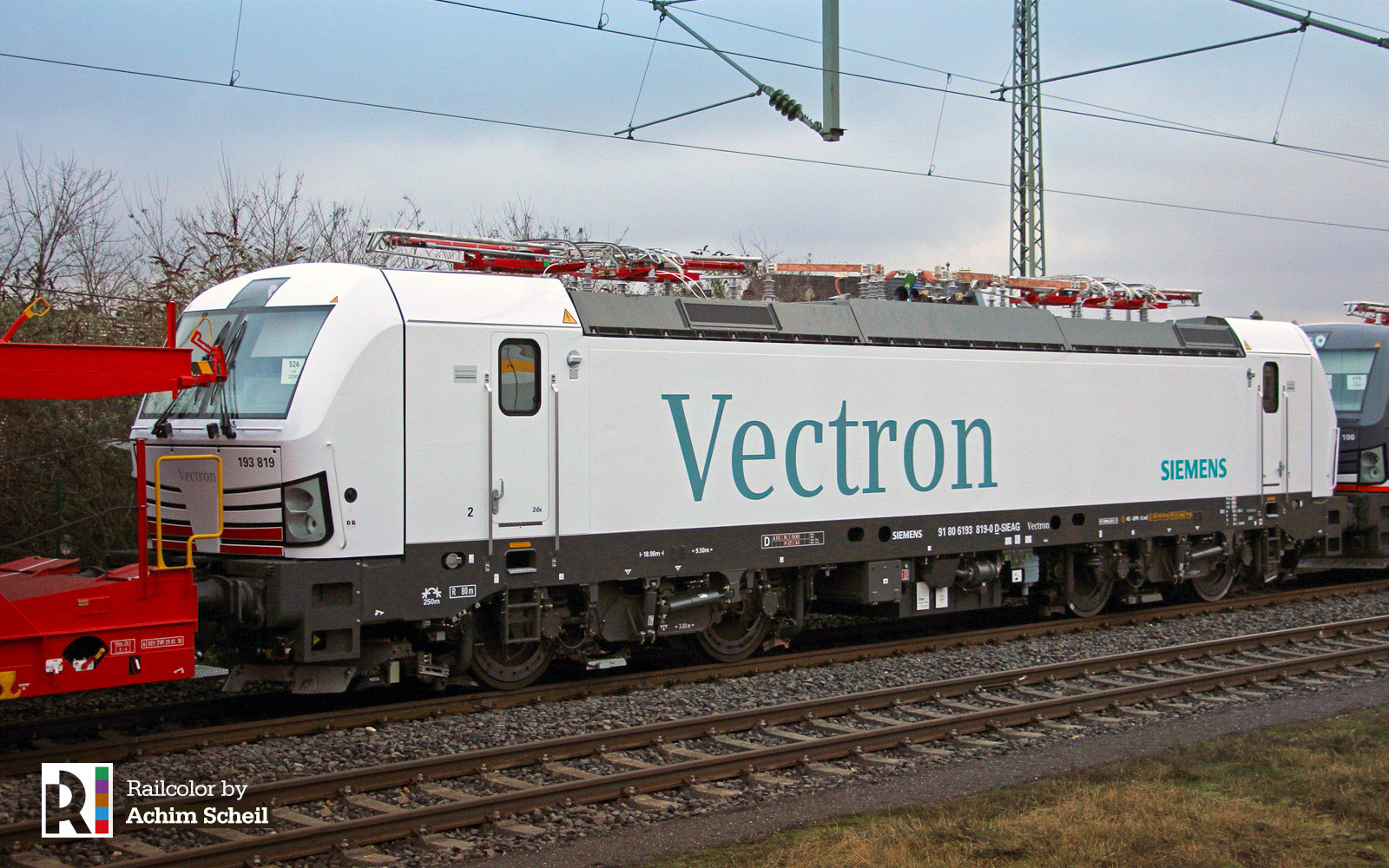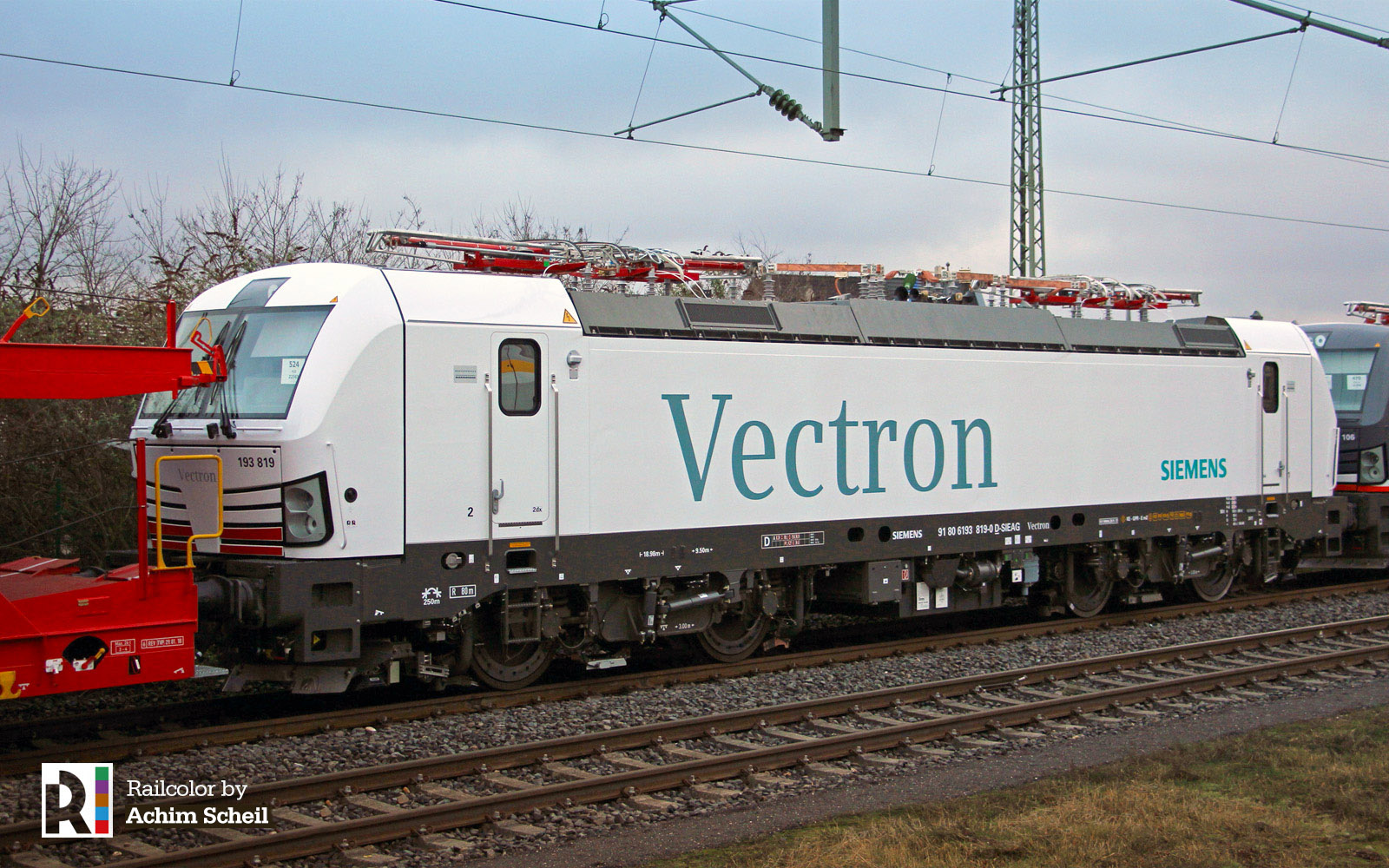 ÖBB and Vectrons: an update
ÖBB is hiring 8 Vectron locomotives from MRCE for the time being – The numbers: X4E 600/602/603/604/864/866/867/879 – Also, the first completed 'real' ÖBB Vectron, no. 1293 001, has been seen in Munich. A first image is circulating in the internet showing a red painted locomotive with grey frame and roof. On its sides: very large OBB logos in white.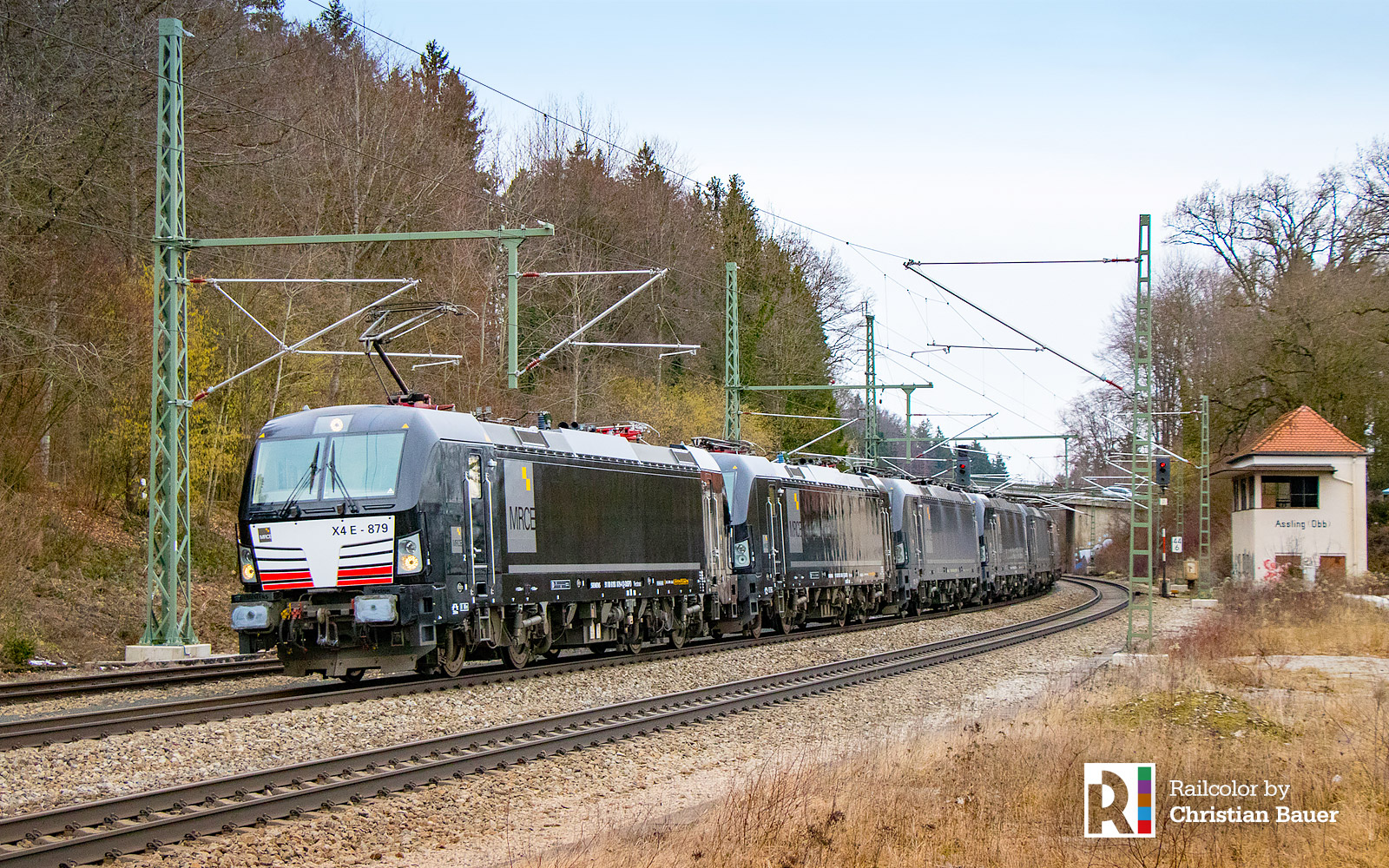 Railpool 186 101: BLS Cargo stickers removed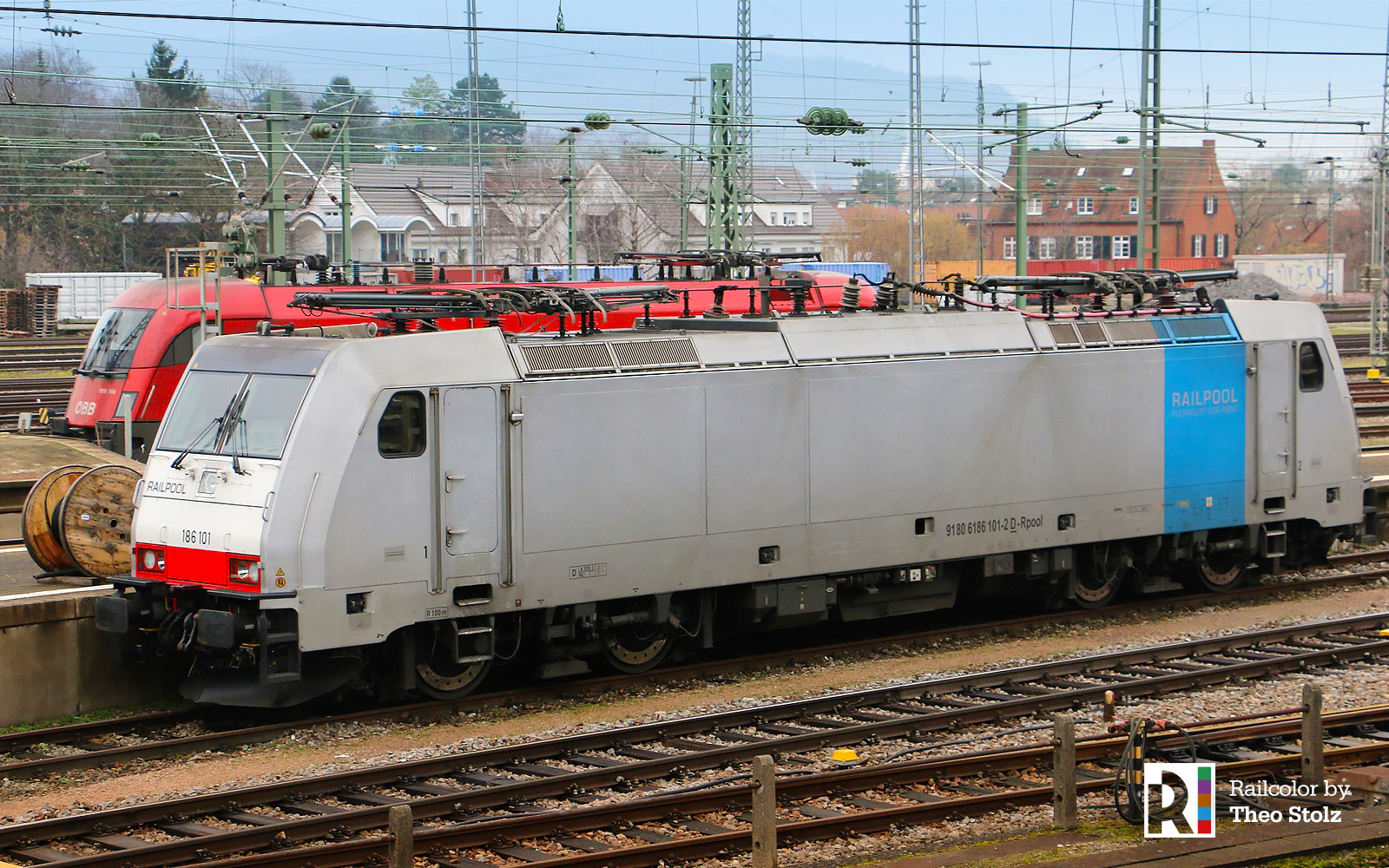 Did you know this one? Modernised 1142s in Croatia
As part of our story about the new livery of HŽ Cargo we also brought information about these modernised machines: the 1142s. Read more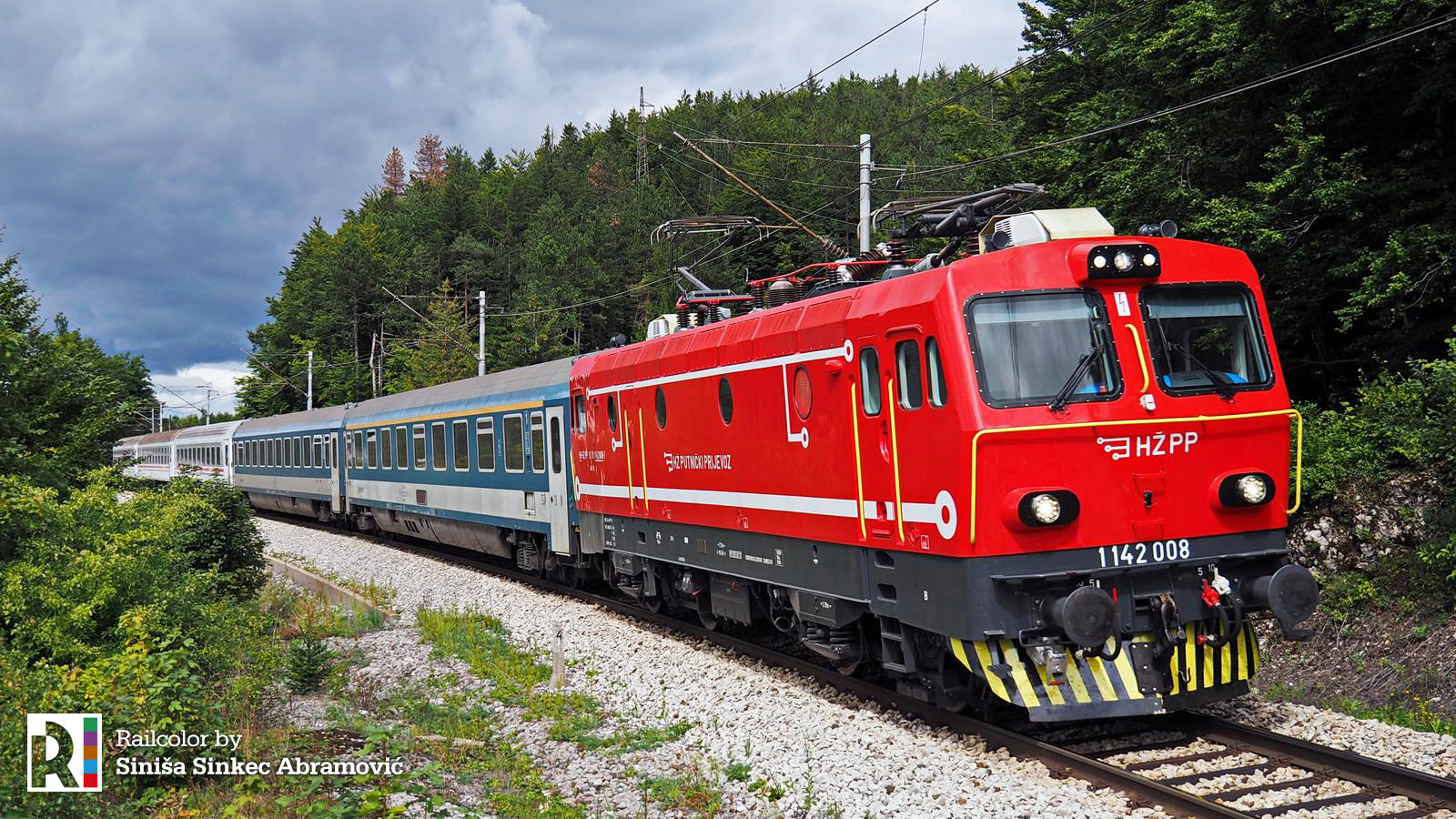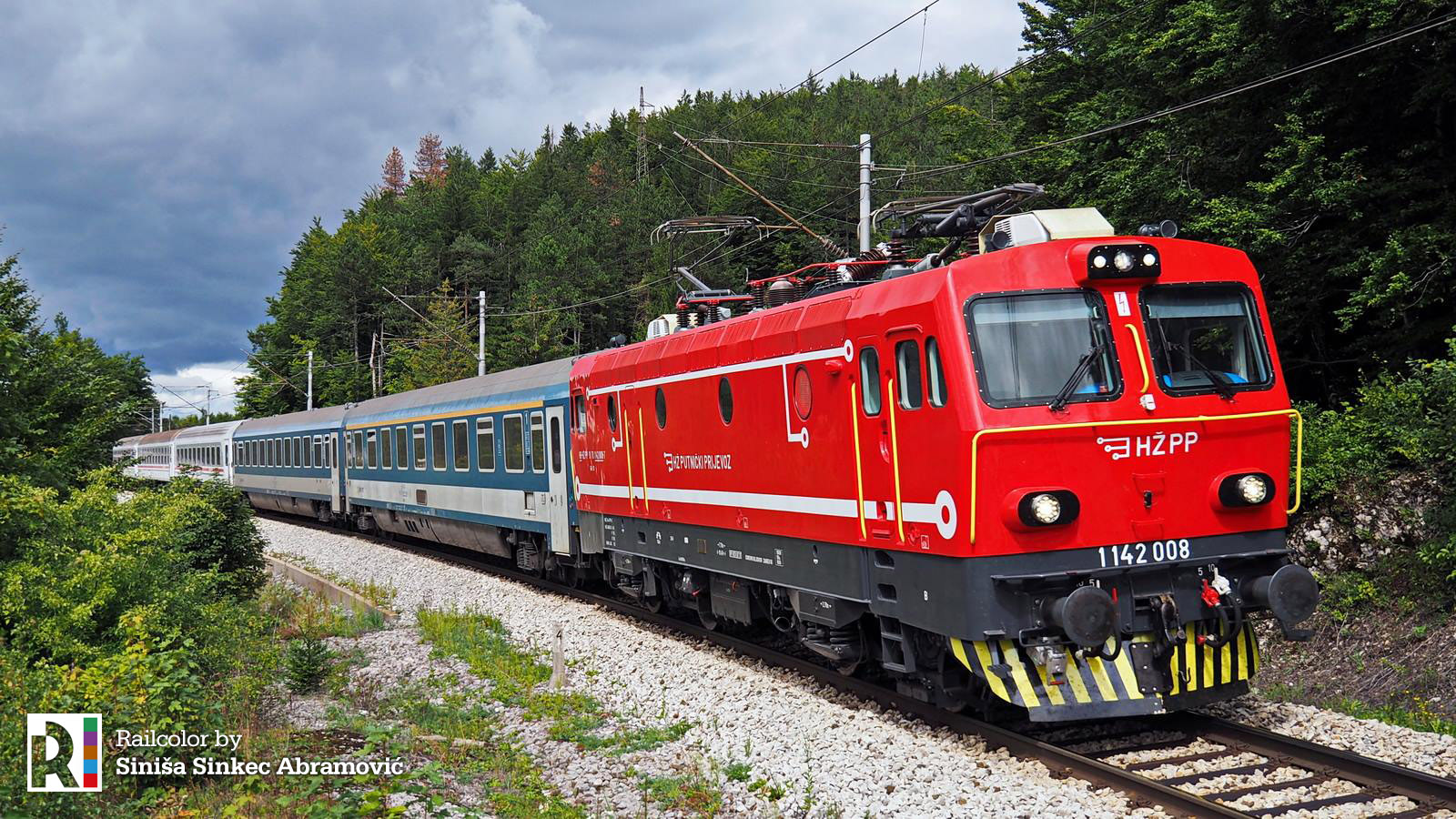 Oh, do you have comments or questions, contact us here! When you want to receive an email every time we publish this item, you can subscribe to our mail list here.