This article was originally published on 26.01.2022 – and updated on 04.02.2022 (new picture added).
For its Autozug Sylt services, RDC Deutschland has two diesel-electric Vectrons. However, the German operator also relies on another 'exotic' type of Siemens diesel locomotives, also known as "Mak DE 2700" – initially intended for the Norwegian state railways (NSB). This week, one machine was released in a new eye-catching blue-white livery.
In the early 90s, Maschinenbau Kiel (MaK) of Germany was commissioned to build a fleet of twelve for NSB of Norway designated as 'Di 6′. The order proved to be quite problematic for MaK (which was owned by Siemens at the time). Eventually, all locomotives were returned to Germany and entered Siemens' leasing pool, Dispolok, as ME 26 (and DE 2700) following a thorough revision.
History of 2700-07
In 2003, locomotive 2700-07 became the property of Vossloh and was used on the Marschbahn in Northern Germany for many years. In 2017, it was sold to Hector Rail Deutschland – which made the machine famous as "Obelix".
In 2020, RDC acquired several such locos from Hector Rail Deutschland. DE 2700-07 is one of them. Now the machine is part of the fleet of RDC. On 24.01.2022, the locomotive was spotted with a new livery on home territory in Kiel. The image below shows its journey from the locomotive factory in Kiel Friedrichsort to the Levenauer Hochbrücke via the North-East Sea Canal.
Following RDC's traditions, DE 2700-07 was also given a name: "Cindy".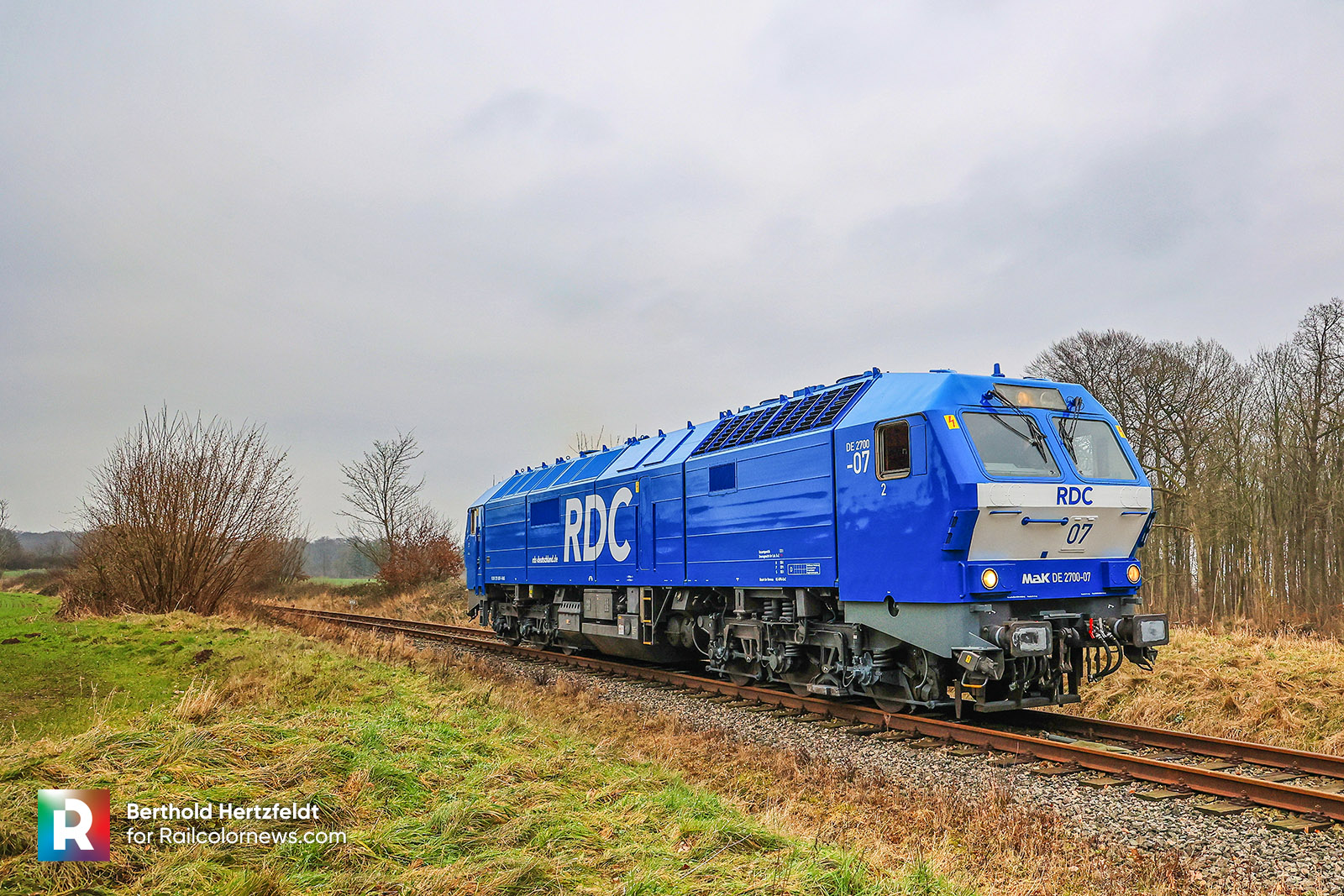 About the livery design
The new livery in blue and white relates to the design used on RDC's Vectrons and Alpen-Sylt sleeper coaches. However, we see a different RDC logo; Large italic capitals.
Another interesting detail is that the cab lights of the locomotive have been reduced to two lamps only, with the other two being 'hidden' behind caps. Speaking of lights, if you take a closer look, you'll easily notice where the original 'NSB' light placement is – just underneath the windshield. Heavy winter conditions in Norway could be an explanation for that.
Update 04.02.2022
Thanks to David Pinto we bring another impression of the freshly painted locomotive from Gudendorf (DE) while on its way to Niebüll: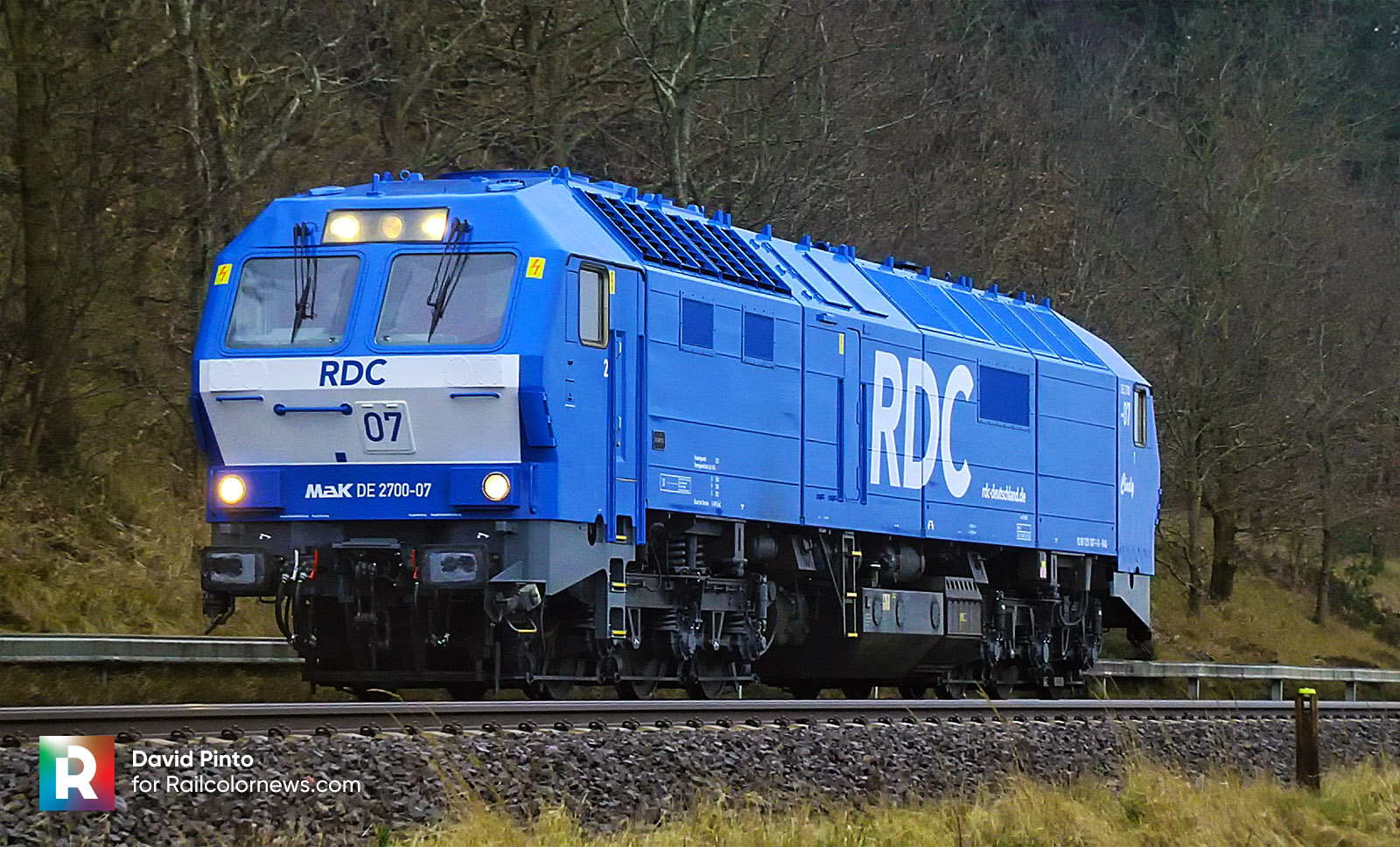 RDC and DE2700
Visitors of our website pointed out that RDC owns another two DE2700s – we were aware of this but for completeness, we have added them here:
DE 2700-02 = 92 80 1251 002-2 D-RAG > blue, yellow, white;
DE 2700-03 = 92 80 1251 003-0 D-RAG > blue, yellow, "Kinder" design, different on both sides.
---
In 2018, Hector Rail Deutschland acquired five DE 2700s, and 07 was one of them (previously designated as 861.004 'Obelix'). Check out our article about them below: