The Bombardier TRAXX AC locomotives deployed at DB Regio are almost twenty years old. One of them, 146 025, has recently received a new design covering the fading corporate red livery. With new stickers, the Werbelok is advertising the transport museum in Dresden (Verkehrsmuseum Dresden).
Some locomotives work for eighteen years before getting really noticed. All you need to do is to change clothes. That is the case of a Bombardier TRAXX P160 AC locomotive, no. 146 025.
Bombardier delivered a total of 32 of these electrics to DB Regio in 2001 and 2002. Locomotive 146 025 is working double-deck push-pull trains, first around the Rhine, later around the Upper Elbe river for VVO (Verkehrs-Verbund-Oberelbe).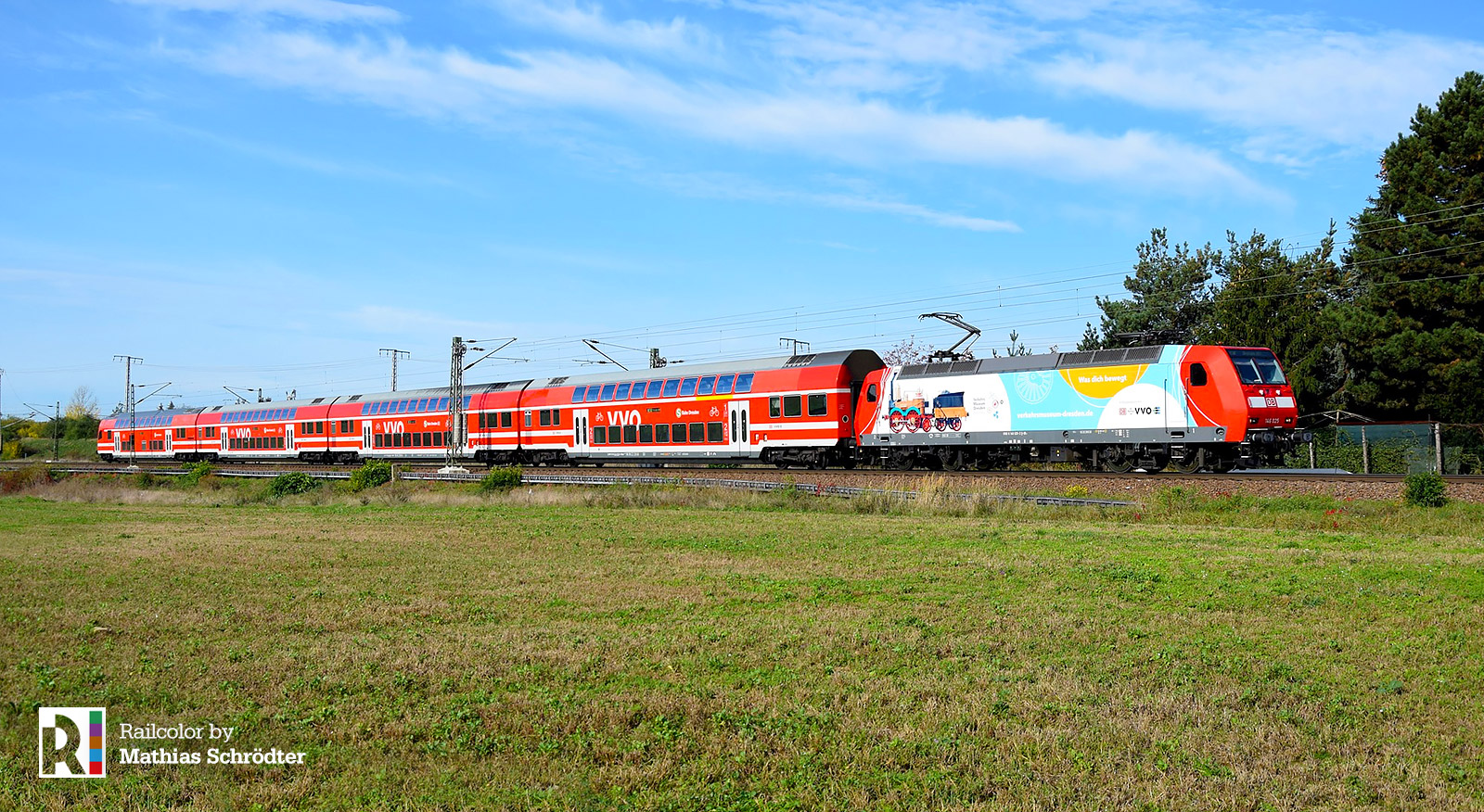 Since October 2020, every trainspotter's camera clicks when this train passes. All of that thanks to the Dresden Transport Museum that advertises itself on the locomotive now. White, yellow, and blue circular stickers have been applied on the side panels of 146 025. The season is open for railfans on the Dresden to Leipzig RE 50 line, as well on Meißen – Schöna S1 line.
The visual entails a drawing of the oldest functional locomotive built in Germany – Saxonia. The original is part of the collection of the museum, which recently opened its new, permanent exhibition about railways.
Remarkable: the red paint of 025 was not in great condition when the stickers were applied. The weather made most of the locomotive rather pinkish. Before the locomotive was released, it was decided to 'refresh' the red cabins of the locomotive, making them all shiny again. We do not know how this was done (paint, polish, or vinyls?).
https://www.facebook.com/Verkehrsmuseum.Dresden/posts/3325245204220747
Schon Pläne für das Wochenende? Wir hätten da eine neue Ausstellung anzubieten… https://t.co/u0QKsEnfcy #abfahrtVMD #dresden pic.twitter.com/i4ikmK3xvi

— Verkehrsmuseum DD (@Verkehrsmuseum) October 24, 2020