The first out of 28 Alstom Avelia Liberty high-speed trains for Amtrak was sent on a nine-month vacation in Colorado. Once finalized, the trainset will return to Alstom's plant in Hornell, NY, for installation of the interior.
A busy schedule awaits the train in Colorado. It will undergo dynamic tests for its pantographs, railway dynamics, tilting, traction, slip/slide and wayside protection, brakes, and train control management systems.
Amtrak's new 11-car trainsets are destined for the nation's busiest line – the electrified Northeast Corridor (NEC). Each train will feature a modern interior, including Wi-Fi access, personal outlets, USB ports, and adjustable reading lights and feature sustainable components, including seating made from recycled leather. Their operation will enable a substantial passenger capacity increase for the ever more popular service.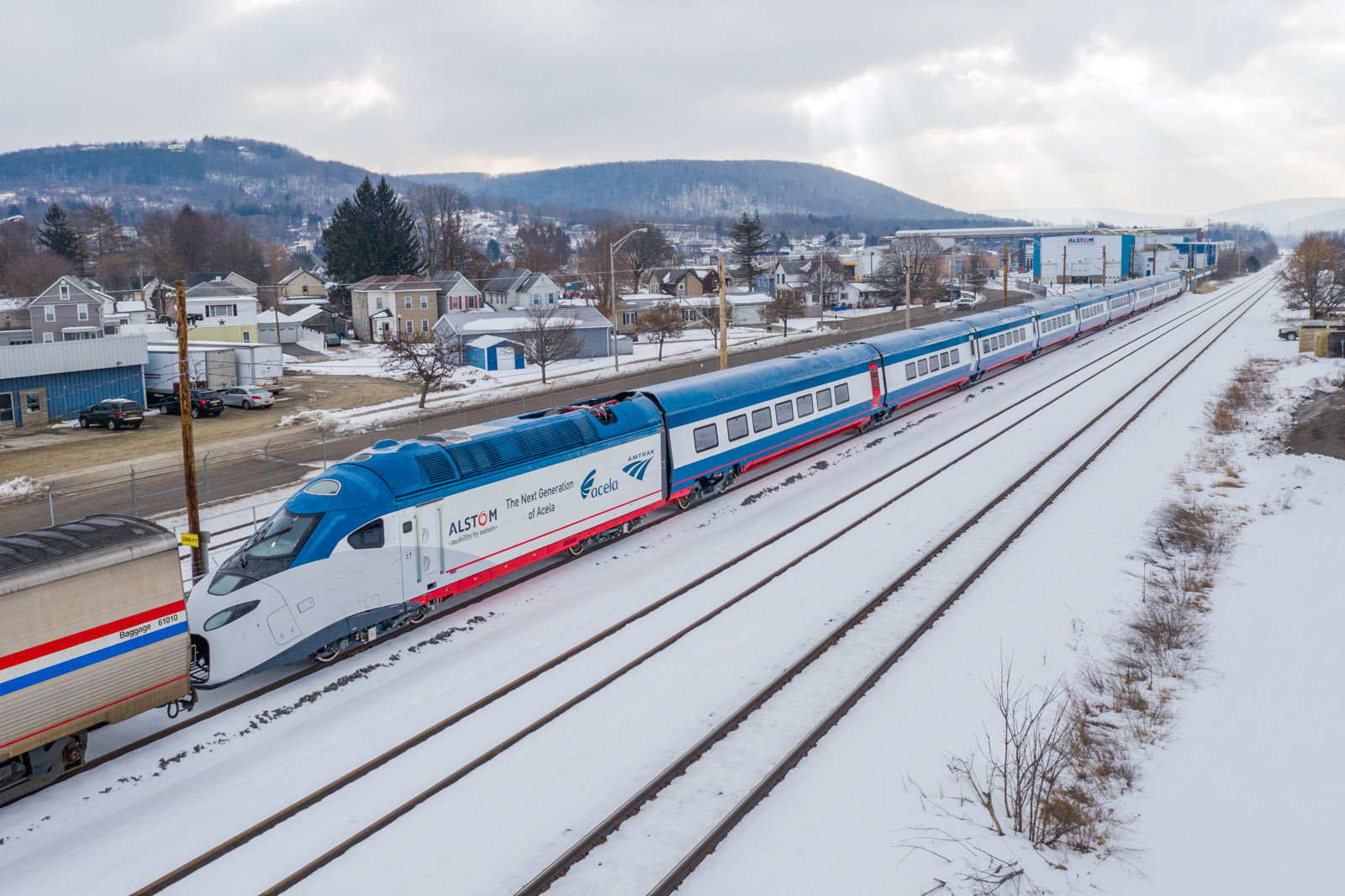 Below you see set number 01 with power car 2100 (and we think 2101 in the back). The nine coaches with passenger accommodation have a total capacity of 386, where the old trains have only 304 seats. The 20 sets currently in use have two powercars (no. 2000-2039) and six intermediate coaches and were built by a consortium of Bombardier and Alstom around 20 years ago (picture below).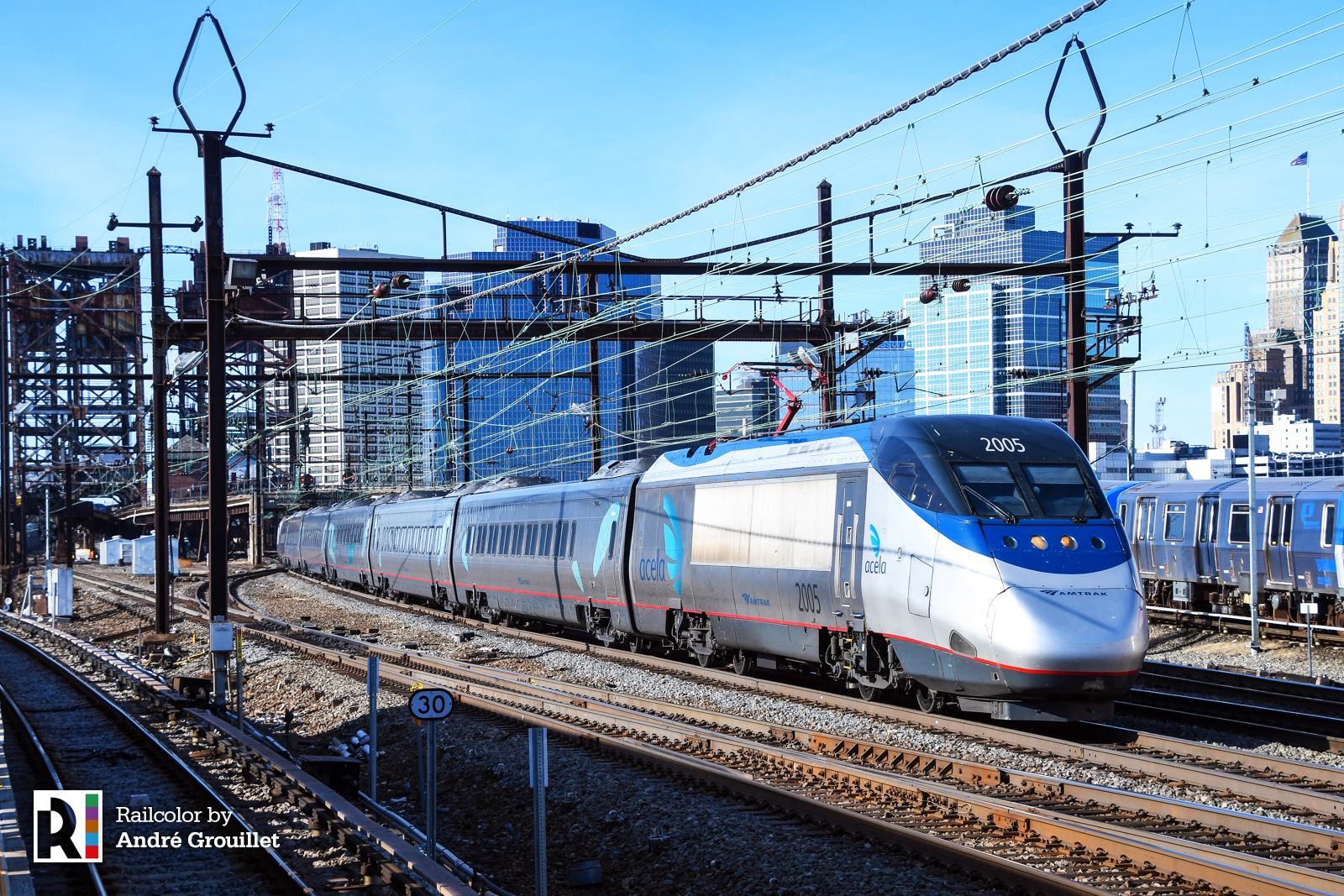 Note that the new power cars do not have their final design yet. Logos and slogan now cover the sides of the cars, eventually the trains will look like this: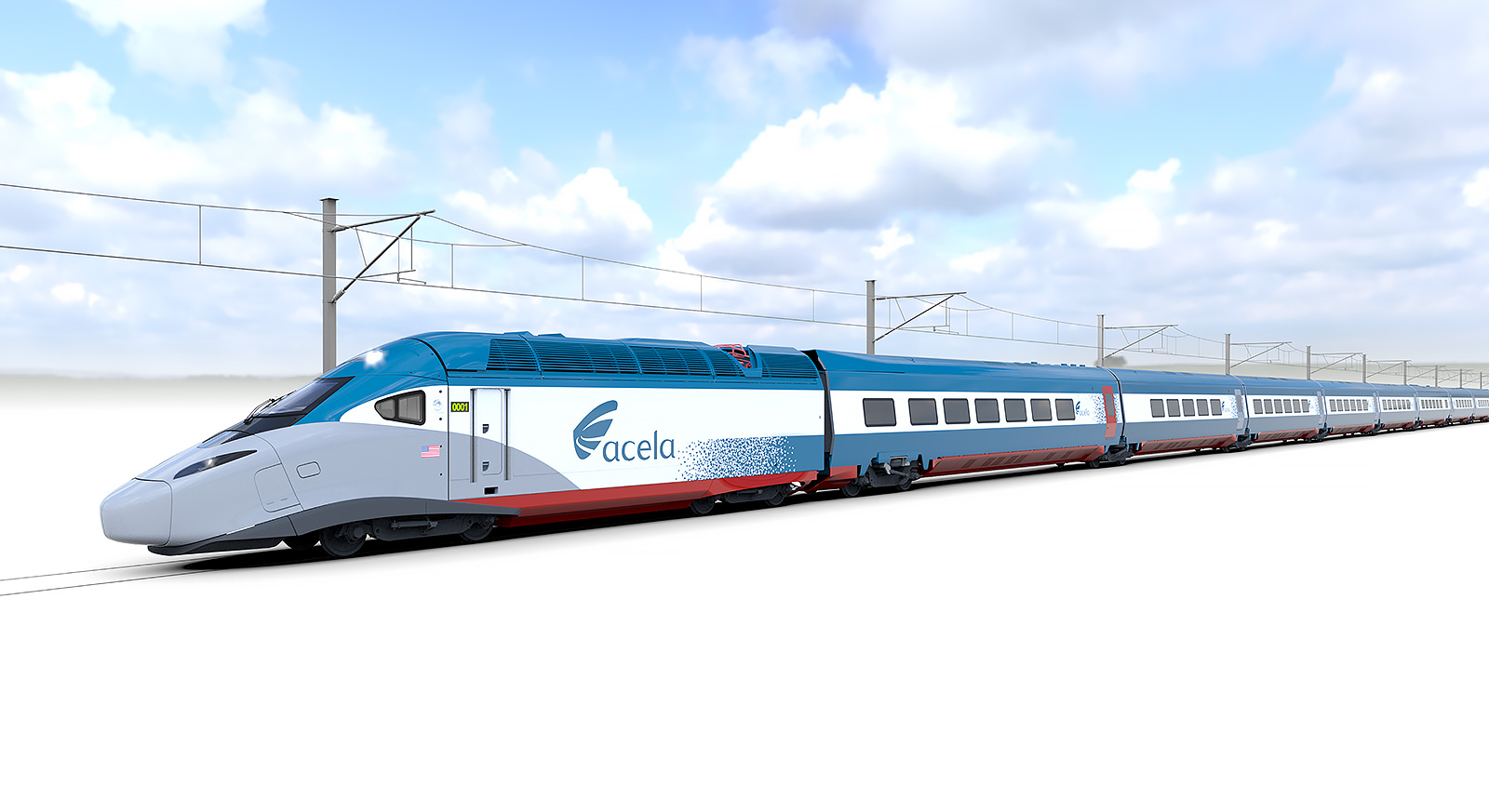 The white and blue will connect power car with passenger cars, but can not fully disguise the difference in body profile between the two.
The first trainset travels via Chicago all the way to La Junta in Colorado is three days. Alstom has already finished the second trainset. In March 2020 this one will set off for a journey to Amtrak's Penn Coach Yard in Philadelphia for testing. A third trainset is under construction since November 2019 and is tentatively scheduled to travel to Philadelphia for testing in September 2020. Although produced by French Alstom, 95 percent of the components produced domestically, supplied by 250 suppliers across 27 US states.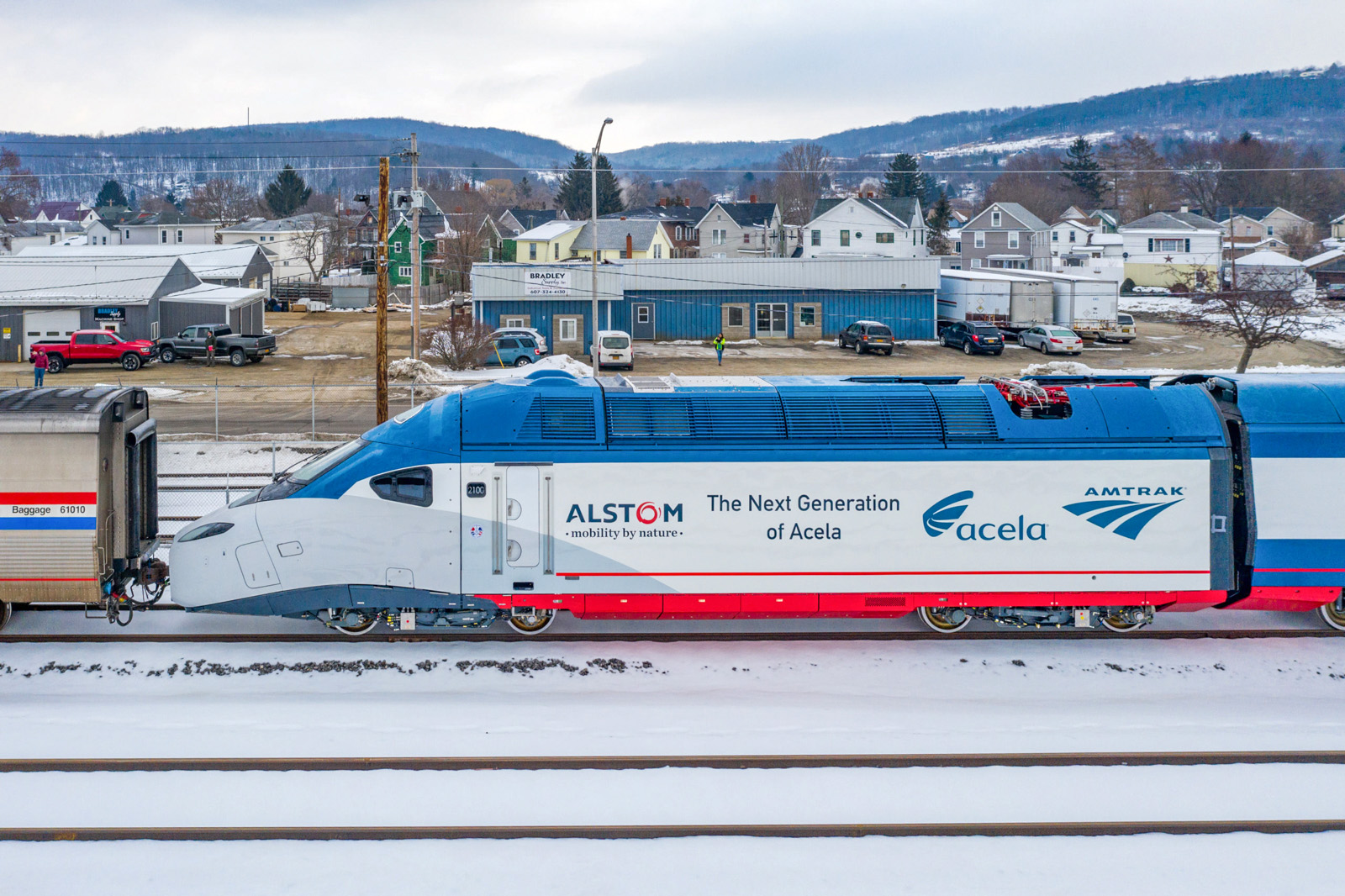 Infrastructure
Meanwhile, Amtrak is also working hard on NEC infrastructure improvements, so the new Acelas can perform optimally. The commissioning of the first new trains is scheduled to start in 2021.
The NEC runs from Boston via New York City, Philadelphia, and Baltimore to Washington D.C. Around 2,200 trains a day run on this line, including the current Acela Express trains, reaching a maximum speed of 240 km/h. Amtrak transported 3.5 million passengers in 2019 with the Acela.
Founded in 1971, Amtrak, the National Railroad Passenger Corporation, provides medium and long-distance intercity service in all of the US states on the continent, plus to 9 Canadian cities. It owns only around 1000 km of tracks though. Most of its trains operate on Class I freight railroads rails that, unlike in Europe for example, own the track and Amtrak only has a right to use it.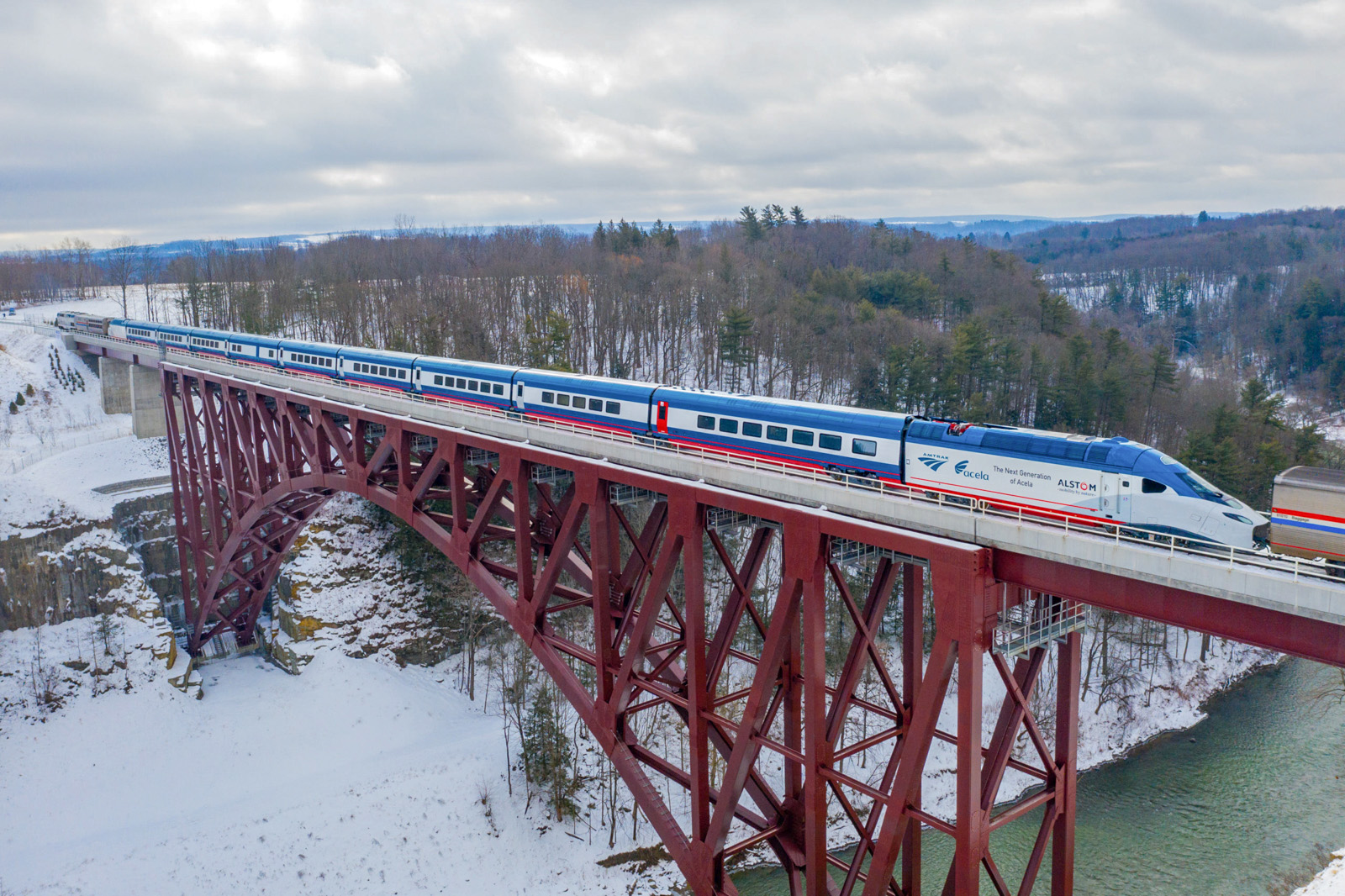 In social media:
A quick wave to the Avelia Liberty as it passed through #Naperville, IL today! #NewAcela #mobilitybynature pic.twitter.com/oR54ijdnP7

— Alstom USA (@AlstomUSA) February 19, 2020
The first very high-speed line in the US! Yesterday, our first Avelia Liberty trainset for @amtrak has left Hornell, NY and is now heading to Pueblo, CO for testing. We think it's gorgeous, but we might be a little biased! #newacela pic.twitter.com/rIfVKDkRnE

— Alstom (@Alstom) February 18, 2020