On 06.10.2017, Amtrak revealed the exterior paint scheme for the 28 next-generation high-speed trainsets that will replace the equipment currently used to provide Amtrak's premium Acela Express service. Amtrak announced in August 2016 that it selected Alstom to produce the next-generation trainsets.
Railcolor: We see new design sketches provided by Alstom, and a scale model of a train in a new color scheme. The livery has changed considerably since the concept design train was presented back in 2016. The blue color tone is now Amtrak's blue, and black is gone. Instead, we see much more white, on the power-cars' sides and over the while train around the window areas. It gives the train a more 'open' look, friendlier, but also less advanced.
Like the trains that will be replaced, the new Alstom trains will be running under the 'Acela' brand. The Acela logos to be applied will mono-color instead of having a gradient. It will be combined with blue red and white decoration formed by small triangles, that still looks like a gradient from a distance. These triangles can be found on the motorcars and around the entrance door sections. The first class section features a red painted door, the others are grey. This grey color only re-appears on the nose of the train. Most distinct livery feature are the red-painted bottom sections of the train.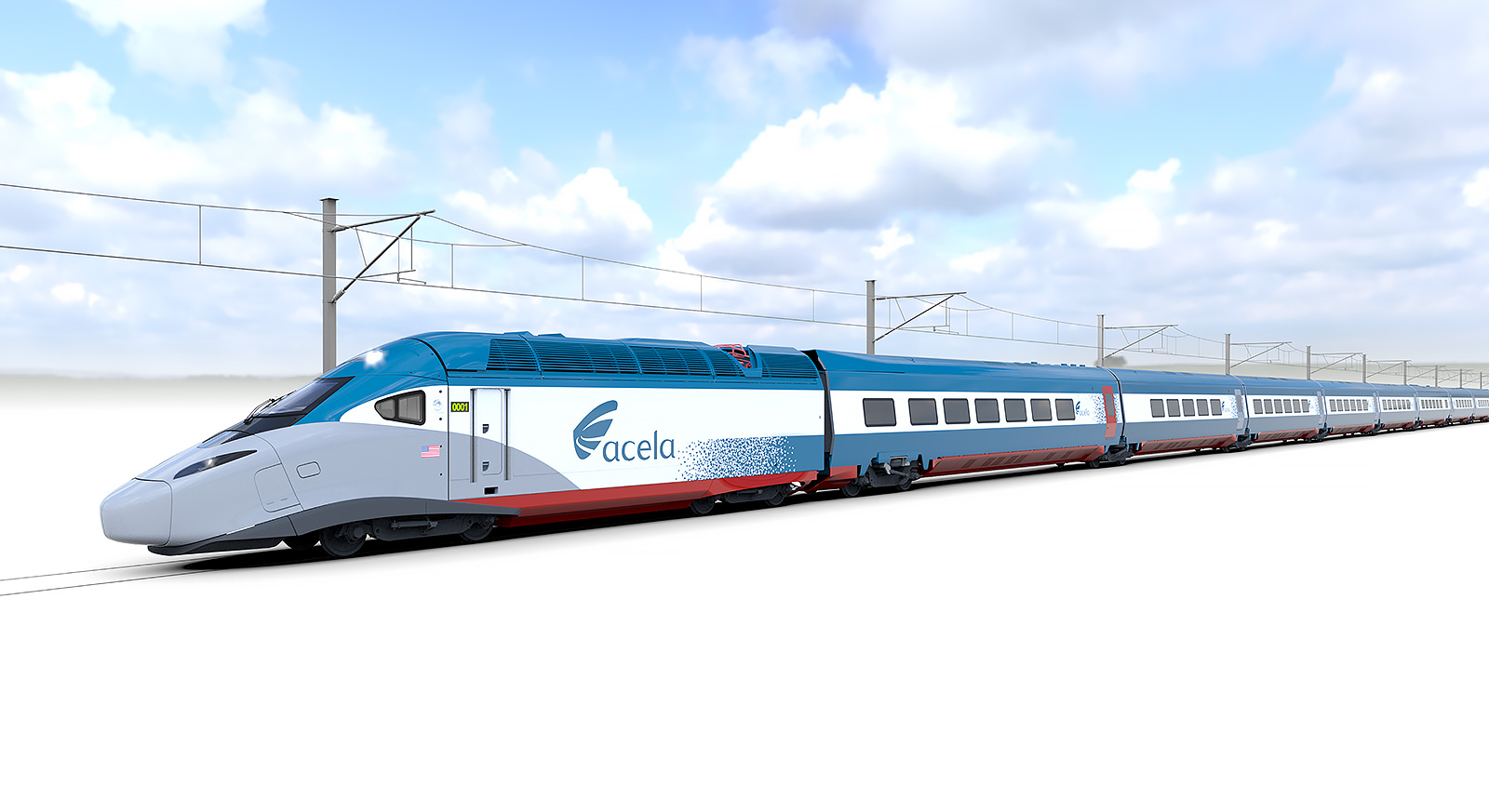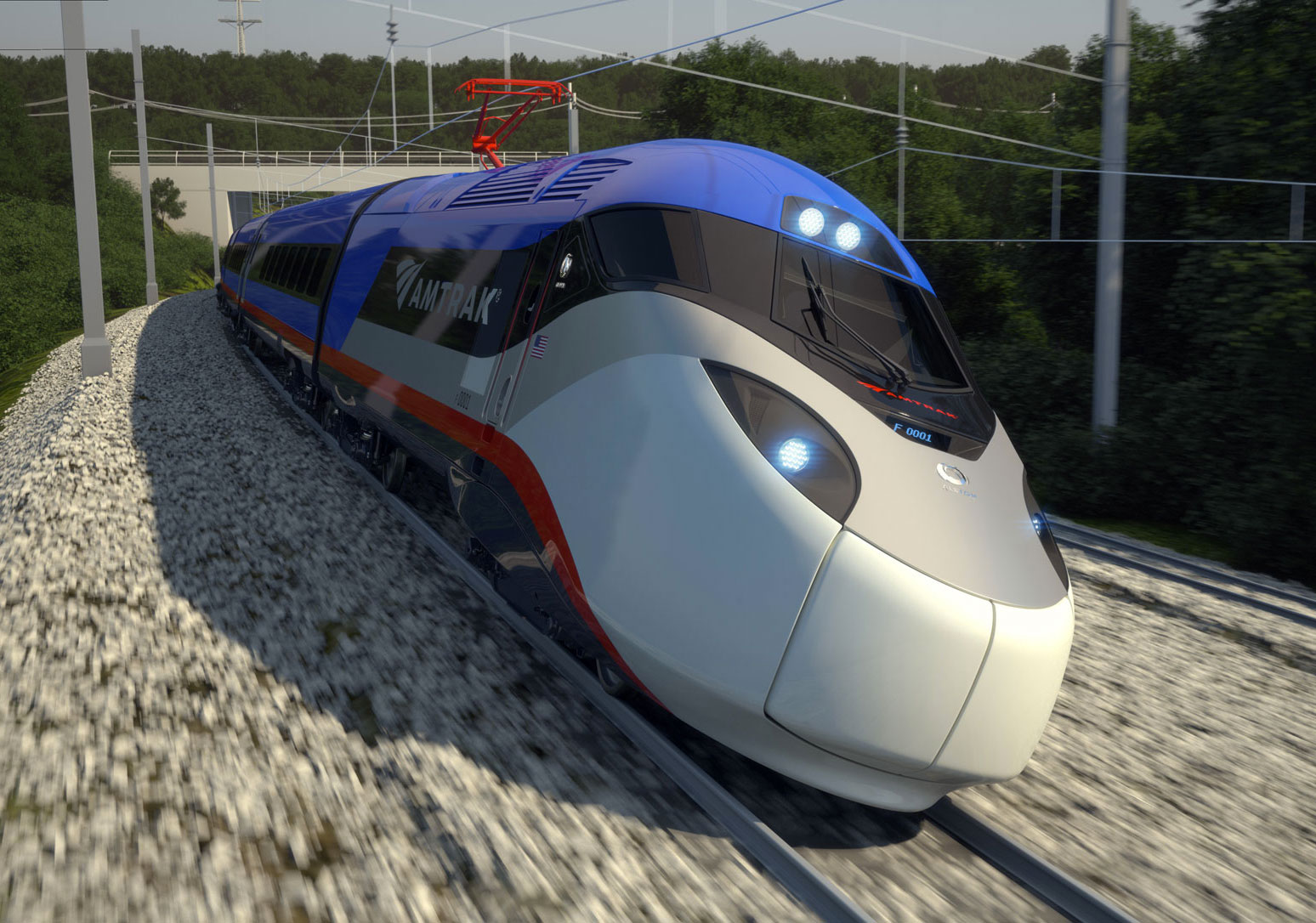 Exterior design changes
Not only the livery has evolved, the exterior design did too. The motor-cars are still short, compact but have a more conventional design. The front window design Alstom is nowadays using on many of its modern EMUs since the introduction of the AGV, has disappeared. The V-shaped windows that were visually connected with the sides of the train (we see something similar on the Alstom Coradia Streamer and Pendolino Evo designs) are not there anymore.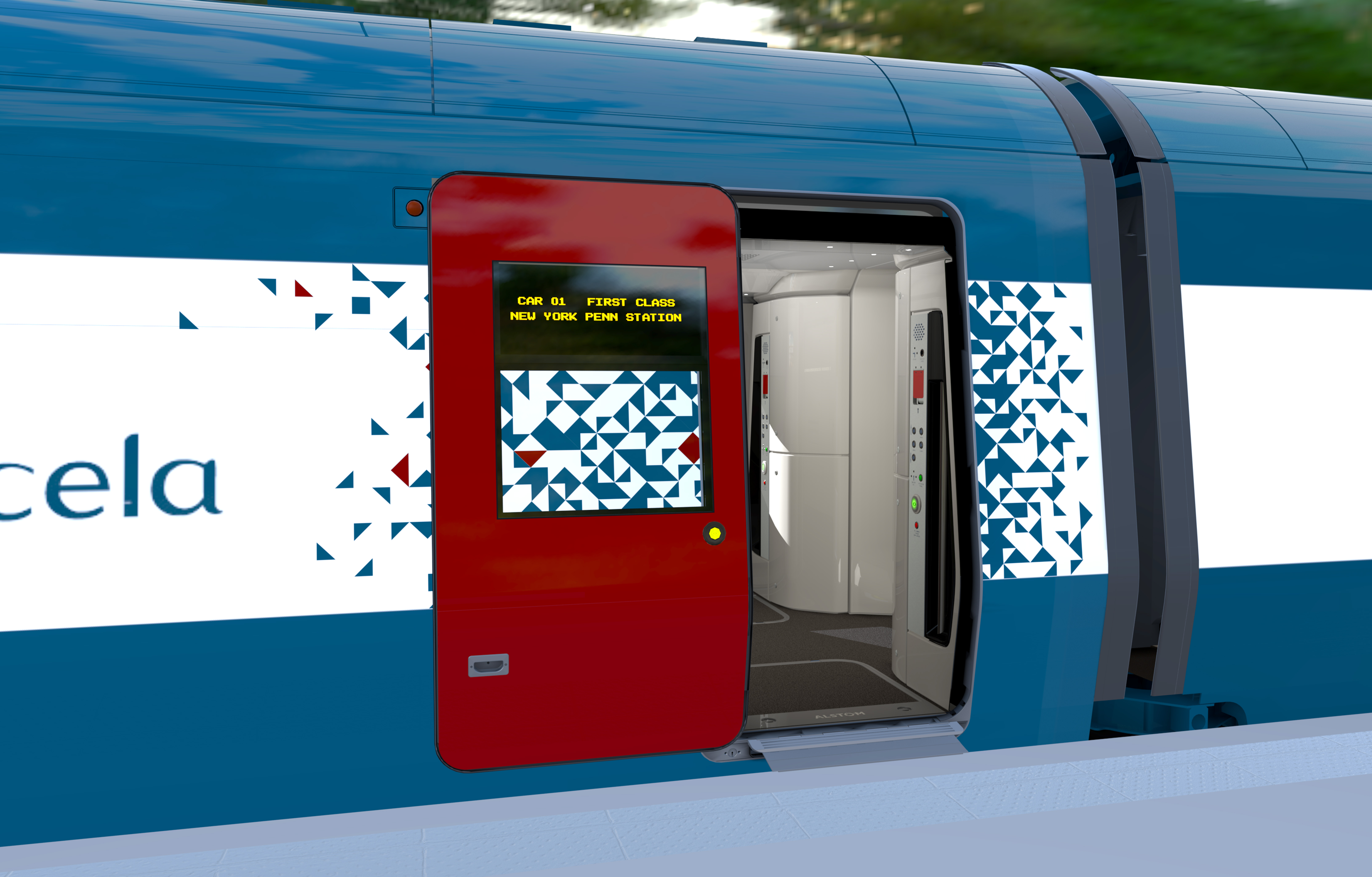 In general we see a more conventional design, where different elements are less a unity compared to the concept design. The front cab side windows have no relation to any other element anymore. Same can be said about the grey-colored TGV-shaped nose section. It is not very distinctive anymore, nor typically Alstom. A familiar design element that did stay though is the aerodynamically shaped skirt that covers the first bogie of the power-car.
160 mph tilting trains
The train ordered by Amtrak, is called 'Avelia Liberty' Alstom, Avelia being the umbrella brand for all the high speed and very high speed trains Alstom is building. The Amtrak trains will be tilting trains – featuring the 'Tiltronix anticipative tilting technology' – and will be running at a maximum speed of 257 km/h (160 mph). The 28 nine-car sets will be deployed on the Northeast Corridor (NEC) between Boston and Washington DC. If needed, Amtrak can decide to add extra intermediate sections to the trains.