Today Siemens shared a first picture of a Vectron 'Dual Mode' under construction in Munich. We see a locomotive in the known Siemens 'exhibition' paint scheme white-silver. 
The Vectron Dual Mode has a 2.4 MW diesel engine, like the normal diesel version, but it is also capable of running under 15 kV AC catenary. This means that potential customers can save on diesel fuel and reduce the emissions of the locomotive in, for example, urban areas.
In both electric and diesel mode, the locomotive has a 2 MW available at wheel rim. The starting tractive effort is always 300 kN and the top speed 160 km/h. The locomotive can switch between the two modes while running. With a total length of 19,975 mm it is (almost) similar in length as the Vectron DE.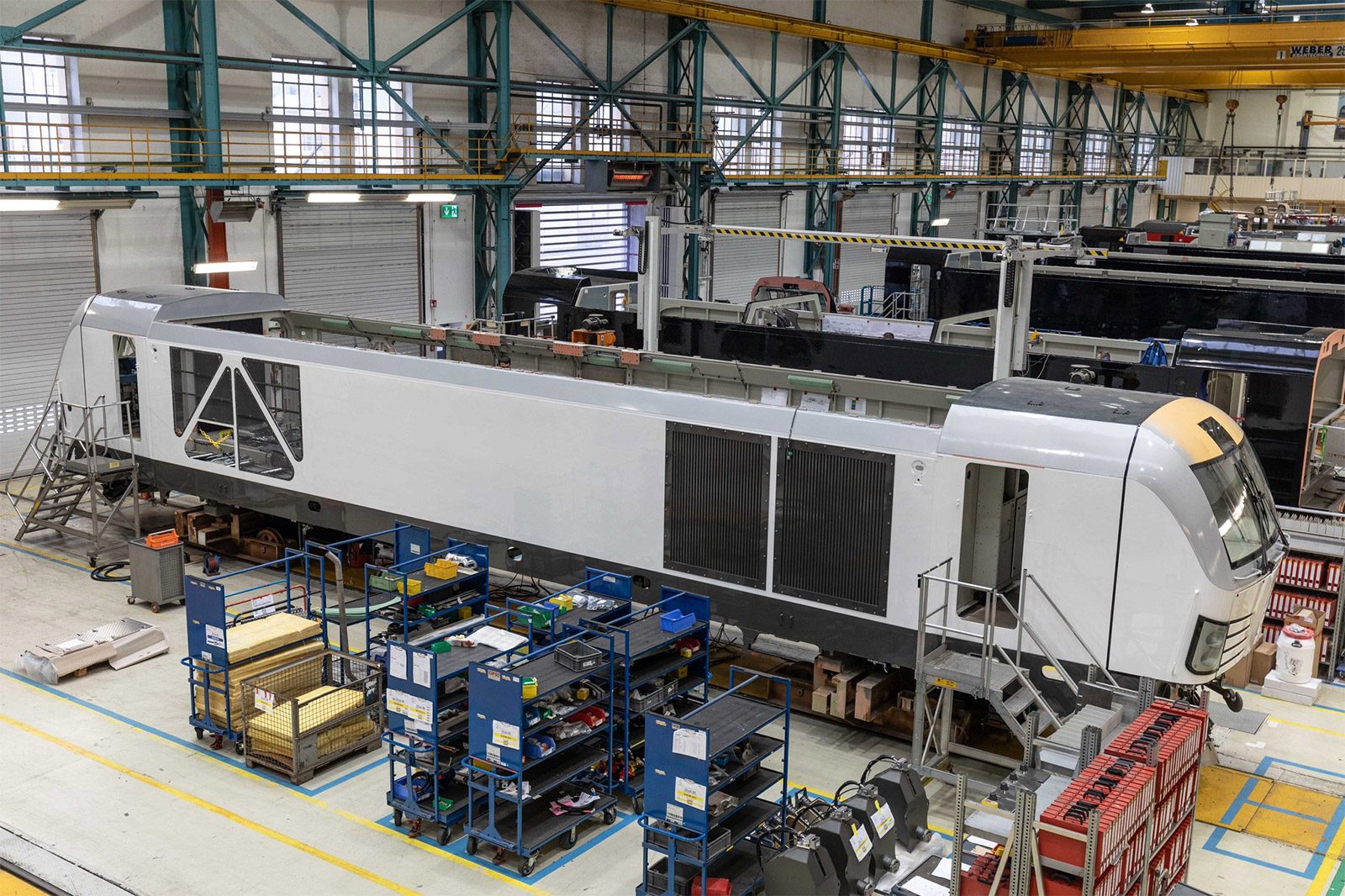 The locomotive is predominantly being developed for freight operation in the 15 kV-markets Germany and Austria as it comes with PZB installed (and ready for ETCS).
Siemens is currently building two such locomotives in Munich. The manufacturer plans to present the first machine during the 2019 edition of the transport&logistik trade fair in Munich.
Vectron Dual Mode main characteristics:
Diesel engine power (at the crankshaft): 2,400 kW – As per UIC 623-2:2010
Voltage system: 15 kV / 16.7 Hz
Starting tractive effort: 300 kN
Traction power at the wheel rim: 2,000 kW
Electric braking effort: 150 kN
Electric braking power at the wheel rim: E-mode: 2,100 kW Diesel mode: 1,700 kW
Max. speed: 160 km/h
Wheelset arrangement: Bo'Bo'
Area of application: Freight transport
Vehicle length (length over buffers): 19,975 mm
Track gauge: 1,435 mm
Fuel tank volume (usable): 2,500 l
Wheel diameter: 1,100 mm new / 1,020 mm worn
Weight (max.): 90 t when fully loaded
Double traction: WTB ÖBB: with same-type vehicles as well as Vectron E, Vectron DE, and ER20
Train protection: PZB, ready for ETCS
Axle load: 22.5 t