It will be a summer full of trainbows! Trainbows? Yes, both Virgin Trains and GWR show their support and celebrate diversity across the UK. An overview:
Virgin Trains no. 390 045
On 26.05.2018, Virgin Trains unveiled their first 'Pride Train' at Birmingham New Street station, marking the start of their Summer of Pride celebrations. The #RideWithPride train to visit all Pride events on Virgin Trains route on the West Coast this summer.
Right after the presentation, the Pendolino (no. 390 045 'Virgin Pride') unit made its first journey to a Pride event, carrying customers and Virgin Trains own people to Birmingham Pride.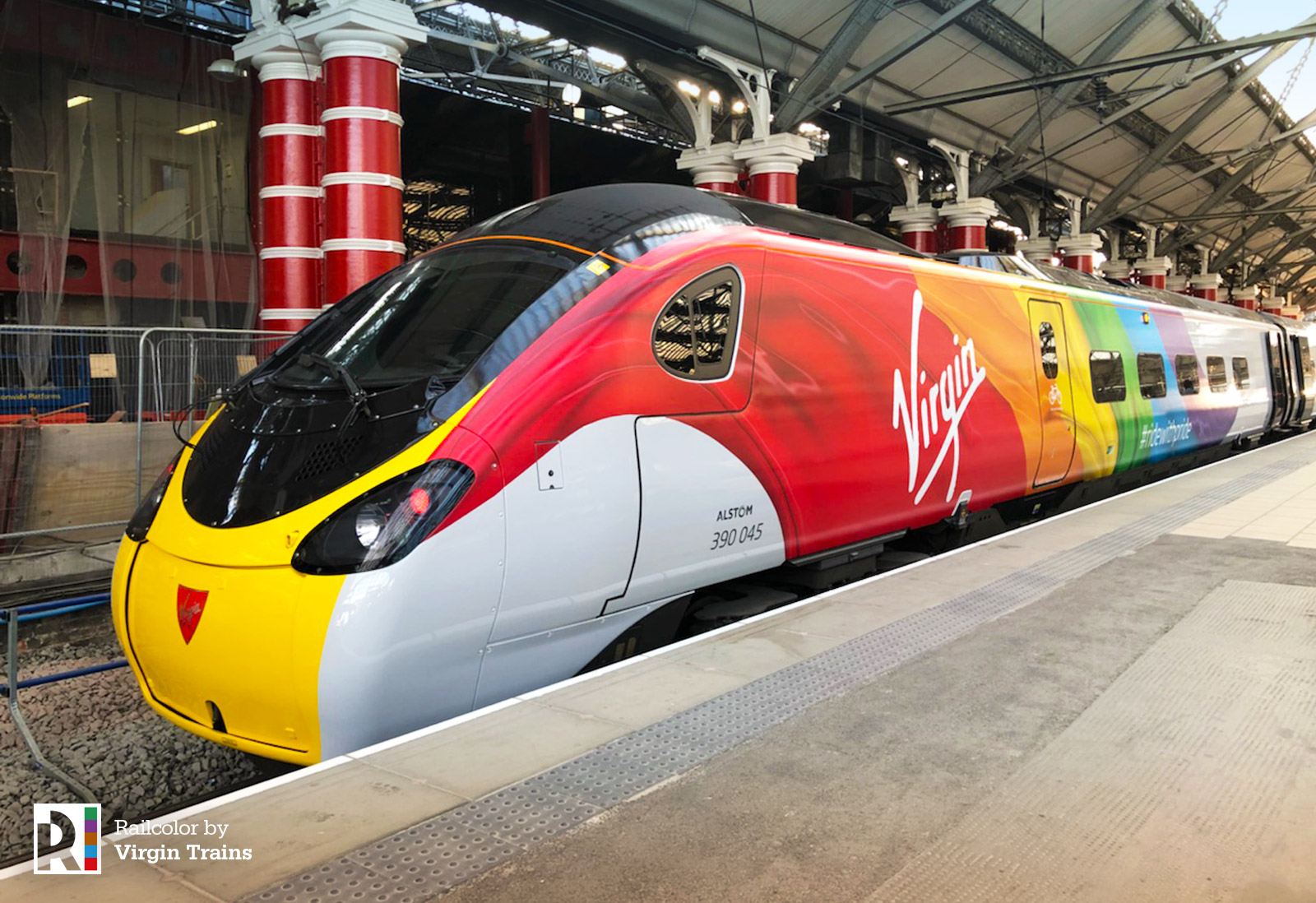 Virgin Trains no. 91103
Locomotive no. 91103 also received extra trainbow stickers in May. This was done to promote the York pride event, which Virgin was sponsoring, as well as other Pride events on the east coast route.
Great Western Railways (GWR) no. 800 008
Last week also GWR launched a special #trainbow AT300 trainset. The colorful Intercity Express Train will be promoting the Pride events across the GWR network.
The special livery of unit 800 008 was officially revealed at London Paddington station on the 11:45 to Cardiff Central. Built by Hitachi Europe, the articulated train is one of 93 new hybrid Intercity Express Trains that are currently being introduced to the Great Western Railway network. Those will eventually replace the existing Class 43 HST trains.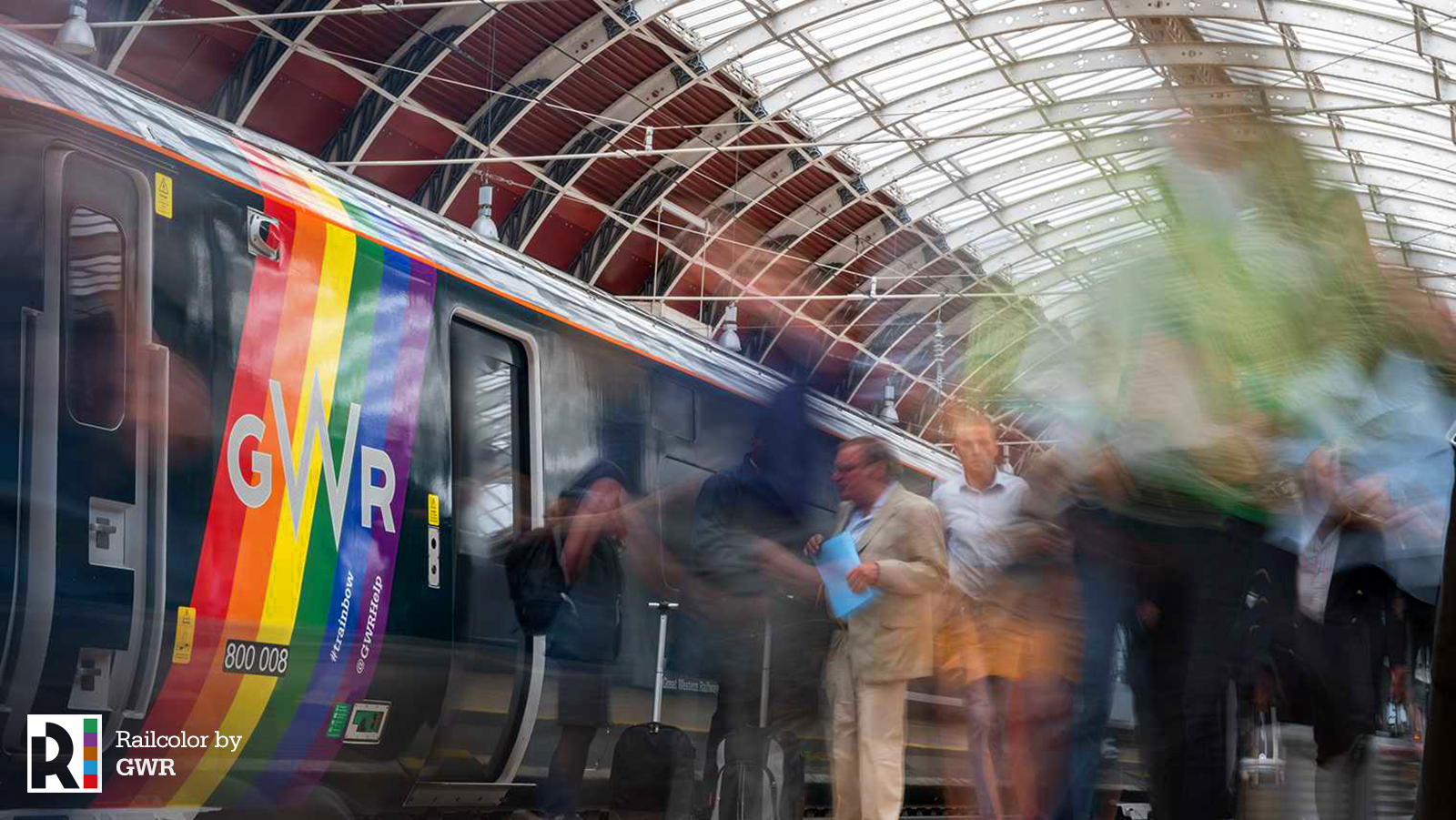 In the coming months, the GWR Pride train will be seen operating services to a variety of pride celebrations across the GWR high-speed network, such as Cardiff, Bristol and Reading.
"We're thrilled to launch this Intercity Express Train to help support and celebrate the diverse communities across the GWR network. We're looking forward to taking people to the many pride events taking place this summer." Joe Graham, GWR Business Assurance Director
And, as everyone knows, rainbows taste like candy. This is why GWR decided to treat passengers at the inaugural run to rainbow colored lollipops.
If you want to follow the snaps and selfies throughout the journeys of this eye-catching train, just make sure to follow the #Trainbow tag or the @GWRHelp handle on Twitter. We've got some nice previews below:
Look out for our vibrant @GWRHelp #Trainbow heading out on the network today! #LGBT ?️‍? #loveunites (thanks and credit to: @frankmichin125) pic.twitter.com/jjn2yR5O4c

— Hitachi Rail Europe (@HitachiRailEU) June 7, 2018
We were delighted to bring some colour to one of our new Intercity Express Trains 800 008 today and join in with the Pride month celebrations. Send us your pics of the #trainbow if you see it! #LoveWins pic.twitter.com/ANrrBoGdHJ

— GWR Help (@GWRHelp) June 7, 2018