15th February 2017: New Hitachi trains for GWR's Devon and Cornwall route a step closer to entering service, as the assembly work on the new AT300 intercity trains has begun in Pistoia, Italy. Lease company Eversholt has 36 fast AT300s on order for GWR, to be employed between Devon and Cornwall.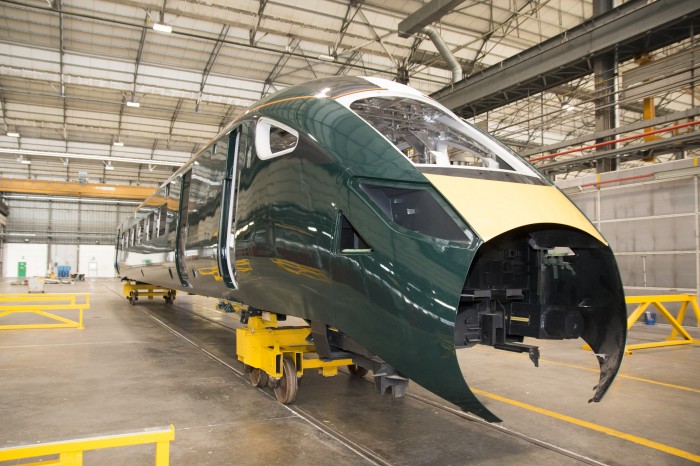 The images in this article show you the first bodyshells for have arrived at Hitachi Italy's. The former AnsaldoBreda plant got involved in the project as the Hitachi's UK manufacturing facility in Newton Aycliffe is already working to full capacity on various IEP trains and AT300s for other contracts.
The Eversholt > GWR AT300s will enter revenue service in 2018, running as far south as Penzance along coastal routes in Devon and Cornwall. The entire fleet will be in passenger service by the end of 2019. The new fleet harnesses pioneering Japanese bullet train technology known for its quality and reliability. Passengers can expect more seats, better on-board facilities with the possibility of shorter journey times. Passengers will also benefit from new on-board technology, including real-time journey updates and seat reservation screens. The fleet is fitted with bi-mode technology, allowing trains to use diesel and electric power, meaning even whilst infrastructure modernization takes place passengers can enjoy the benefits of the new trains.
The first Italy-built train will arrive in the UK in the winter of 2017. By then commissioning of the train type will be on its way, using three UK-built trains (2×5 and 1×9 car-trains). This test phase will start in the summer of 2017.