Yep, we already reported on the new Rheintal (Netz 4) contract, recently awarded to DB Regio by the Ministerium für Verkehr Baden-Württemberg. We wrote about its routes, future extensions and the new rolling stock. The Desiro HC will be used for the Regional Express (RE) services. Now we show more about that other Siemens product: the Mireo. Baden-Württemberg and DB Regio are the launching customers.
DB Regio will receive 24 articulated trains based on the new Mireo platform, to be commissioned in the summer of 2020. This marks the first order for the company's new articulated Mireo regional train platform that was recently premiered at Innotrans, the world's biggest rail trade fair.
"Following the product launch, we very quickly succeeded in entering the market with our new Mireo train platform. The Mireo combines economy with sustainability and offers optimal flexibility over its entire lifecycle," said Sabrina Soussan, CEO of Siemens' high-speed trains, regional trains and locomotives business.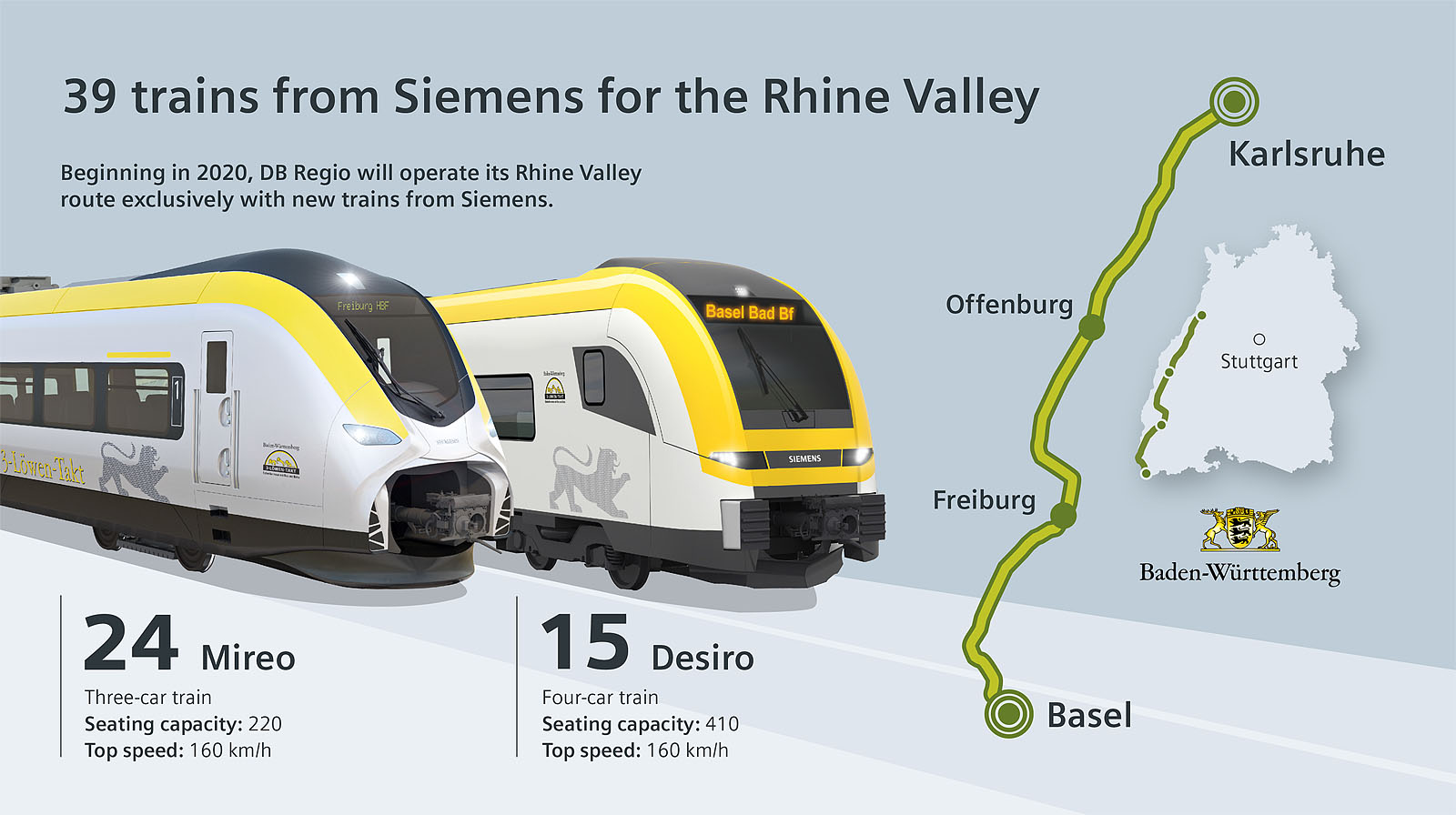 Train service in the Rhine Valley will be restructured. When completed, there will be a clear separation between fast cross-regional trains running between the major cities, and a regional suburban rail system (S-Bahn) with stops at all local stations. At the same time, the number of trains operating in the region will be substantially expanded. The new trains have been ordered to meet these special requirements.
This slideshow requires JavaScript.
The Mireo will operate as a regional train (RB) along the Offenburg – Freiburg – Basel/Neuenburg (Switzerland) route as well as in the Kaiserstuhl area on Sundays between Freiburg and Endingen/Breisach. The train is conceived as a scalable articulated train. With the help of its new aerodynamic design and quiet bogies, noise is substantially reduced. The train's lightweight construction, energy-efficient components and intelligent board network management system reduce energy consumption by 25 percent compared to previous trains. The three-car trains have 220 seats. Its topspeed will be 160 km/u.
The Desiro HC will operate as a regional express on the Karlsruhe – Offenburg – Freiburg – Basel route.