Plans for a £210m fleet of new trains to benefit passengers on the UK's busiest commuter rail franchise moved forward today, as Stagecoach South Western Trains announced its intention to award the contract to manufacturer Siemens and leasing company Angel Trains.
In short:
– 30 new 5car trains, type Desiro City
– The 150 new train carriages will deliver major boost in capacity at SWT
– Contract award agreed with Department for Transport, Siemens and Angel Trains
– SWT is the second operator to opt for Desiro City (class 700), Thameslink is first
– Delivery scheduled for 2017-2018. All in service early 2018.
The 30 new five-carriage Desiro City trains will boost capacity on services at South West Trains, providing for more than 18,000 extra peak-time passengers every day travelling into London Waterloo, the country's busiest station. The train order will also allow for a further 6,000 daily peak-time passengers once infrastructure upgrades are completed on the mainline and Hounslow loop.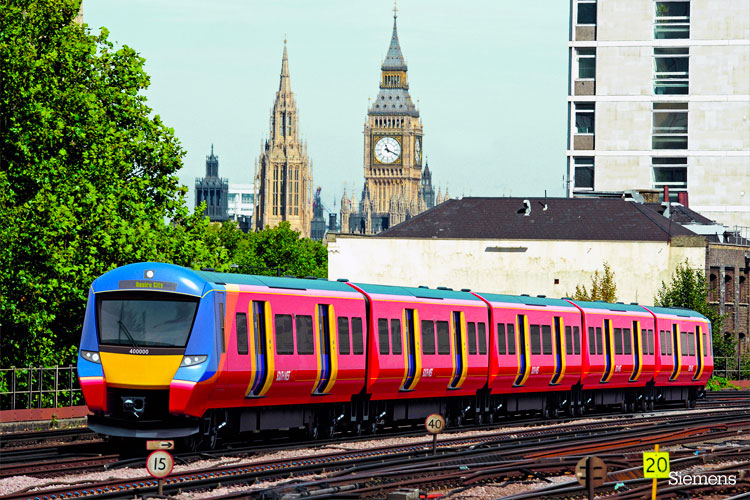 Around 140 new jobs will also be created as a result of the new trains order. New employment opportunities will be available for engineers, drivers, guards and maintenance staff in a further boost for the rail sector.
The new trains will be maintained by South West Trains at Wimbledon depot, which has recently benefitted from £6 million worth of investment to deliver improved maintenance facilities and with further investment planned.
The new train order is part of a comprehensive five-year plan developed by the Alliance to transform services for passengers, incorporating longer platforms, full re-opening of platforms at the former Waterloo International Terminal and other associated infrastructure improvements.
The project is being managed by Stagecoach South Western Trains. In accordance with usual procurement practice, there will be a standstill period of 10 days before Stagecoach South Western Trains will be in a position to enter into, and complete, the formal contractual documentation and make the award to the successful tenderers and enter into an amendment to the current Franchise Agreement. The process is expected to be finalised in the next two weeks.