advertisement

---
The Queen's Platinum Jubilee 2022 received much attention in the UK, and railways are no exception. Several companies changed the liveries of rolling stock to commemorate the occasion. DB Cargo UK too.
Several multiple units and locomotives in the UK now carry a special (purple) livery that pays tribute to the 70th anniversary of Her Majesty's service to the people of the United Kingdom, the Realms, and the Commonwealth. As she is the first British Monarch to achieve a Platinum Jubilee, it is a big thing.
Railcolor News has already reported about GB Railfreight 66734. DB Cargo UK made 67007 purple, a four-axle locomotive used for passenger rail services. Untl 18.06.2022, when the new livery was revealed, it had the standard/former EWS design.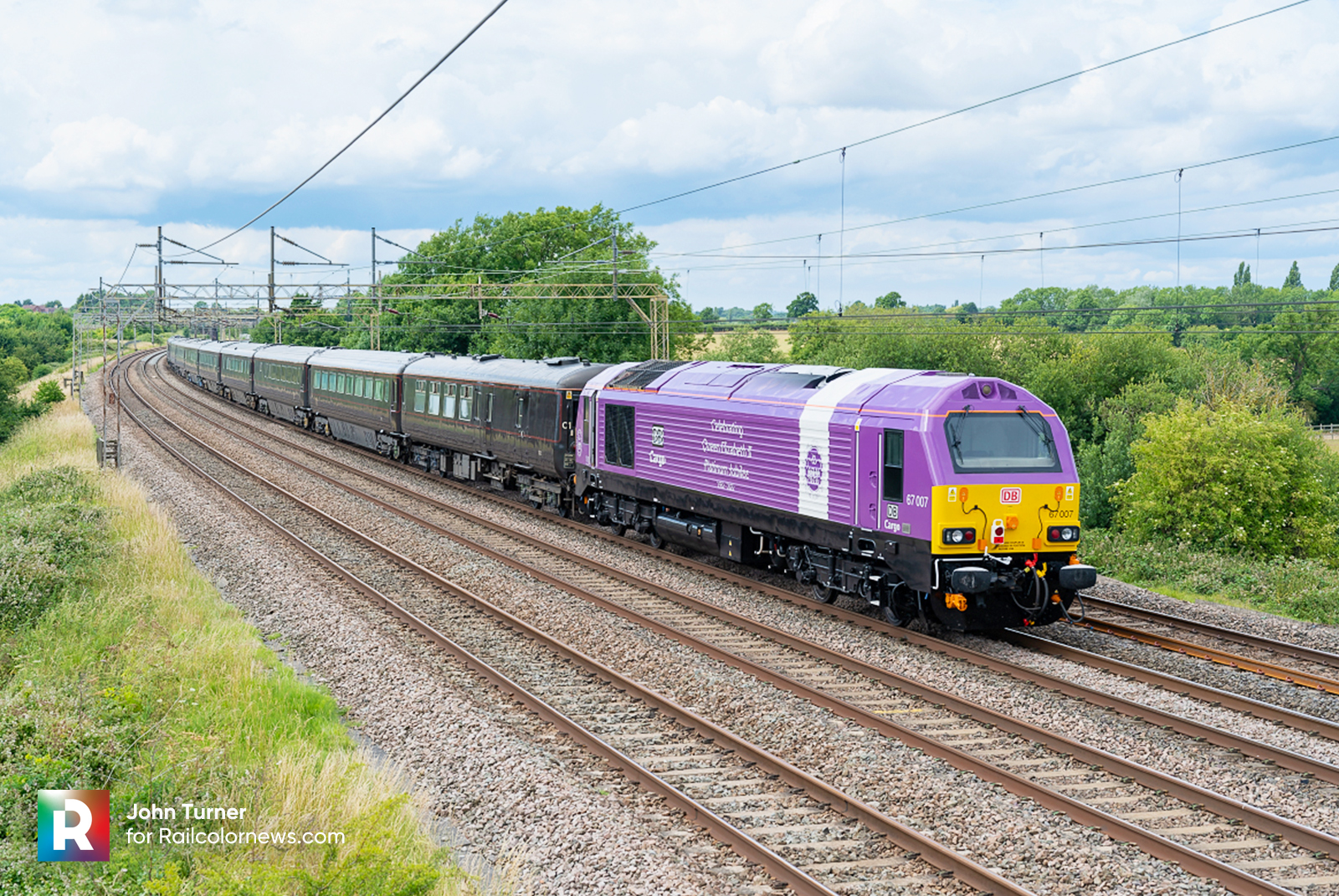 The entire locomotive is painted in purple, has DB Cargo logos, and a white vertical banner with the jubilee logo. In the UK, these locos need to have a yellow front and a orange roof line.
Thirty JT42HW-HS locomotives, better known as Class 67, were ordered in 1996 and delivery started in 1999. They were originally ordered for fast (200 km/h) postal and passenger services by EWS. Later, when DB Cargo took over EWS, two locomotives (67023 and 67027) were sold to Colas Rail.
The are a combination of the Alstom Prima platform and EMD components. That is because EMD outsourced the production to the Valencia plant of Alstom (now owned by Stadler). Class 67 has a power rating of 2,390 kW have many EMD components in common with the Class 66 diesel locomotives.