We thank Kai-Florian Köhn for sharing his pictures with us.
As reported on Railcolor News, LNVG and Metronom are busy with an ambitious fleet modernization (new locomotives and trainsets included). But in the meantime business carries as usual on the tracks of Germany's Lower Saxony region.
A year ago, we saw an LNVG TRAXX AC1 electric getting the updated Metronom design – clearly, to go in harmony with its AC3 siblings – other locomotives are being only partially refreshed. Such is the case of this TRAXX AC2. Numbered 156 532, it got new, lime-green side stickers, advertising an art exhibition.
On 29.07.2021, it was spotted while pushing RE2 (Hannover Hbf > Uelzen) in Alfeld (Leine):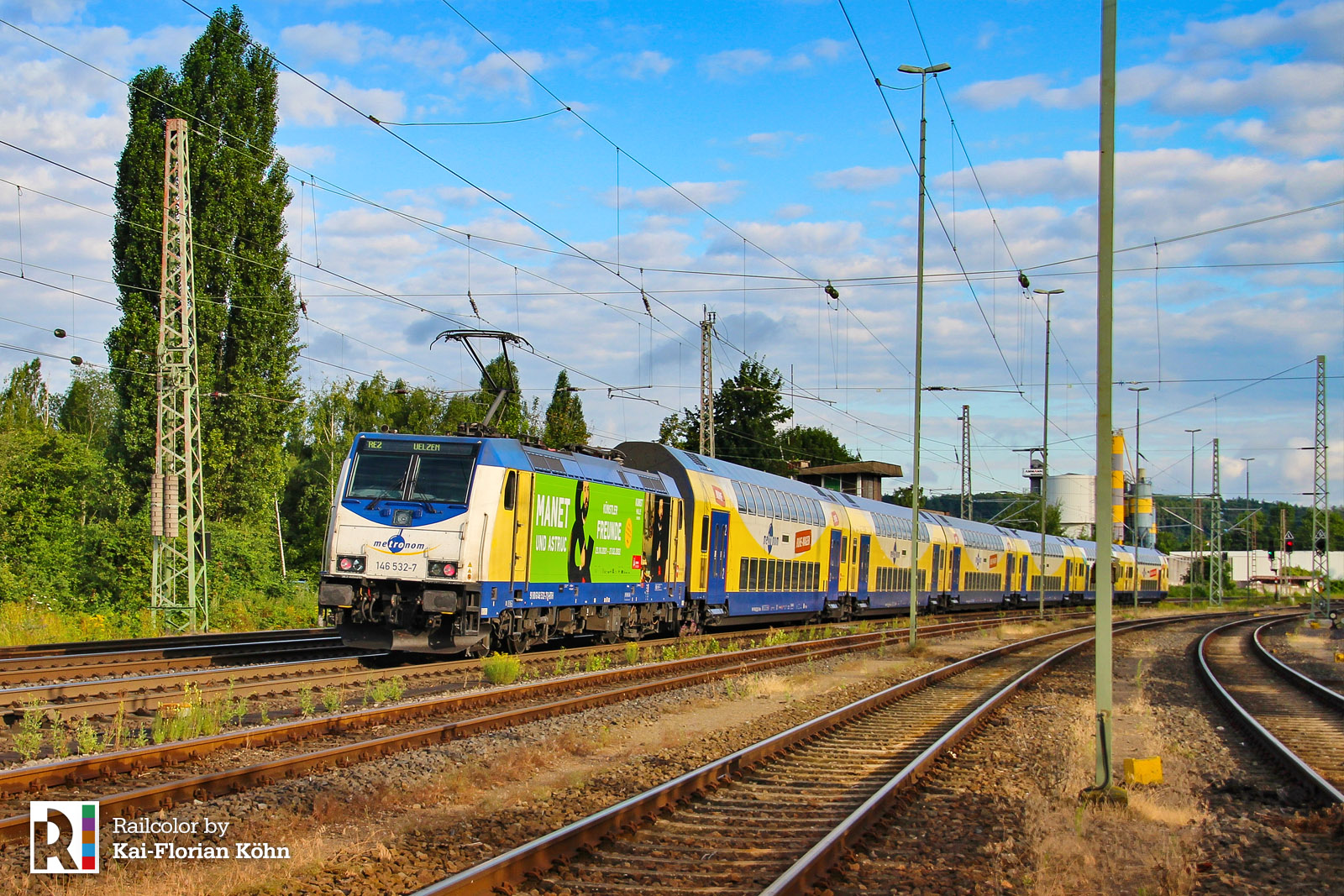 The locomotive is currently promoting Kunsthalle Bremen's latest exhibition from a series showing the works of nineteenth-century painters, such as Vincent van Gogh and Claude Monet. Titled "Manet and Astruc. Friendship and Inspiration" the exhibition focuses on French modernist painter Edouard Manet and his friend, Zacharie Astruc, who is almost unknown as an artist today.
While art is at the core of Railcolor's expertise in the field of locomotive livery design, let's get back to the pure technical data that stands behind this machine:

146 532's technical dossier:
Model type: Bombardier TRAXX P160 AC2;
NVR number: 91 80 6146 532-7 D-ME;
Year of construction: 2007;
Works number: 34092.
This is not the first time Railcolor covers a side advertisement on such a locomotive. Check out the article below to see ME 146-02 with a holiday motif from the summer of 2019:
[DE] Werbelok: Metronom ME 146-02 sends you on a well-deserved vacation