Soon there will be a total of six Siemens Smartron locomotives driving trains in Romania for E-P Rail and Unicom Tranzit. This month, three of them already arrived. And the first Smartron livery design from Romania is already a fact.

Railcolor News thanks Andi David, Antonio Istrate, Constantin Vlad, and Matei Stefan for their photo-contributions. The article was originally published on 24.07.2020 – and updated on 10.07.2020 and 13.07.2020 – now we see the Unicom Tranzit Smartrons in action (scroll down to see the updates).

E-P Rail and Unicom Tranzit are Siemens' launch customers for its Smartron platform in Romania. Although they were originally released with 'higher' numbers from the plant in Munich, it will be a whole new series '192' for Romania. Hence, the numbering starts from scratch.
192 003 of E-P Rail
This was actually the first Smartron to arrive. And being first always gives you an advantage. In this case, for a fresh livery application…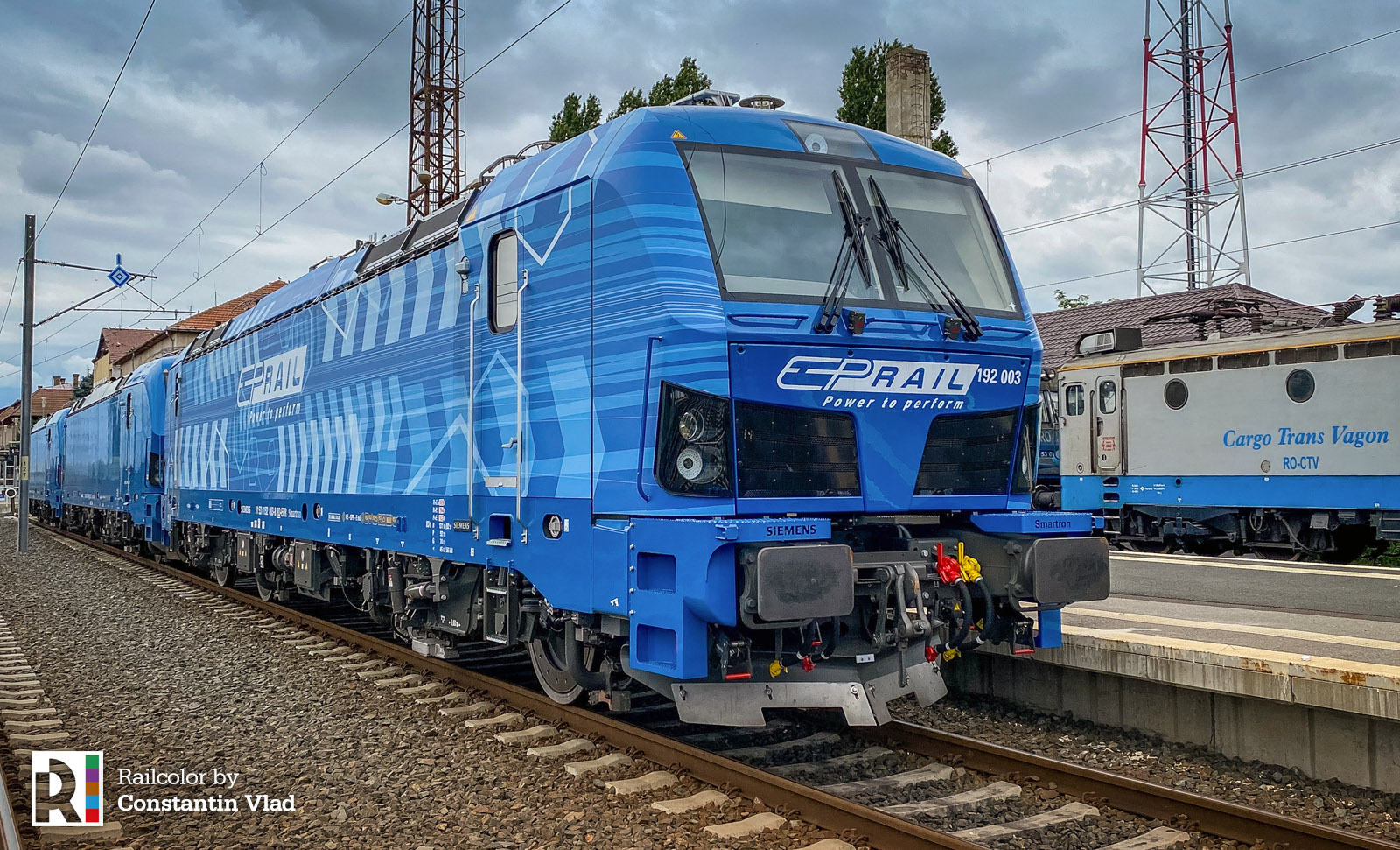 … and for entry into service. This locomotive was already seen several times driving freight trains. Andi David spotted it in Dârste on 18.06.2020: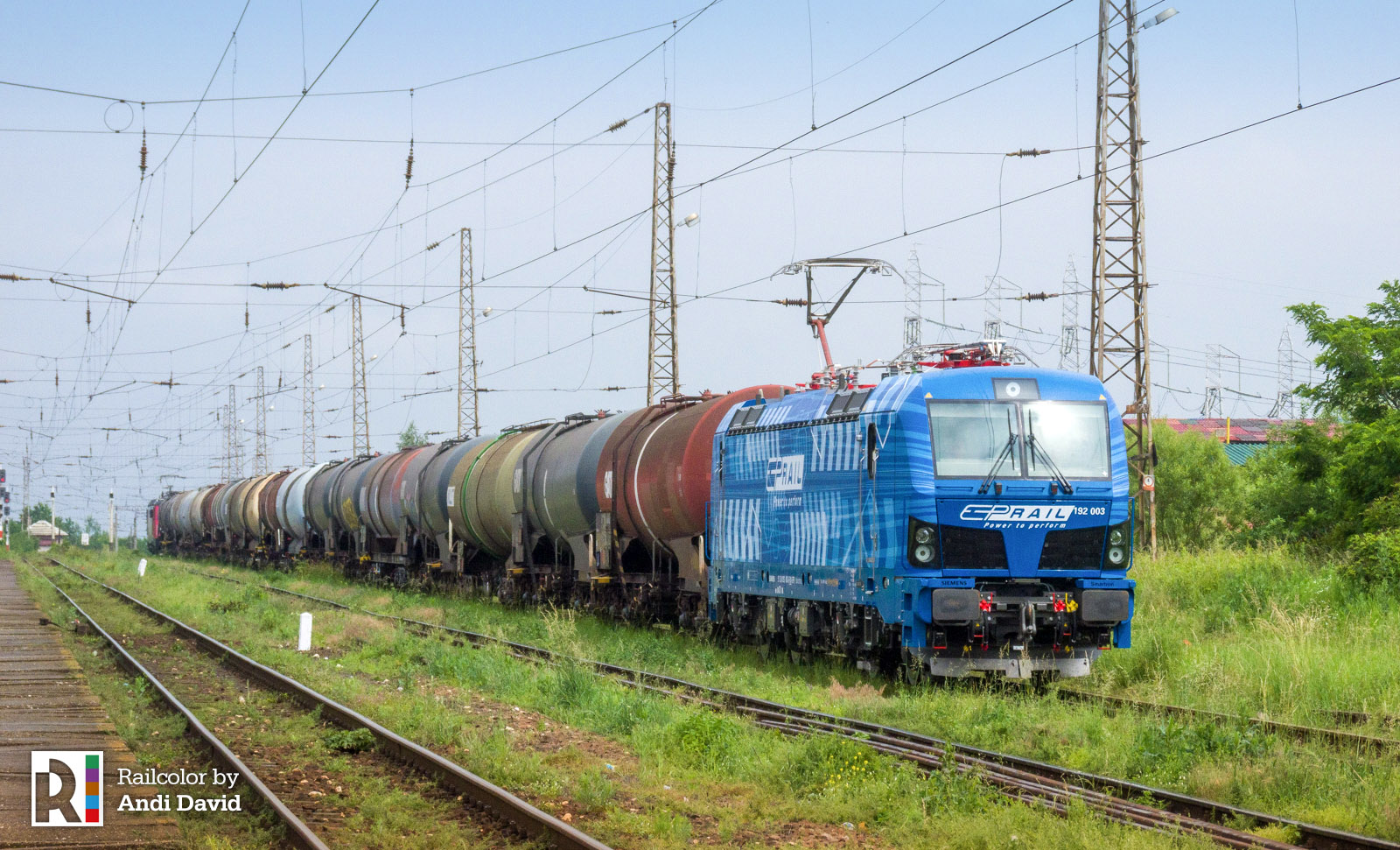 And Antonio Istrate took the following picture on 18.06.2020 in Breaza: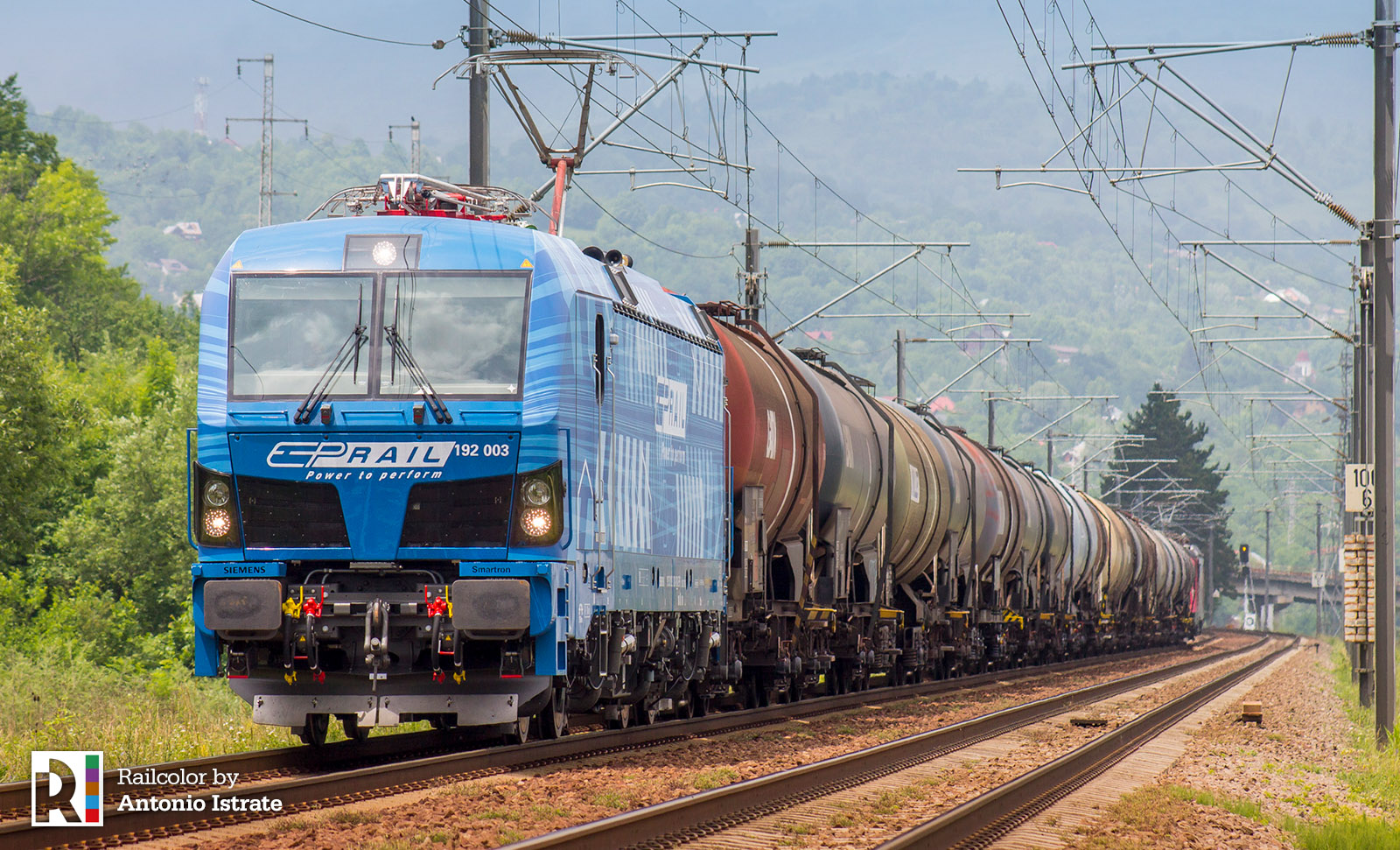 Notice the red pusher locomotive way in the back? This is a six-axle Transmontana. E-P Rail has a total of five of these  – as seen on Railcolor News.
Unicom Tranzit
But what about the other two? 192 001 and 002 are property of Unicom Tranzit. They made their appearance in Romania just a few days ago – still all-blue. And they were not alone (192 003 was there too) – as seen by Constantin Vlad on 21.06.2020 in Curtici: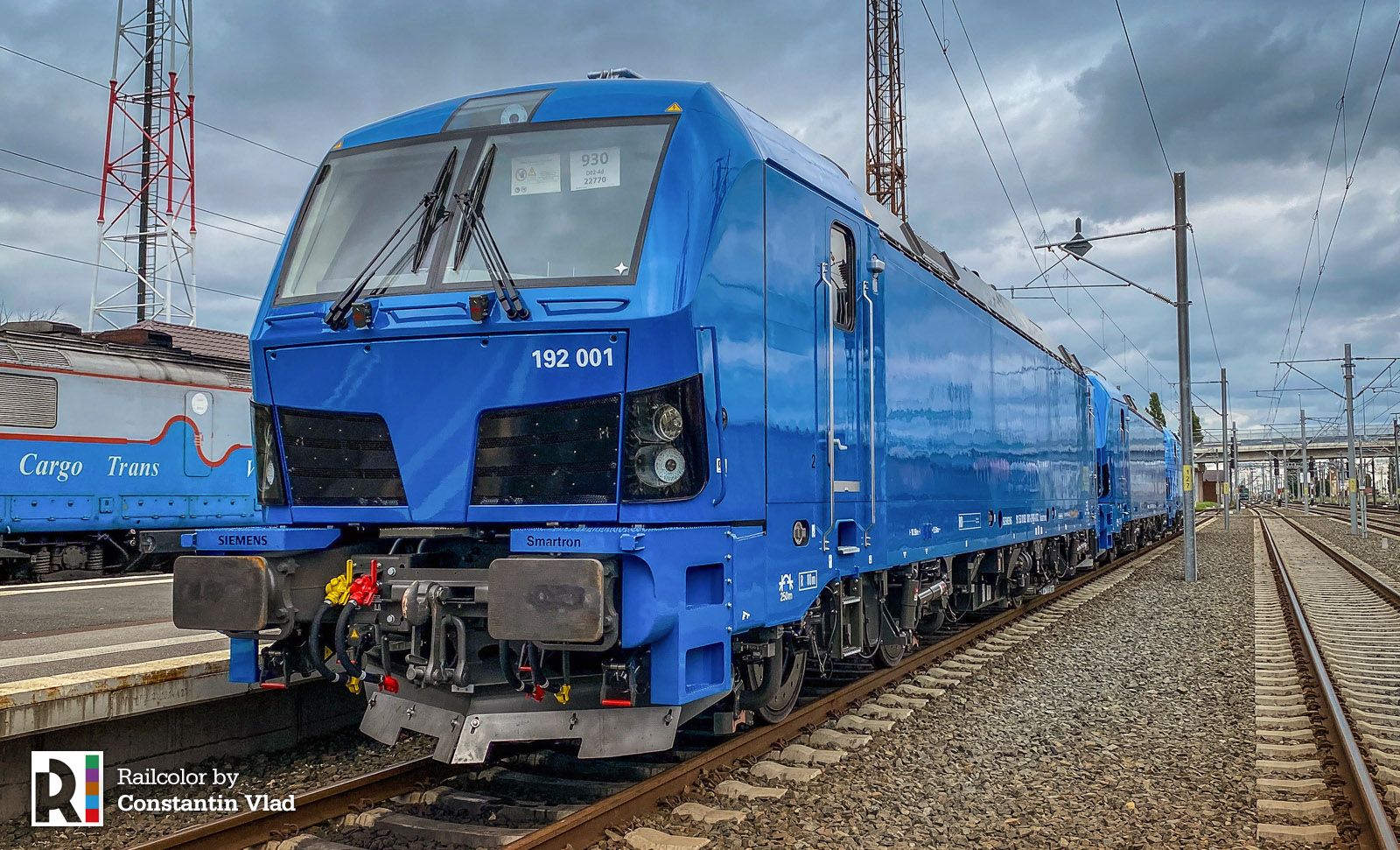 We expect that Unicom Tranzit's Smartrons will get a blue-green livery – which are the colors that this operator has been applying to its other locomotives. Stay tuned for updates!
Update 10.07.2020
Sometimes second comes first – 192 002 premiered the Unicom Tranzit Smartron fleet in commercial service. On 09.07.2020, Matei Stefan spotted the locomotive in Bacau (RO) with a container train from to Constanta from Roman, where it arrived with a loaded tank car train previously. We expect that 192 001 will too enter service any day now.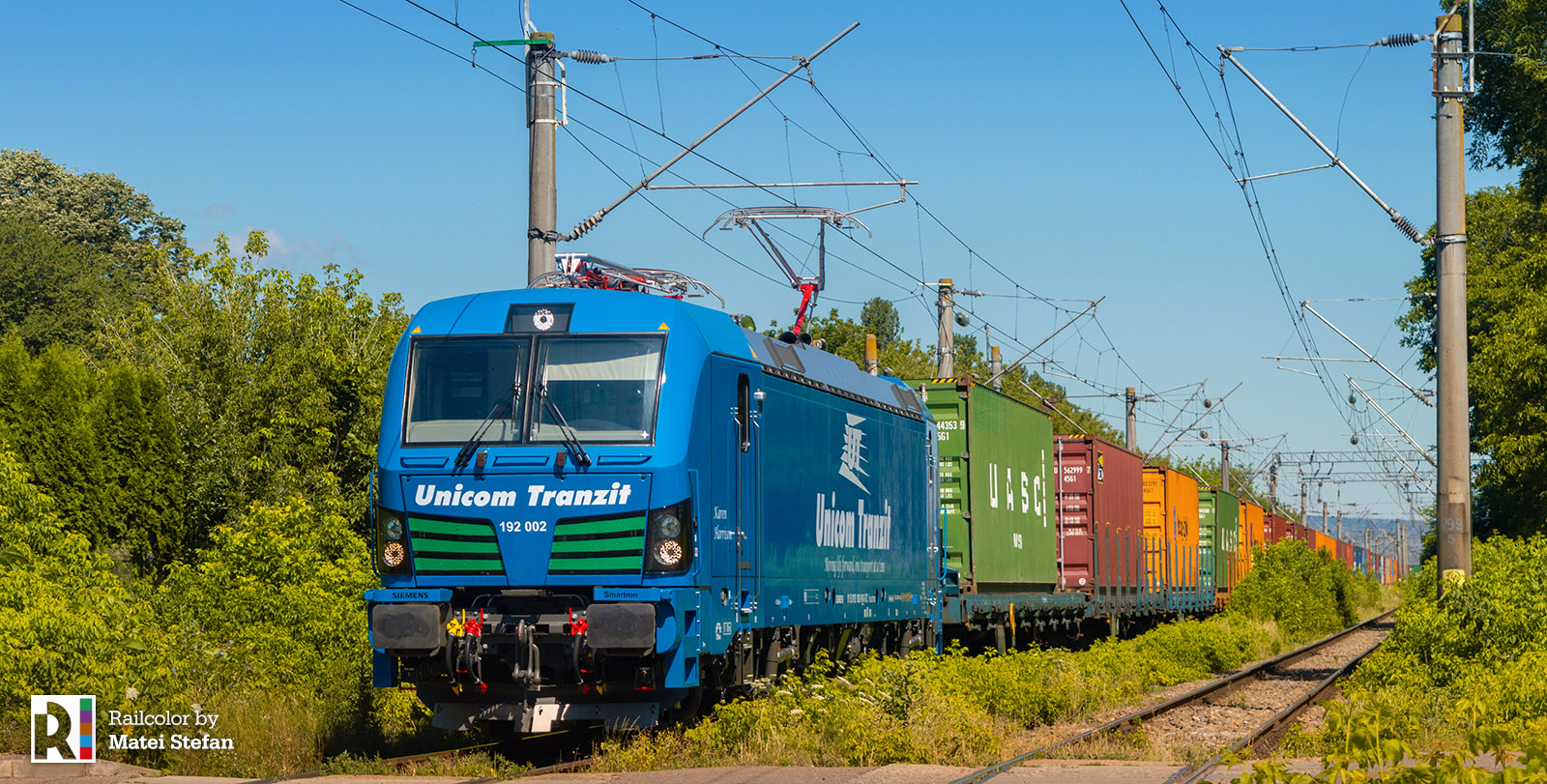 Update 13.07.2020
Well, that didn't take long! 192 001 is also out and about now. Andi David caught it on a green-blue freight service in Brașov (RO):
The Siemens Smartron on Railcolor News
As always, Railcolor News brings you all the information in a single overview. Check out our Smartron [Data] page for all the Smartron numbers, deliveries, and fleet details: