Siemens Mobility has reached an impressive milestone – the sale of its 1000th Vectron is now a fact. The Anniversary locomotive is part of the now officially confirmed additional order placed by the Danish State Railways (DSB).
Vectron #1000
We've been waiting for this to happen for some time now, and now it is official: Siemens has officially sold more than 1000 Vectron locomotives. The news follows after the confirmation of a third batch for the Danish state railways DSB (26 in 2018, 8 in 2019 and now another 8), a purchase that had been given a green light by the Danish government back in mid-2018.
The first 26 locomotives are needed to replace the aging fleet of EA electrics and ME diesel locomotives. The Vectrons will operate double-deck trains (Bombardier Twindexx coaches) and regional services in the Sjælland area. The remaining 16 locomotives from the 2019/2020 orders are needed to  'sandwich' the new international passenger trains connecting Denmark and Germany.
Back to Siemens. It has sold now a total of 1,003 Vectrons to 49 different customers:
The first Vectron was delivered in 2012;
In operation in 16 different countries;
Authorized for 19: AT, BE, BG, HR, CZ, FI, DE, HU, IT, NL, NO, PL, RO, RS, SK, SI, SE, CH, TR;
300+ million fleet kilometers;
All locomotives built in Munich-Allach.
Note that Siemens does not count its Smartron sales, nor are Vectron Diesel / Dual Mode included. It is purely about Vectron electrics in the three DC/AC/MS versions.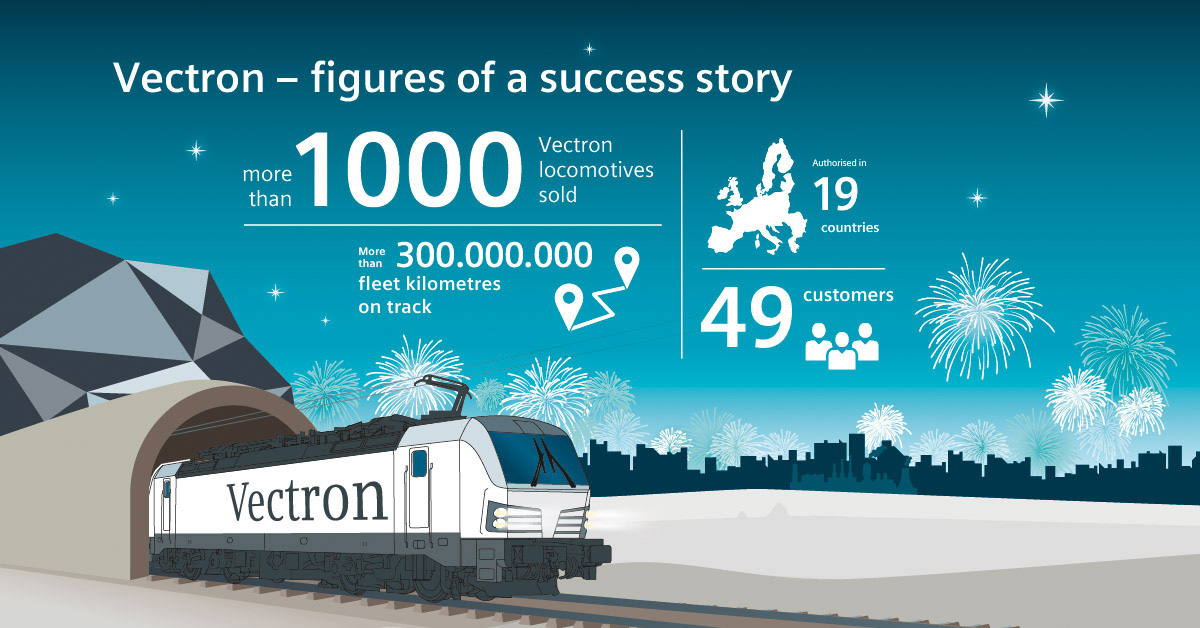 Social media
It's official: the 1000th Vectron is sold! We are happy that our customers trust the #locomotive that is creating corridors across Europe. Upload your favorite #Vectron pic and use #Vectron1000 for us to see ?
Can we make it to 1000 Vectron pics?https://t.co/9JrT7z4hNx pic.twitter.com/AtTAmBDsJN

— Siemens Mobility (@SiemensMobility) May 4, 2020
Want to know more? On the Siemens Vectron Data page, Railcolor records all known versions and customers: