An explosion of colors to say farewell to the first TGV Sud-Est high-speed train. Set TGV 01, named 'Patrick', retires after 41 years of service. For this occasion, both power cars got back their original orange livery. Intermediate cars got back SNCF older blue-silver paint scheme, so TGV 01 now sports all three liveries it has had during its active career.
This article was initially published on 07.02.2020 – and updated on 31.03.2020 (new pictures added). We thank Christophe Masse and Jean-Claude Mons for sharing their pictures with us. from the farewell tour: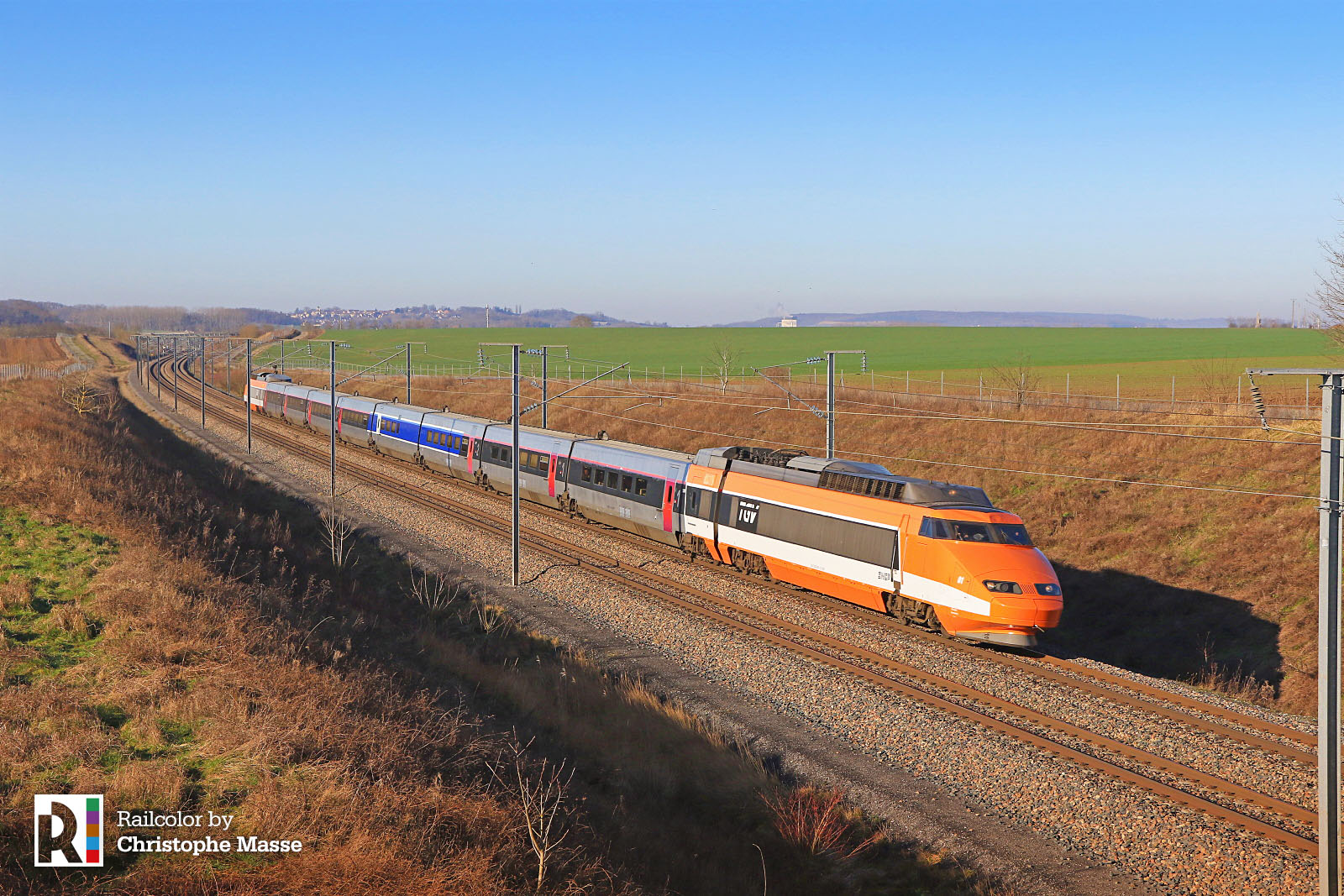 We noted that only one of the power cars got back large old-skool SNCF logos, it is not visible on the picture above, but you can see it here. As the cars do not have the original front hatches anymore, the grey part had to be mimicked. When looking at the details of this 'retro'-design, it is not perfect, it is not exactly the same as 41 years ago, but still, it is a nice gesture of the operator.
Update 31.03.2020
We know, it has been a while since we saw "Patrick" on its farewell tour. But we just couldn't resist sharing more pictures – courtesy of Jean-Claude Mons.
Arrival at Paris-Est
On 11.02.2020, the train is depicted just after its arrival at Paris-Est – part of a transfer for a special exhibition (see below):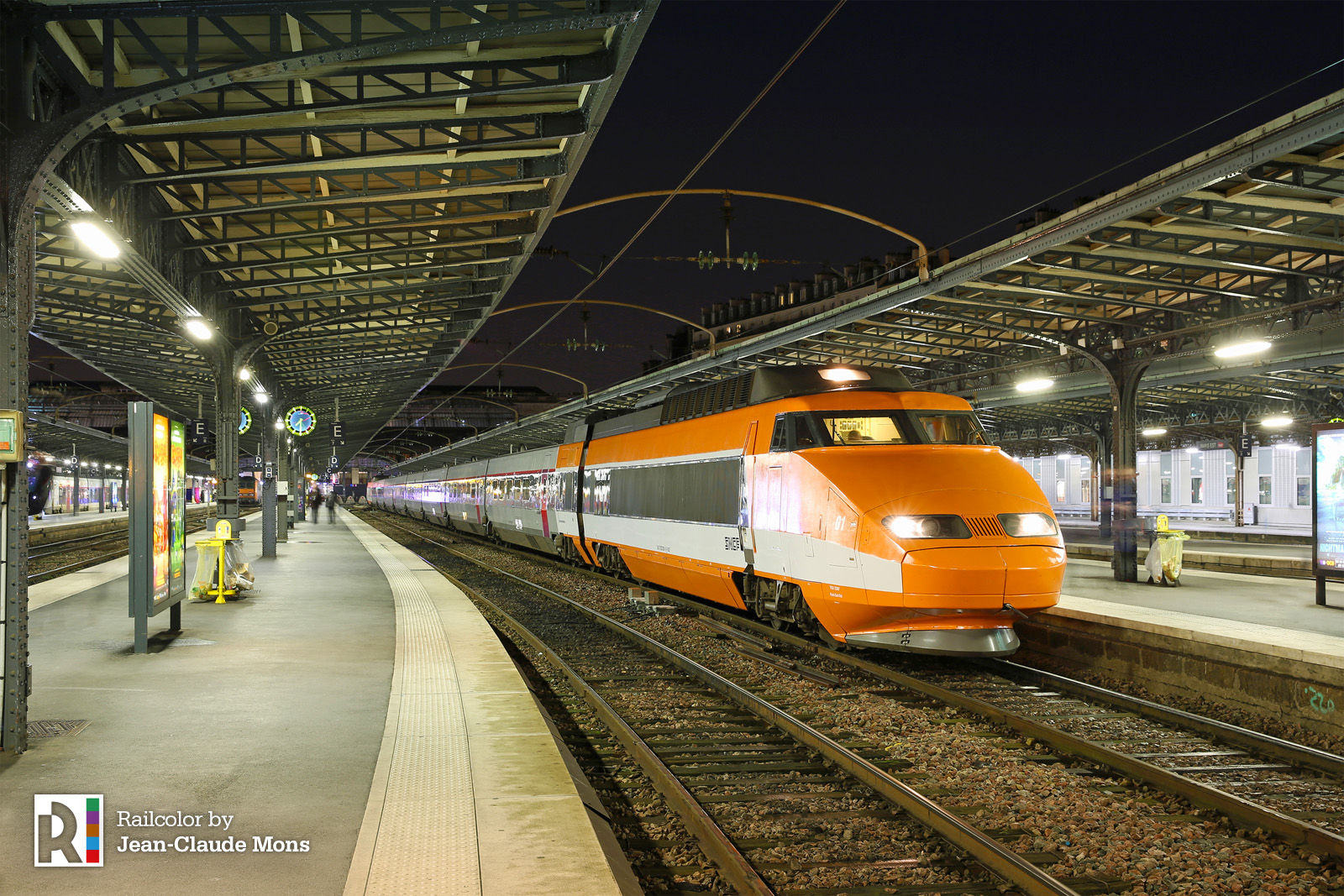 Paris Gare de Lyon: A special exhibition
A special exhibition, titled "Goodbye Patrick" was held at Paris Gare de Lyon from February 29 to March 4, 2020. The picture below was taken on 04.03.2020: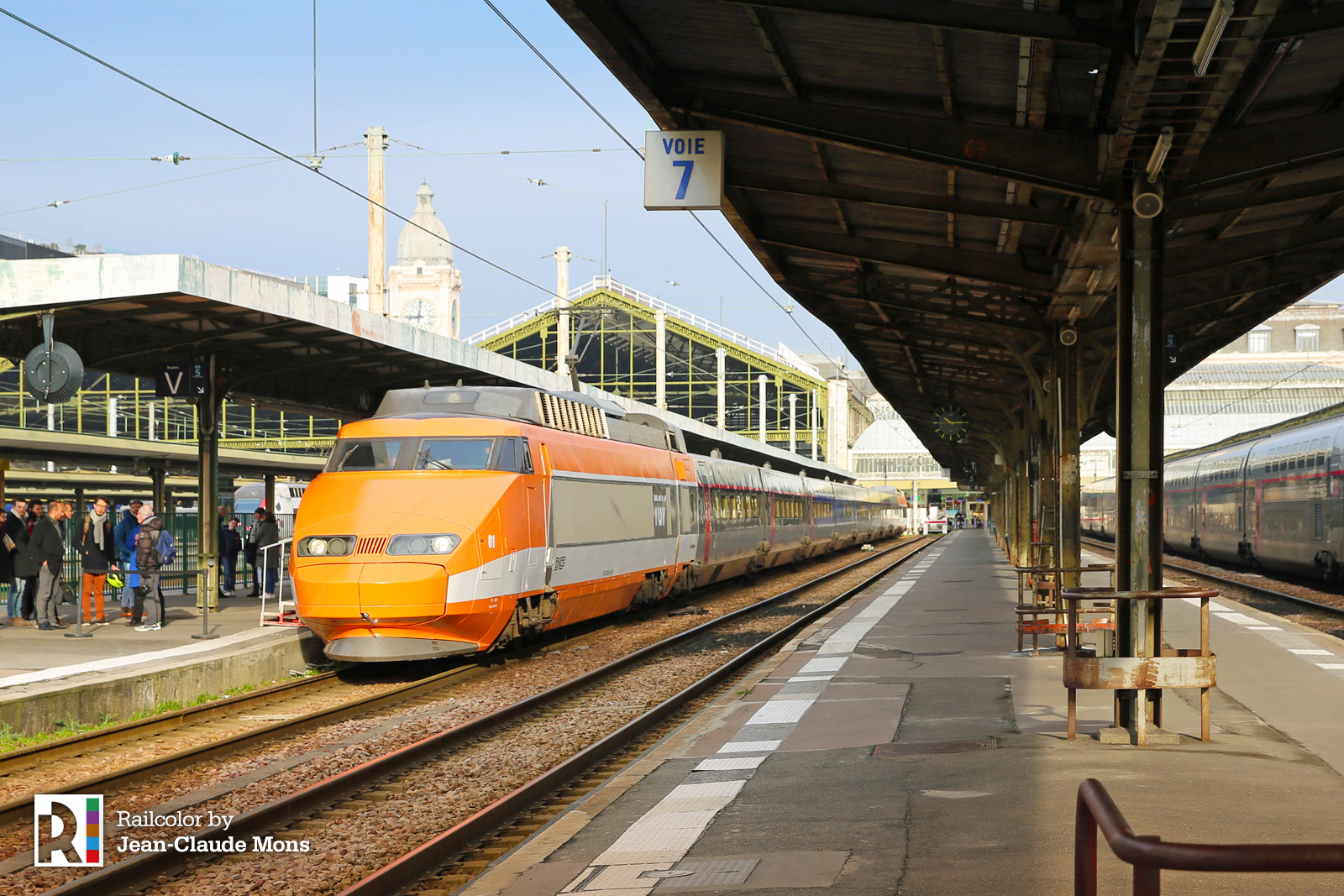 In February, Patrick was the star of the internet:
?Patrick fait son entrée au @TI_Bischheim pour sa tournée d'adieu ?? #AurevoirPatrick #TGV #SNCF #Patrimoine pic.twitter.com/uB9nc057ir

— Technicentre Industriel SNCF de Bischheim (@TI_Bischheim) February 6, 2020
Aujourd'hui c'est un jour un peu particulier pour tous les amoureux du #TGV. La toute première rame TGV Sud-Est de 1978 affectueusement surnommée Patrick tire sa révérence. Pour l'occasion elle a revêtu sa livrée d'origine… #AurevoirPatrick pic.twitter.com/d8aTneleMs

— Voie Libre SNCF (@conducteur_PSE) February 5, 2020
Après 41 ans de service, "Patrick", le premier TGV, tire sa révérence, par @julienmielcarek pic.twitter.com/PbWJyEBVaa

— BFMTV (@BFMTV) February 7, 2020
Cette Pub #SNCF pour le #TGV c'était juste en 1972 #France j'avais 6 ans

?Des Regrets, des regrets, mais je n'ai que des Regrets?

Ça donne envie d'un Retour dans le Passé, pas Vous? #AurevoirPatrick
Moi j'ai Envie ? #JaimeMaFrance#GGRMC #Macron2022pic.twitter.com/L36grwtJgF

— BBR4369 ?? JMFB69C59 (@BBR4369) February 7, 2020