Railcolor News recently introduced you to the livery design for East Midlands passenger franchise. Today, Hitachi has presents the very 3D first impression of the future East Midlands Railway (EMR) Intercity fleet, along with more details about these bi-mode trainsets.
Abellio UK has chosen Hitachi Rail to build a total of 33 bimodal trainsets, which will form its upcoming EMR Intercity fleet. The operator was recently awarded the new 8-year EMR franchise by the Department for Transport. The contract is valued at EUR 436.6 million. Funding is led by Rock Rail, and the fleet will be financed through Rock Rail East Midlands Plc and leased to Abellio for the life of the franchise.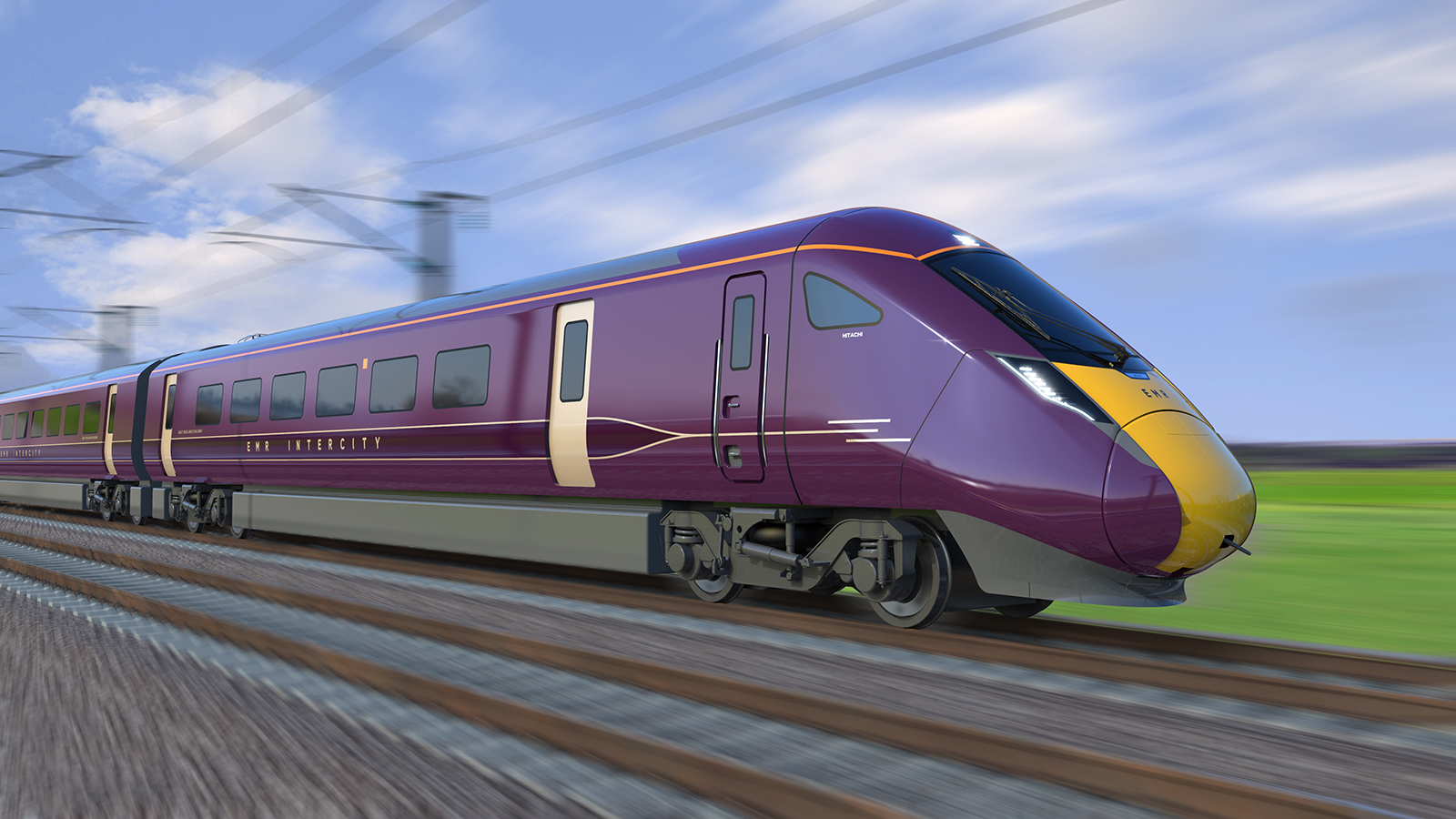 The new intercity trains are expected to enter regular service in 2022. They will be serving the main cities on the Midland Main Line, including Sheffield, Chesterfield, Nottingham, Derby, Leicester, and Lincoln as well as Kettering and London St Pancras.
"These new trains form the centrepiece of our ambitious plans for a complete replacement of all the trains on the East Midlands Railway and are a more than £600 million investment to really improve the region's railway. They will respond to what our passengers have told us they want with more frequent services, faster journeys between the East Midlands and London, and provide more capacity with 80% more seats into London in the morning peak." – Dominic Booth, Managing Director, Abellio (UK)
About the EMR's Intercity bi-modes
The new trains will have the ability to run using electric overhead lines wherever possible. When running in diesel mode, harmful emissions (particulate matter) are expected to be cut up to 90% compared to the legacy High-Speed Trains.
The fleet will consist of a total of 33 five-car trainsets (= 165 cars), which will be regularly be operated in 10-carriage formations. The new trains will introduce features such as air conditioning, free Wi-Fi access, power sockets, and better passenger information screens. Hitachi also states there will be an improved and more consistent 'seven-day' catering service in both 1st and Standard Class.
Supporting the East Midlands businesses
According to Hitachi, today's new order will benefit suppliers across the country and, in particular, the East Midlands. Hitachi's UK train factory at Newton Aycliffe, Co. Durham has worked with 65 different suppliers from the East Midlands, awarding various multi-million-pound contracts to support skills and high-quality jobs in the region.