Earlier this year, the UK Department for Transport named Abellio as the winner of the East Midlands franchise from August 2019 until 2027. New bi-mode trains will replace the existing intercity fleet.
Final details about the new trains have not been published yet, but by the end of 2022 refurbished AND new trains should be available on routes radiating from London-St.Pancras International station to cities such as Liverpool, Leeds, Sheffield, Norwich, and York.
Interesting: Abellio will also trial hydrogen fuel cell trains on the Midland Main Line.
Interesting 2: Meanwhile, there are two legal battles about the way the franchise was awarded.
This doesn't slow down Abellio during its preparations for taking over the franchise. Interesting for us, the operator has now released the first information about the rebranding of the franchise, including a new 'EMR' brand name and a purple livery for the rolling stock: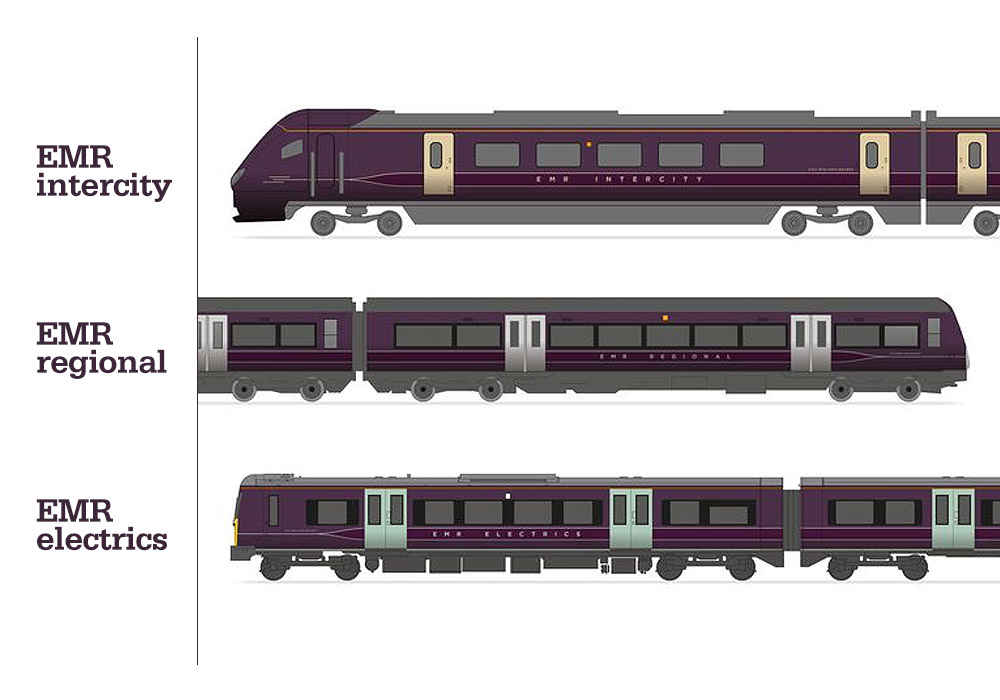 All 'East Midlands Rail' rolling stock gets a similar purple livery, with a certain classic feel to it. There are three sub-brands:
EMR Intercity: long-distance trains with doors in a subtle light yellow color tone;
EMR Regional: for regional routes, silver doors;
EMR Electrics:  new service between London St Pancras, Luton Airport Parkway and Corby, light green doors.
The new design's look and feel could be more different from the branding currently in use. Stagecoach painted its trains in bright and bold color schemes, with yellow, orange and red on the front.