Welcome. Every Monday we bring you the latest news on new electric locomotives being built in Europe. New liveries and remarkable operator changes are also mentioned. Enjoy!
Do you have comments or questions, contact us here!
Akiem: 5170 061 alias 483 222 is back in Poland. The DC electric, hired to Pol-Miedź-Trans got crushed by a freight car back in December 2016 and had to be transported back to Bombardier's factory in Kassel (on the famous loco-buggies) for repair. On 15.08.2017, Delta Rail 243 559-2 cam to Kassel to bring the 222 back to Poland. In Poland the machine ran under its own power.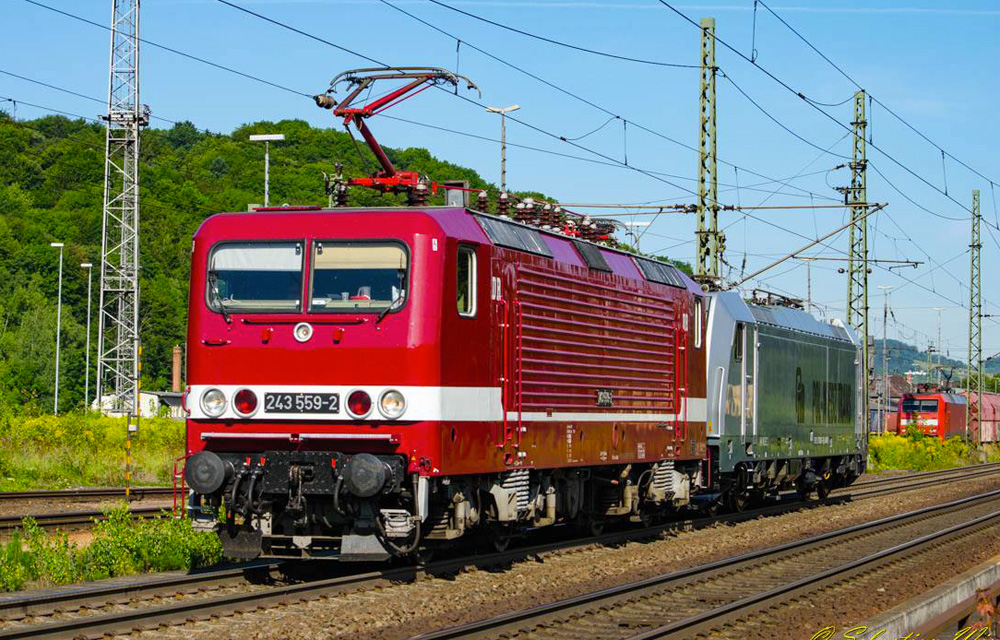 BLS Cargo: In 2016, Siemens delivered five Vectron locomotives to BLS Cargo: (475) 401 to 405. Although we have already seen newer units being pulled around by Siemens, none were officially delivered to BLS this year, until now. The 406 and 407 arrived at the BLS workshops at Spiez early August where they received stickers and numbers (Siemens delivered them without). The side vinyls and BLS logos are different from those on 401-405. On 20.08.2017 the next two Vectron locomotives, no. 408 and 409, started their journey to Switzerland. They arrived at Spiez (CH) today.
DB Cargo: Two new TRAXX AC3 locomotives were seen last week. 187 132 completed its maiden run on 15.08.2017. Unit 187 133 followed on 18.08.2017. – CK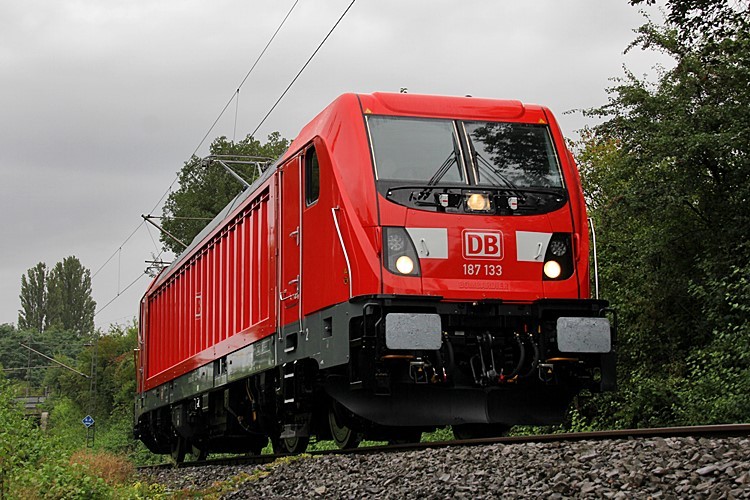 ELL: Siemens is rapidly gathering locomotives for the EuroCity project Prague – Berlin – Hamburg. ELL wants to hand over the first eight multi-system electrics to Czech railways (ČD) in November. 193 289 is in use. Last week we brought images of 193 290-293 on their way to Hungary. Last week we documented 193 294 and 295 on maiden run and one machine without specific designation. As all these machine are white and many have the DE/AT/HU/PL/CZ/SK/RO package which is the Vectron standard configuration that fits best. – MR
MAV-Start: Since 2013, the Hungarian state railways applies a specially design wrapping on one of its 480 series electrics, dedicated to a person important to the country's history. This year, 480 003 was selected to get a 'history' make-over. Check the images here.
Railpool: Locomotive 186 298 recently got LTE logos. – SO
Railpool: After being tested in the Netherlands in June, Railpool 186 299 and 300 were taken back to Germany ending up in Kassel in the end. Since then, both machines got a delivery date: 16.05.2017 and 18.05.2017. 186 300 has left Kassel, and is expected to enter service soon. The machines are unique in the fleet of Railpool, being the only ones with CZ/DE/AT/BE/NL/SK/HU package. – CK
Railpool: Locomotion has returned three TRAXX MS2e locomotives to Railpool. Many of you saw the 186 287, 288 and 290 parked at Innsbruck last week. All three machines, brand new back then, were on hire to Lokomotion since 2012. 186 287 had blue Lokomotion striping. 186 288 and 290 had no operator specific stickers. – CT/SJ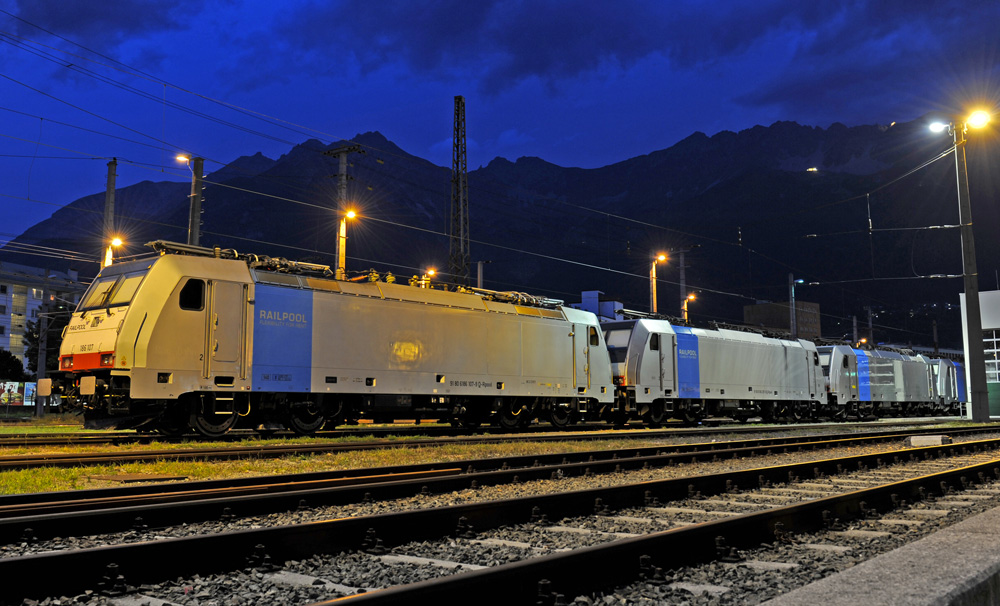 Railpool: BLS Cargo 186 107 has lost its BLS Cargo stickers and was seen seen parked together with 186 287, 288 and 290 at Innsbruck. The 107 was used by BLS Cargo in 2015 and did not have the mountainscape stickers, as applied on many locomotives of the 186 101-110 batch. – CT/SJ
Softronic: The red painted locomotive "91 53 0480 015-3" has changed operator, from AWT to MMV from Hungary. The AWT stickers are gone, white MMV logos have been applied instead.
PIMK Rail: You maybe know Siemens has built only two 'medium' power Vectrons until now. Only one is sold to a rail operator; the designated 192 962. PIMK Rail from Plovdiv in Bulgary acquired the machine in April 2016. But the machine got new numbers recently; it is now the designated 91 52 1380 962-6 BG-PIMK. On its fronts, the machine has short numbers: "80 962". – DM