In 2014 Transport Scotland choose Serco to run its Caledonian Sleeper services. These train services connect Glasgow, Edinburgh, Aberdeen, Inverness and Fort William with London. In April 2015 Serco, known from operating the Ghan and Indian Pacific trains in Australia for example, took over from ScotRail (FirstGroup). Serco promised to raise the bar regarding service and quality and decided to order new coaches from CAF.
The new coaches will be leased from Beacon Rail. Service and maintenance will be done by Alstom. GB Railfreight will be Serco's partner for traction (using re-engineered Class 73/9 diesel locos and Class 92 electrics) and train drivers. In April 2018, the new coaches should enter revenue earning service.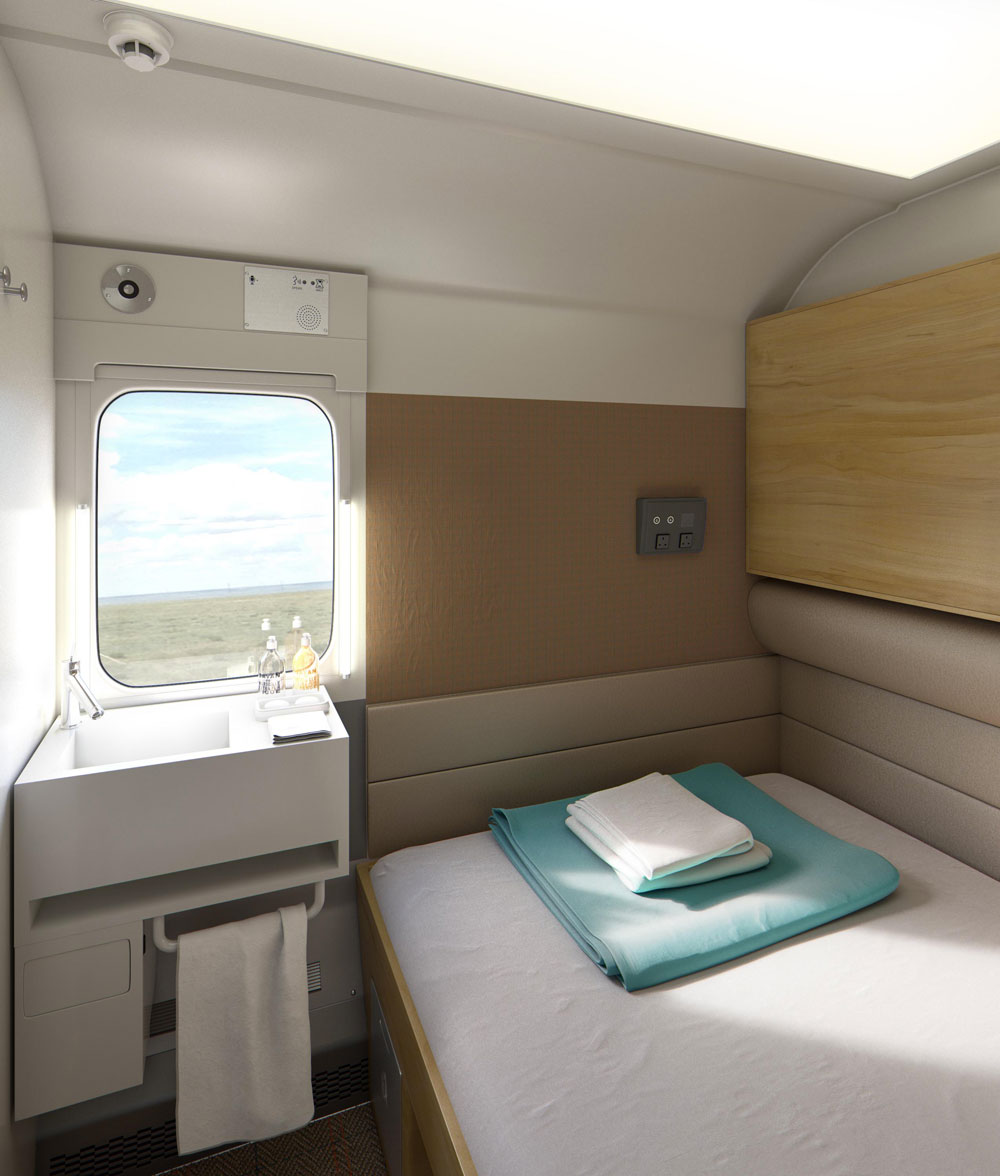 Contract signing
On 10.02.2015, Serco and CAF signed the contract for the new trains. The deal has a value of 150 million pound, of which 60 million comes from a capital grant from Scottish Ministers. In total 75 coaches will be delivered, which form four trains of 16. 11 more will be available as spare coaches.  Ian Smith is the responsible designer for the interior of the trains.
Interior design preview
While CAF was building the Mk5 class coaches in its factory in Beasain, Spain, a mock-up was erected in Edinborough to give a preview of the interiors to be installed, and to be able to test the concept chosen on a 1:1 scale. The images in this article show the mock-up interior as it was presented on 30.06.2016.
Scotland's Transport Minister Humza Yousaf MSP got an exclusive preview that day of the new train design, including the double room accommodation, a first in the UK. Some compartments will feature en-suite toilets and showers. Doors will be opened with a hotel style key card entry system. Panels will be available for phone and gadget charging and ofcourse there will be wifi. The Lounge Cars, used for dining,  will have more seating options and a social space.
Not only does Serco, and the Scottish government, want a service that enhances rail travel, all think it will encourage more tourists to come to visit Scotland.