As of December 2019, a new generation of passenger trains will take over services on the St. Gallen – Lucerne route in Switzerland. We are talking about new FLIRT trainsets for the Voralpen-Express, operated by the Schweizerische Südostbahn (SOB). 11 sets will be built, an order with a volume of 170 million Swiss francs.

After winning the international invitation to tender, Stadler was awarded the contract to supply the replacement vehicles for the Voralpen-Express. The older vehicles, some of which have been in service for 40 years, will be replaced with the 11 new FLIRTs when the new timetable is introduced in 2019/2020.
Hans Altherr, Chairman of the SOB Board of Directors:
"After the Federal Government and the cantons decided to replace the rolling stock in 2014, the signing of the contract today represents a further milestone. We set the bar very high with around 1500 different requirements for the new vehicles, which were specifically aimed at meeting the needs of our passengers. But we are confident that, in cooperation with our local partner, we will be able to put this new generation of high-quality vehicles into operation on schedule."
Peter Spuhler, CEO Stadler Rail:
"We are absolutely delighted to be given the opportunity to build the new trains for the popular St. Gallen–Lucerne route. Contributing to the success of the Voralpen-Express is something of which we are very proud. The new trains will offer passengers on this wonderful route even higher levels of comfort and a much more enjoyable travel experience."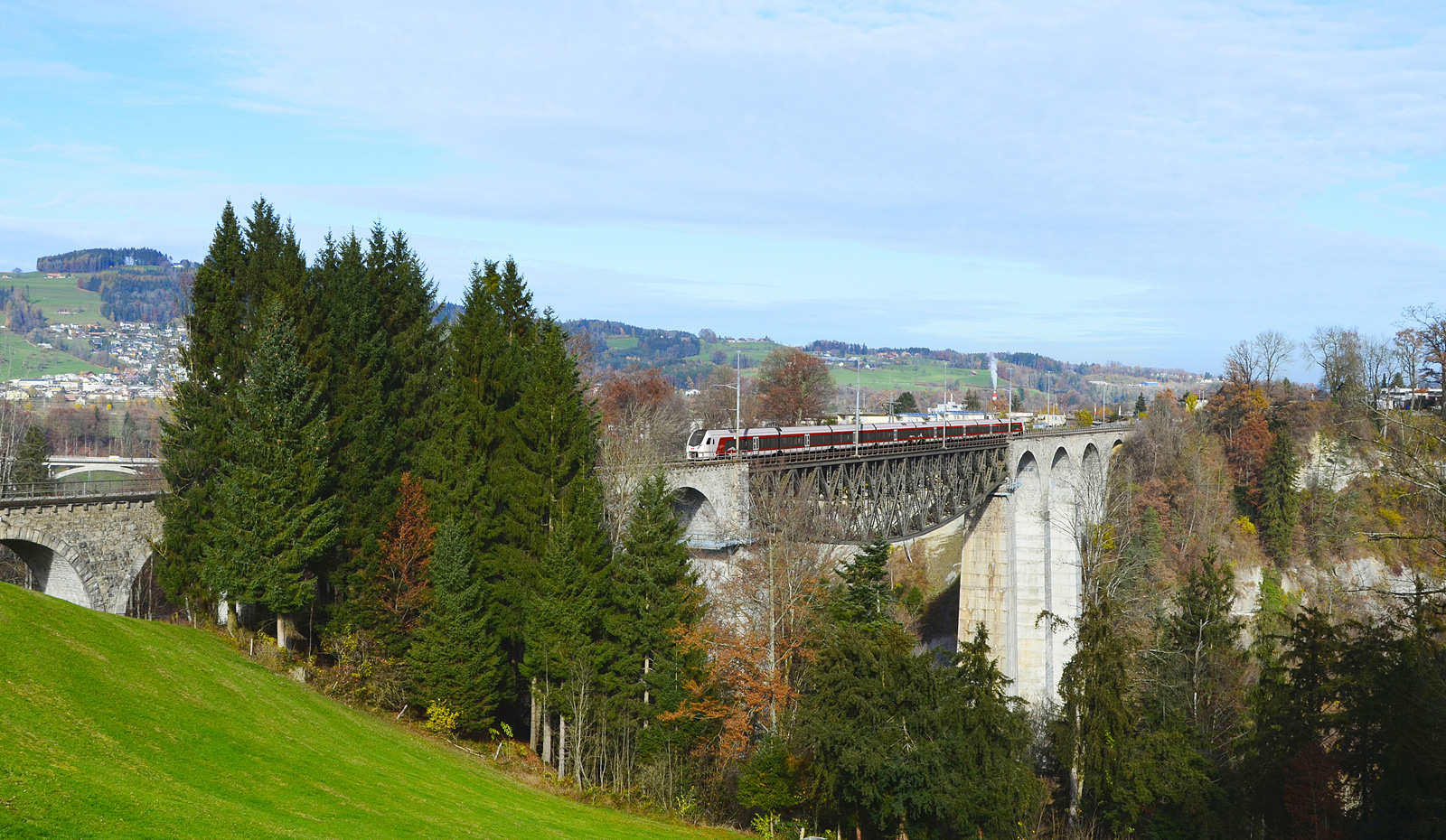 Configuration
The 11 FLIRTs include six 8-carriage and five 4-carriage new-generation multiple-unit trains. Their high-quality interior has been designed to meet the requirements of the different passenger groups: commuters can find space in which to work in peace and quiet, tourists and weekend travellers can enjoy the fantastic views from the panoramic windows, skiers and cyclists can store their equipment and have something to eat and drink in the catering zones, and families can sit together in the specially designed family area.
The 8-carriage trains have 361 seats, 70 of which are in first class. There are 198 seats available in the 4-carriage trains, with 23 seats in first class. All seats have power sockets available for passengers to use. The trains have a maximum operating speed of 160 km/h.
Remarkable is the new exterior design of the trains, that have a different cabin design compared to the FLIRT3, which is the standard product at this moment.