advertisement

---
1116 229 has done it again. The locomotive has appeared in a brand new outfit in black. It's called 'Taurus signature 22' by Austrian artist Gottfried Bechtold.

Railcolor News thanks Gabriel Landa (@bilder_bahn) for sharing his nice picture.
It has been two years since we saw 1116 229 last change its outfit. From the summer colors it sported previously, we are shifting to timeless black and a simple 'Taurus signature 22' manuscript on the sides of the bodyshell. No big ÖBB logos, no extra noise, it is as plain as it could be: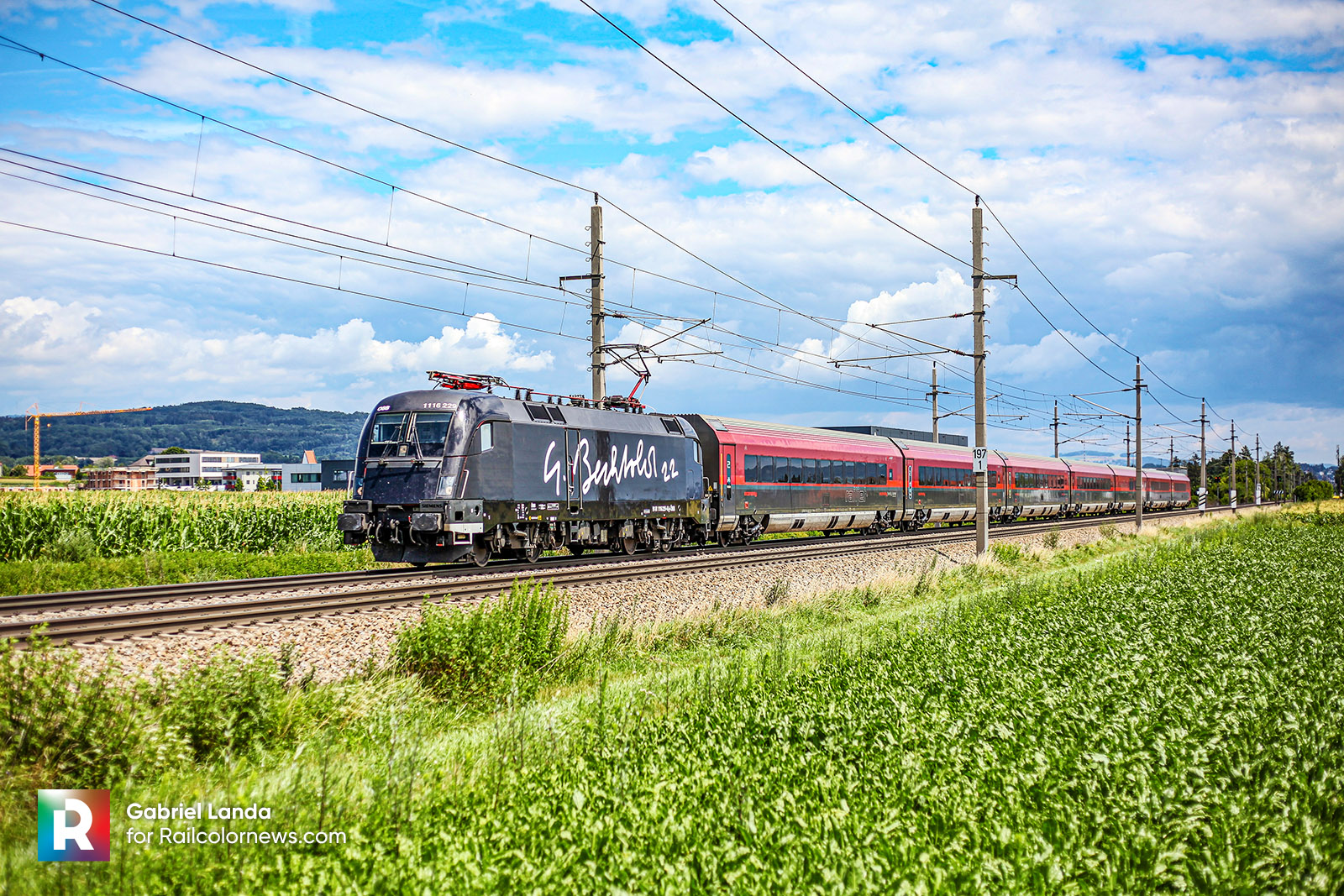 The black Taurus was caught on the move this weekend near Hörsching (AT) with Rj 640, bound to Salzburg.
About 'Taurus-Signatur 22'

The locomotive is in fact promoting a special project by Gottfried Bechtold, a well-known Austrian artist, who is known, for example for its concrete sculpture of a Porsche 911 a.k.a. 'Betonporsche'. The 'Taurus Signatur 22' exhibition is presented by Austria's Provincial Capital of Bregenz where the artist is from. It is the continuation and conclusion of his signature projects and consists of three parts:
The Taurus locomotive (seen in this article);
An art-in-architecture work on the façade of the Boss-Haus on Sparkassenplatz;
An accompanying exhibition in Magazin4, including a documentary, workshops, and discussions.
19 July will mark the start of the trilogy with an official christening of the Taurus loco at Bregenz railway station.
About 1116 229
EVN-number: 91 81 1116 229-6 A-ÖBB;
Year built: 2004;
Factory number: 20950;
Previous liveries: ÖBB red, RailJet, "Steinbach".
Initially delivered to ÖBB in plain red back in 2004, this locomotive has been sporting RailJet's special livery (and driving these trains) since 2010. This means that the "Steinbach" livery was the third design for the locomotive.
[AT] Werbelok alert: Fancy a pool party? ÖBB's 1116 229 does