This is not an ordinary article as these are not ordinary times. Although Railcolor News and its team strive to report objectively on modern railways in Europe, we believe that we must start with a short op-ed introduction.
March 2022. We are living in unprecedented times when it comes to the values of freedom and democracy as these concepts are being put into question, and their defense is being undermined by long-forgotten acts of evil that were never to be repeated on European soil. Right now, our reactions to this ongoing aggression are paramount for the immediate future of our modern civilization.
The potential failure of standing up to this tragedy might haunt us for years to come. This is why we must act any way we can. There are already multiple examples of impressive initiatives of empathy throughout the world, and railway transportation is no stranger in that sense. In this article, Railcolor News highlights a special humanitarian & evacuation train that had its first relief mission for Ukraine organized by RegioJet and Člověk v tísni (People-In-Need), among many others.
The information for this article comes via Alliance of Passenger Rail New Entrants (Allrail), a European non-profit association of independent passenger rail companies. Petr Kadeřávek provided the pictures.
There is war, and there is humanity. Let's focus on the latter. While Ukraine is being ripped apart by Russia, EU passenger rail operators of all types have acted fast to offer free transport across Europe to Ukrainian citizens fleeing the Russian aggressors: Leo Express, DSB, WESTbahn, SNCF, MTRX, PKP Intercity, Go-Ahead, ÖBB, Transdev Deutschland, NS, RegioJet, DB, FlixTrain, ČD and more. The list is extensive.
The privately-owned passenger rail operator RegioJet has partnered with Ukrainian Railways, Člověk v tísni, ČD Cargo & Rail Cargo Group to provide a daily humanitarian night train land bridge between Prague and Kyiv. The first service took place during the night of 1st March. The initiative addresses Ukraine's appeal for aid to Kyiv all the way from Prague, Czechia.
About the Humanitarian night train land bridge
The special train carries up to 600 pallets of food to Kyiv and offers 400 beds for women & child evacuees from Ukraine in RegioJet's night train rolling stock. At the Polish-Ukrainian border station Przemyśl, the train exchanges humanitarian goods and passengers with a UZ train. This is what it looks like: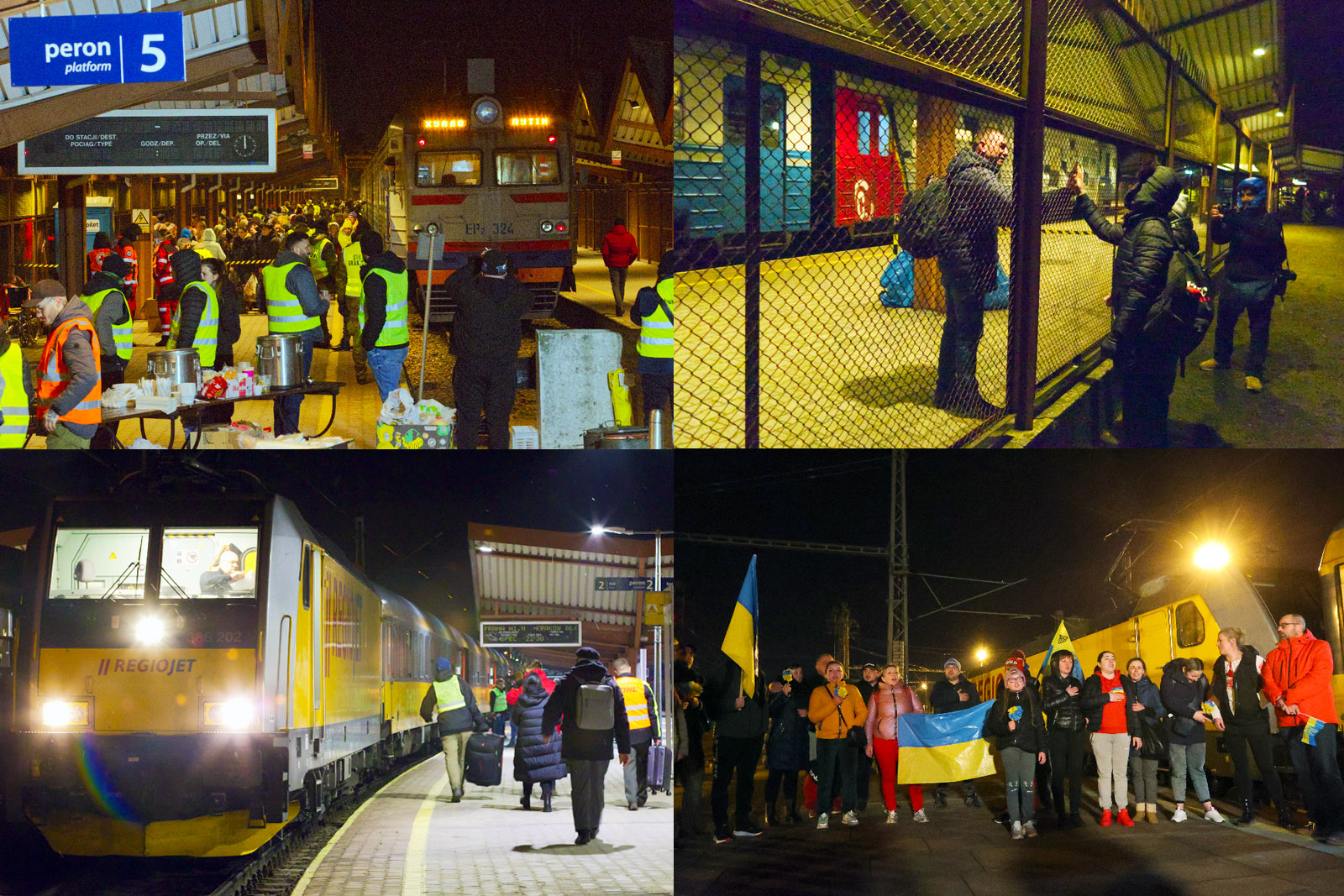 The special train leaves Prague Central Station at 20:25 local time each day and stops at several major cities in the Czech Republic (e.g., Pardubice) and Poland (e.g., Krakow). It then reaches the Polish/Ukrainian border from where goods are being forwarded towards Lviv and inside Ukraine. The next day, the train returns, departing from Przemyśl at about 21:00, and once again stops at the same major cities in Poland and the Czechia on the way back to Prague.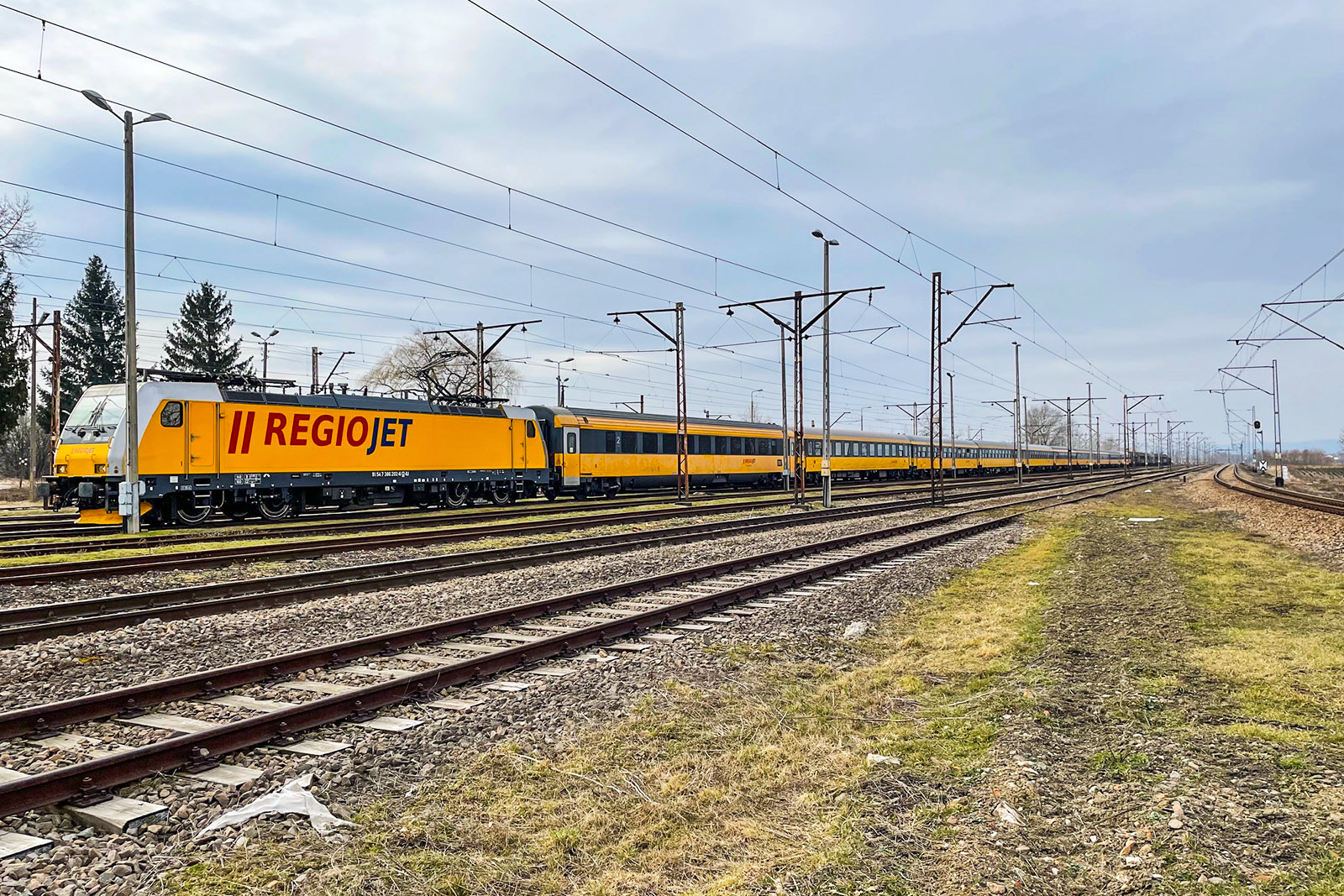 The first service featured ten of RegioJet's passenger coaches for refugees (above) and ten fully-loaded rail freight vehicles full of humanitarian aid for Kyiv (below).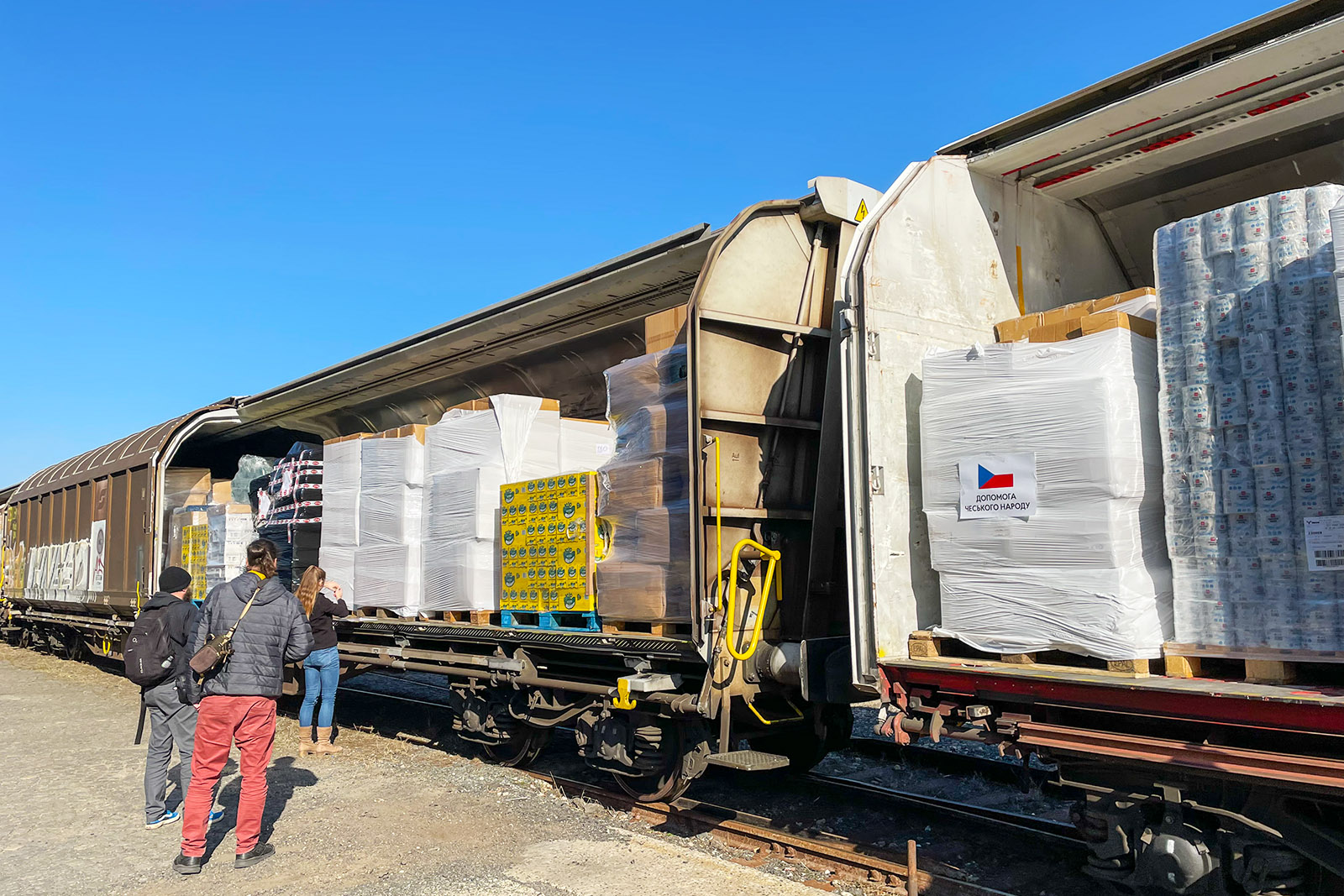 Note that the 1435 mm-gauge humanitarian train does not enter Ukrainian territory, with goods and passengers being exchanged on broad gauge (1520 mm) trains of Ukrzaliznytsia (UZ) in Przemyśl.
---
Railcolor News removes all Russian, Belarus-focused articles as a sign of solidarity with Ukraine.
While multiple economic sanctions have kicked in fast and air travel on a world scale was very fast to react to the situation, it is remarkable that rail is lagging. Russian Railways or Belarusian Railways have not yet been thrown out from their memberships in multiple worldwide associations. We have decided to remove all stories focusing on railway projects in Russia and Belarus to express our continued support for Ukraine.