For years now, Lokomotion and Rail Traction Company (RTC) have been well-known for its varied fleet of "zebra" Vectrons. Yesterday, the companies officially revealed the new livery of 193 774, celebrating their 20 years of a successful freight operation, combined with their Italian-German model for protecting the climate.
Locomotion and RTC are celebrating an important milestone. Exactly twenty years ago, on 15.10.2021, their first freight train left the Munich Riem station for Verona. Today, 10–15 roundtrip trains run on the Verona-Munich line on a daily basis.

Vectron 193 774 was selected to become the anniversary symbol with a train running on nearly the same day as 20 years before. The ultimate goal: to call attention to the contribution of rail freight transport to climate protection.
"Together with our partners, we move about 800 heavy vehicles from the road to the railway every day, thereby saving more than 160,000 tonnes of CO2 on the Brenner axis each year." – Armin Riedl, CEO and founder of Lokomotion Gesellschaft für Schienentraktion
On 14.10.2021 Max Diehm caught the re-liveried 193 774 on its 1st trip from Munich East to Verona together, with 193 773 in Borghetto Sull'Adige (IT):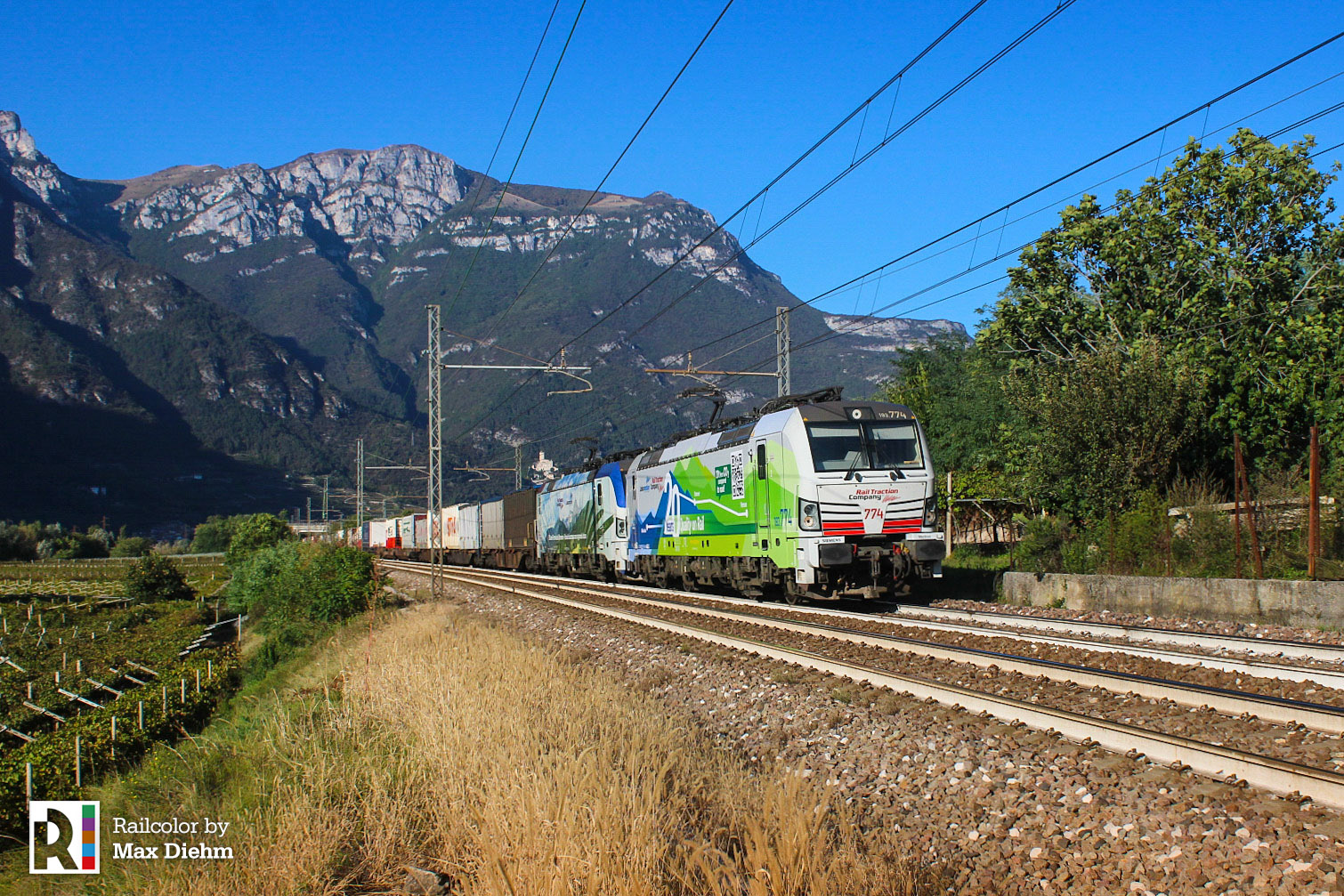 Equity between Road vs. Rail

But there is also an urgent call for a change of policies when it comes to infrastructure maintenance. According to Martin Ausserdorfer, Managing Director of Rail Traction Company (RTC), competitive conditions with respect to the road network need to become finally equitable. Besides new important infrastructure projects, but also precise, preventive maintenance on the existing line and, especially, better coordination among the parties involved on the Brenner axis is being sought by RTC.
Train drivers wanted
The two companies are also addressing the lack of qualified personnel by aiming at long-lasting solutions. To address this issue, a training center for engine drivers has been set up in Verona and Munich – a costly, long-term solution, that focuses on on giving young people a new perspective through training.
About Lokomotion and RTC
Lokomotion GmbH was founded in 2000. Today it is a rail freight transport company, specializing in transport across the Alps. Thirty percent of Lokomotion GmbH shares are held by DB Cargo AG, 20% by STR AG, 20% by Kombiverkehr GmbH & Co., and Rail Traction Company SpA holds 30%.
Rail Traction Company (RTC) is a railway traction company controlled by Autostrade del Brenner SpA, providing national and international freight transport. Founded in February 2000 following the deregulation of rail transport in Italy and Europe, it was the first private rail company to offer freight train service on the Brenner axis.
---
Vectron 193 773, also seen in the picture above is another Anniversary locomotive from the Zebra fleet. Find out more about it by visiting the article below:
[EU] New livery: Lokomotion 193 773 "150 years Brennereisenbahn"