Some locomotives scream out loud about who is their operator through their livery. Others not so much – and they prefer to stay in disguise. So it was with the Alstom / Bombardier TRAXX MS3 locomotive that appeared at the very beginning of September in Austria.
If you have a look at the picture, it is really hard to guess who runs this train. Only true experts can say that the Innofreight wagons in Austria are used for timber hauled from Czechia for processing. Well, now you have a clue. The operator is the Austrian branch of ČD Cargo – ČD Cargo Niederlassung Wien. No branding is visible though. While the ZSSK Cargo Vectron is subleased, the locomotive at the front, with remains of TX Logistik logos, is one of the TRAXX MS3 prototypes used in various countries for testing. Yet both locomotives hauled loaded and empty timber train to Austria and back together.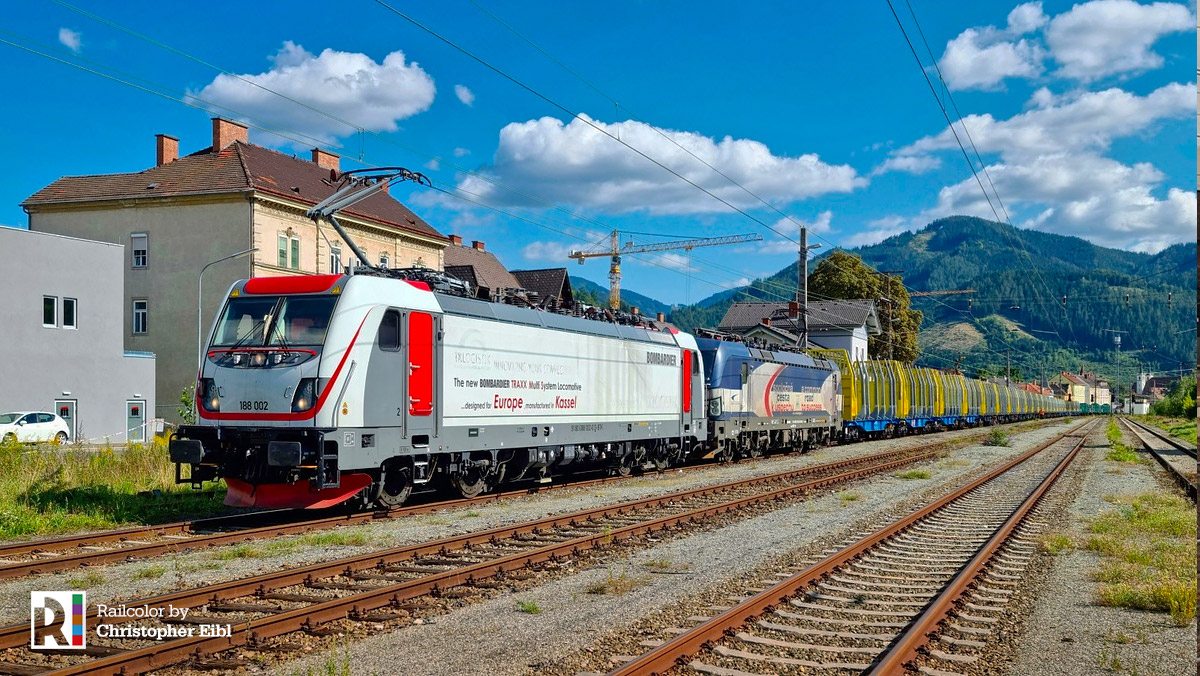 Apart from using Vectrons electrics from its mother company, CD Cargo Niederlassung Wien frequently leases locomotives, including Vectrons from ZSSK Cargo, or the famous double-flag, Railpool-leased 187 344.
188 002 was released from Alstom's Kassel factory on 27.08.2021, so surely the Alstom engineers have been working on the locomotive. ČD Cargo has similar locomotives on order and plans to deploy them internationally. Regarding the long awaited authorizatio of the MS3, steps are being made. Compatibility tests with a Vectron might just be another piece of this puzzle.