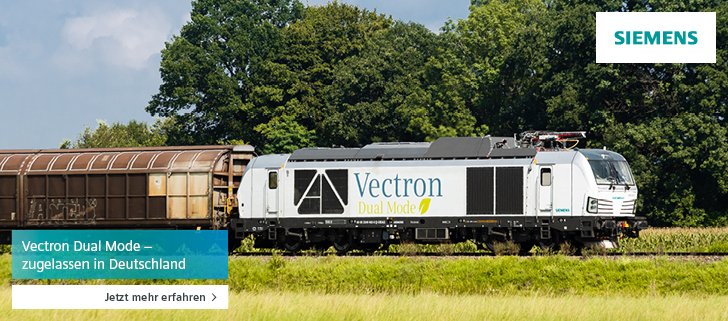 At Railcolor News, we have been introducing our Expert readers to Siemens' Mireo Plus H hydrogen concept since 2018 (but also recently here and here). Now, this design is set to serve a concrete purpose: Deutsche Bahn (DB)'s plan to become climate-neutral by 2050.
H2goesRail is the name of the joint project that Siemens Mobility and DB will be developing in pursuit of "a completely new overall system consisting of a newly developed train and a newly designed filling station". The start of the project, which involves testing of both vehicles (Mireo Plus H) and a specially developed infrastructure was officially given today.
The infographic below explains how hydrogen propulsion will be achieved in the following stages:
Eco power > Electrolysis > Rapid refueling > Test runs > Maintenance. We pay a visit to each of these stages in our article.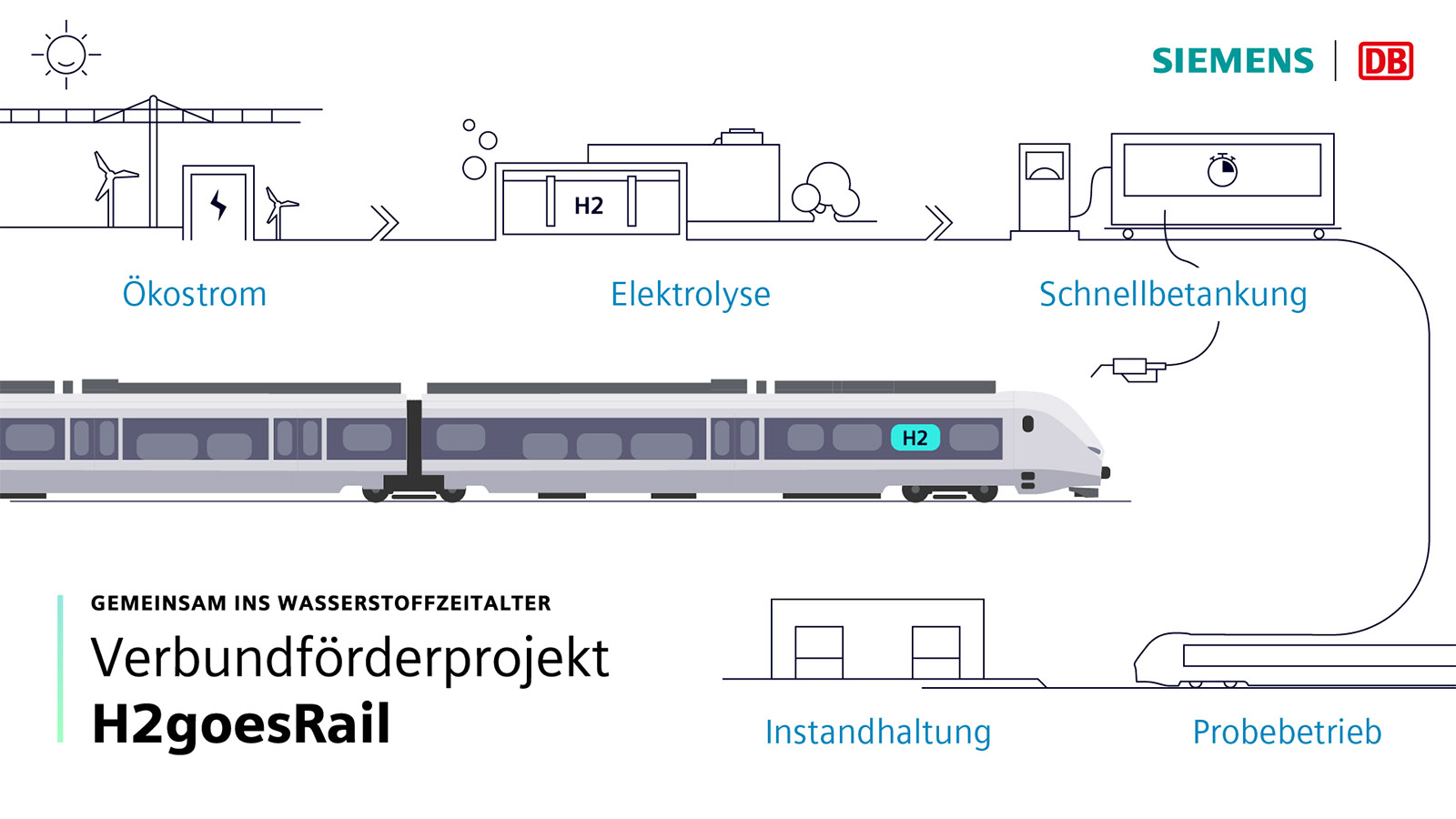 An ambitious goal
In a nutshell, the newly developed system intends to replace diesel-powered trainsets operating on regional routes and further reduce CO2 emissions:
 "This project proves that Deutsche Bahn is not just a mobility company, but a technology group as well. We need to bring our fossil fuel consumption down to zero. Only then can DB be climate-neutral by 2050. By that point, we won't have a single diesel- powered train operating in our fleet." – Prof. Sabina Jeschke, DB Board Member for Digitalization and Technology
There are two important facts regarding the current status of diesel propulsion need to be taken into consideration to understand why hydrogen might be a good solution to DB's ambitious plan of becoming carbon-neutral:
The total number of diesel-powered trains in regional service is 1,300;
The electrification of the DB network is at 40% – out of a total length of 33,000 km.
It all starts with tests
Siemens and DB state that a one-year, 120,000 km trial operation is set to begin in 2024 between Tübingen, Horb, and Pforzheim. in Baden-Württemberg.
The route has been specially selected to fit the required timetable intervals and topography. The trainset of choice is the Mireo Plus H from Siemens which will be replacing a diesel railcar. It is expected that its deployment will contribute to saving about 330 tons of CO2.
"(…) Whether powered by overhead line electricity or hydrogen – the decisive factor is that the energy comes from renewable sources. The country likes to be a pioneer for modern, sustainable rail transport. It is an essential part of the transition in transport" – Winfried Hermann, Minister of Transport, Baden-Württemberg
The Mireo Plus H
The appearance of Siemens' Mireo Plus H has already been given attention at Railcolor News. Now, for the first time, a concrete project involving its deployment emerges.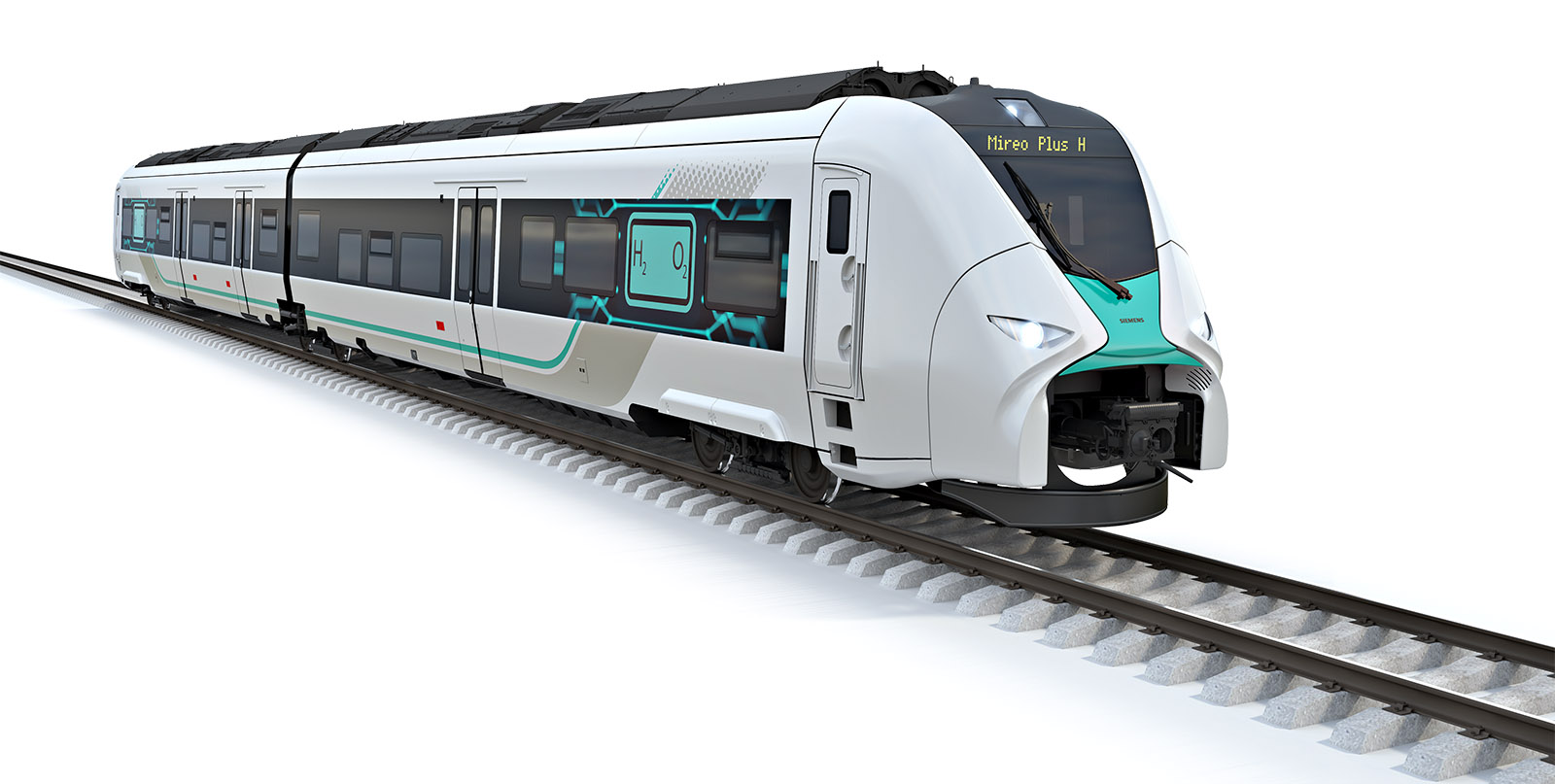 The prototype that Siemens Mobility will build is based on the Mireo Plus regional train. These are its specifications:
Consist: 2-car;
Operating range: 600 km (1,000 km for a 3-car variant);
Propulsion: fuel cell and a lithium-ion battery;
Top speed: 160 km/h;
Power output: 1.7 MW;
Acceleration:  1.1 m/s².
Infrastructure development
Mobile structure
The hydrogen will be produced at the DB Regio plant in Tübingen. In the so-called 'electrolyzer', water is split into hydrogen and oxygen by means of electricity. After compression, the fuel is then stored in a mobile storage unit. Prior to refueling, hydrogen is processed and cooled in an adjacent tank trailer.
Rapid refueling
Deutsche Bahn's "DB Energie" division is already developing a new type of fueling station, capable of refueling a hydrogen train in 15 minutes or at the same time as a diesel-powered train – a first, according to DB and Siemens.
Service infrastructure
In cooperation with Siemens. the DB Regio workshop in Ulm is to be converted for the maintenance of hydrogen-powered Mireo Plus H trains.
Funding
The funding for the project will be secured by Germany's Federal Ministry of Transport and Digital Infrastructure (BMVI) through the National Innovation Programme Hydrogen and Fuel Cell Technology (NIP 2). NIP 2 is coordinated by the National Organisation Hydrogen and Fuel Cell Technology (NOW) GmbH and implemented by the Project Management Organisation Jülich.
For further insights and information about Ballard's role in the development of the fuel cell traction system for the Mireo, see our Expert article below:
[DE / Expert] Ballard and Siemens develop fuel cell traction system for the Mireo [updated]