Subtle yet impactful, this is how we can describe the new looks of iLint 654 101, that recently arrived in Austria for tests.
This article was originally published on 28.08.2020 – and updated on 11.09.2020 (video added) and 30.11.2020. Railcolor News thanks Dominik Pauli for submitting his beautiful pictures.
Update 30.11.2020
Today iLint 654 101 left Austria behind ÖBB Vectron 1293 186. The red-white stickers were gone.
Update 11.09.2020
ÖBB has gone official about the project, stating that from 12.09.2020 to 26.11.2020 it will be testing the iLint on regular passenger services on the Aspangbahn, as well as on the route between Neustadt and Puchberg or Gutenstein – representing secondary lines that are not intended for electrification.
The operator also reminds us that so far, these hydrogen trains have mainly been used on flat routes in Northern Germany and the Netherlands. In contrast, the trials in Lower Austria represent a geographically more demanding exercise. According to ÖBB, during the trial operation, around 60 tonnes of CO₂ could be saved.
Today, the colorful iLint, which Railcolor News featured some weeks ago, was officially presented at Vienna's central station. To mark the occasion, ÖBB has also compiled some nice videos that present it:
And if the video above is not enough for you, there is an alternative one, as seen below:
Curious fact #1: As seen in the image below, there are more additions to its exterior in the form of company logos that are supporting the project. These are the ones of Verbund (Austrian electricity company), Shift2Rail, the Austrian Institute of Technology (AIT), and Hydrogen Center Austria (Hy Centa). The scientific expertise shall allow for a thorough examination of the future research and development needs of the project.
Unterstützt werden wir vom Klima- und Energiefonds und @verbund, welche den verwendeten Wasserstoff grün zertifizieren. Wissenschaftliche Partner – @shift2rail_ju, @aittomorrow2day & #HyCentA – kümmern sich um die wissenschaftliche Analyse der Technologie. ? #Wasserstoffzug pic.twitter.com/EOTk03bEw2

— ÖBB (@unsereOEBB) September 11, 2020
Curious fact #2: A mobile hydrogen filling station was also built on ÖBB premises in Wiener Neustadt during the test phase – meaning that, in addition to passenger operation, ÖBB is also testing a complete system including vehicle maintenance and hydrogen supply.
Our original article from 28.08.2020: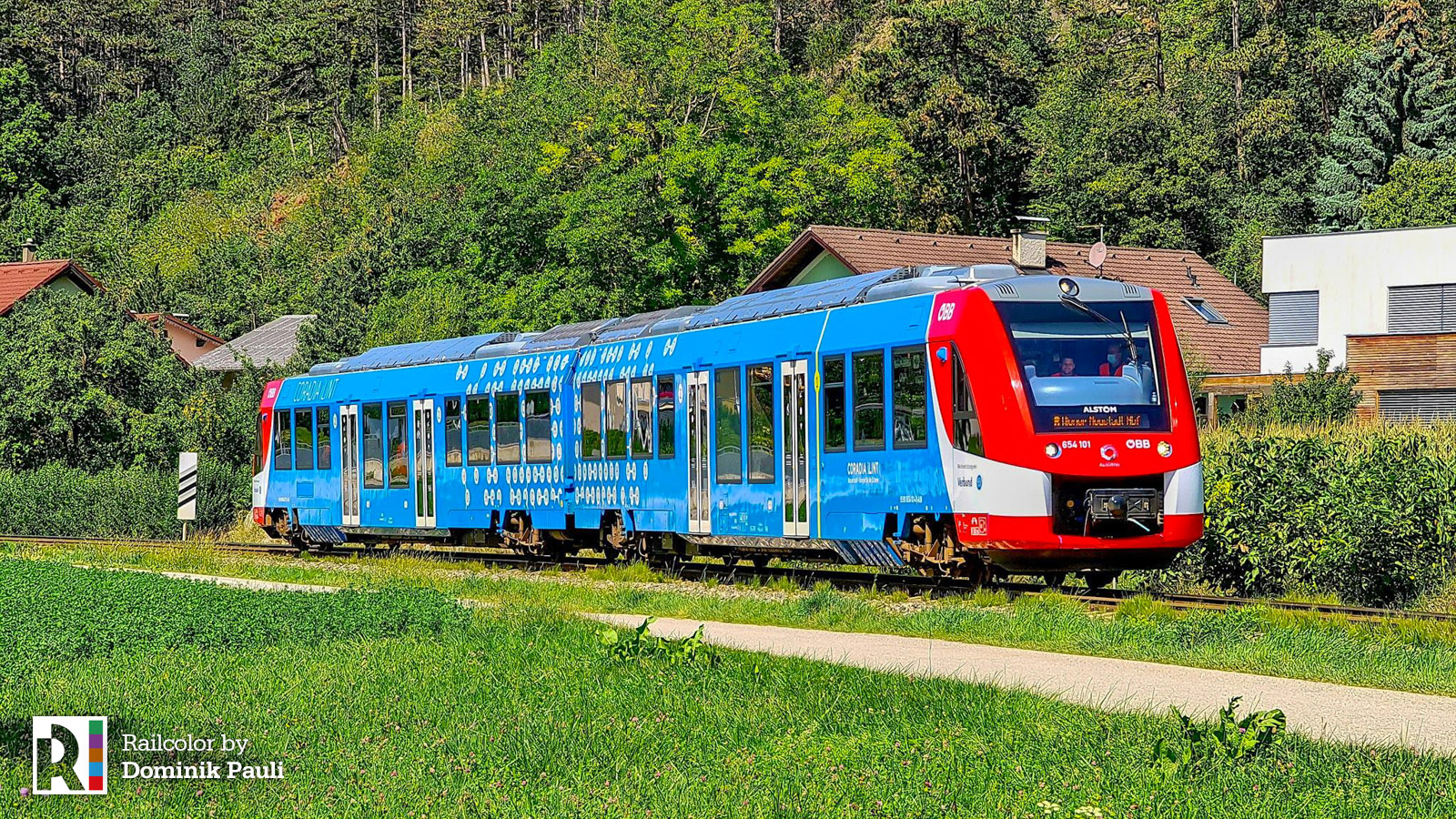 With a clear reference to the Austrian national flag in red and white, Alstom's iLint 654 101 got a partial redesign. Its cabs are sure to catch passenger's attention now.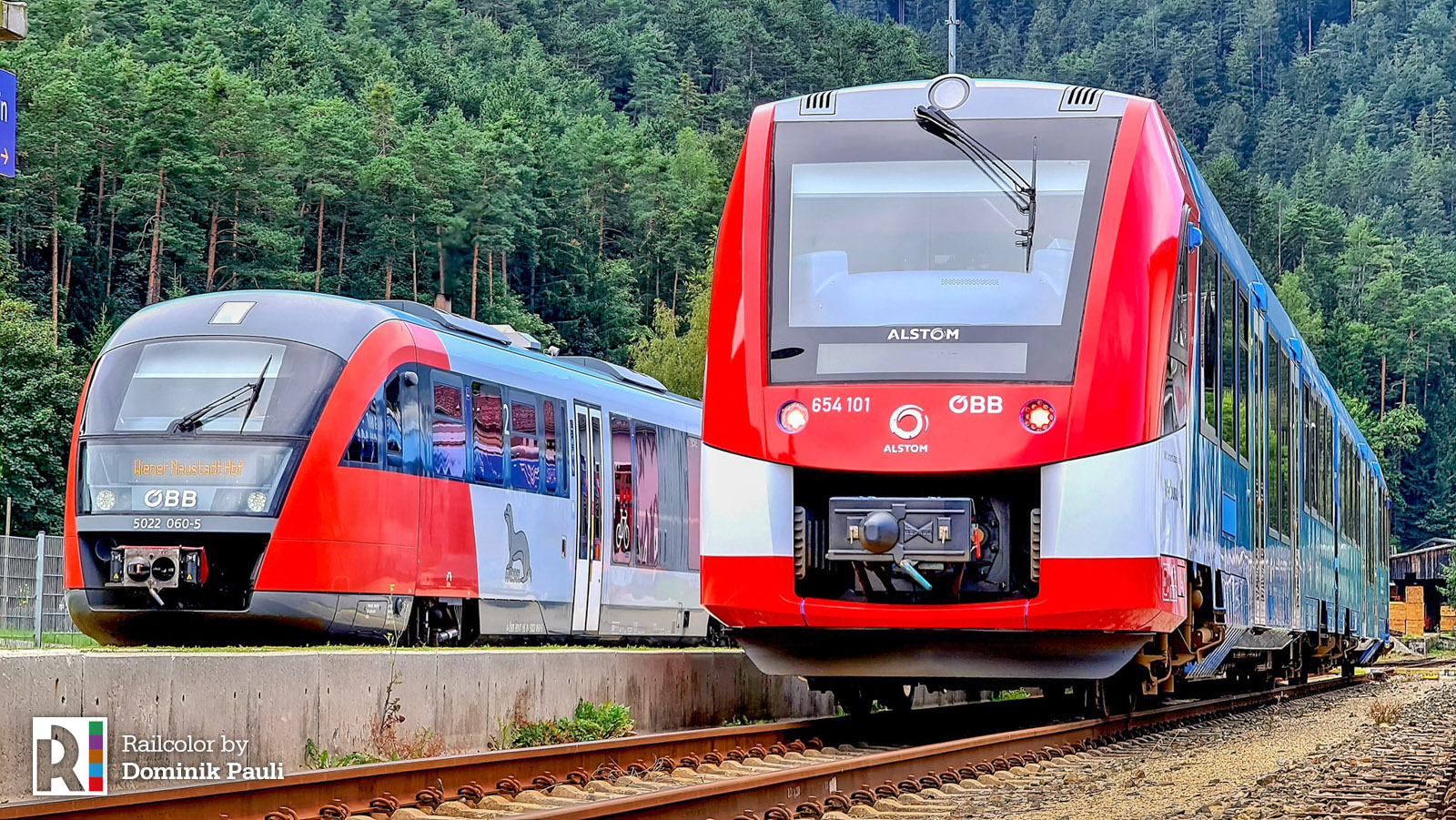 On 26.08.2020 the hydrogen multiple unit (HMU) was seen running on the Gutensteiner railway between Wiener Neustadt and Gutenstein.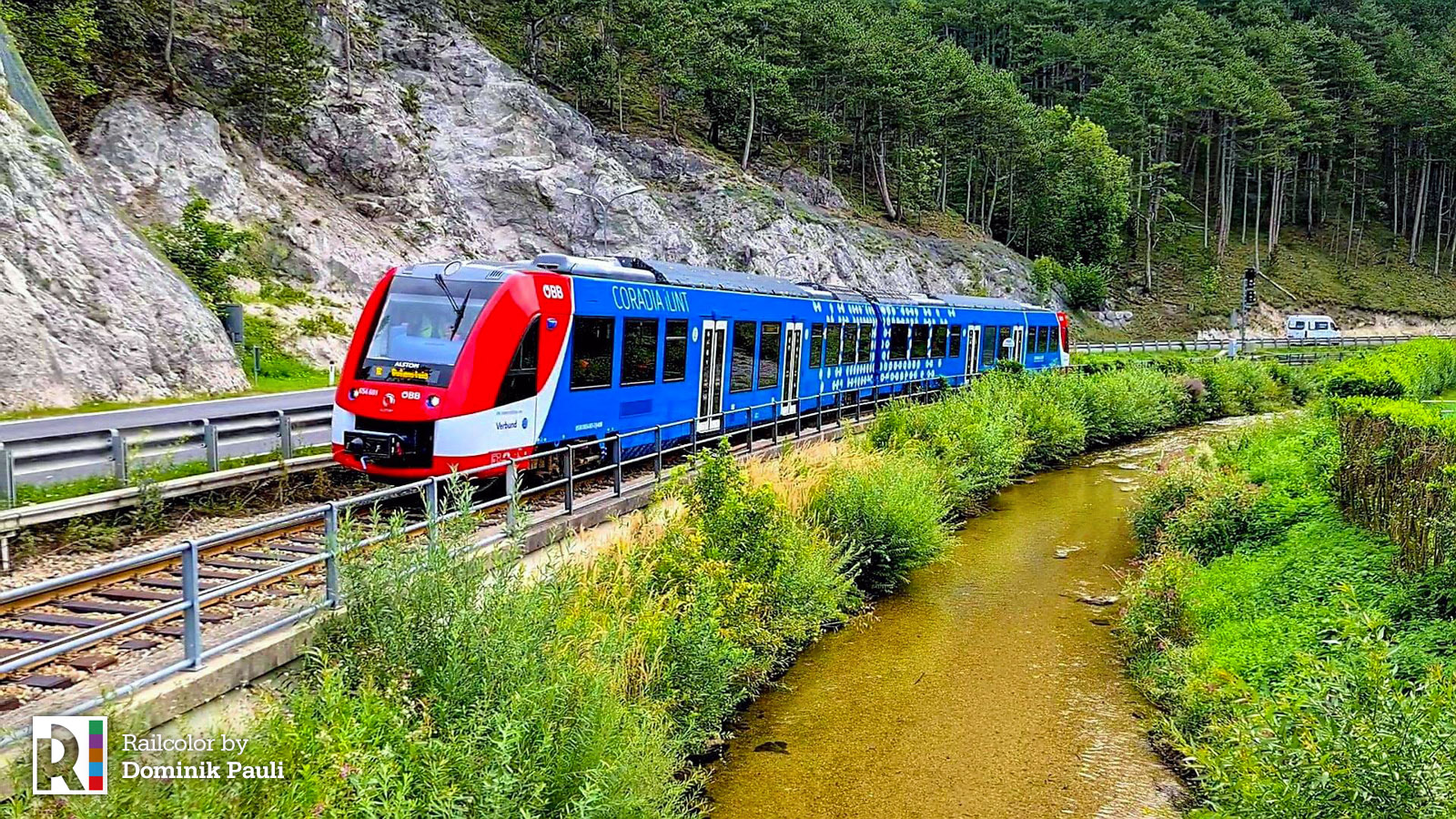 About 654 101
Its livery update is certainly news, but 654 101 has been in the spotlights for quite some time now. Two years ago, this trainset appeared in Germany, during the world premiere of Alstom's Coradia iLint platform. Back then it was wearing the logos of Eisenbahnen und Verkehrsbetriebe Elbe-Weser (EVB).
The NVR numbering of the trainset is, as follows:
D-ALHB 95 80 0 654 101-4;
D-ALHB 95 80 0 654 601-3.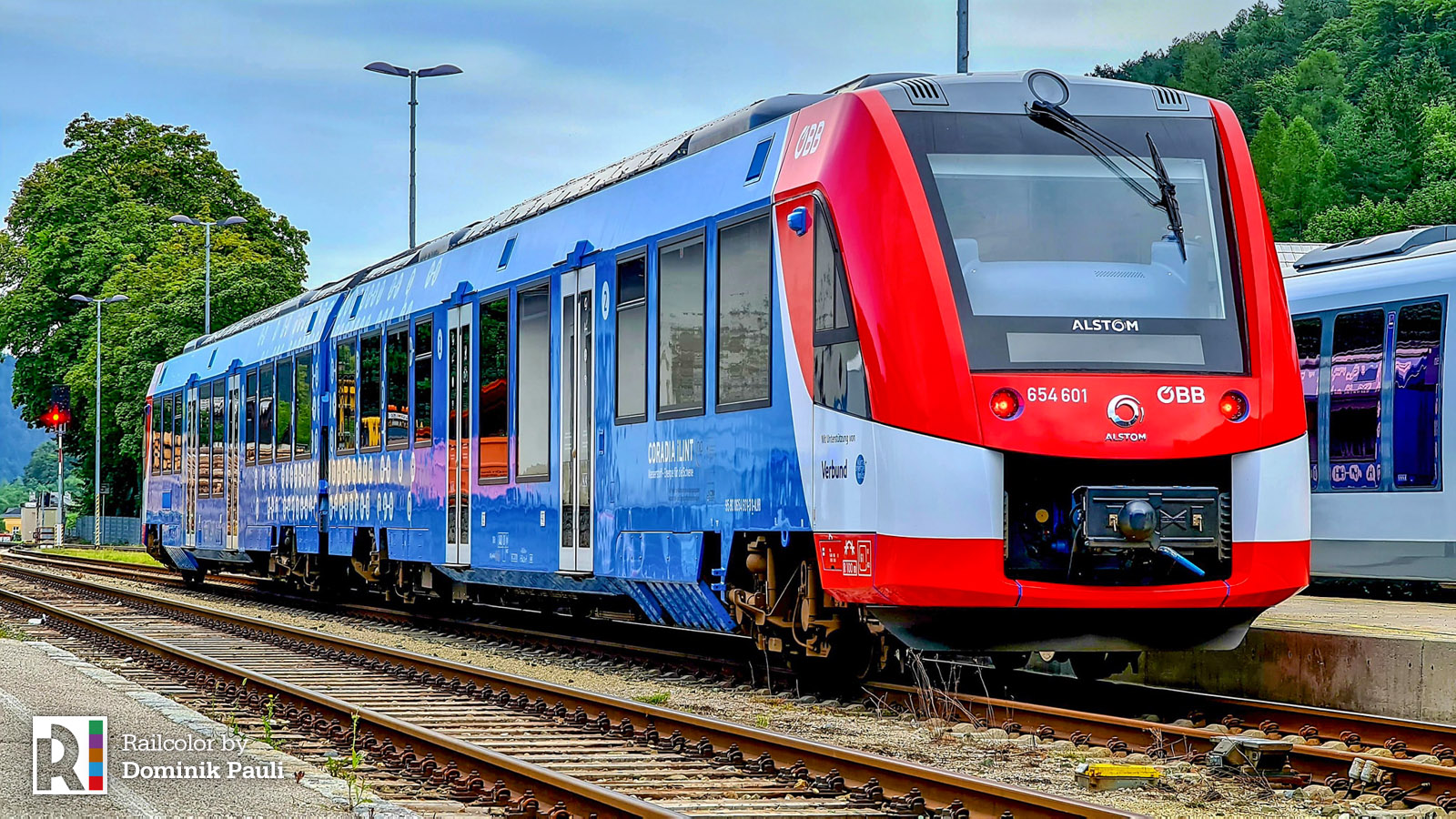 On 04.02.2020 ÖBB signed a contract with Alstom Germany for hiring two HMUs for a period of twelve months. The deal has a value of EUR 1.86 million.
BTW: 654 101 is not the first iLint to come to Austria. Read more about 654 102's appearance in our article below: