A Bombardier Aventra for West Midlands Railway (WMT) is on its way to Czechia, to VUZ Velim for testing.  After our coverage of the CAF-produced Class 196 DMUs, Railcolor now shows you the first Class 730 EMU in a similar orange and purple design.
According to WMT, the British test tracks are very busy, so this new train is being tested abroad to speed up the testing program. And the sooner the tests are complete, the sooner these new trains can enter service.
Class 730 is being built at the Bombardier factory in Derby. The first trains have already been subjected to tests in the UK.
This first train should return to the United Kingdom in October 2020 for further testing, driver training, and eventual introduction into revenue service, initially along Birmingham's Cross-City lines in the west-Midlands.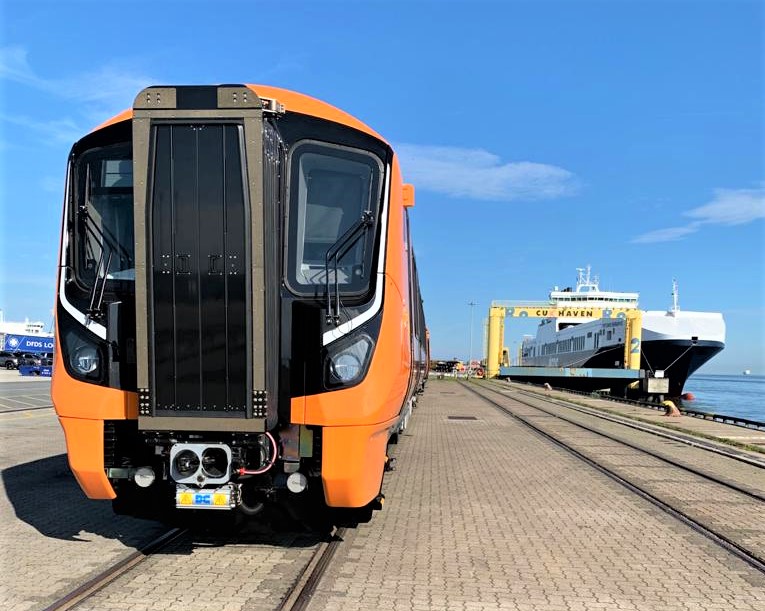 Bombardier Aventra
In 2018, West Midlands Trains ordered 81 Aventra EMUs at Bombardier, financed via Corelink:
36x 3-car Aventra EMUs, capable of running 145 km/h (90 miles/h) for the inner suburban services on Birmingham's Cross-City Line.
45x 5-car Aventra EMUs, capable of running 177 km/h (110 miles/h) for the electrified outer-suburban and longer-distance services on the West Coast Main Line.
Unlike other Bombardier Aventra EMUs, we have seen so far (c2c, Crossrail, or Greater Anglia), the WMT units have frontal gangways.
If you want to freshen up your intel about the WMT franchise, check our overview:
[UK / Expert] Abellio in the UK: A £3 billion new trains overview – Part 3 West Midlands Trains