Railfreight operator GB Railfreight, and its partner, leasing company Porterbrook, have unveiled a Class 66 locomotive sporting a special livery dedicated to the National Health Service of the United Kingdom.
This article was originally published on 24.07.2020, and updated on 30.04.2020 (new information added).
Update 30.04.2020
No UK railway vehicle is complete without its metallic nameplate and a worthy name written on it. GB Railfreight chose the one of Captain Tom Moore, a former British Army officer who is known for his amazing efforts to raise money (GBP 29 000 000) for charity for the NHS during the Covid-19 pandemic. Given Captain Moore's inspirational story, GB Railfreight decided to name the locomotive after him: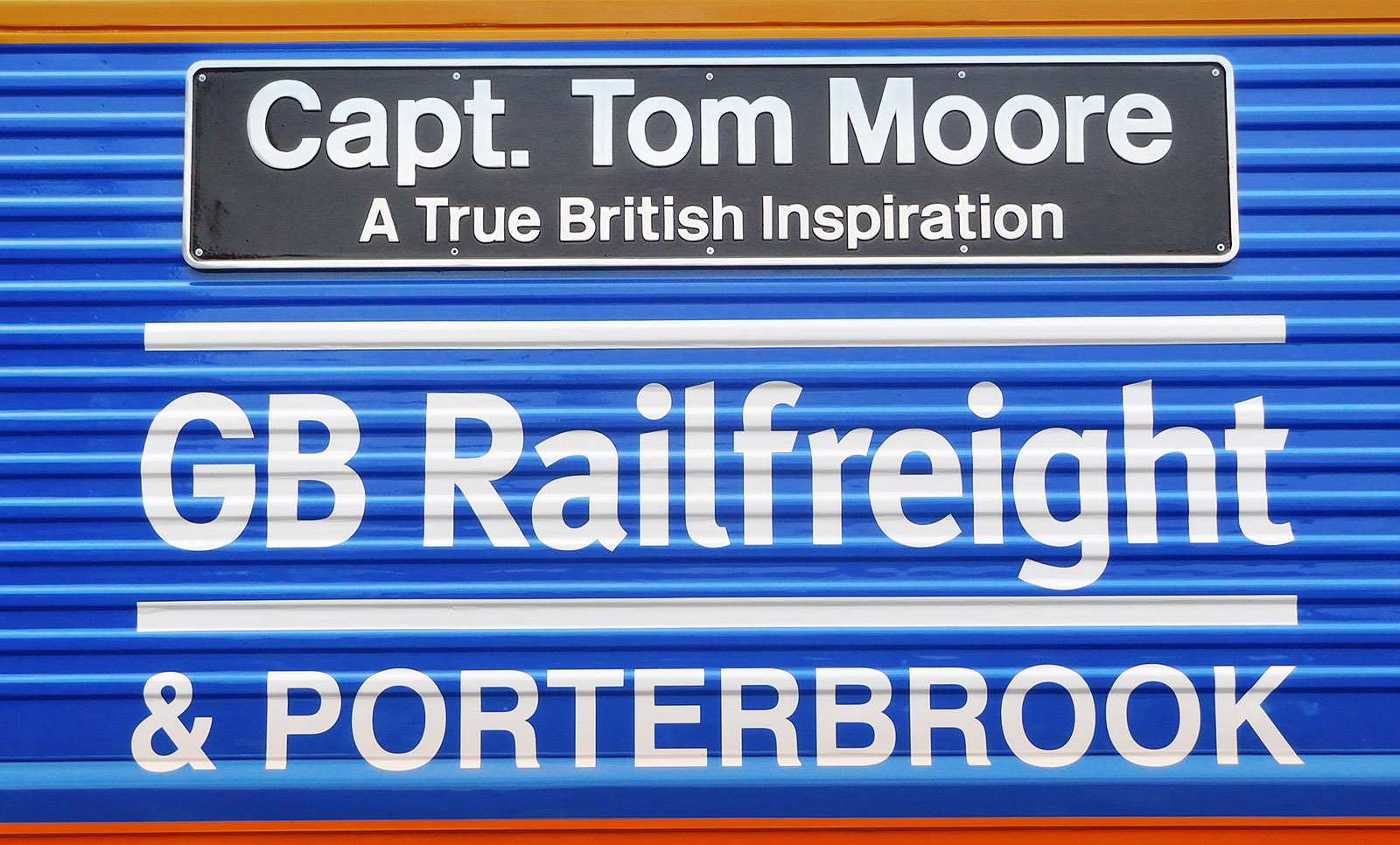 The subtitle of the nameplate reads "True British Inspiration". The video below shows the manufacturing process of the nameplates – made by Procast Foundry. Curiously, one of them was kindly donated by Neil Booth, Director of Railwayana Auctions UK, as a thank you for Captain Moore's amazing efforts.
With a short time scale to produce the nameplates for today's locomotive naming
@captaintommoore We had to speed things up a bit during production. @GBRailfreight @PorterbrookRail pic.twitter.com/XqCaFhdT5D

— Procast Foundry Ltd (@PROCASTFOUNDRY) April 30, 2020
GB Railfreight informs that the naming ceremony took place to coincide with Captain Moore's 100th birthday (30 April). And this is what 66 731 it looks like now: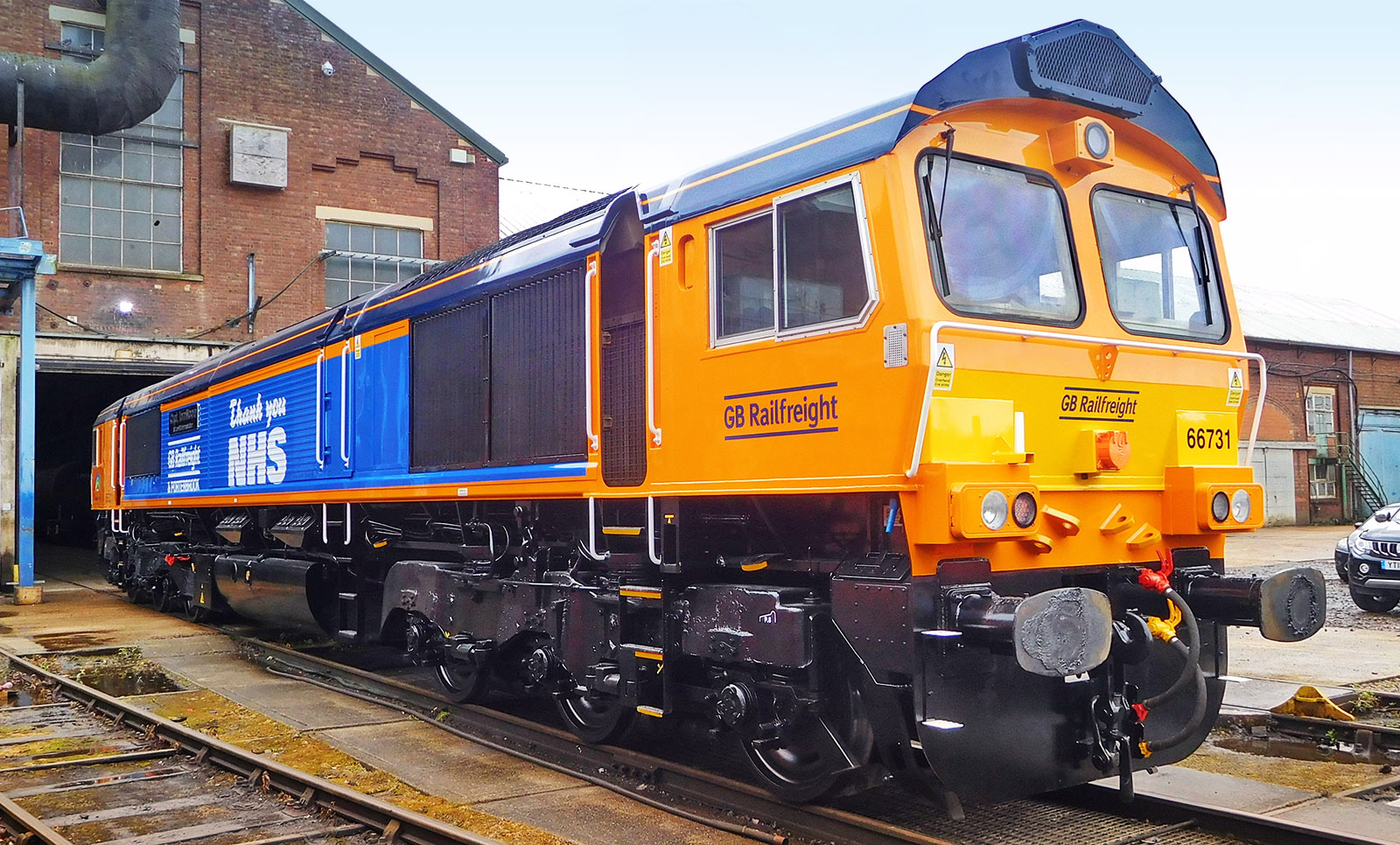 Our original article from 24.07.2020 begins here:
According to GB Railfreight, the special presentation was part of the weekly celebrations, thanking frontline workers in the UK's health and social care sectors. The fresh repaint was co-funded by UK leasing company Porterbrook and its client GB Railfreight, while the process itself was carried out by Arlington Fleet Services, Eastleigh.
"The unveiling of this locomotive is our way of saying thanks for all you are doing. We are inspired by you and wanted to say thank you in the usual GBRf way, by painting one of our regular Class 66 which will be traveling the lengths and breadths of the country to keep our economy moving during the ongoing COVID-19 crisis. Now it will also carry our message of thanks to all our carers." – Mary Grant, Porterbrook CEO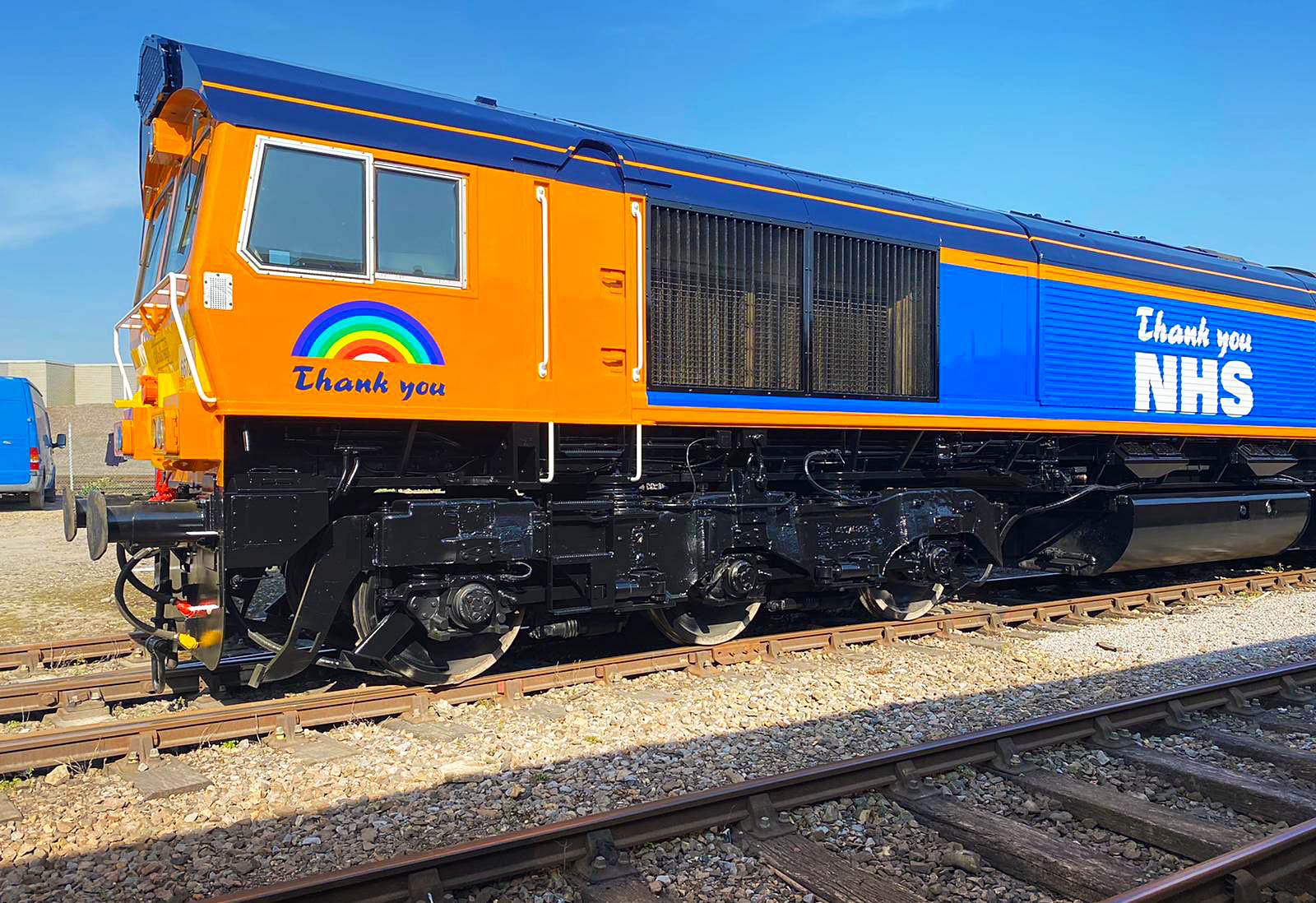 "Thank you to all NHS staff and carers across the country for the hard work you have been doing to keep us safe. Across the UK you are seeing week in, week out, an outpouring of love and affection of our frontline staff and we are taking a minute today to say our thanks on behalf of GB Railfreight and the rail industry – John Smith, Managing Director of GB Railfreight
About the design

The livery has an orange base and features two-tone blue elements on the locomotive's roof. A colorful rainbow visual element says "Thank you" on the cab's sides, while a more prominent "Thank you, NHS" message has been positioned on the body's middle sides. Finally, both GB Railfreight's and Porterbook's logos are also present on the locomotive's sides, contributing to a visual balance.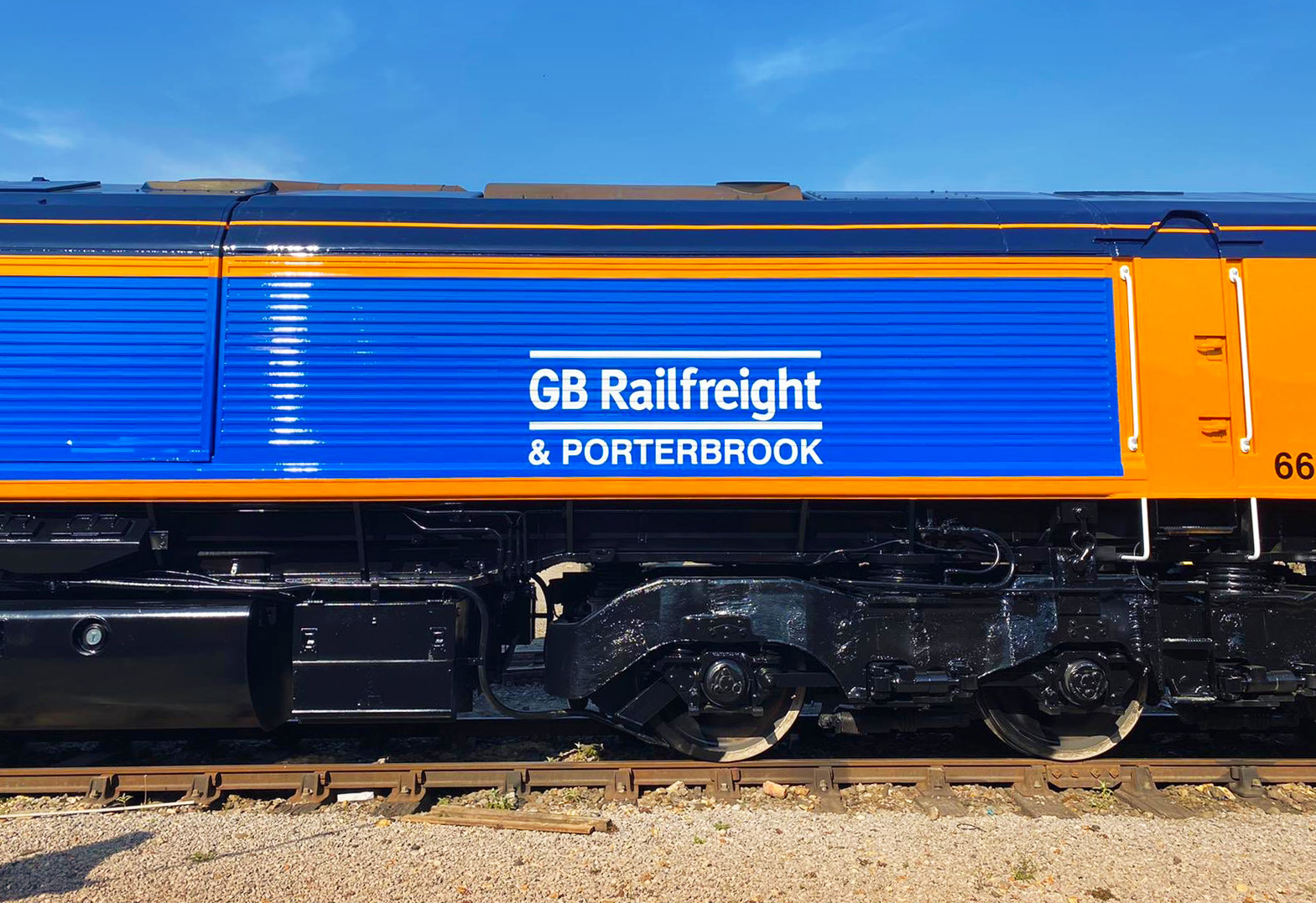 About Porterbook > GB Railfreight '66731'
Built by North-American EMD, the locomotive was delivered to Porterbook Leasing Company back in 2008. Previously, it was sporting the name "InterhubGB". This is the information about it which we have on record:
Type: JT42CWR-T1;
Works number: 20068902-004;
Year built: 2008.
GB Railfreight and Covid-19
GB Railfreight highlights that it is playing its part in supporting the UK's Covid-19 response by helping to keep essential services running across the country. The operator's services are playing a vital role in ensuring the continuation of supplies and trains are running from ports such as London Gateway, Southampton, Felixstowe, and Teesport to distribution centers across the country. These flows are ensuring that warehouses remain stocked, and supermarkets, as well as other essential retailers, remain supplied.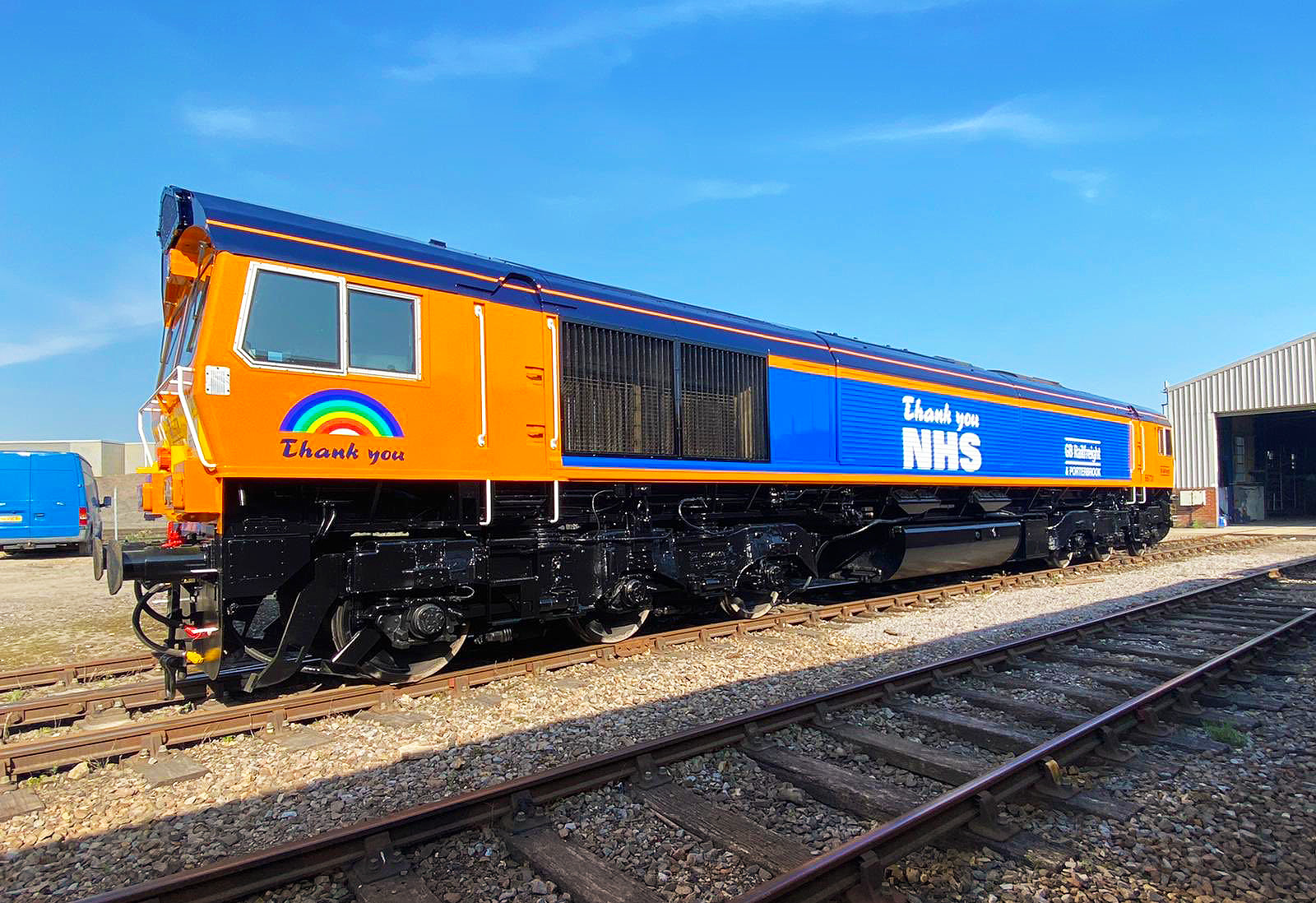 A special timing
The event took place at 20:00, which is when millions of people across the UK step outside their front doors to thank the frontline workers who are putting their lives on the line to save countless others across our hospital and care homes. As seen in the video below, GBRf staff joined in with the clapping as the newly decorated locomotive was unveiled to express their gratitude to all those working to keep us safe during the ongoing Covid-19 pandemic.
Video
In partnership with @PorterbrookRail, we've decided to mark the fifth weekly #clapforkeyworkers by unveiling a specially repainted locomotive to thank frontline workers in our health and social care sector.

➡ https://t.co/NeK07rRQ2L#NHSHeroes #StayHome pic.twitter.com/JcnDqCHpz6

— GB Railfreight (@GBRailfreight) April 23, 2020