VR Transpoint has successfully introduced a 6,000 tons freight train on its network. Horsepower for this task? Two class Sr3 locomotives, better known as the VR Vectrons.
On 30.03.2020, the combined power of 12,8 MW, generated by two VR Vectron locomotives, was available to pull a record freight on the Finish rail network: A 66-car, 6,000 tons freight, coming from Russia, arrived at the Finnish border station of Vainikkala and continued to the port of Hamina in the south-east of Finland. Two Sr3 locomotives, the broad-gauge version of Siemens Vectrons, pulled the train. The order for 80 such machines is ongoing by the year 2026, we know about 31 locomotives delivered by now. The total length of the train, including two locomotives, was 830 m.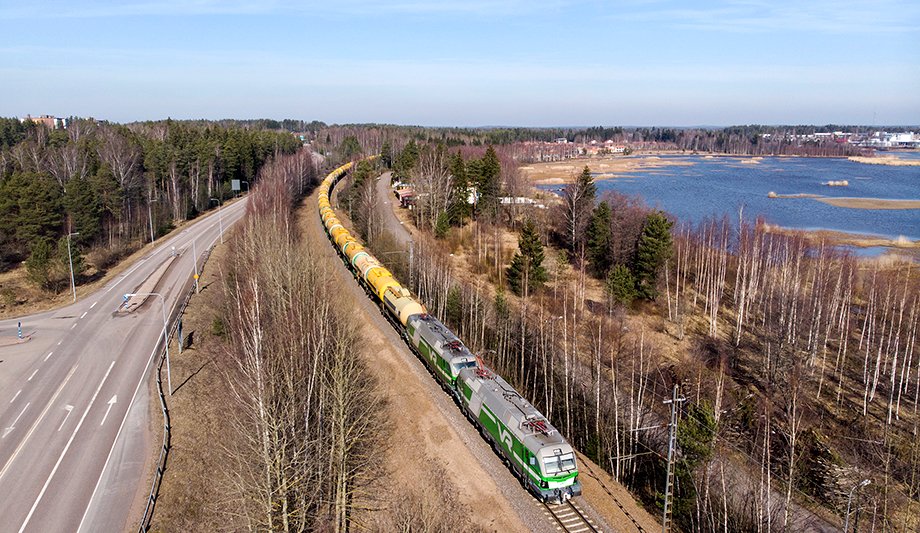 The logic behind the lengthening of trains in this region is more than just the argument of increased efficiency. The border station of Vainikkala is a rail freight entry point to Russia, where very long trains are operated. Back in 2019, Finnish Transport Infrastructure Agency has modernized and lengthened 6 tracks of this station to be able to accommodate trains of 1,100 m length. This enables faster and more efficient handling of trains in the railyard. Longer trains from Russia, many of which supply large volumes of traffic to the southern and western Finnish ports, can now continue their journey on Finnish ground too.
With Vainakkala station improved, the attention has now turned to track capacity and heavier transport (25 tonnes per axle) on the Kouvola – Kotka / Hamina line, which should be launched in the spring of this year.