On 11 February 2020, British PM Boris Johnson gave his green light for the long-discussed and controversial HS2 project. We have looked even further north at the potential HS3 project as well as a fleet that could be operating these new tracks. But first, a little bit of background information about the high-speed lines in the UK:
HS1 is a high-speed rail link from London to the Channel Tunnel which opened in 2007. Siemens-built Eurostar trains operate on this line connecting the UK to mainland Europe. Two years later, in 2009, HS2 Ltd. company was established by the government to examine the potentials of building a new high-speed line that should connect London with the West Midlands. During the year that followed, there was a long-lasting debate about the pro's and con's of this expensive infrastructural project, including discussions about routing, environmental impacts assessments, public consultations, community engagement, and legal challenges.
But, this week, on 11.02.2020 to be more precise, Boris Johnson's cabinet gave the whole project a final green light shortly after Brexit.
HS2 in a nutshell
What will be built is HS2 Phase1 (expected to finish in 2028-2031) from north London to Birmingham, as well as Phase2a that covers a connecting line to Crewe.
Phase2b, further to Manchester, and from Birmingham to Leeds and York, (2035-2040) is to be reviewed again. The Prime Minister himself was critical about the way the project has been managed until now, including the skyrocketing budget over the years.
It is a big project indeed, and complex. It is the first new railway line in the UK, north of London, in over a century, and it will even get its own full-time minister. With an operating speed of 320 km/h (planned), it should reduce the travel time London – Birmingham from the current hour and a half, to only 52 minutes.
Having many critics, HS2 is strongly supported by the passenger, as well as freight operators in the UK. It will not only improve journey times, but also boost the rail capacity in general and create more space on the rest of the network for other passenger and freight trains. HS2 explains all this in the video above.
Will there be an HS3?
With HS2 finally taking shape, a new question arises: what may come next? The HS2 is Y-shaped, but it may turn it into a rather T-shaped high-speed network. The project that could make this happen is known as the Northern Powerhouse Rail or High-Speed North, a.k.a. HS3. It has a west-east direction: From Liverpool to Manchester, Sheffield, Leeds, and Hull. However, it is fully dependent on HS2's last phases to be actually built, thus we might speak of projects that are still around 30-40 years in the future…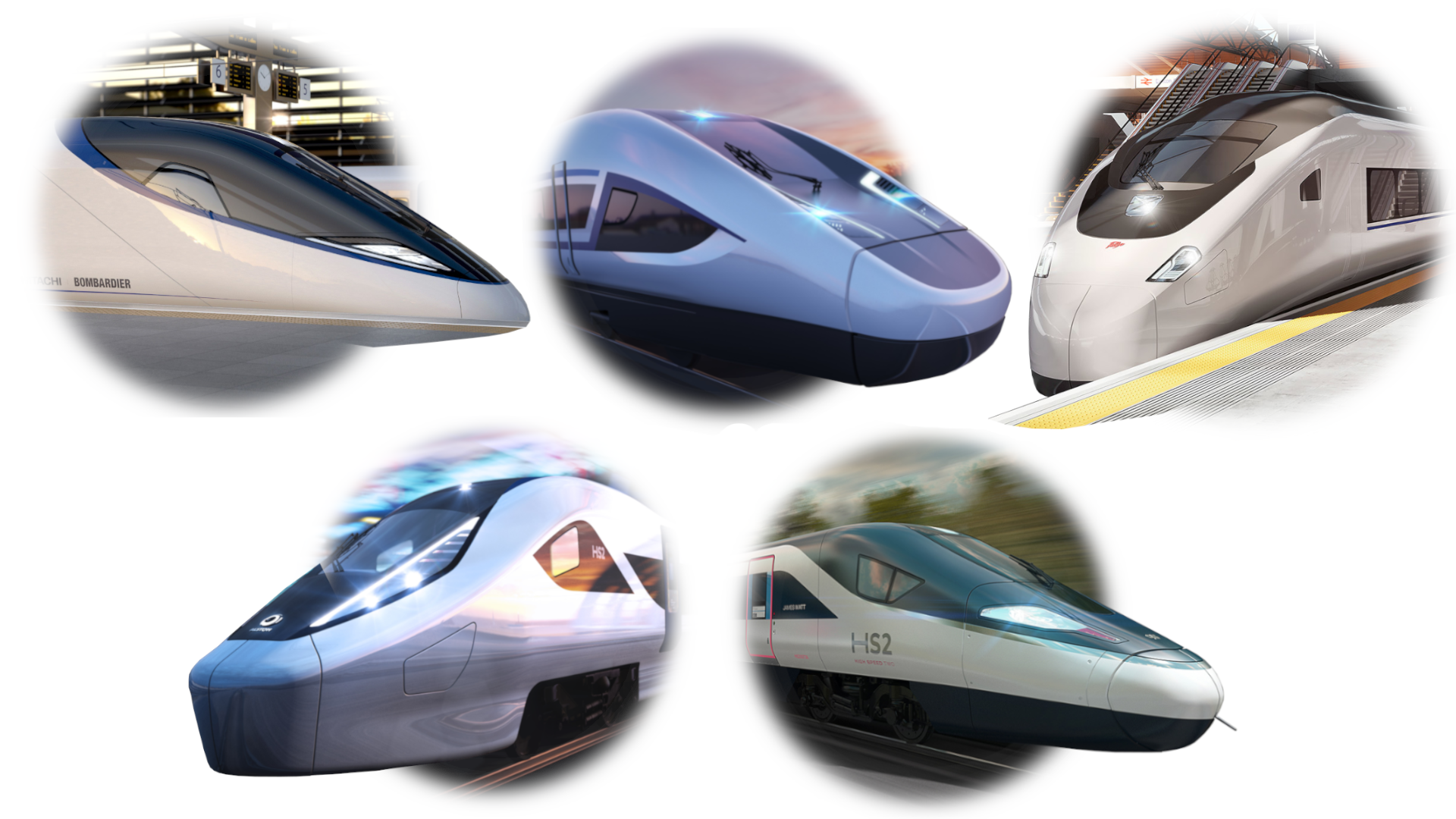 The HS rolling stock – down to 4 players?
Back to the now. Last year, we covered the landscape of potential manufacturers of at least 54 high-speed trains for the HS2 line. This year, we expect to find out who the winner will be.  The Bombardier-Hitachi Rail consortium, Alstom, Siemens, CAF, or Talgo? We listed their propositions for you, so to get more insight, read our 'Clash of the Titans' article from 2017.