Stadler is continuing its winning streak in the USA, in Texas, to be more precise. At the beginning of this year, TEXRail launched its FLIRT DMUs into service. Now, the Dallas Area Rapid Transit (DART) signs a contract for the delivery of FLIRT trainsets for the Cotton Belt Project.

This article was originally published on 03.06.2019 and updated on 08.01.2020 (new information and visuals added).
Update 08.01.2019:
In a press release from 07.01.2020 Stadler announces it will be also responsible for the maintenance of both the FLIRT vehicles and the Equipment Maintenance Facility (EMF) for a period of 15 years.
This marks an important milestone for the Swiss manufacturer as this is the first time it enters the maintenance services sector in the US. The company itself refers to the contract as "the last piece of an overall package to provide turnkey vehicles and maintenance services to DART":
"Stadler is looking forward to this 15-year partnership with DART and will ensure the highest availability from day 1. For the Stadler maintenance division this is a very important milestone, to win this contract in the United States. We see this as an excellent base for future growth in the US." – Jürg Gygax, Executive Vice President Division Service
We have also updated our original post with the latest "Silver Line" livery design that Stadler is now using in its digital impressions of the upcoming DMUs.
Our original article from 03.06.2019:
Today, Stadler announces that a contract has been signed for the delivery of a total of 8 FLIRT DMUs to DART in Texas. The agreement also includes the design of an Equipment Maintenance Facility (EMF) for the Cotton Belt Regional Rail Project. The overall value of the project amounts to EUR 106.49 million approximately, and the new trains are scheduled to enter commercial operation by the end of 2022.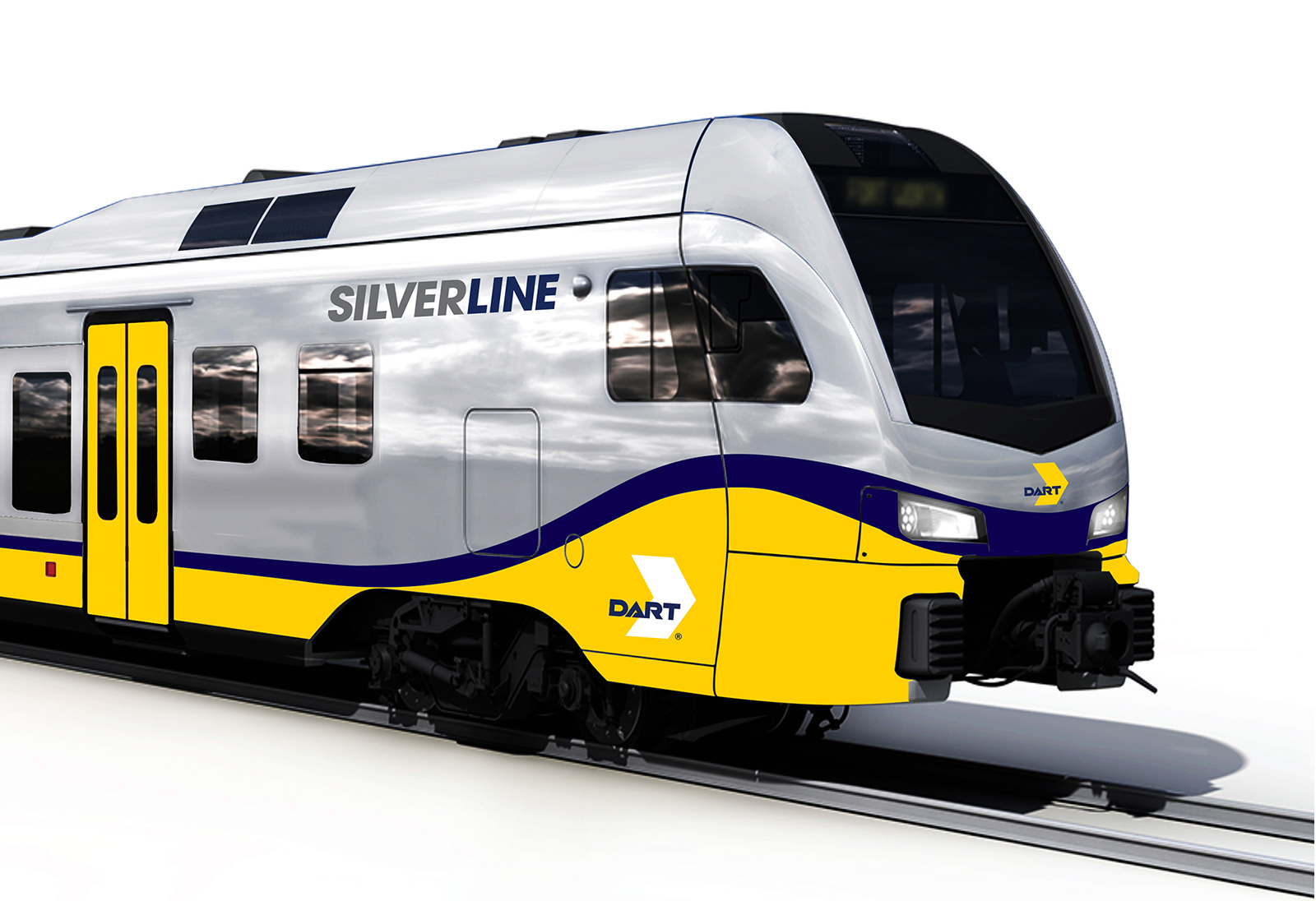 Consist: 4-car, including a power pack in the middle
Length: 81.3 meters
Capacity: 240 seated / 225 standing passengers
The trains will be equipped with an automatic passenger counting system that can also detect amassing of passengers in certain areas of the train as well as blockages of boarding areas. A comprehensive CCTV system will be installed on each train. The DMUs meet both tier 4 EPA emissions norms and FRA Standards.
Fourth Texas contact for Stadler Rail
This is the fourth contract for the Swiss company in Texas to date:
CapMetro in Austin
Denton County Transportation Authority in Lewisville
TEXRail in Fort Worth
Dallas Area Rapid Transit (DART)
This was the initial livery impression of the DMUs (now no longer valid):