The first Coradia Stream EMU for the Dutch railways (NS) has left the Alstom factory in Katowice (PL). NS has labelled this new type of intercity train 'ICNG' or 'InterCity Nieuwe Generatie'. The EMU will be transported to Germany, Austria and the Czech Republic for static and dynamic testing.
This article was first published on 15.02.2019 – updated on 16.02.2019, 04.05.2019 and 06.05.2019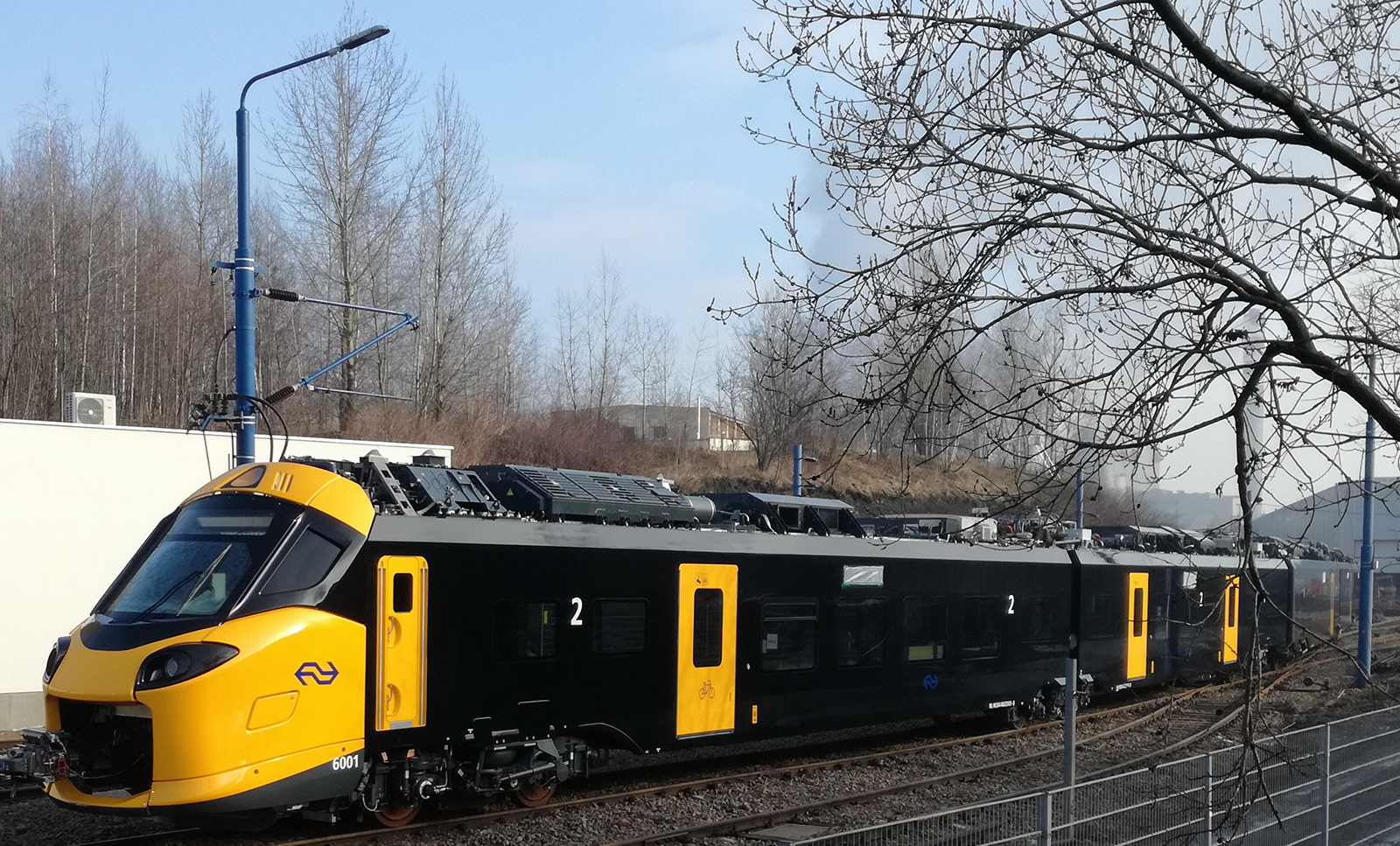 Yellow and black
Remarkable: Unit no. 6001 does not have a complete NS livery. The ICNGs will be all painted black – most yellow and blue will be applied later, using vinyls. Curious is therefore that the set already got 1st/2nd class markings.
The EMU you see in these pictures does not have seats.
2020: first train will arrive in the Netherlands
First stop, Alstom's factory in Salzgitter (DE) where the first technical, static tests will take place. Dynamic testing will take place at the VUZ Velim test circuit in the Czech Republic. In Vienna the train will be subjected to diverse weather tests. These programs will take around one year to complete – Then there is one year left for authorisation and compatibility testing in the Netherlands. First revenue services are scheduled for 2021. 
Update 16.02.2019: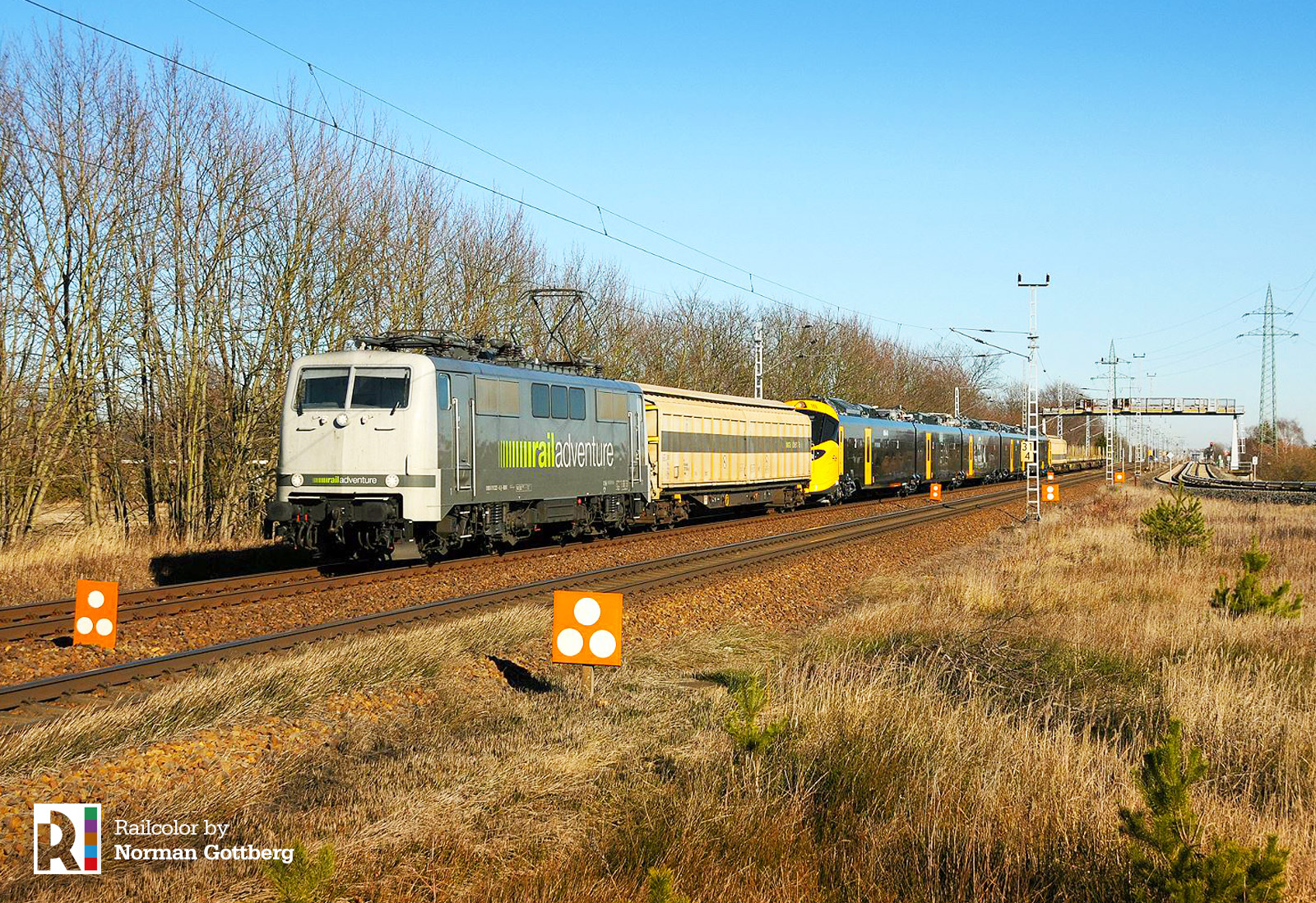 Update 04.05.2019 (2x)
EMU no. 602 001/6001 reached Dresden on 04.05.2019: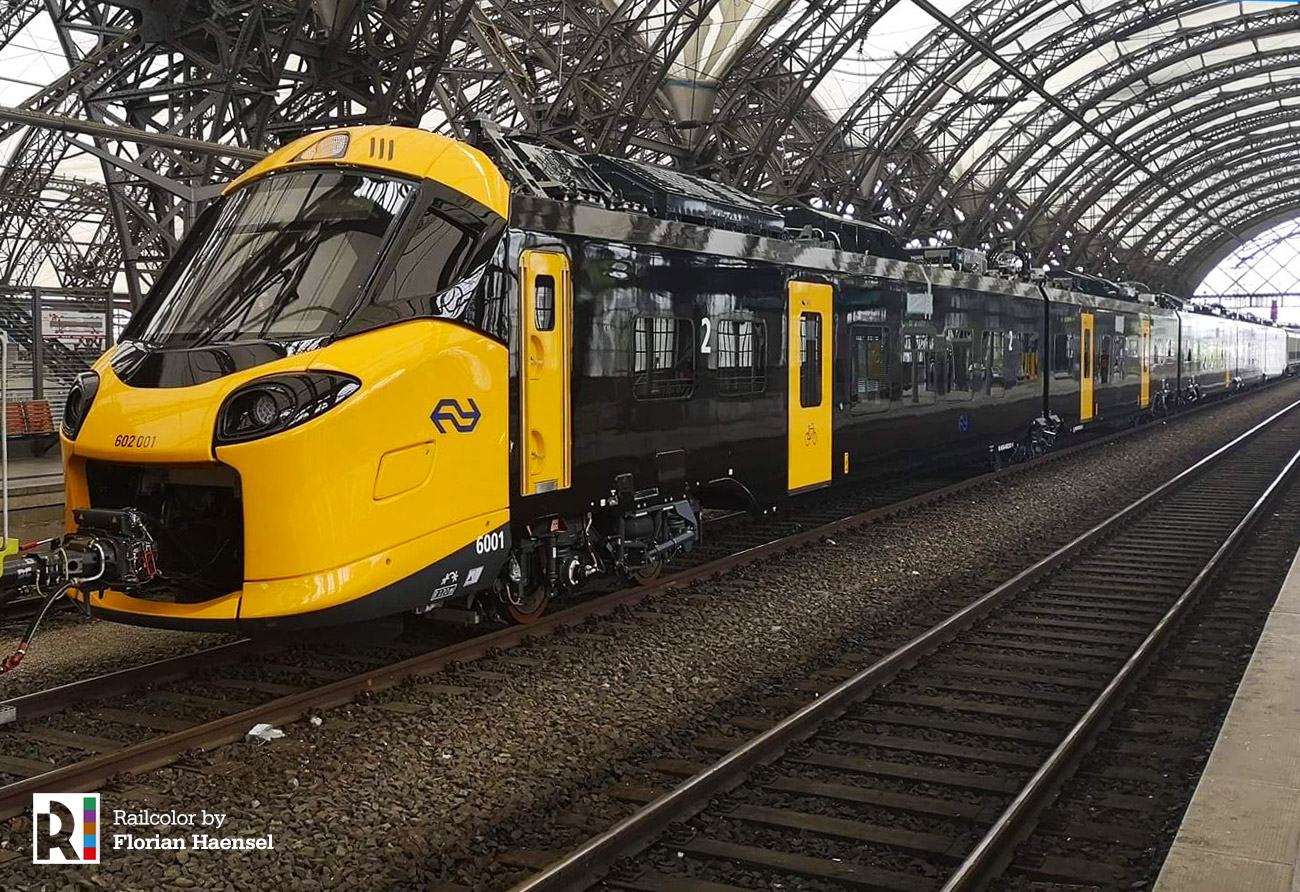 Quintus Vosman reports: On 04.05.2019 the transport including the NS '6001' arrived in the Czech republic. During the trip from Alstom's Salzgitter plant to the Czech border the train was extended with a Stadler Built SRR Flirt 3 trainset and Bombardier TRAXX MS3 no. 188 004. RailAdventure took care about the transport up to the Czech border. Czech railway undertaking BF Logistics was subcontractor for bringing the train from Bad Schandau to Velim. From there the train was taken to the train test centre at Cerhenice.
The 6001 came from from Alstom's factory in Salzgitter (DE). Every car is currently marked with its own number:
84 4601 001-9 NL- NS
84 4601 301-9 NL- NS
84 4601 401-9 NL- NS
84 4601 501-9 NL- NS
84 4601 201-9 NL- NS
Number that make no sense to us right now. If we make correct NVR numbers based on their system, it could look like this:
93 84 4601 001-0 NL- NS
93 84 4601 301-4 NL- NS
93 84 4601 401-2 NL- NS
93 84 4601 501-9 NL- NS
93 84 4601 201-6 NL- NS
edit: the trains have a Vmax of over 190 km/h – so belong to vehicle class 93.