On 09.06.2019 the Südwestdeutsche Landesverkehrs-AG (SWEG) will take over the responsibility of the train services on the lines Ulm – Heidenheim – Aalen and Ulm – Munderkingen. This contract is also known as BaWü 'Netz 12' or 'Ulmer Stern'. On 01.04.2019 the first new train that will be used on the lines mentioned was presented. 
This article was first published on 03.04.2019 – updated on 19.04.2019
In 2017 the authorities of Baden-Württemberg and Bayern awarded the Netz 12/Ulmer Stern contract to the Hohenzollerischen Landesbahn (HzL). But in 2018 this company merged with the Südwestdeutsche Verkehrs-AG (SWEG) and the new Südwestdeutsche Landesverkehrs-AG was formed (also using the abbreviation SWEG).
The Baden-Württemberg Netz 12 includes:
RE Ulm Hbf – Langenau (Württ) – Heidenheim – Aalen Hbf (KBS 757) = Brenzbahn
RB Ulm Hbf – Blaubeuren – Ehingen (Donau) – Munderkingen (KBS 755) = Donautalbahn
The contract covers 1,72 million trainkm/year, around 16% more in comparison to the current situation. Extra train services will be added in the morning, in the weekend and especially at night.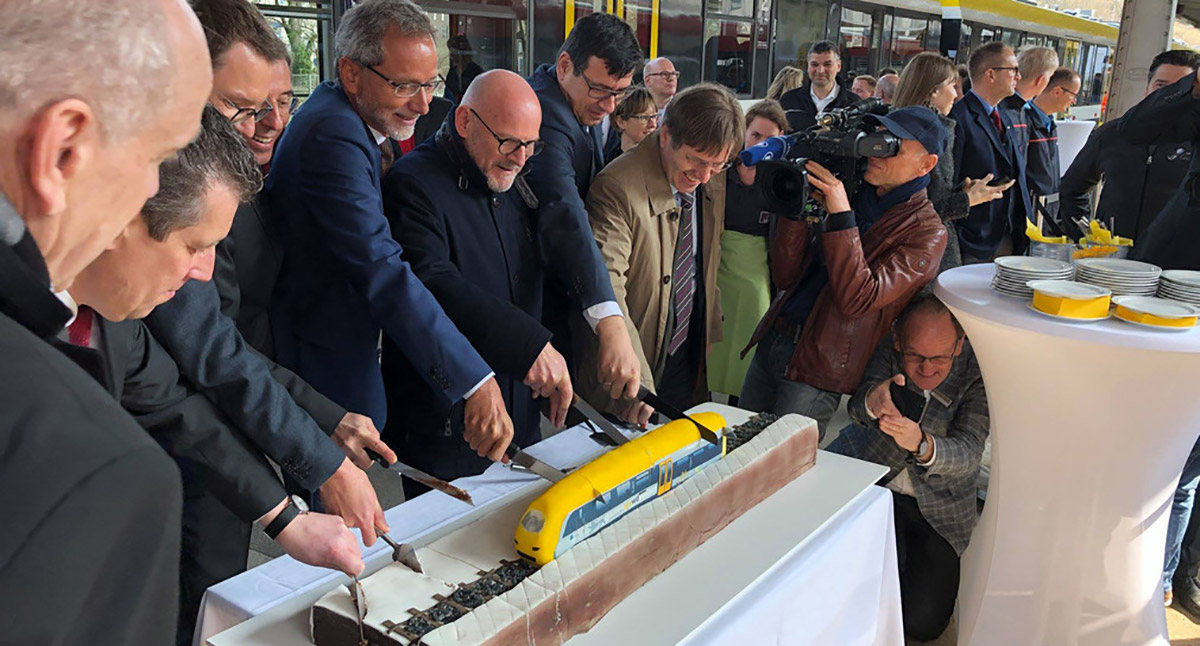 The current RegionalExpress Ulm – Aalen – Crailsheim will be replaced by diesel trains running between Ulm and Aalen. Passengers to Crailshain then will have make us of the "Metropolexpress" Stuttgart – Aalen – Crailsheim.
New diesel trains: Alstom Lint 54
On 01.04.2019 the first of ten Lint 54s built by Alstom was officially presented in Heidenheim. The DMU got the name of the city that day.
The Alstom Lint 54 is a 2-car diesel train with four conventional bogies. The top speed is 140 km/h and one train features 150 seats. With the doors at 55 cm above the track, it will be possible for the first time to offer a levelled entry on many stations on  the Brenzbahn and Donautalbahn.
Update 19.04.2019:
Finally a good image of the new trains, thanks to Alexander Petzold. On 17.04.2019 SWEG 622 455/454/456 were seen in Eschwege in Nordhessen – southbound. Like all trains for Baden-Württemberg the Lints get the yellow-white 'bwegt' design. The Lion symbol on these trains should be made of tiny SWEG logos, a small gag.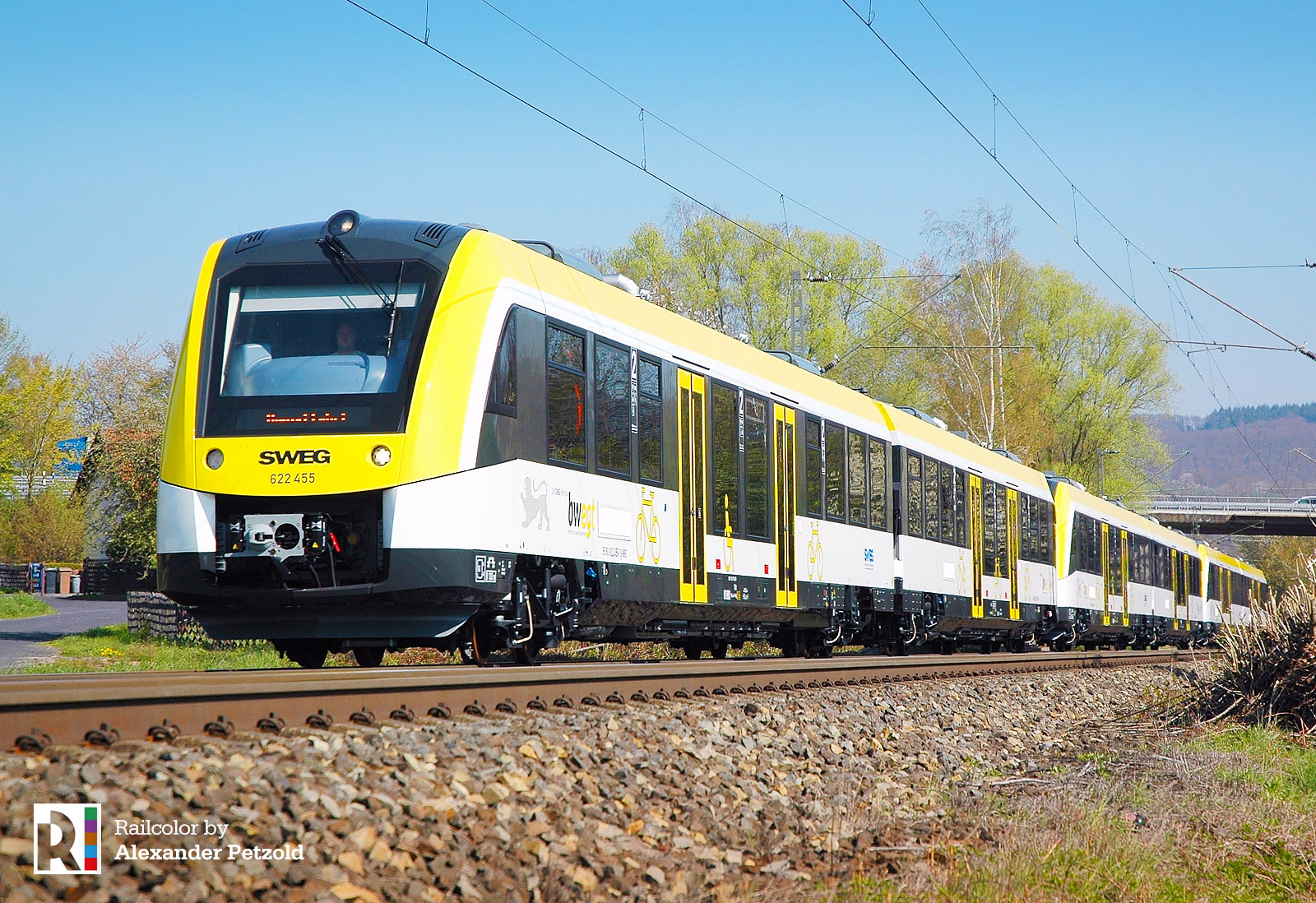 The numbers of the 10 sets: (NVR car 1 = short numbers car 1/2)
95 80 0622 451-2 D-SWEG = 622 451/951 "Heidenheim"
95 80 0622 452-0 D-SWEG = 622 452/952
95 80 0622 453-8 D-SWEG = 622 453/953
95 80 0622 454-6 D-SWEG = 622 454/954
95 80 0622 455-3 D-SWEG = 622 455/955
95 80 0622 456-1 D-SWEG = 622 456/956
95 80 0622 457-9 D-SWEG = 622 457/957
95 80 0622 458-7 D-SWEG = 622 458/958
95 80 0622 459-5 D-SWEG = 622 459/959
95 80 0622 460-3 D-SWEG = 622 460/960
In social media:
Die Zukunft des Schienenverkehrs ? auf der #Brenzbahn @Heidenheim beginnt heute. Der neue ? wurde gebaut von @AlstomGermany, wird betrieben von @SWEG, unterstützt durch der #Nahverkehrsgesellschaft #BW u. @bwegtBW. Getauft von @WinneHermann. MdL Grath. @RegierungBW @GrueneBW pic.twitter.com/ndNjij60bz

— Valentin Gauß (@ValentinGauss) April 1, 2019