On Thursday 12.04.2019 Siemens and the Austrian Federal Railways (ÖBB) completed a 20-km-long demonstration run with the battery-powered Cityjet Eco, a converted Siemens Desiro ML EMU.
The 'prototype' – unit no. 4746 049 – made a round trip in the Vienna region: from Wiener Neustadt to Lanzenkirchen, on the non-electrified line to Aspang. The BEMU reached speeds up to 120 km/h in battery mode. Test in commercial service are planned for second half of 2019.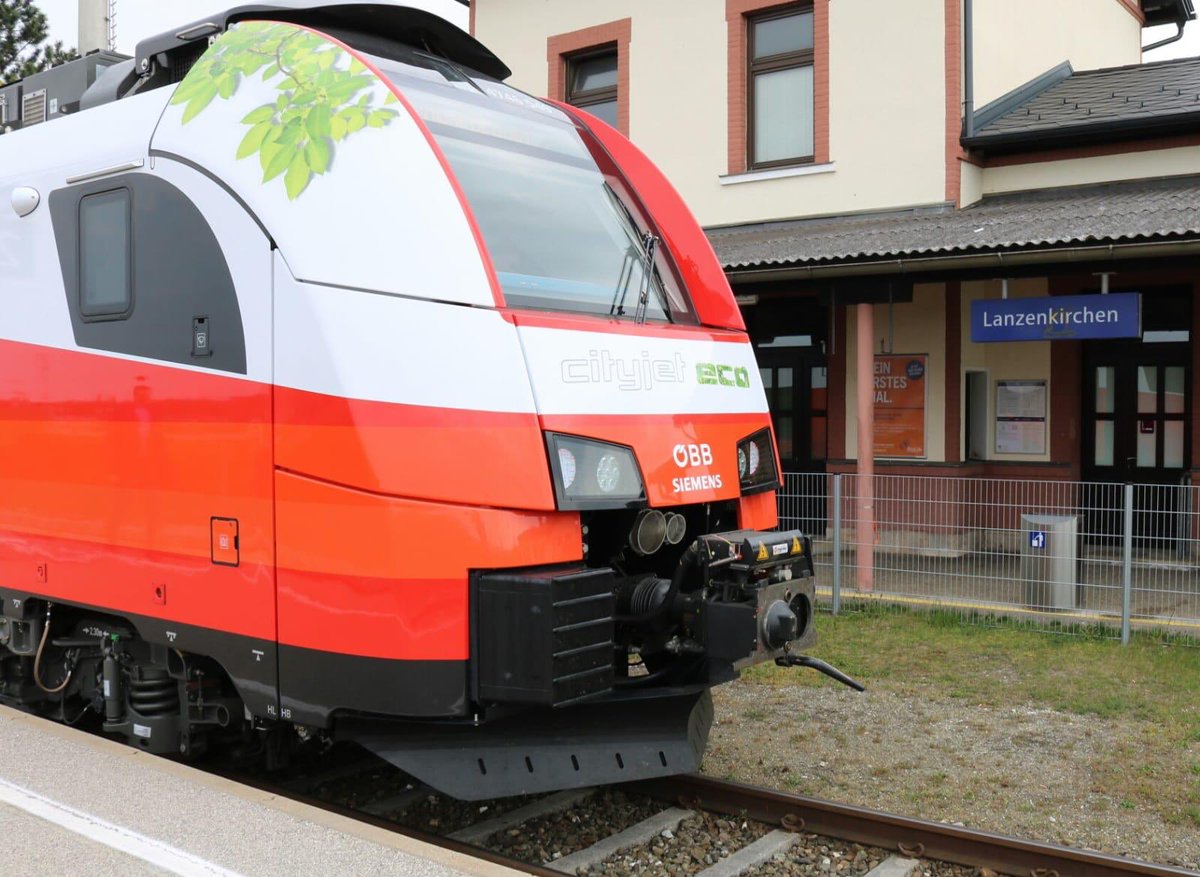 Cityjet Eco BEMU
In September 2018 Siemens and ÖBB presented the battery-powered Cityjet Eco, an example of an Alternative Drive Systems project and part of ÖBB's Update Fleet Strategy 2035 program. The intention is to design, build and experimentally operate a battery-powered train. Later that month 4746 049 made an appearance at the Innotrans 2018 trade fair.
The prototype BEMU was selected from the normal Siemens Desiro ML (ÖBB class 4746) production line in Krefeld (DE). Batteries and control equipment are mounted on the roof of the middle car – so the space for passengers was not reduced.
Batteries can either be charged while running in electric mode under catenary, or by connecting the train to the grid at end stations for example.
Update 17.04.2019:
Watch ÖBB's video on the Cityjet Eco.
Social media
Denonstration Drive with mobility Stakeholders in Austria: @SiemensMobility and @unsereOEBB #cityjet_eco doing a 20 km test drive today – lets get started. ?✌️ pic.twitter.com/qjJwneDaBY

— MichaelBraun (@MichaelBraunAT) April 12, 2019
@unsereoebb's #cityjet_eco setting sails towards uncharted territories: First passenger-carrying service along unwired lines to Lanzenkirchen with @Austria2DS3 the provincial governor of Lower Austria and ÖBB board-member @MiiHoover aboard pic.twitter.com/Ltp09ks3wM

— Klaus Garstenauer (@GarstenauerK) April 12, 2019