The first call-off is for EMU 30 trains, to be delivered in 2020. The framework agreement oversees the supply of a minimum of 50 and a maximum of 120 "Caravaggio" double deck EMUs over the period of 8 years.
On 12.09.2018 FNM and Hitachi Rail Italy signed a framework agreement for the supply of new high capacity trains for regional services. The tender was announced in 2017.
"We renew the fleet to meet the guidelines of the Lombardy Region and it will enable us to offer a better service to hundreds of thousands passengers traveling by train every day in our region", says Andrea Gibelli, Chariman of FNM
A minimum of 50 trains will be produced, of which 30 will be in short configuration (4-car) and 20 trains in long configuration (5-car). Up to 120 units can be ordered under the current framework. The agreement also includes the option to award maintenance contracts to Hitachi Rail Italy for a period of three years.

First Call-off
Operator Ferrovienord, 100% property of FNM, signed the first fixed order with Hitachi Rail Italy for the 30 'short' EMUs. The order amounts to a total of EUR 237,5 million and delivery is expected to commence within 20 months.
"with our new regional trains, we will offer the highest levels of reliability and comfort to our passengers and our impact on the environment will be reduced as well – only 5 grams CO2eq, the lowest value for any mass transport mode in Italy at this moment" – Mr. Maurizio Manfellotto, CEO of Hitachi Rail Italy.
The features
The 3kV EMUs feature a distributed drive line and will have a top speed of 160 km/h. The main tech specs of the short and long Caravaggio for Ferrovienord are:
Short configuration
Number of cars: 4
Length: 109.6 m
Standing passengers: 449
Seated passengers: 466
Doors: 8
Price: EUR 7,9 million per unit
Long configuration
Number of cars: 5
Length: 136.8 m
Standing passengers: 575
Seated passengers: 598
Doors: 10
Price: EUR 9,3 million per unit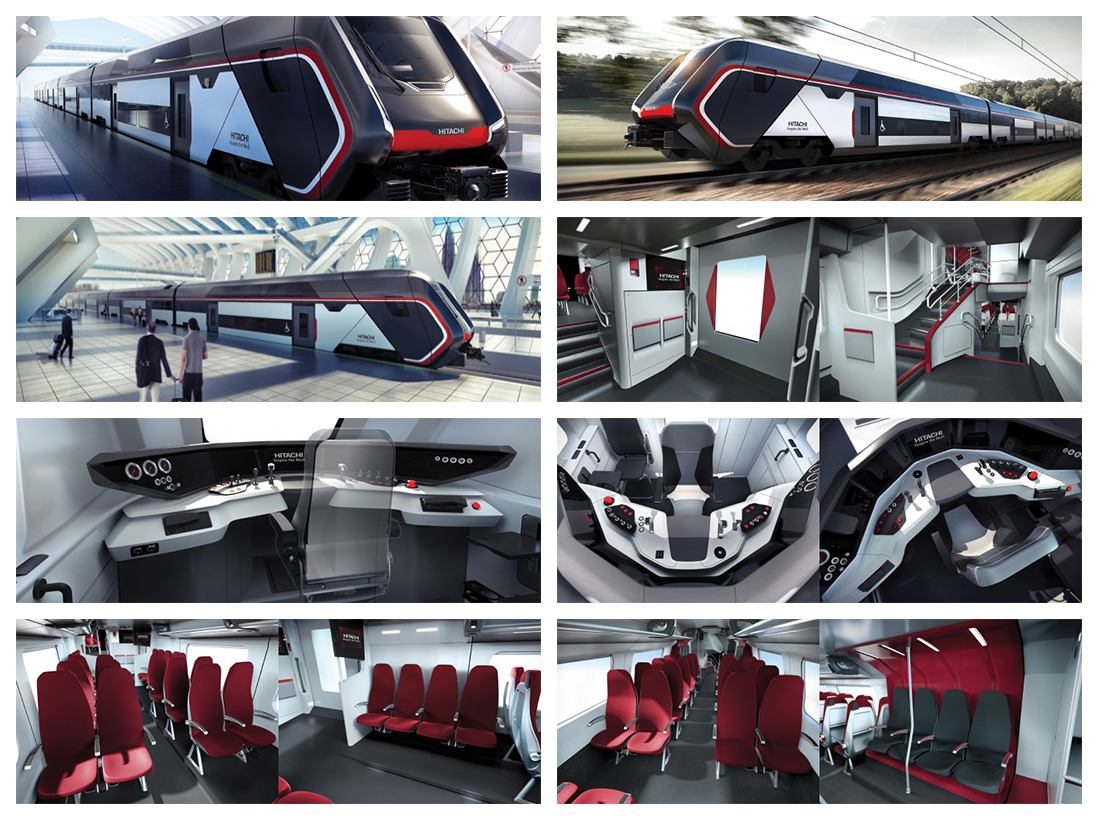 The new trains will have many modern features such as: LED lighting, WiFi, 220V power and USB sockets, passenger information system, energy meters, passenger counters, side and front cameras, ERTMS/ETCS, remote control diagnostics and smart surveillance technology with "anomalous behaviour detection" function.
Passengers with reduced mobility can board using retractable door steps, bridging the gaps between train and platform. The trains will have spaces for bicycles including electric sockets for recharging e-bikes.
"Caravaggio"
According to Hitachi Rail Italy's website, the name of the design is "Caravaggio", although it has not been mentioned specifically in the distributed press release. The name is clearly honoring one of the most famous Italian painters, Michelangelo Merisi, byname, "Caravaggio", a leading Italian master painter of the late 16th and early 17th centuries.