Emission-free, energy-efficient and low-noise – the three key characteristics of Bombardier's new electro-hybrid Talent 2 EMU, introduced to the public for the first time today. We wrote about this project earlier, today Bombardier released press information.
Bombardier: The new battery-operated train is the first of its kind to enter passenger operation in Europe in over 60 years. As there is no diesel engine the train does not generate any exhaust and is around 50 percent quieter.
"With our new battery-operated train, we are putting real innovation on the tracks," says Michael Fohrer, Head of Bombardier Transportation in Germany. "This train is Bombardier's technological response to challenges such as air pollution, climate change and scarcity of resources. Around 40 percent of the German rail network is not electrified. The Bombardier battery-operated train is an attractive option to counter that, both economically and ecologically speaking."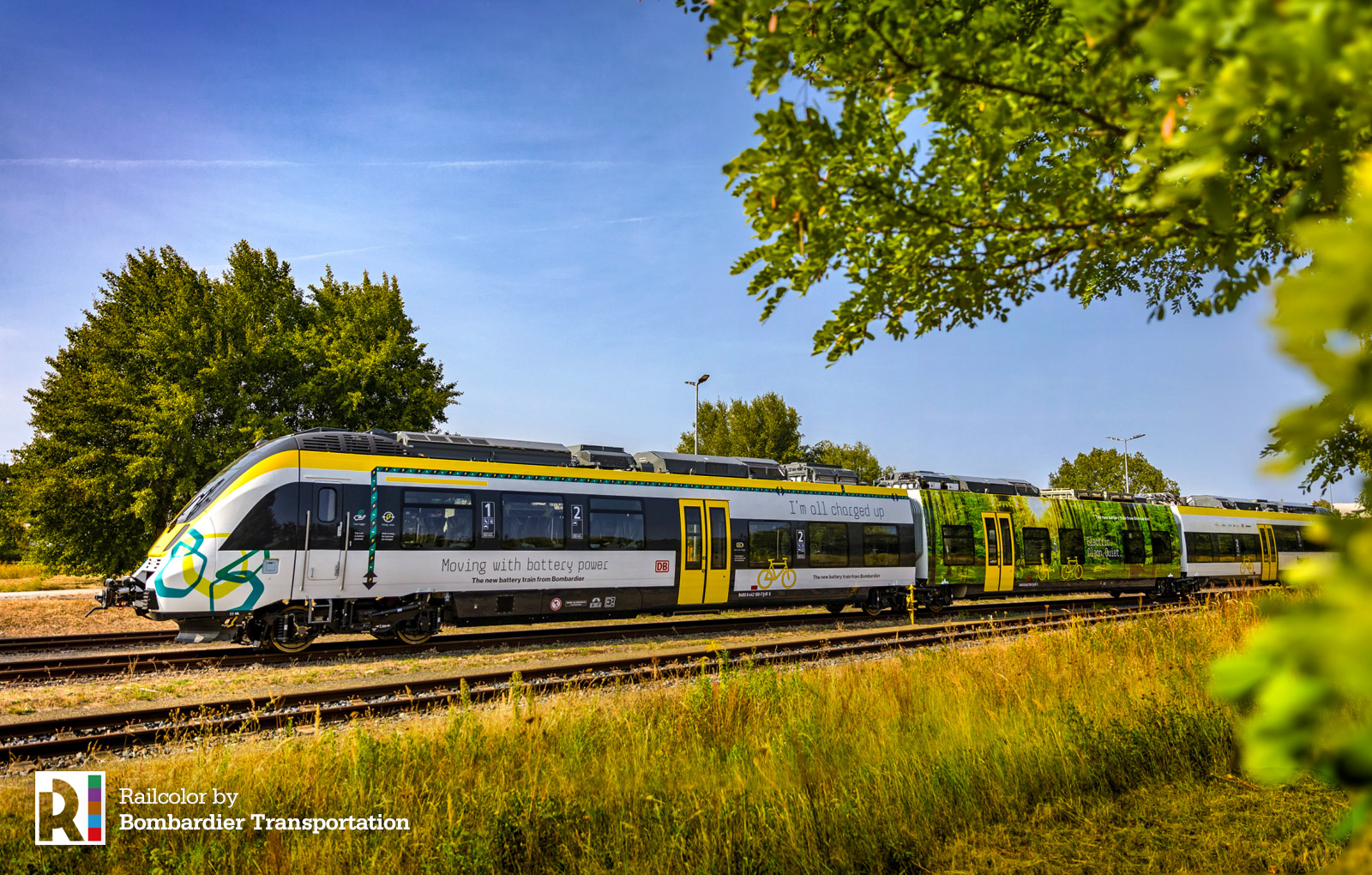 12-month test service in the Alb-Bodensee region
The 3-car Talent 2 EMU in the picture, in standard Baden-Württemberg yellow-white livery, serves as prototype for tests with and without passengers. With four Bombardier Mitrac traction batteries and can travel routes of around 40 kilometres without overhead wires. But as battery technology is evolving rapidly, Bombardier expects that a 'next generation' BEMU will be able to cover distances of up to 100 kilometres on non-electrified railways in 2019.
In that same year, Deutsche Bahn (DB) will start a twelve-month trial run with passengers with the current prototype in the Alb-Bodensee region. The project is supported by the German federal government, DB ZugBus Regionalverkehr Alb-Bodensee, Nahverkehrsgesellschaft Baden-Württemberg, the National Organisation for Hydrogen and Fuel Cell Technology and the Technical University of Berlin.
On 07.09.2018 Bombardier already released an explanatory video:
Interesting, related articles:
InnoTrans 2018: Follow the news in Berlin on our live blog: